The MedTech industry offers a variety of products ranging from simple syringes to complex robot-assisted surgical machines. Much like other industries, MedTech is currently undergoing digital transformation with an increased focus on software implementations, i.e., smart medical devices. The change is seen across disparate sectors such as cardiovascular, dental, diabetic care, diagnostics, ophthalmics, and neurology. Patent practitioners in MedTech are aware that the prior art landscape is both expanding and based on unconventional technologies such as AI/ML and IoT. This competitive landscape represents new risks and challenges for innovators, one of which is MedTech patent litigation that can result in considerable financial damage.
Read on to know more about the current state of the MedTech industry, patent litigation trends, and more.
MedTech Competitive Landscape
The pandemic has brought MedTech to the forefront. According to Deloitte's recent report, the biggest beneficiaries of venture capital (VC) funding in 2021 are companies focusing on In-vitro Diagnostics and Healthcare IT. Such companies focus on fast and accurate COVID-19 tests, liquid biopsy, telehealth, digital therapies, and home treatment.
Patenting activity in the MedTech sector was growing even before the pandemic had hit as revealed in our patent publication report. Worldwide patent publications related to MedTech increased by 154% in the last five years and 66% in the last year alone. Recent patent filings have been primarily focused on information and communications technology (ICT) specially adapted for medical diagnosis such as point-of-care devices, wearables, and remote monitoring systems such as telemedicine, medical simulation, or medical data mining followed by surgical robots.
The United States has been the primary market for medical device innovations in the last two decades. However, we have also witnessed a recent surge in MedTech patent filings in China. For instance, our report reveals that some of the leading medical device and equipment manufacturers like Covidien, Philips, Siemens, Olympus, Fujifilm, Ethicon (J&J), Medtronic, Becton & Dickinson also filed for patent protection in China. Established medical device companies are eyeing startups around the world as targets for acquisitions. Not to be left out, several tech giants including Apple, Amazon, and Google are diversifying into healthcare and life sciences using acquisitions and partnerships.
MedTech Patent Litigations 
The changing competitive landscape represents new risks and challenges for innovators. One such risk is patent litigation which can result in significant financial damage in the form of legal fees, injunctions, costly proceedings, lost opportunities, and court damages.
To examine patent litigation trends in MedTech, we initially looked into United States District Court cases and the Patent Trial and Appeal Board (PTAB) proceedings. As shown below, District Court cases related to the broader medical domain (pharmaceutical, biotechnology, and medical device technologies; Source: Unified Patents) show a downward trend for the 2018-2021 period. By extension of the current data, we will likely see similar trends in 2022 for the entire medical technologies. We further filtered the cases based on their primary patent classification codes to identify MedTech-specific trends. The results, shown below, reveal an increase in 2020 over 2019 in both venues, followed by a slight drop in 2021. Significantly, the number of MedTech cases filed in PTAB was comparable to those filed in the District Courts. The Inter Partes Review (IPR) process in PTAB remains a popular venue for companies to initiate patent challenges in MedTech.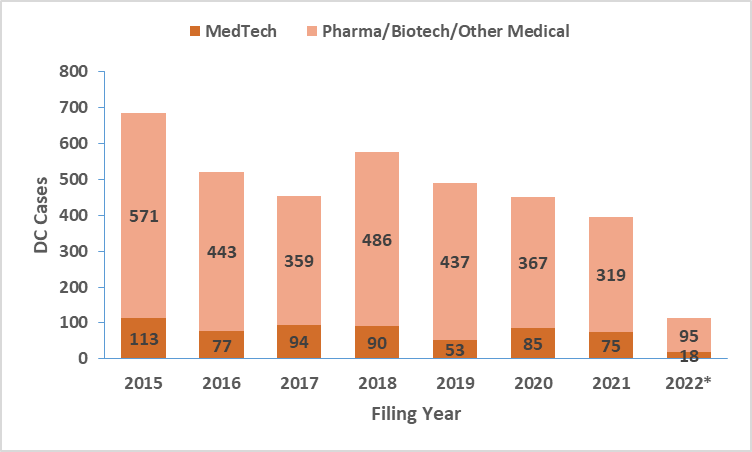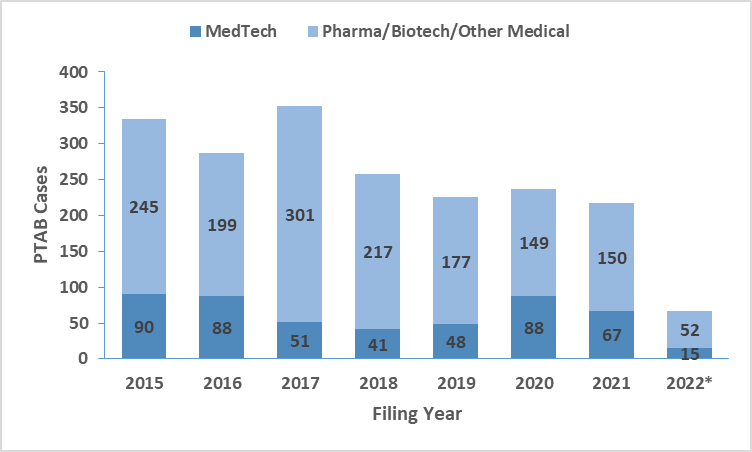 District Court and PTAB Cases Filed in Technologies relating to Pharmaceuticals, Medical Devices, Health Related Technologies (Data Source: Unified Patents)
The top plaintiffs in the District Courts for MedTech technologies in 2021 were Decapolis Systems (NPE), Medtronic, and Applied Biokinetics. The top defendants were Teleflex Innovations, Apple, and Intuitive Surgical.
The top 5 petitioners before PTAB in 2021 were Alcon, Apple, Lumenis, Stryker, and Medtronic. While some companies like Alcon and Apple are effectively utilizing PTAB challenges as part of their litigation strategy, others such as Smith & Nephew have entirely stopped filing or scaled down in recent years. On the other side of these challenges are patent owners being targeted by the IPR/PGR petitions. The top five patent owners whose patents were challenged in 2021 are AMO development (J&J), BTL Healthcare, Speyside Medical, OsteoMed, Taction Technology, and Align Technology. Patent owners who were non-practicing entities (NPE) represent only ~5% of all MedTech-related filings in the PTAB currently. Many experts have speculated that NPE litigation will increase shortly given that NPEs have a proven model for monetizing their patents and MedTech funding continues to scale to new heights amidst the changing technology landscape.
Success Stories
MaxVal's med-tech team recently provided invalidity search services for a law firm representing a startup medical device company. Their client's specialty medical device included a first-to-market feature that was the focus of a patent infringement lawsuit. In true David and Goliath fashion, the plaintiff was one of the biggest med-tech companies in the world. The law firm sought our assistance to identify prior art to invalidate the asserted patents. It should be noted that none of the plaintiff's patent claims had been previously invalidated by PTAB, despite a few attempts by other companies.
MaxVal's unique approach to prior art searching resulted in the identification of prior art against multiple patents owned by the med-tech giant. The references featured in our report were considered highly relevant by the attorneys. Our partner law firm went on to challenge the patents and successfully invalidated selected claims that MaxVal had previously identified as a weak area. In particular, patent and non-patent literature references identified by us were used to successfully challenge the claims under 35 U.S.C. § 102 and 103.
Final Thoughts
MedTech startups and companies are undergoing a resurgence and a digital transformation. The rapidly changing competitive landscape suggests that some of the traditional innovators are perhaps no longer major players while others have risen to the challenge. Here's how you can protect yourself from patent risk from new entrants, known competitors, and patent assertion entities:
Set a process in place for ensuring the granting and validity of patents: Quite often inventors and patent attorneys who are subject matter experts miss out on important patent and non-patent literature references, jeopardizing future patents (as the said patents are likely to be challenged by competitors). Expert prior art searches can ensure ease of prosecution and protection from the subsequent challenge of the key patents.

Explore further information about prior art searches in life sciences and healthcare.

Understand the landscape and potential landmines: Patent practitioners supporting MedTech startups and established companies should consider commissioning landscape and FTO studies. Developing an effective patent strategy for your business areas will involve building a taxonomy based on IP owned by you, your competition, companies operating in upcoming areas, and patent assertion entities. Anticipate areas of risk and address them early on. Ensure you avoid technologies that can be used against you by a patent assertion entity. If that is not possible, consider the risks and take action via acquisition, cross-licensing, or validity challenges.
Learn more about FTO studies.
Explore your litigation/licensing options: An early option is to oppose the grant of a problematic patent or challenge its validity through the inter-partes review process before the PTAB. It's also important to use your own IP portfolio to your advantage. Organizations and their counsel looking to counter the risk of assertion or negotiate with confidence require litigation-ready invalidity search reports and claim charts on short notice.
Learn more about validity/invalidity searches.
M&A and due diligence: One of the most important factors to consider in an acquisition/partnership scenario is a comprehensive evaluation of the target's patent portfolio from the perspective of the competitive landscape. MaxVal can help you identify targets, monitor their patents, develop an analysis of their patent portfolios, and assess their market value.

Talk to us today to find out how we can help you track patent data and provide your patent and R&D teams with crucial information.
Foster collaboration: The long-term success and resiliency of many of these companies will depend on a clear IP strategy. This is because, by strategically leveraging internal and external resources, companies can establish rewarding working relationships with key stakeholders to achieve common desired outcomes. The first step towards achieving this is setting global IP priorities in association with the business executives and counsel to facilitate budgets and goal-setting within patent departments. Teams should increasingly look towards fostering data-informed decision-making in portfolio management and monetization, and also leverage technology-enabled solutions in building and maintaining IP portfolios.

End-to-end IP partners can be extremely helpful in optimizing your team's performance by supporting these initiatives and helping you focus on higher-value work.
Other relevant articles that might interest you:
https://www.maxval.com/blog/medical-device-approvals-continue-despite-covid-challenges/
https://www.maxval.com/blog/8-companies-innovating-in-medical-device-sterilization/