Answers to everything. Right here.
If You Can Think of It, You Can Create a Report for It in Symphony
Are 72 default reports sufficient for you? If they aren't, create your own in seconds. Reporting ease and flexibility are a hallmark of the Symphony solution, especially when compared with what's generally available. Our partner, Salesforce, invests billions of dollars a year in their platform to provide Symphony with the IP industry's best reporting suite, bar none.
Our pre-configured reports include filing trends, prosecution metrics, annuities, docket actions, process metrics, and inventor awards among many others. The reports can be made public or remain private, delivered to your inbox as a subscription on a specific day and time, or exported to Excel with just a few clicks. The reports can also be easily added to dashboards via a drag-and-drop interface, providing dynamic data visualizations with drill-down capabilities. IP managers can:

Create a report from any field, including new ones, and turn it into a visual/dashboard

Project patent family cost, patent lifetime cost, and more with sophisticated analytics

Easily manage the renewal and pruning of IP assets based on product, division, technology or other reports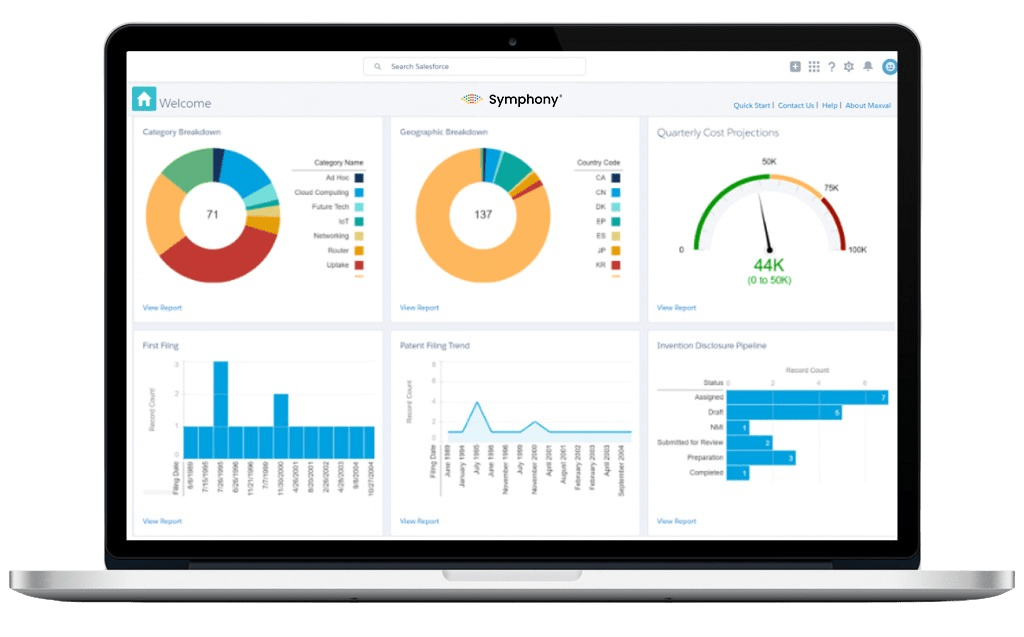 The world's leading organizations and law firms trust us to manage their IP Management requirements
Manage IP with Confidence
We help corporations and law firms transform ideas into strategically and financially valuable assets.

Full-spectrum of IP lifecycle software solutions to manage your everyday IP challenges

Trusted by the world's most innovative companies and law firms to manage their IP portfolio

Finest IP experts and technology professionals to guide you through your IP journey
To speak to one of our IP experts or to request a demo, please fill out the form below.
Together, we help your organization succeed
Work with an IP partner who empowers you to get more done