US patent filings related to e-cigarettes peaked in 2016. The patent filings are expected to remain steady in 2019-2020 following a drop in 2018. Tracking patent litigation activity may provide a glimpse into the future of the hotly contested alternative tobacco and nicotine delivery products market that includes both tobacco giants and smaller players.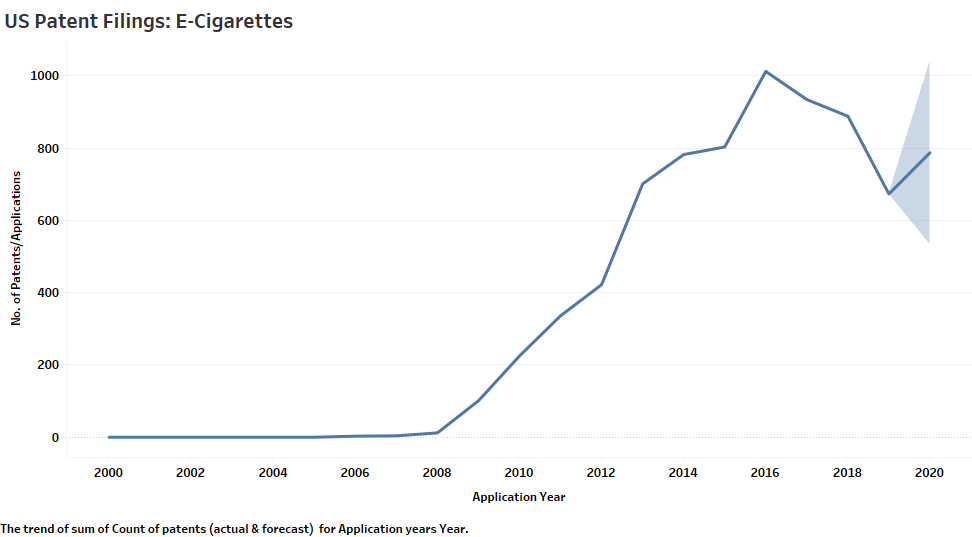 By way of example, on May 28, 2020, Virginia-based tobacco giant, Altria Group Inc. and U.S. Smokeless Tobacco Company LLC filed a lawsuit before North Carolina Middle District accusing RJ Reynolds, a subsidiary of their largest competitor, British American Tobacco (BAT), of infringing on their patents relating to e-cigarettes and associated products.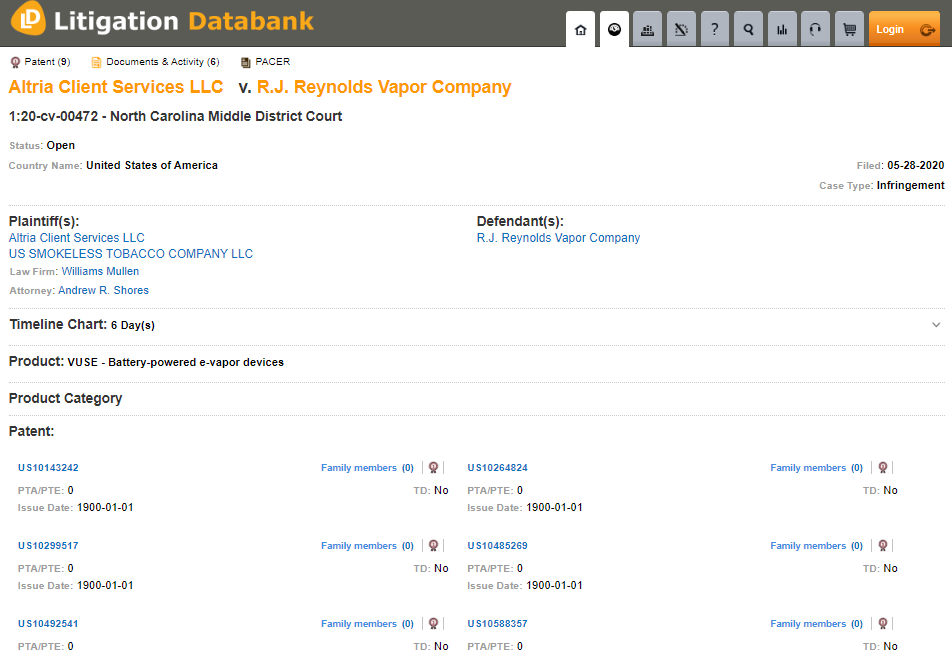 Source: MaxVal's Litigation Databank
Altria's filing follows earlier suits in the United States and Germany by RJ Reynolds against Altria and Philip Morris International (PMI). The cases filed in the United States before the International Trade Commission (ITC) and the Virginia Eastern District Court concerns its heat-not-burn technology used in Philip Morris owned iQOS devices.
The patents asserted in this recent case include US Patent Nos. 7,798,319, 8,458,996, 8,556,070, 10,143,242, 10,264,824, 10,485,269, 10,299,517, 10,492,541, and 10,588,357. The allegedly infringed products include Reynolds Vapor's "VUSE" e-vapor line and "VELO" smokeless pouches. These patents are described below.
U.S. Patent Nos. 7,798,319, 8,458,996 and 8,556,070, titled "Container Device for Tobacco Articles" are family members assigned to US Smokeless Tobacco Co LLC, a subsidiary of Altria. They relate to a tobacco product package device and a method of packaging a tobacco product. The device includes a container (120) and a metallic lid (140) for retaining the tobacco product (110). The lid includes a lid wall (141) and a skirt (144) that extends from the circumference of the lid wall. A resilient gasket (130) is affixed to the interior surface of the lid wall proximate to the skirt to provide a moisture barrier and a non-hermetic seal between the metallic lid and the container when the metallic lid is releasably engaged with the container.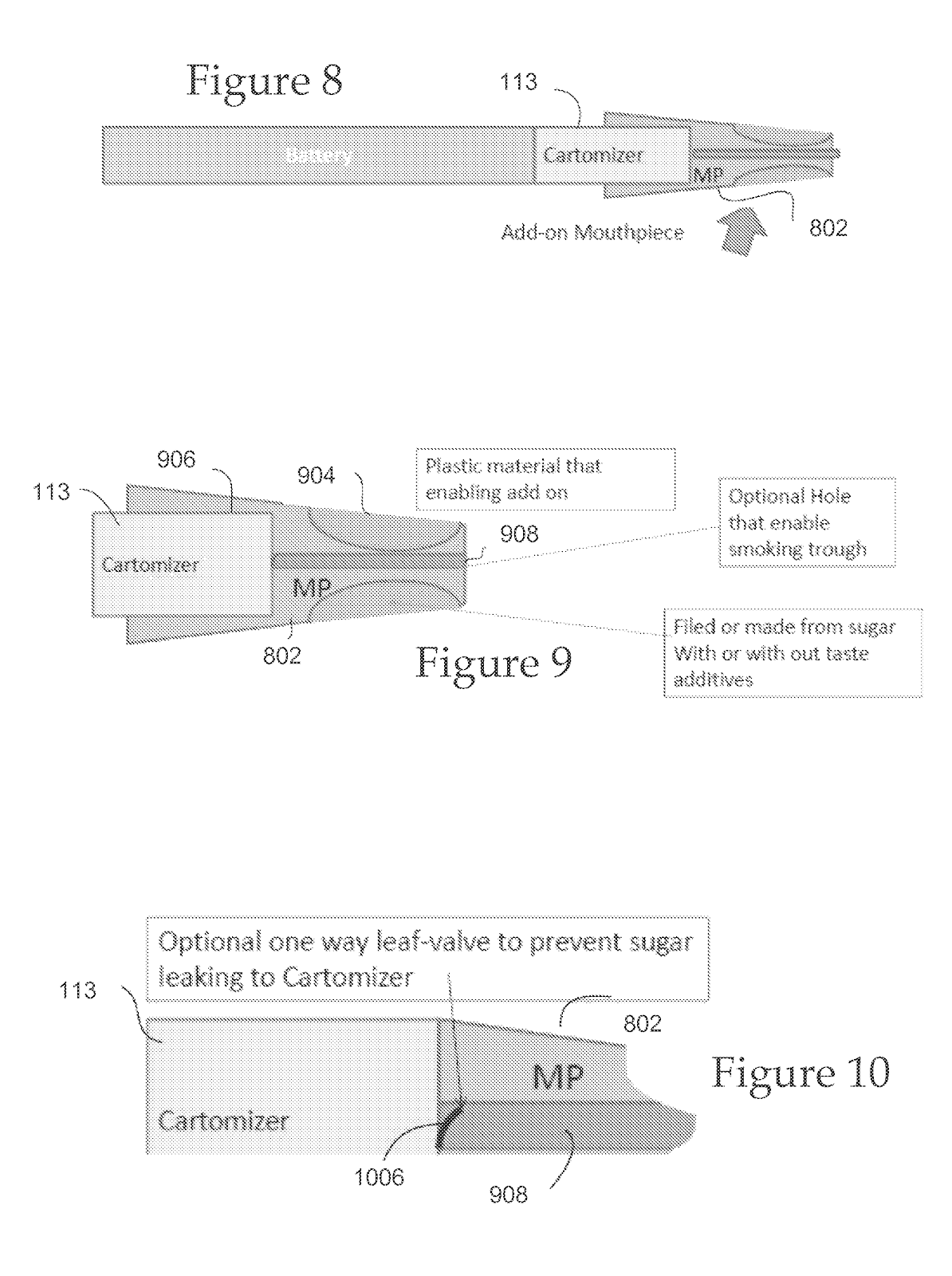 U.S. Patent Nos. 10,143,242 and 10,264,824 are family members and assigned to Nu Mark, a subsidiary of Altria. They relate to an electronic vaping device and a cartridge assembly for coupling to a battery portion of an electronic vaping device, respectively. The device includes a battery, cartomizer and mouthpiece. The battery is configured to provide power to the electronic vaping device and is equipped with an air-flow sensor, circuitry linked to the air-flow sensor and one or more electronic chips. The cartridge, equipped with a heating mechanism and liquid, generates a dispersion in the airflow tube. The end region of the cartridge extends into the mouthpiece, such that the mouthpiece surrounds at least a portion of the end region of the cartridge.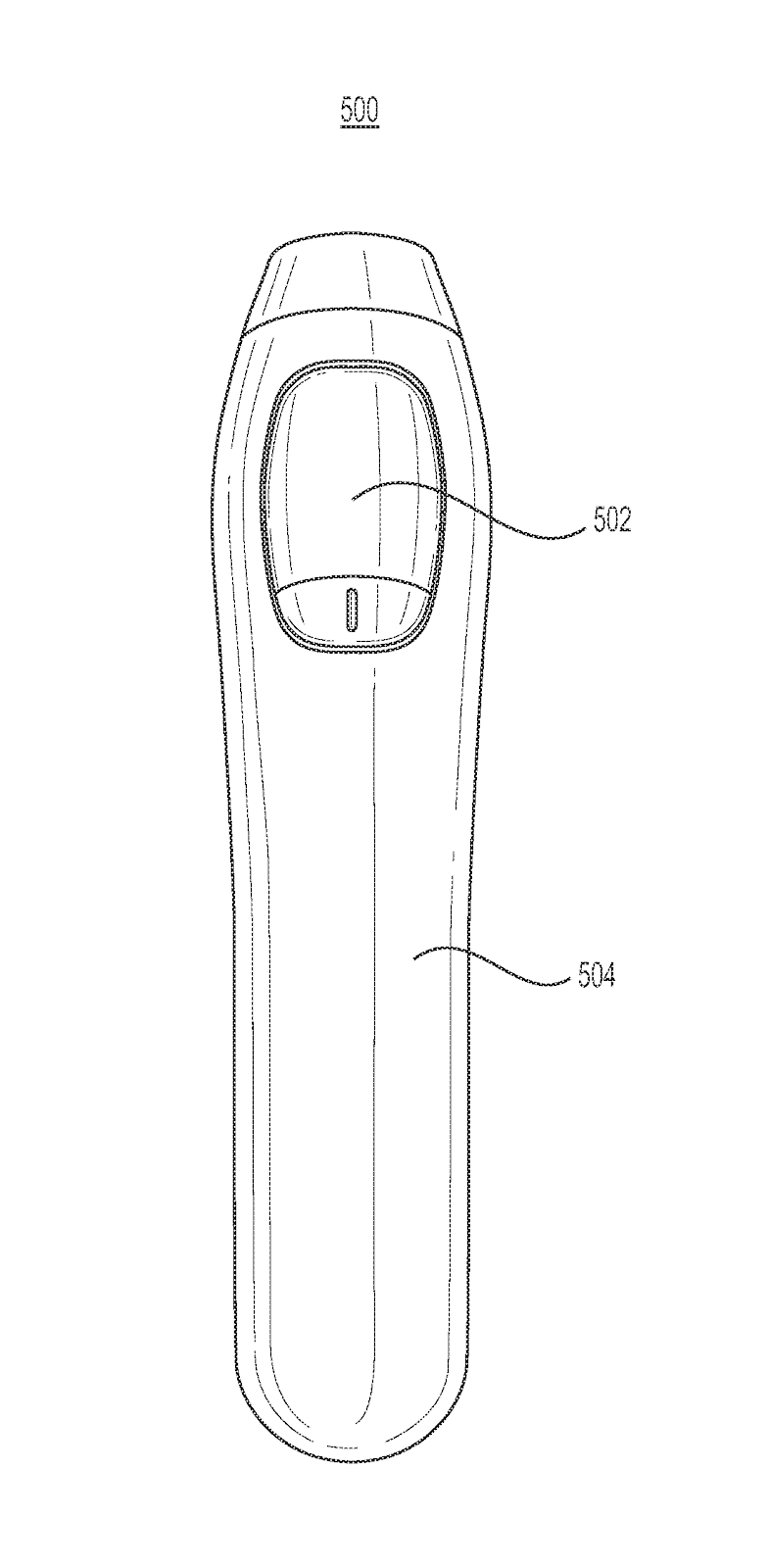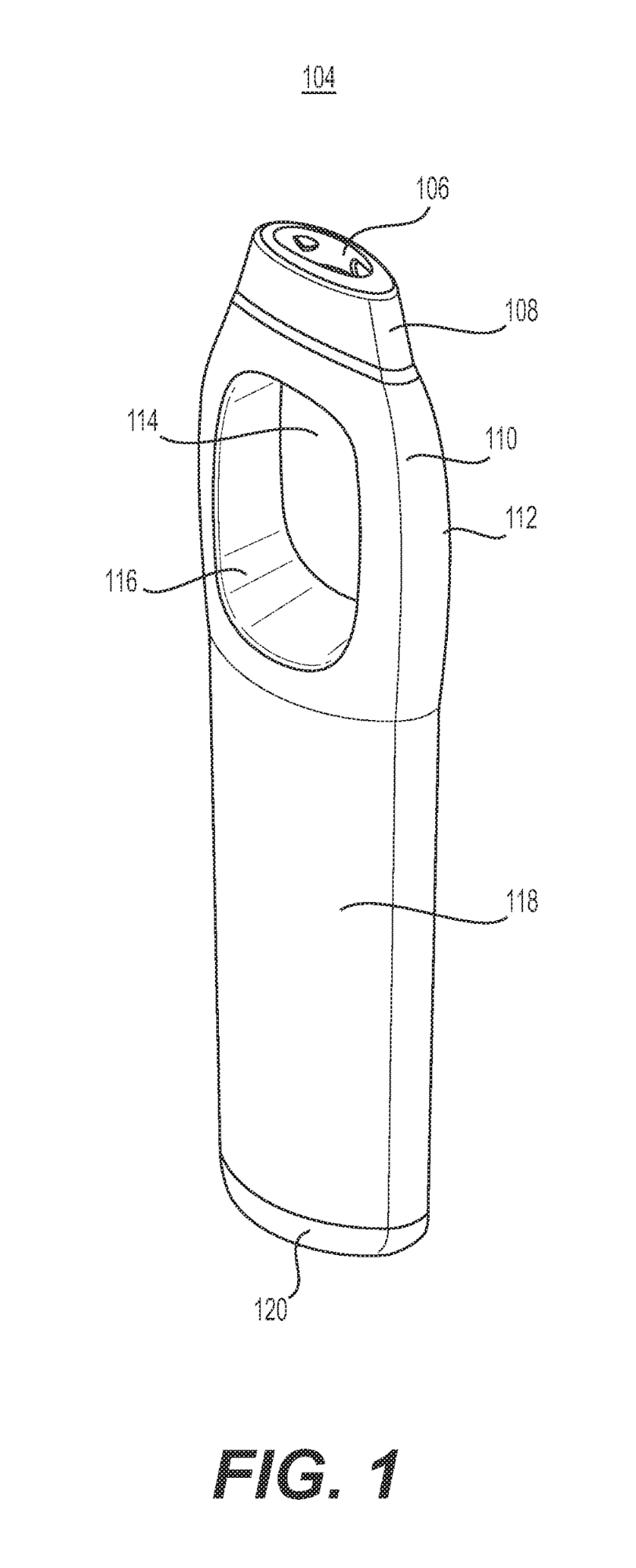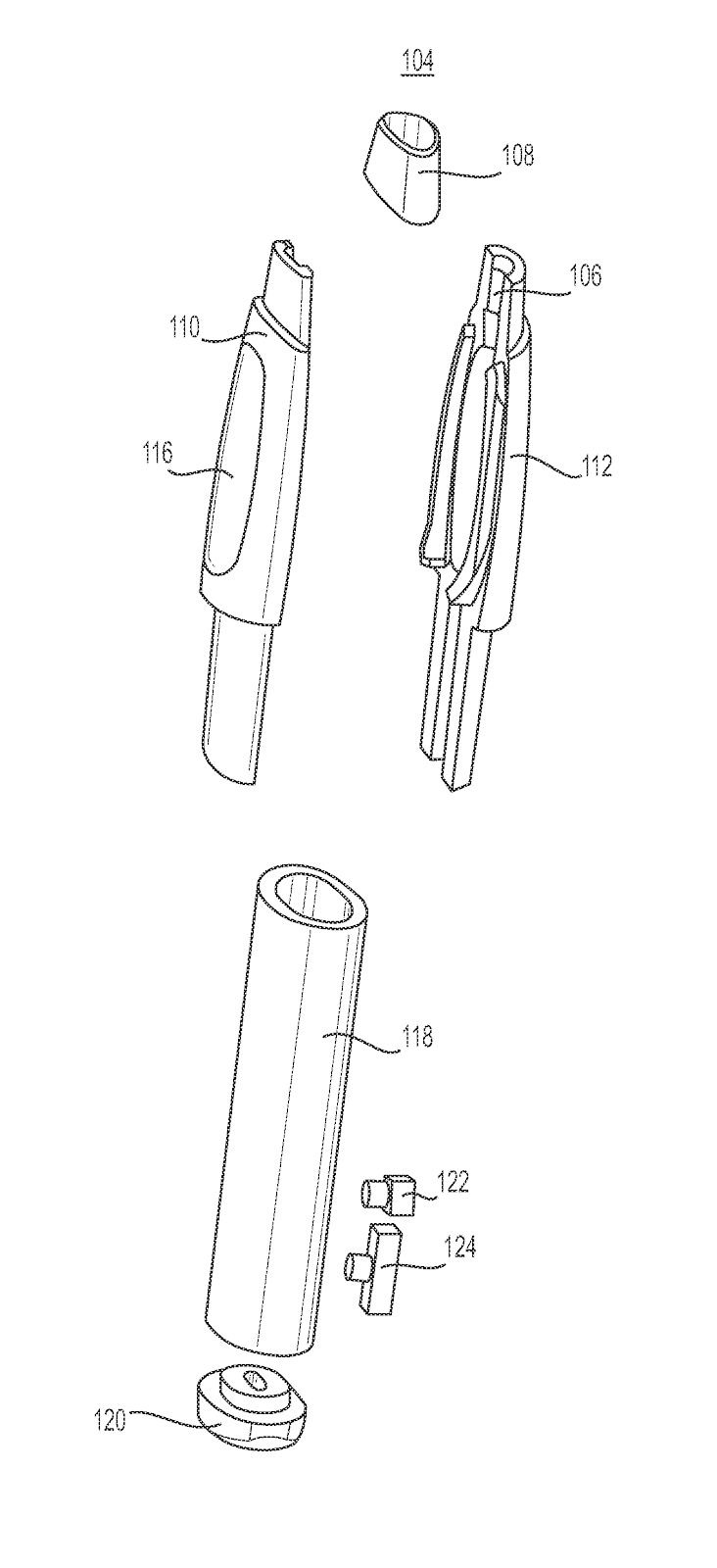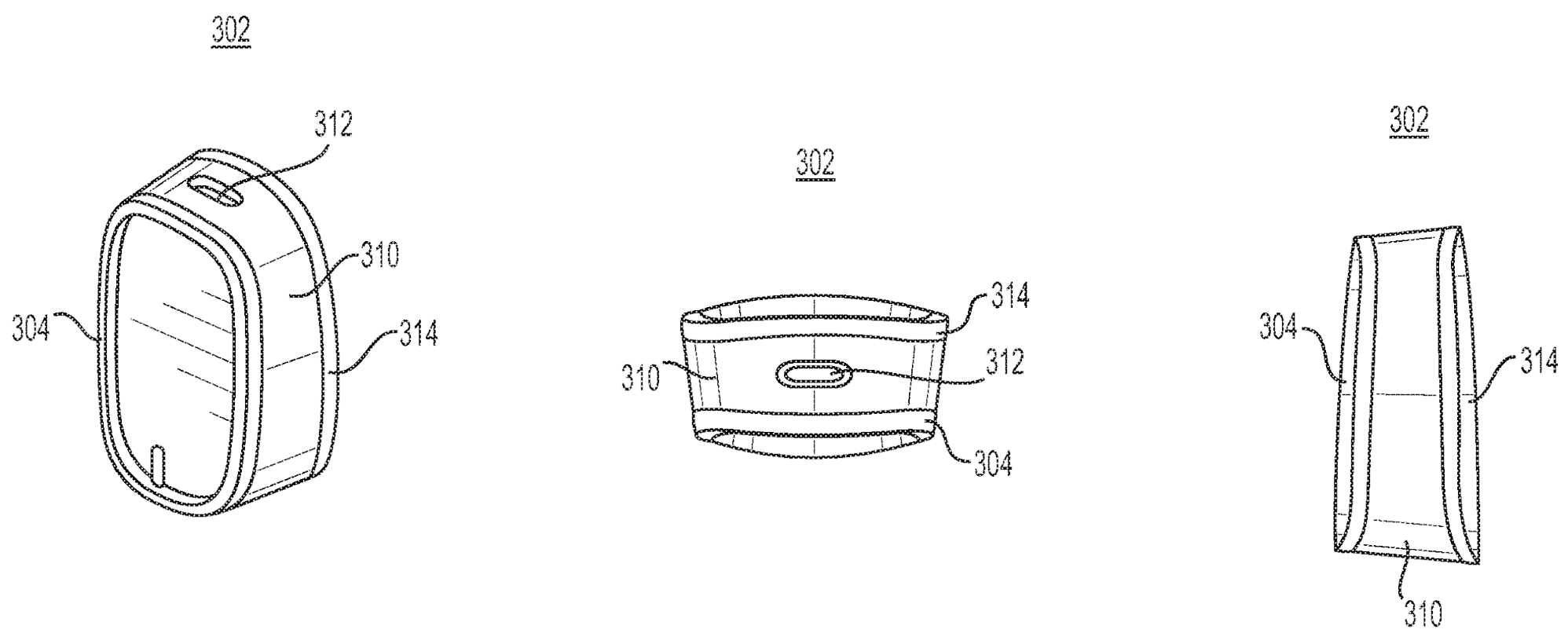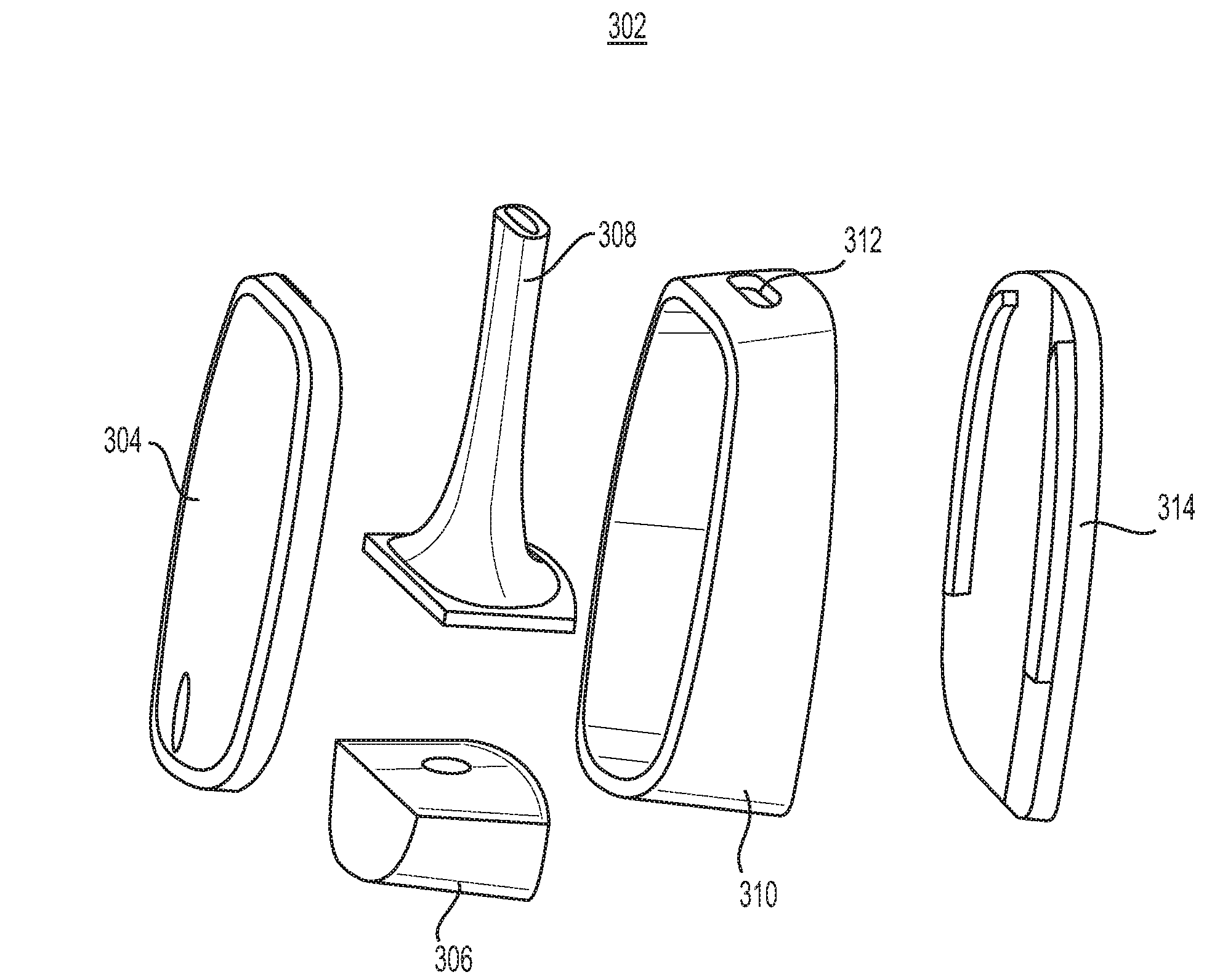 U.S. Patent Nos. 10,485,269, 10,299,517, 10,492,541, and 10,588,357 are family members titled, "Pod Assembly, Dispensing Body, and E-Vapor Apparatus Including the Same", and are assigned to Altria. They relate to an e-vapor apparatus or a pod assembly for an e-vapor apparatus. The e-vapor apparatus includes a frame connected to a body portion (118) and a through-hole (114) for receiving the pod assembly containing the vaporizer. The pod assembly (302) includes a compartment for a vapor precursor (or pre-vapor formulation), a device compartment, and a vapor channel extending through the vapor precursor compartment. The front face and rear face of the pod assembly is exposed by a through-hole. The vapor channel of the pod assembly is aligned with a vapor passage of a dispensing body defining the vapor passage and through-hole.
Contact us for a custom litigation report in your innovation area/sector. To know more about our validity/invalidity search services, please click here.