Symphony for Trademark
Management
One system for everything associated with ™ and ®
Manage the Complete Trademark Lifecycle, from Search to Renewal
From requests for search, clearance, maintenance, enforcements, oppositions, and conflicts to contracts, assignments, licensing, and renewals, you can manage the entire trademark lifecycle in Symphony. As your trademark program and business inevitably evolve, Symphony's flexibility will easily handle your new requirements. With your trademark records and activities available and managed in one, easy-to-use system, you'll gain automation, transparency, and profound insight into your entire trademark portfolio.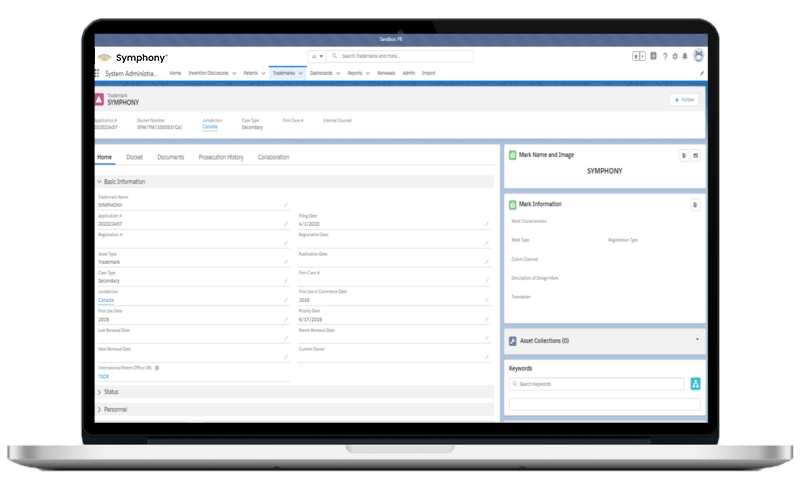 Manage relationships between trademark assets and brand management

Link trademarks to products to clarify their relationship to business value

Link records and activities for portfolio-wide visibility and insight

Easily control the renewal process with MaxVal's Renewal Service

Request trademark filings with MaxVal's Filing Service
Simplified and Streamlined Trademark Management

Planning
100% insight and visibility into all your trademark-specific data helps you understand opportunities, identify risks and improve strategy

Search and Clearance
Everything is captured on one customizable page, including communication and status updates, so you'll never be surprised

Trademark Registration
Symphony supports all registration activities, document archiving and financial recordkeeping, whether you use outside counsel or file in-house

Maintenance/Renewals
Supporting 300+ jurisdictions, Symphony handles renewal and recurrence fees for national and Madrid registrations

Disputes and Oppositions
Manage multiple conflict records, including external files in the Trademark's object section

Contracts/Licenses
Easily manage multiple contracts by attaching them to individual trademarks and trademark families

Assignments
Store multiple trademark assignments, from past records to current records, including date, ownership type, and assignment details

Categorization
Maximal flexibility to categorize as you wish, such as by project and internal technology classifications
The world's leading organizations and law firms trust us to manage their IP Management requirements
Manage IP with Confidence
We help corporations and law firms transform ideas into strategically and financially valuable assets.

Full-spectrum of IP lifecycle software solutions to manage your everyday IP challenges

Trusted by the world's most innovative companies and law firms to manage their IP portfolio

Finest IP experts and technology professionals to guide you through your IP journey
To speak to one of our IP experts or to request a demo, please fill out the form below.
Together, we help your organization succeed
Work with an IP partner who empowers you to get more done