Capture. Review. Decide. Repeat.
Invention Submission and Management Made Easy, For You and Your Inventors
Your engineers and scientists develop great inventions every day. Symphony makes it easier to capture and process inventions into patents that have value. Symphony streamlines invention capture, collaboration and review, categorization, ranking, and automatically manages and documents the entire process. And while many other systems claim they're easily configured, Symphony's advanced software makes it so easy, you can do it yourself.
Invention Disclosure Portal
We prioritized usability so inventors can immediately begin using Symphony invention disclosure tools on any desktop or mobile device with little training. Designed for self-service productivity, the portal enables inventors to submit ideas, collaborate with co-inventors, track subsequent review, filing and awards milestones without wasting time submitting status requests. Submission Forms are easily changed by either MaxVal or our customers to meet today's and tomorrow's needs.
Symphony uses automated workflow management to ensure that invention disclosures are efficiently processed to facilitate review, approval and drafting. A host of features and tools simplify PRC scheduling, facilitate collaboration, organize comments and streamline ranking and voting. All materials, communications, notes and decisions are archived in a searchable database.
Symphony manages the entire awards process through a powerful, configurable, rule-based award management module that automates the most time consuming and error prone steps in the award process, and by tracking eligibility, milestones, status and monies paid and due. Awards related to milestone completion, due dates and amounts provide companies with great flexibility to reward personnel. Reward options based on invention submission, patent filing, PTO publication, grants and other milestones can be tracked. Extensive reporting options enable companies to continually assess the effectiveness and ROI of their Invention awards program.
Most invention disclosure management systems were built 10 to 20 years ago by companies that did not or could not prioritize flexibility. While they may claim their systems are configurable, the reality with these systems is hard-coded workflows and restrictions. Customization is only attainable through expensive project work by their professional services team. Upgrades are even more onerous.
Symphony and the flexibility inherent in Salesforce's advanced platform puts customization power in your hands. You can make changes to workflows, fields and other configurable areas. And when it comes to Symphony upgrades, Salesforce requires compatibility so the process is relatively simple and easy.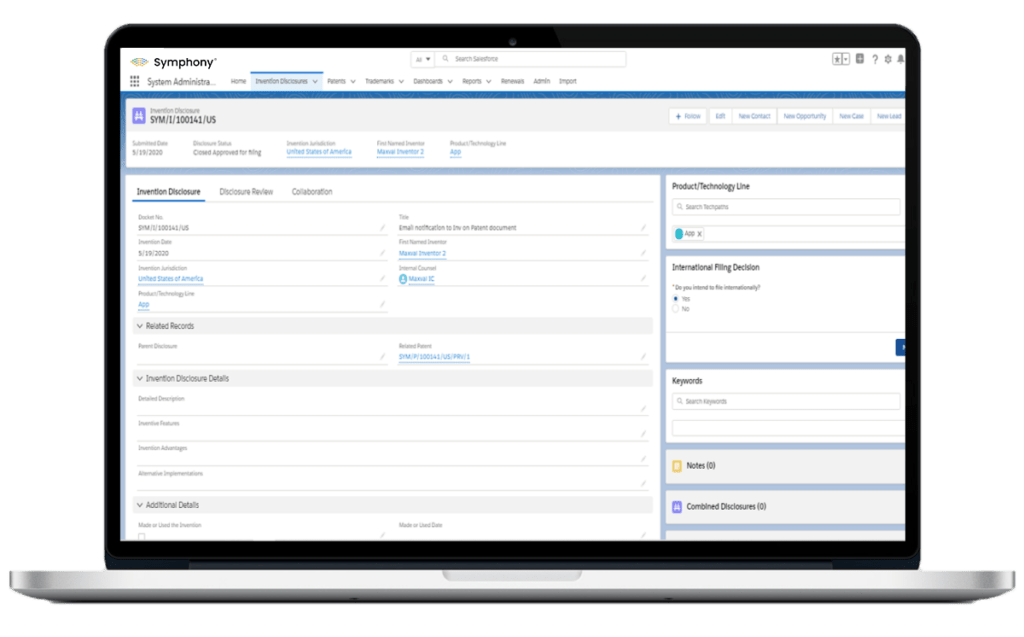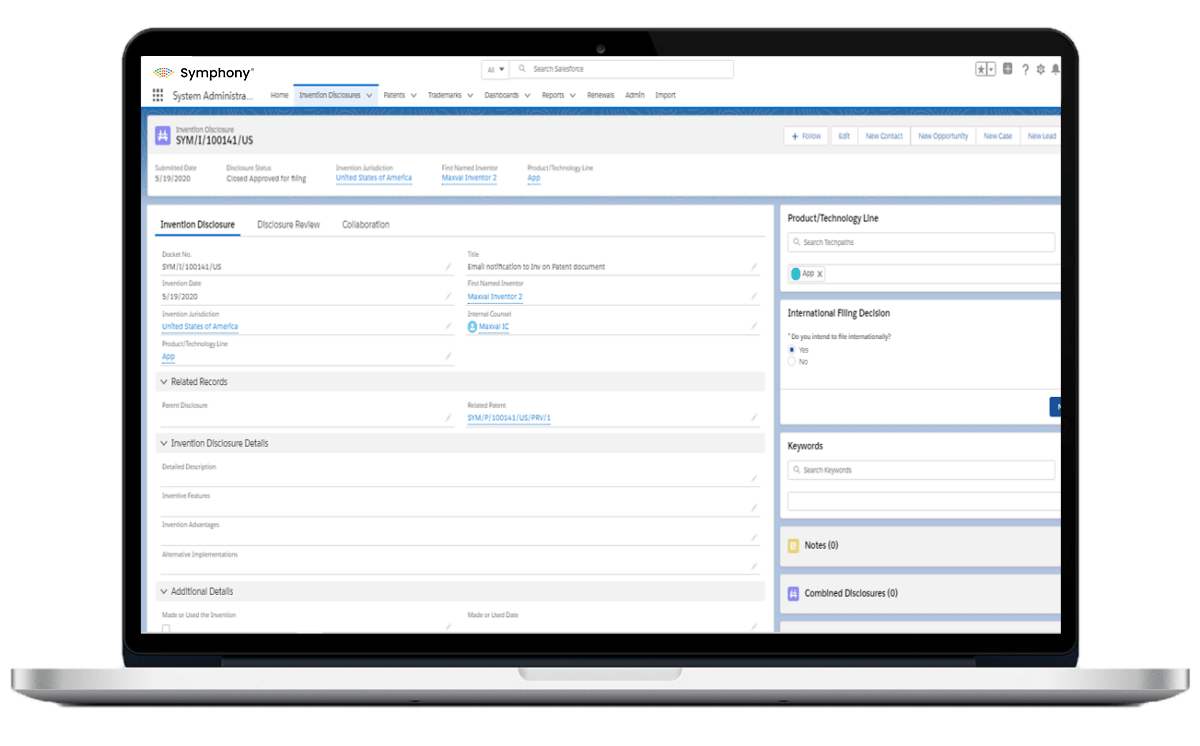 Configurable invention disclosure forms, submission and status tracking
Change workflows, modify financial component and generate reports without any IT support
No Installation or Training Required
Ready-to-use from day one
Minimal user training required
No hardware to purchase or software to install
A secure online environment to collect and evaluate inventions
Symphony runs on Salesforce App Cloud, one of the most secure enterprise cloud platforms in the world
Manage the entire invention capture process by effectively tracking, processing and avoiding duplicate filings
Avoid missing deadlines on inventions of business significance
Measure team performance through key metrics to track and reward inventors


Avoid costs from delays and process inefficiencies
Streamline operations to capture and process invention disclosures.
Together, we help your organization succeed
Work with an IP partner who empowers you to get more done