MaxVal often receives questions from inventors, early-stage companies, and universities (working on healthcare and life science innovations) regarding how to effectively utilize patent searches. Our search experts tackle some of the commonly asked questions in patent search in life sciences and healthcare within this article.
What is a Patent?
Publishing one's research in a peer-reviewed journal is thought to be a critical yardstick of productivity in life sciences. Obtaining a patent is another way to achieve the same recognition. A patent is a property right granted to an inventor by the federal government that permits the inventor to exclude others from making, selling, or using the invention for a period of time. The trade-off for this protection is that the inventor publicly discloses the invention so that the world can benefit from the innovation and further advance scientific development.
A process, machine, article of manufacture, composition of matter, or new and useful improvement thereof can be patented so long as they fulfill the basic criteria of patentability. For a patent to be granted, it must satisfy three basic criteria of patent-eligible subject matter, novelty and non-obviousness. Non-obviousness means that it would not be obvious to a person who is skilled in the art to combine previously known elements to arrive at the invention.
What is patentable in the field of life sciences?
Inventions in life sciences and healthcare can be broadly divided into:
Drug products and related inventions, including compounds, pharmaceutical APIs, antibodies, vaccines, conjugates, vectors, cell lines, combinations, manufacturing processes, and delivery devices; and
Non-drug-related inventions such as medical and surgical devices, assay kits, diagnostics, biomarkers, microarrays, CRISPR, sequencing platforms, manufacturing, purification and treatment processes, biofuels, software, etc.
Interestingly, for quite some time under patent law, living things were generally understood to not be a patentable subject matter under Section 101 of Title 35 U.S.C. This changed in 1980 due to the U.S. Supreme Court's landmark judgment in Diamond vs. Chakrabarty, which held that genetically engineered microorganisms could be patented as long as they were "a product of human ingenuity" and "having a distinctive name, character, [and] use and research."
As the science behind genetic engineering continues to evolve, the standards for patentability of biotechnology inventions must keep pace, making it vitally important that we all stay up-to-date.
Why is Patent Rights in Life sciences and Healthcare Critical?
It is imperative to secure patent rights in life sciences and healthcare because the R&D investment and time to market are significantly more than in other industries. For example, the cost to bring a single drug to market for a large-cap company was $1,981 million in 2019 (Source: Deloitte). Similar costs can also be seen in the area of medical devices development and commercialization.
Strong patent protection is the backbone for continued investment in developing new drug candidates and medical devices. Early loss of patent rights and exclusivity can result in swift erosion of market share due to therics and biosimilars' entry. Top pharma companies employ many IP strategies such as filing secondary patents covering different aspects of a base compound of a drug, retaining exclusivity over new indications, applying for orphan drug status, or delaying generic entry by patent litigation.
In addition to the protection they provide, patents also generate additional revenues through transactions, licensing, M&A and partnerships. A robust patent portfolio is significant for early-stage medical technology and biotechnology companies because they are often the most valuable assets that the companies can present to investors when seeking investment.
Life science companies have grown more savvy as to the importance of their patent portfolios. There has been an upswing in U.S. patent publications in pharmaceuticals, biotechnology, and medical devices in recent years. By way of example, a 10-16% increase was observed for all three areas for the year 2020 over the previous year (see figure below).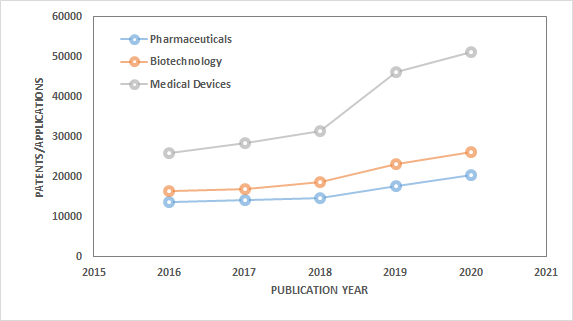 Patent publications in the United States: 2016-2020
There are several examples of the importance of patent protection in regards to blockbuster drugs. Pfizer's Lipitor is a primary example of what drug developers might face upon losing patent rights to their best selling drugs. Within a year of losing exclusivity, Lipitor's revenue dropped from $9.5 billion in 2011 to $3.9 billion in 2012, a decrease of 59% in revenue. Abbvie's Humira is consistently positioned as the world's best-selling medicine in recent times. It is expected to bring in $20 billion next year after successfully fending off biosimilar competition in the United States.
Roche's Rituxan, Herceptin, and Avastin are each projected to rake in a combined $21 billion in sales this year. All of them face an uncertain future due to the entry of biosimilar competition from multiple companies. Patents on new and upcoming modalities like cell and gene therapies will be subjected to similar challenges and acquisitions in the near future. We have previously covered high-profile patent disputes in CAR-T therapies and CRISPR.
Why should one do a Patent Search?
Patent search in life sciences and healthcare can play a vital role in a business's lifecycle by providing crucial input to stakeholders to make data-driven decisions to manage their investments and risks better. A patent search's objectives are flexible and can be adapted to the key business goals at hand. These goals can include filing patent applications, abandoning an idea/patent rights, launching a product, or asserting a patent against a competitor. The risk of acting on insufficient or inaccurate information can have grave financial implications and long-term consequences on a business's growth. Consequently, all large companies employ trained in-house and/or outside personnel to do their patent search in life sciences and healthcare.
What are the Types of Patent Searches?
Some of the common types of searches include:
Novelty/patentability,
Freedom to operate (FTO) or clearance searching,
Validity/invalidity searches
We discuss some of the life science-specific search services below.
Patent landscape searches can provide a comprehensive overview of technological advancements and competition activity, such as identifying entrenched competitors and emerging companies in a company's business areas. Patent landscape search in life sciences and healthcare can also serve as a starting point for helping you benchmark your portfolio against those of competitors.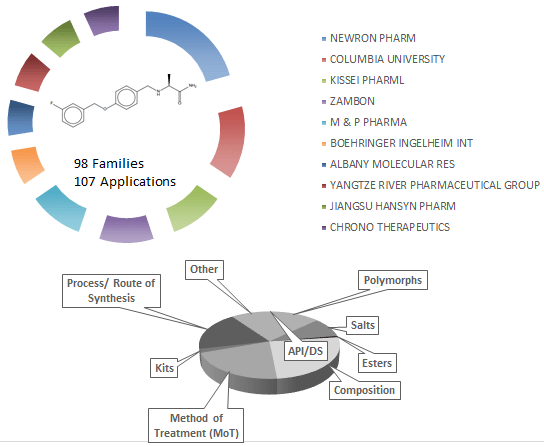 Sample illustration of safinamide patent landscape from a report on Parkinson's disease therapeutics
For patents pertaining to pharmaceutical compounds, inventors often use Markush groups in their claims to encapsulate a large set of compounds. Such representation began with a legal case involving Eugene Markush trying to broadly claim his invention (US1506316A). Performing a keyword-based search for a chemical compound is not advisable because the exact terminology of the structure and its possible variations may not always be known.
MaxVal has expertise in performing Markush and structure searches to ensure that all the possible usage pathways of a structure are better reflected, thereby ensuring no relevant prior art is missed.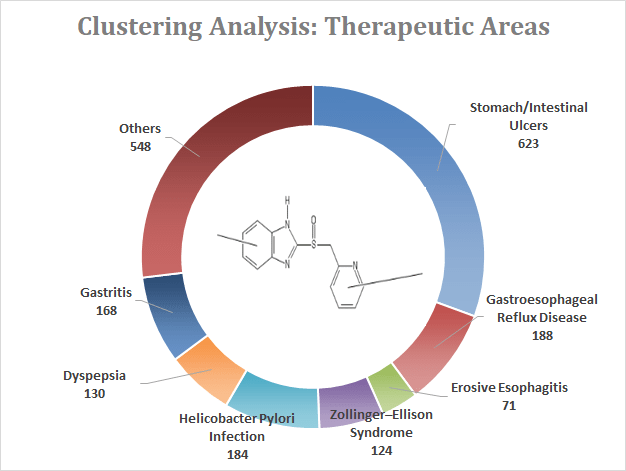 Sample illustration from a Markush structure search showing the identified patents clustered by disease indication
We also integrate sequence searching into our workflow for certain projects. Searching for biological sequences such as antibodies and PCR primers in patent and non-patent documents can provide insights into the patent rights and competitive landscape at various stages of the product life cycle. A well-structured sequence search report combined with periodic monitoring through alerts can help you protect your interests and inform you of competitor activity.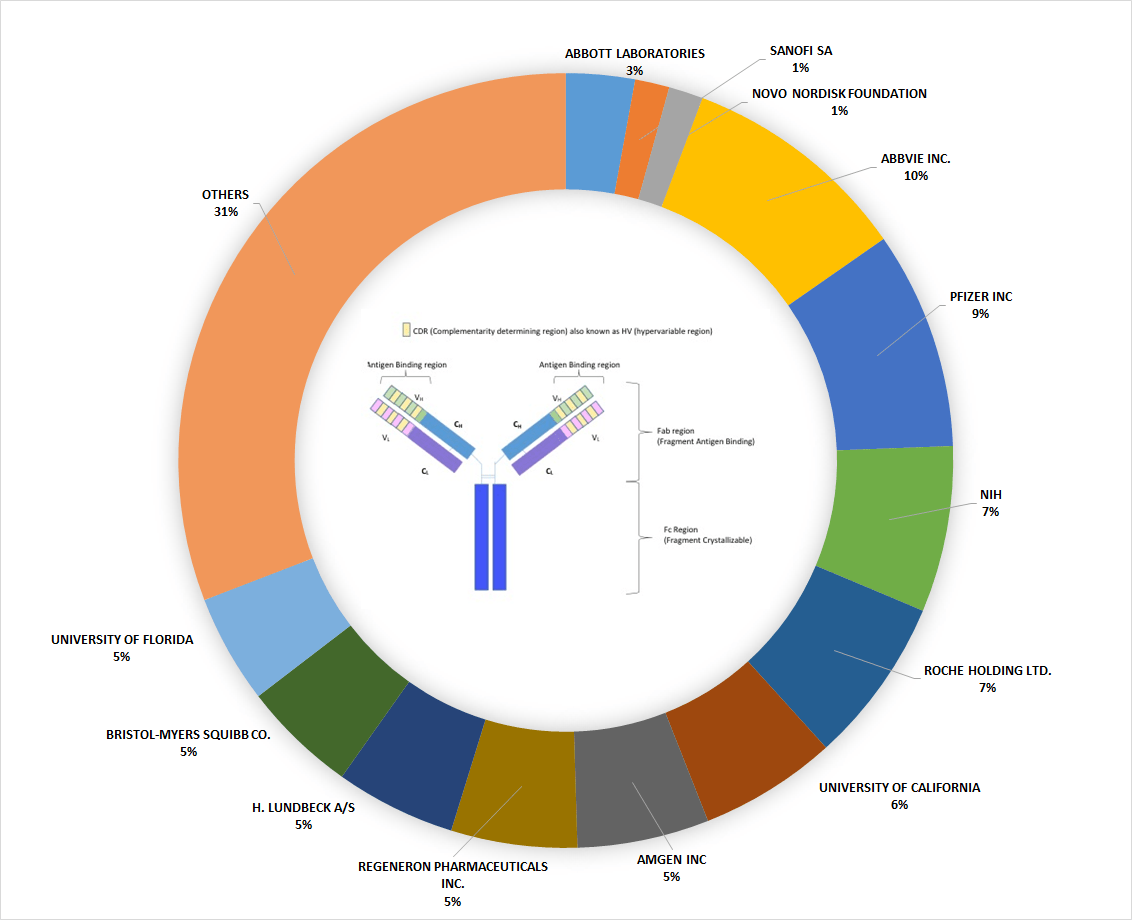 Sample illustration from a biological sequence search showing the identified patents clustered by the patent assignee
Should one hire a professional for a Patent Search?
It is possible to do your own patent search for free through USPTO, Google Patent Search, Free Patents Online, WIPO Patent Search Database, and other sites. We even recommend it. It may be beneficial for organizations with limited resources, individual inventors, and startups to do their own searching prior to making any investments. Simple keyword-based searches can help you identify prior art that may be potentially relevant and also improve your invention submission quality. However, we do not recommend making filing decisions on important patents or launching a product without conducting a professional patent search. There are many reasons for this recommendation.
On their own, some inventors might find it challenging to identify patentable aspects of their invention. While a life science researcher is generally well equipped at identifying key journal articles as prior art, they might overlook patents or other types of non-patent literature, such as product manuals, website information, and thesis publications. For instance, consider the journal article titled "Emergent Properties of Reduced-Genome Escherichia coli" published in 2006 concerning the synthesis of a reduced E.Coli K-12 genome. Some of the underlying technology disclosed here can be traced back to patent applications first published in 2003 (US20030138937A1 and US6989265B2).
Patent documents are dense, and claim language can be very tricky to understand and difficult to search. In our experience, even patent attorneys who have worked several years in the same domain can have trouble finding relevant prior art. More importantly, it is just not cost-effective to have an inventor or even a patent attorney spend their time searching. That is why they seek help from our experienced expert searchers to provide them with reports that are based on correct, current, and complete data. Only an expert searcher can identify the closest and possibly the best set of prior art for disclosure in a short time frame.
The cost of conducting a professional search is marginal compared to the risk of infringement or opportunity loss resulting from the lack of actionable information. We suggest that you read our previous article on choosing between patent search software or expert patent services if you need further guidance on selecting an expert patent search.
MaxVal is a leading and trusted IP service provider with over 15 years of experience conducting patent searches for prolific companies and law firms. Do check out more about our prior art and other search services.