This week's newest patent applications from NXP USA, Novartis, Merck, Abbott, Medtronic, Roche, Boston Scientific, Paypal, Apple, IBM, Microsoft, and Intel.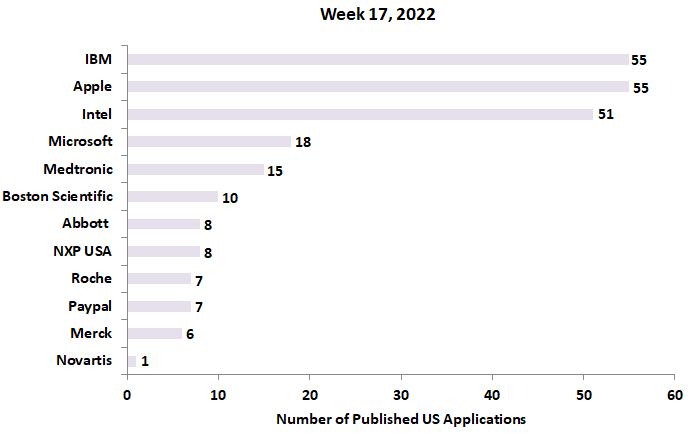 NXP USA Pursues a Patent on a Multi-Link Device (MLD) Setup for Multi-Link Operation (MLO)
U.S. patent application, US20220132608, discloses a multi-link device (MLD) within a wireless local area network (WLAN). The MLD includes a controller configured to generate a management frame having a set of multi-link information elements (ML IEs), wherein the MLD is configured to be coupled to a set of PHY-layer links. The controller is configured to perform a multi-link setup with a second MLD using the set of ML IEs over the PHY-layer links. The figure below illustrates the first set of (ML IEs).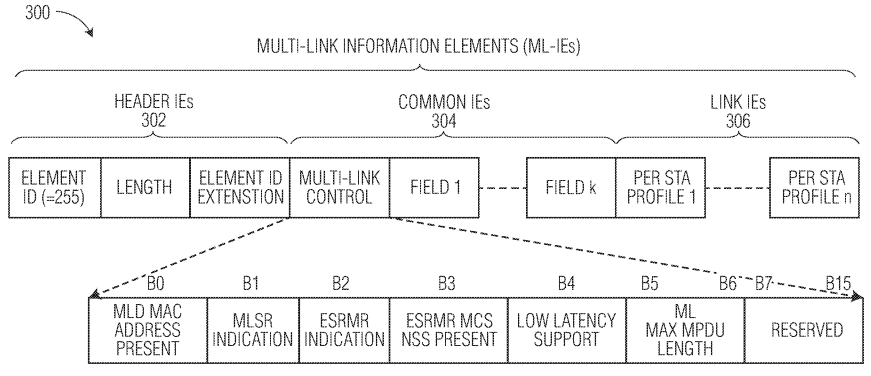 Novartis Seeks a Patent for Treating Cystic Fibrosis
U.S. patent application, US20220127247, relates to parenteral administration of a pharmaceutical composition containing a compound of Formula (I), N-(Pyridin-2-Yl)Pyridine-Sulfonamide for the treatment of CF transmembrane conductance regulator (CFTR) mediated disease such as cystic fibrosis.
Merck Aims to Patent a System for Controlling the State of Liquid-Crystal Based Switchable Elements
U.S. patent application, US20220128846, discloses a system having a master controller for controlling the state of multiple liquid crystal-based switchable elements. The switchable elements are configured as smart windows or switchable subunits of smart windows, where the switchable elements comprise a substrate, a switchable layer, and another substrate.
Abbott Wants to Patent an Integrated Microfluidic and Analyte Detection Device for Sample Analysis
U.S. patent application, US20220126296, discloses an integrated microfluidic and analyte detection device. The analyte detection device is configured to operate an analyte detection chip including a digital microfluidics (DMF) region and an analyte detection region, to detect an analyte-related signal from a prepared test sample by optical or electrochemical means. The figures below illustrate the integrated digital microfluidic and analyte detection device

Medtronic Eyes a Patent for a Pressure Loaded Drive Control for Bone Resection
U.S. patent application, US20220125447, discloses a drill assembly with pressure-loaded drive control cutting tools for cutting bone. The assembly includes an active and inactive configuration in which a pressure-loaded drive control assembly transfers and prevents energy from a motor to the cutting tool to drive the cutting tool to carry out bone resection and reduce the risk of damaging an anatomical organ. The figures below illustrate the active and inactive configuration of the pressure-loaded drive control assembly.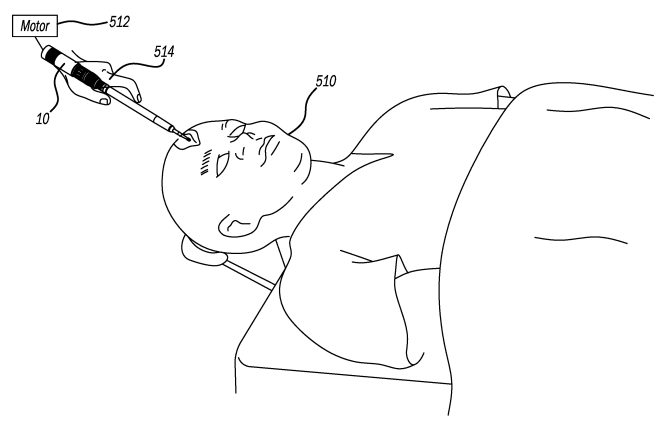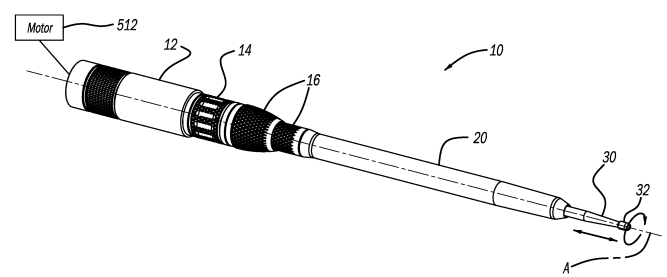 Roche Aims to Patent a Tumor Classification Method
U.S. patent application, US20220130549, discloses a method of classifying and/or identifying a cancer subtype based on tumor mutational burden. The method involves determining the level of somatic mutations (e.g. synonymous mutations and/or non-synonymous mutations) in tumor tissue samples obtained from a patient for predicting tumor mutational burden and then classifying the cancer subtypes which can be used as a biomarker (e.g. a predictive biomarker) in the treatment of a patient suffering from cancer.
Boston Scientific Files a Patent for a Magnetically Driven Atherectomy System
U.S. patent application, US20220125475, relates to a device for forming a passageway through an occlusion of a body lumen. The system includes an assembly having a drive motor, a first magnetic coupling segment, and a disposable single-use assembly that includes a second magnetic coupling segment, a spline shaft, a drive gear assembly and is adapted to rotatably engage an atherectomy burr. The figure below illustrates a schematic diagram of an atherectomy system.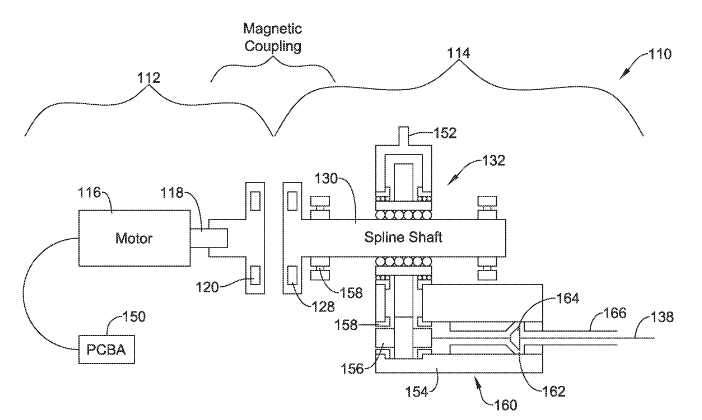 Paypal Seeks to Patent a Method for Predicting Online Electronic Attacks
U.S. patent application, US20220131892, discloses a method for predicting online electronic attacks. The method includes receiving an indication that a first online platform has undergone/is undergoing a first electronic attack, in response to receiving the indication, determining one or more vulnerability characteristics of the first online platform, analyzing a plurality of other online platforms to identify a potential target second online platform that shares at least one of the vulnerability characteristics with the first online platform and performing actions to mitigate the potential damage of the second electronic attack.
Apple Eyes a Patent for an Electronic Device that Recovers from Eye-Tracking Loss
U.S. patent application, US20220130350, discloses an electronic device that recovers from eye-tracking loss. The device includes a display and an eye tracker and is configured to foveate one or more areas of the display according to the eye-tracking data. If the eye-tracking data input is lost, the device recovers from the eye-tracking loss by changing one or more aspects of the foveated areas (e.g., size, resolution, etc.) until a threshold is satisfied. When the time elapses since the loss of eye-tracking, the foveated areas move toward the center of the display. The figure below shows the recovery of the device from the eye-tracking loss.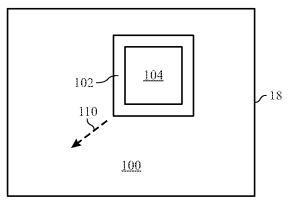 IBM Aims to Patent a Method for In-Flight Servicing of an Aerial Vehicle
U.S. patent application, US20220129826, discloses a method for in-flight servicing of an aerial vehicle. The method includes monitoring the status of a delivery aerial vehicle, assigning a service aerial vehicle to provide service when the aerial vehicle status conflicts with a delivery schedule associated with the delivery aerial vehicle, providing assistance by the service aerial vehicle while the delivery aerial vehicle and the service aerial vehicle are in-flight. The figure below depicts a perspective view of a package delivery system using the aerial vehicle.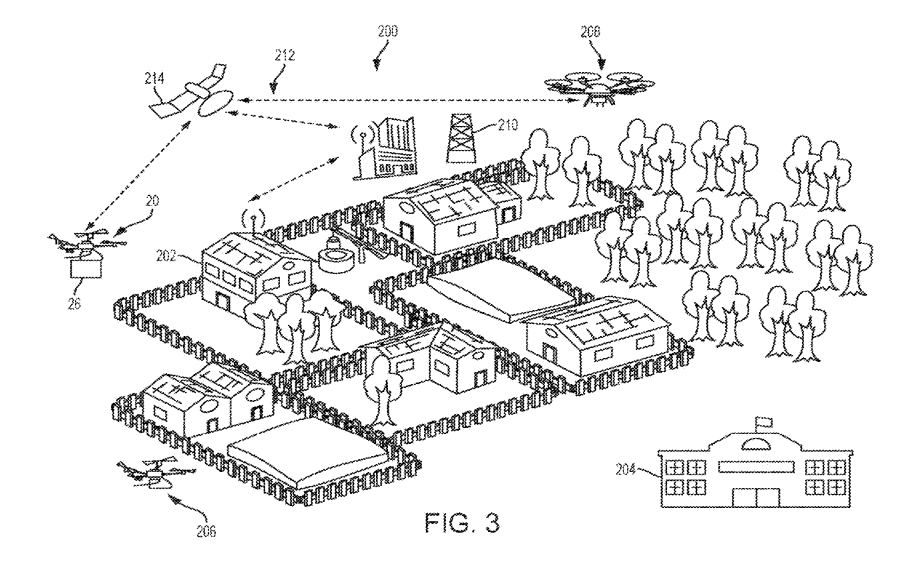 Microsoft Files a Patent for Light Leak Correction for Mixed Reality Devices
U.S. patent application, US20220130297, describes a system obtaining a color value for a pixel and obtaining a light leak value associated with the pixel. The system generates an updated color value for the pixel by applying a light leak compensation operation to the color value for the pixel. The operation uses the light leak value for modifying the color value to compensate when displaying the pixel on the display device. The figure below depicts the pixel configured to display a color value to an image detector.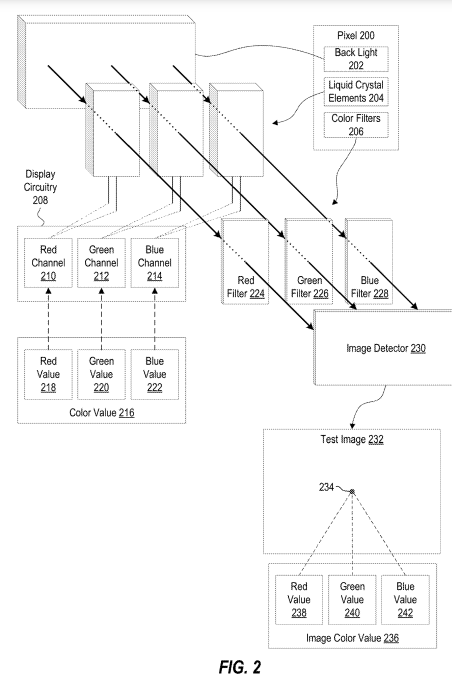 Intel Seeks a Patent for a Partial Echo Cancellation Duplexing System
U.S. patent application, US20220131569, describes a method for transmitting data upstream and downstream between a first device and a second device by determining an upstream crosstalk effect for an upstream channel and a downstream crosstalk effect for a downstream channel. A partial echo cancellation duplexing system circuitry adjusts the data rate of an upstream transmission or downstream transmission based on an upstream crosstalk effect and a downstream crosstalk effect. The figure below illustrates a multi-user twisted pair network with two independent non-co-located users.