Partnering with a Patent Life cycle Management Company lets you outsource routine administrative responsibilities. This allows you to focus your time and resources on strategy and achieving your business objectives. It is a big commitment with a big payoff. But how do you choose the right Patent Life Cycle Management Vendor?
At MaxVal, based on the decade plus experience partnering with our clients, here are the vendor attributes that we found to be important for our clients in choosing a vendor.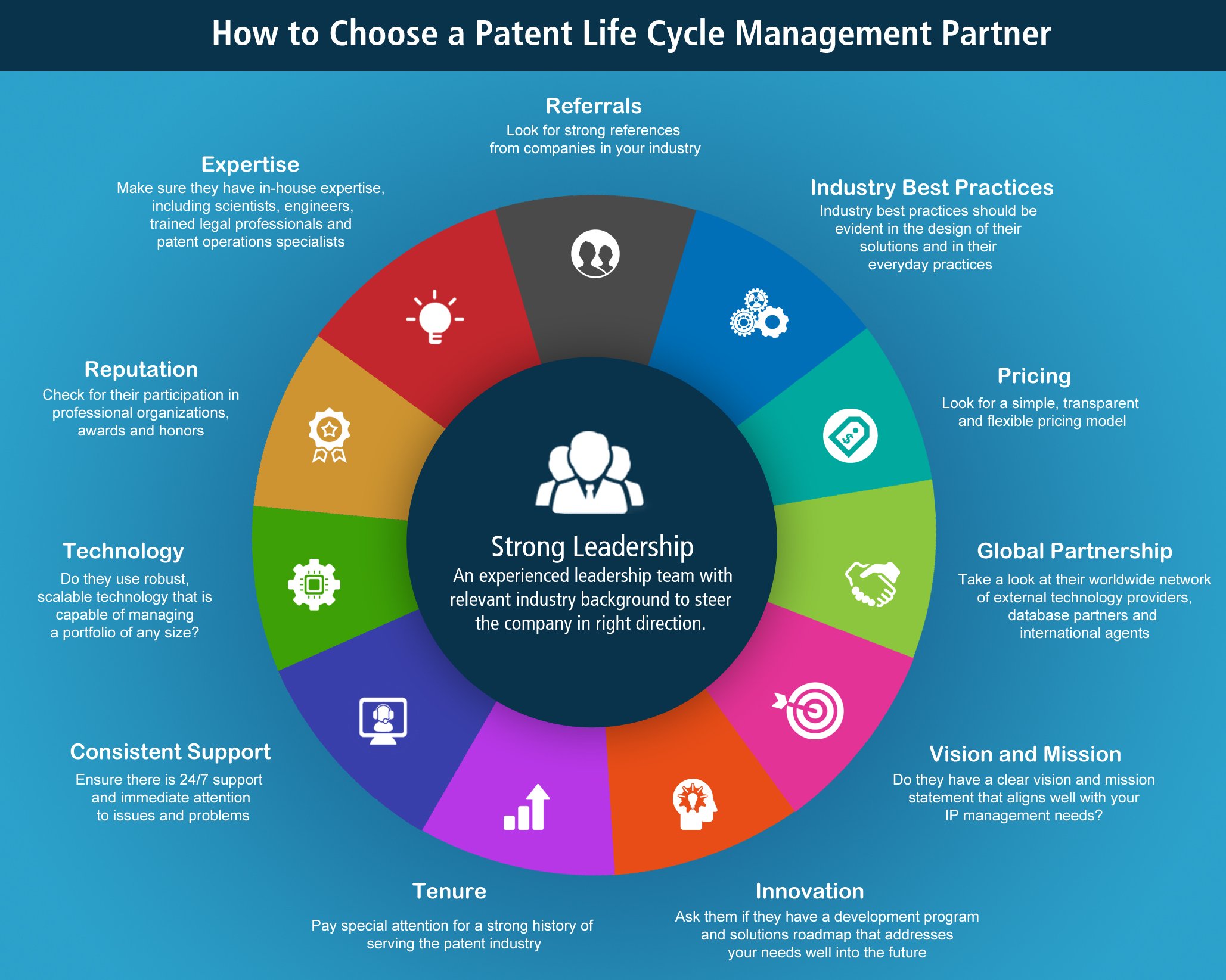 1. Vendor's Vision and Mission
Does the vendor have a clear mission and vision that aligns with your IP business? Many vendors have vague mission statements or are focused on very broad business objectives. Look carefully to see that they have a distinctive mission statement that is aligned with your company's IP management needs.
2. Strong Leadership
An experienced leadership team with relevant industry background to steer the company in the right direction. A strong management team acts as the backbone for the vendor. They make strategic decisions that ensure win-win outcomes for themselves and their clients.
3. Technology
Make sure that the vendor uses robust, scalable technology that is capable of managing a portfolio of any size. From prior-art search through patent issuance, each stage in the patent life cycle has different needs. Some stages need highly accessible, simple tools for patent term estimation, IDS form generation, etc., while others need full-featured management software for annuity payment, portfolio management, IDS management, etc. Hence, check if the vendor offers end-to-end solutions and services to address and solve your different patent management needs.
4. Expertise
Does the vendor have in-house expertise, including scientists and engineers, trained legal professionals and operations specialists? This diverse and experienced team should support the clients by identifying and understanding client needs and suggesting and implementing the right solutions for them.
5. Industry Best Practices
Industry best practices should be evident in the design of the solutions and in everyday practices. Following best practices results in high quality. Best practices also help the service provider be more competitive. Over time, following best practices results in lower costs, higher productivity, improved quality and timely delivery. All of which will benefit you as a client.
6. References
Look for strong references from companies in your industry. Feel free to ask the vendor if they can provide references and introduce you to their existing clients. Through this you can learn how each reference has benefited from the relationship.
7. Consistent Support
24/7 support and immediate attention to issues and problems. This is one of the critical factors to consider upfront with any service provider. In today's business climate, even apparently small issues need to be addressed quickly. So, ask them about their different modes of support; whether they offer round-the-clock assistance and their turn-around time for addressing critical cases.
8. Tenure
Look for a strong history of serving the patent industry. A veteran vendor will have weathered industry changes and gained a greater understanding of the IP industry. They can adapt to changes better than less experienced vendors. This means that they not only act as a service provider but also as a seasoned consultant.
9. Global Partnership
Look at the vendor's worldwide network of external technology providers, database partners and international agents. It's very common in today's global economy that businesses have strategic partnerships or joint ventures with other businesses to leverage various resources worldwide. Your service provider's network will consequently mitigate risks and add value to your business too.
10. Innovation
Innovation always disrupts the status quo in any business and addresses clients' needs in better ways. Look for a development program and solutions roadmap that ensures that the choice you make today will still be the right choice in the future. When your service provider strives to be innovative, it directly gives a meaningful value to your business.
11. Reputation
Look for participation in professional organizations, awards and honors. Reputation doesn't come on its own for any business; it has to be earned by being competent. You will feel more secure when you work with someone with a good reputation and who is respected by others in the same field.
12. Pricing
Look for a simple, transparent and flexible pricing model. Ask them clearly what are all the factors included in their pricing and if there are any hidden costs like maintenance, training, upgrades, etc. There are different pricing models among patent management solutions provider. These include one-time fees, project based fees, time based model, flat fees, etc. Whatever their model is, make sure it's transparent and you know what you pay for.
Contact us at MaxVal to see how we can help you. Ask about our experienced staff of attorneys, IP professionals, scientists, engineers and software professionals. Ask to see our IP Lifecycle Management Technology. Technology is the key to the quality and efficiency of our unique service.