Kite Pharma, a subsidiary of Gilead Sciences, has recently filed an appeal at the Federal Circuit against an earlier judgment in favor of Juno Therapeutics (Juno), the Memorial Sloan Kettering Cancer Center, and the Sloan Kettering Institute for Cancer Research Center (Case Number: 2020-1758).
Kite Pharma is represented by Munger, Tolles & Olson, and Fish and Richardson. Juno is represented by Irell and Manella LLP and Jones Day.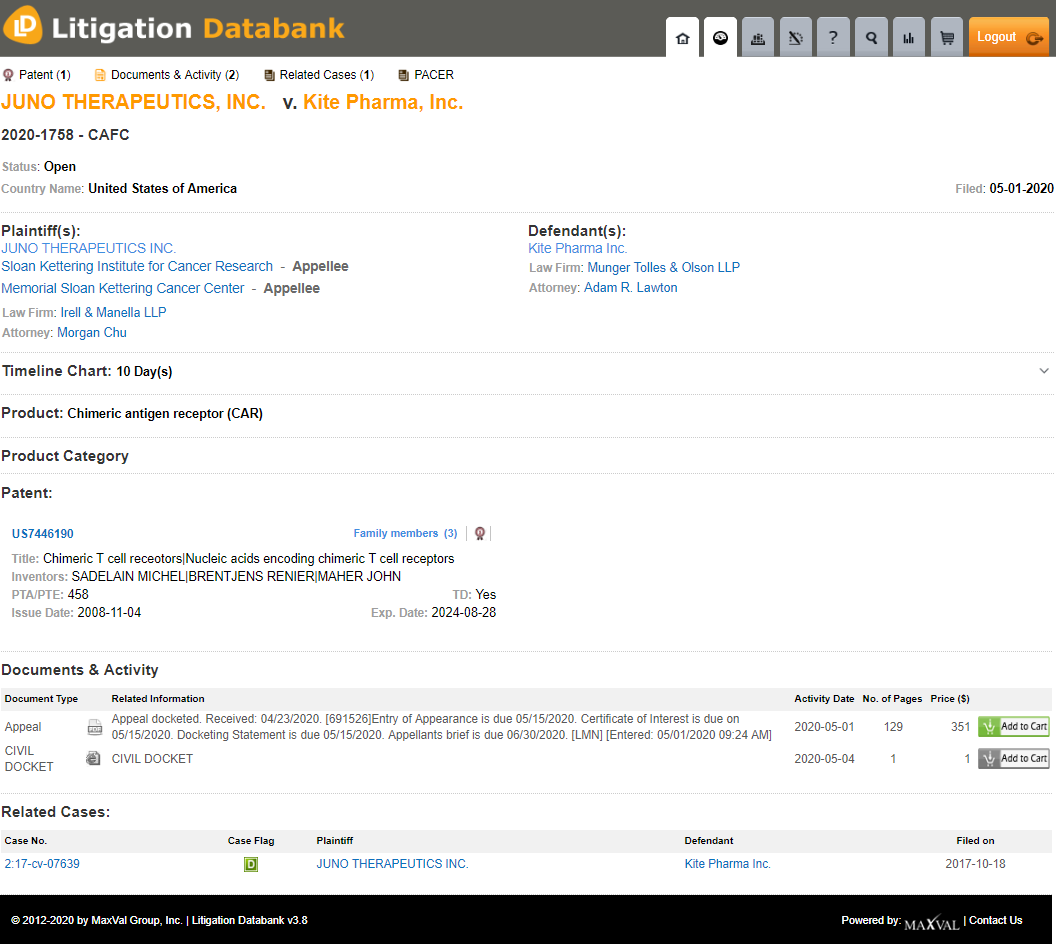 Source: MaxVal's Litigation Databank
The patent at the heart of this case, U.S. 7,446,190, relates to methods of using chimeric T-cell receptors to facilitate T-cell response to a specific target. The original assignee, the Sloan-Kettering Institute For Cancer Research granted an exclusive license of the technology to Juno Therapeutics on November 21, 2013. Juno Therapeutics is a Bristol-Myers Squibb company through the latter's acquisition of Juno's parent company Celgene.
In the earlier judgment, the California Central District Court found that Kite Pharma had willfully infringed on Claims 3, 5, 9, and 11 of Juno's U.S. 7,446,190 patent through sales of Kite Pharma's Chimeric Antigen Receptor T-Cell (CAR-T) therapy, Yescarta. Kite Pharma's counterclaims of non-infringement and invalidity of the claims were rejected by the Court. Further, the earlier jury-awarded damages of $752 million were increased by the Court to approximately $1.2 billion (Case Number: 2:17-cv-07639).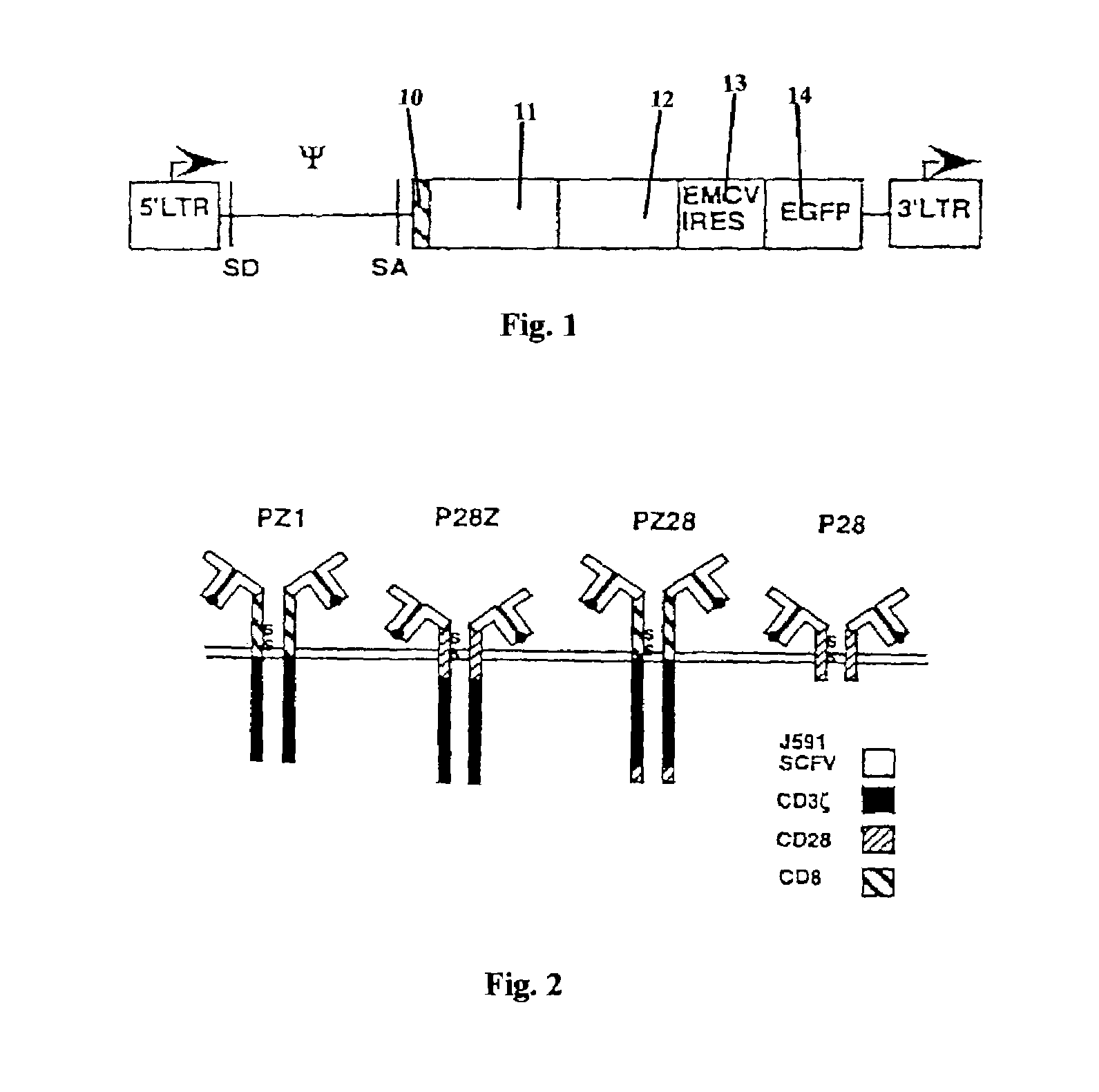 Juno's U.S. 7,446,190 patent relates to a CAR-T cell encoding three specific elements: 1) an antigen-binding molecule against a target such as CD19; 2) a co-stimulatory CD28 domain; and 3) an intracellular domain of CD3ζ. Once the CAR-T cell is bound to the target, the CD3ζ element sends signals to kill the targeted cancer cell. Adding a co-stimulatory signal such as CD28 can improve T-cell activation and the persistence and efficacy of CAR-T therapies.
Yescarta (Axi-cel or axicabtagene ciloleucel) is a CAR-T therapy initially developed at the Surgical Branch of the National Cancer Institute (NCI) and later licensed to Kite Pharma for further development. Yescarta is a US FDA approved treatment for relapsed or refractory large B-cell lymphoma in adults. The drug is a personalized autologous T-cell therapy delivered to the patient by infusion. A course of treatment of the drug costs $373,000. Kite Pharma's sales of Yescarta amounted to $456 million in 2019 compared to $264 million in 2018, which is less than the $1.2 billion in damages assessed by the Court. Presumably, the Court increased the damages amount based on its assessment of Kite Pharma's willfulness in its infringement. Unless Kite Pharma wins its Appeal, it will see its margins thinned due to awarded damages and a 27.6% running royalty rate on net revenues from future sales of Yescarta.
The CAR-T therapies are a hotly contested area with several patents in dispute. Interestingly, Kite Pharma's CAR-T candidate KTE-X19 is under priority review before the FDA for the treatment of adult patients with relapsed or refractory mantle cell lymphoma (MCL). KTE-X19 has the same construct as Yescarta's Axi-cel, but differs in the manufacturing process in that KTE-X19 includes a specific T-cell selection and lymphocyte enrichment necessary for activity against certain B-cell malignancies.
Bristol-Myers Squibb's candidate, lisocabtagene maraleucel (Liso-cell), is also under priority review for the treatment of adult patients with relapsed or refractory (R/R) large B-cell lymphoma. Its CAR-T construct includes an anti-CD19 single-chain variable fragment (scFv) targeting domain for antigen specificity, a transmembrane domain, and a 4-1BB costimulatory domain.
Contact us to request a copy of a sample landscape report on CAR-T Therapy. Checkout more about our validity/invalidity search services.
Let us know what you'd like to see in our next blog/webinar. Take the Reader Poll