The Importance of a Patent Search
Patent information is being widely used for data-driven decision making in IP departments, R&D units and corporate leaders. Patent searching can play a vital role in a business's lifecycle by providing crucial input to stakeholders so that they can better manage their investments and risks. The objectives of a patent search are flexible and can be adapted to the key business goals at hand. These goals can include the filing of patent applications, abandoning an idea/patent rights, launching a product, or asserting a patent against a competitor. The risk of acting on insufficient or inaccurate information can have both financial implications and long term consequences on the growth of a business. Consequently, all large companies employ trained in-house and/or outside personnel to do their patent searches.  Discover the ideal choice for your business, whether a patent search software or expert search service, and unlock the potential of intellectual property.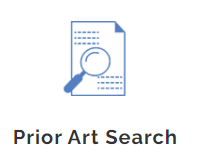 Is it possible to do a patent search on your own?
This is a question we often get from smaller entities, such as sole inventors and startups. The quick answer is yes. It is possible to do your own patent search for free through USPTO, Google Patent Search, Free Patents Online, WIPO Patent Search Database, and other sites. We even recommend it. It may be beneficial for organizations with limited resources, individual inventors and startups to do their own searching prior to making any investments. Simple keyword-based searches can help you identify prior art that may be potentially relevant and could also improve the quality of your invention submission.
However, we do not recommend making filing decisions on important patents or launching a product without conducting a professional patent search. There are many reasons for this recommendation. For example, some inventors might find it difficult to identify patentable aspects of their invention. Patent documents are dense and the claim language can be very tricky to understand. In our experience, even attorneys who have worked several years in the same domain have trouble finding prior art so they seek help from experienced expert searchers to provide them with reports that are based on correct, current and complete data. The cost of conducting a professional search is marginal compared to the risk of infringement or opportunity loss resulting from lack of actionable information.
Another question we get from the in-house personnel is our view on the value of patent search software. We currently use a wide variety of subscriptions and in-house tools for reducing the time spent on collecting data, analyzing potentially relevant results and generating actionable reports. Whilst there are many patent search software available, no single solution does it all or serves as replacement for an expert searcher. As to the AI/similarity/semantic search tools that are based on text-mining and other approaches, such as extended citations, even the best of them don't offer the quality and accuracy of experienced patent searchers required to detect the nuances important to patentability, invalidity, and freedom to operate searches. We utilize AI/similarity/semantic search tools to improve our efficiency and augment our keyword/classification-based searches. We continually invest in technology solutions that improve the efficiency of our expert searchers.
Expert patent searches come at a cost when compared to self-service using free patent databases. But the cost is only a fraction compared to the potential value it creates to the client.
Differentiator
Self-Service
Expert Patent Search
Cost
Free or pay for yearly subscriptions; results in time and opportunity loss
Can be expensive for individual inventors/small companies;

Efficient option for R&D and IP teams

Tools
Search done largely through free tools or limited subscriptions
Search done through multiple channels for maximum patent and non-patent literature coverage
Risk of missing key references
High
Low
Investment/Business Risk
High
Low
Language Coverage
Results are limited by Inventor's fluency in the language
Wider access to results from multiple jurisdictions and in multiple languages.
Experience of Searcher
Minimal to none
Several years of dedicated experience in understanding the evolution of patents in the technology space.
Specialized Searches: biological sequence, chemical structure, industrial design, technical standard specification, product features, etc.
No
Yes
Reproducibility
Low
Easy to update periodically
Reporting
Not verifiable; Not presentable.
Ease to verify; High quality reports presentable to stakeholders.
Actionable
Provides minimal information.
Provides quality insights and inputs to R&D and IP teams.
What constitutes a good search report and search service provider?
As noted above, the search report is an important piece that shapes decision-making in many organizations. The best search reports provide accurate results and verifiable processes in a way that is easy to understand. MaxVal's reports do just that. The accuracy of our reports comes from our expert patent searchers using the most advanced patent search to get the best results. We help you verify our processes by providing our step-by step search strategies. Finally, our reports help the reader to easily comprehend what the results mean to their objectives.
MaxVal has been refining our process for decades. We understand the diversity of expectations for a wide variety of clients and operate based on established trust. We are not afraid to demonstrate the process steps followed in arriving at the results and conclusion.
The single most important ingredient in a search provider, is a search team with a deep understanding of technology, patents and technical publications. When selecting a search team to support your prosecution and litigation research, you need to look not only for a search team with expertise in various patent search software and methods but more importantly you need to look for prior art document experts.
Prior art search skills can be effectively assessed by testing a candidate firm through search trials, a review of their search strategies, as well as the prior art results produced. Additionally, a phone interview or conference call where the searcher walks you through the construction of their strategy can be helpful in assessing their competency. There is no single correct method of searching prior art, so the goal is to assess whether the methods are logically sound and that the searchers not only have command of the patent search tools, but also a thorough working knowledge of the technology.
Here are some of the key questions that should be asked by an inventor or applicant while hiring a vendor to perform prior-art searches.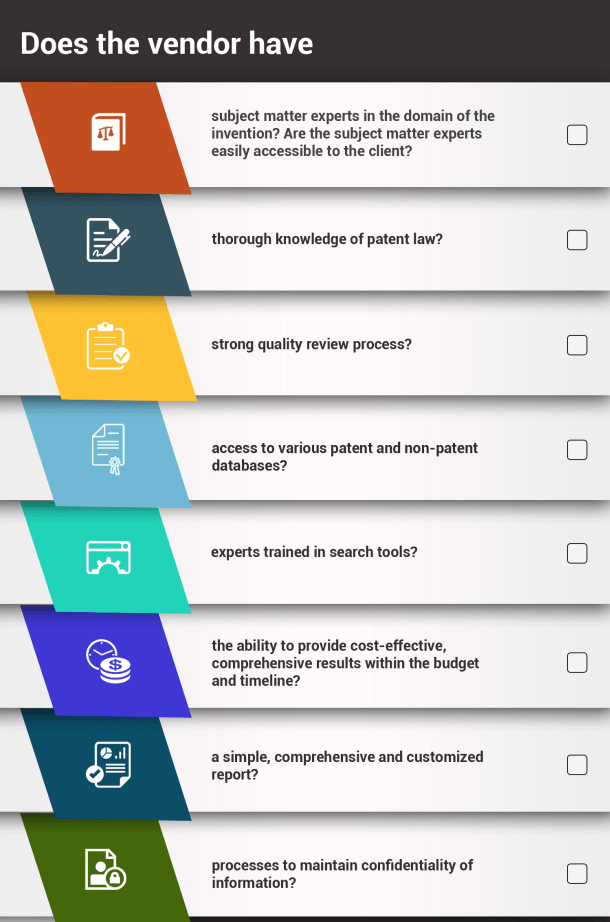 What are the benefits of expert search services?
We performed a novelty search for one of our Fortune 500 clients on a disclosure related to 5G communication. Our search report identified third-party references that clearly illustrated that the key elements might face difficulties during prosecution. Further, our report identified unique aspects of the disclosure and their own related applications that can be strategically used to block third-party references during prosecution. The updated version of the disclosure was cleared by our search and resulted in a quick allowance before the USPTO.
The following are some of the unique features that make our patentability search reports the best in the industry:
Actionable – We provide element-by-element mapping against the relevant patent and non-patent literature.
Detailed – Our reports include our analysis summary and notes.
Automated – We utilize automation tools to generate our search reports ensuring consistency, avoiding mistakes and focusing our efforts on analyzing the invention.
Options to suit your needs – We offer knockout, novelty and comprehensive pre-filing searches with flexible turnaround time and volume-based pricing.
Value-Additions – We flag potential issues and identify opportunities to the responsible in-house or external counsel.
We conducted a freedom-to-operate (FTO) (or clearance search) for a medical device at an early stage of its development. Our well-crafted standard operating procedures developed over 15 years helped the client to know in advance if there were any potential roadblocks, in-force granted patents or published pending publications, which could hinder their product development and commercialization in a specific jurisdiction of interest. Our reports highlight the key findings in a way that helps clients in obtaining legal opinions regarding infringement risks. This search revealed a few in-force granted patents with broad claims could be a potential risk to the client. These findings helped the client to redesign their product and stay ahead of the competition in the market.
The following are some of the unique features that make MaxVal's FTO searches the best in industry:
Actionable – We map all the product features against the shortlisted claims.
Detailed – In-depth claim analysis of the shortlisted results including highlighting portions of the claims which distinguish the result from the key elements of the client's subject device, as well as highlighting broad claims that can also indicate an element of risk.
Options to suit your needs – We offer strategic FTO landscapes, focused clearance searches and periodic updates/alerts.
Value-additions – We provide prior litigation details from MaxVal's Litigation Databank, latest claims, prosecution file history, legal status, assignment information, expiration dates considering PTA and TD, and much more.

MaxVal is a leading and trusted IP service provider with over 15 years of experience in conducting patent searches. To know more about our prior art search and other search services.