To avoid the burden of challenging the validity of a granted European patent in the courts of multiple countries, the most efficient course of action is to file an opposition before the European Patent Office (EPO opposition). Oppositions can be filed by any third party before the Patent Office within nine months from the date of publication of the grant of the European patent. It provides a cost-effective mechanism to challenge a recently granted patent and may result in revocation or restriction of the scope of the claims. A similar mechanism also exists in other patent offices for facilitating the removal of invalid patents.
Patent Grants Outpace EPO Opposition Filings in Recent Years
Because the EPO annual report does not report EPO opposition filing statistics, MaxVal ran a search in two different commercial search platforms to determine the number of patents for which oppositions were filed. The resulting numbers between the two commercial platforms matched.
Our numbers indicate that oppositions have not kept pace with the increased number of European patents granted between 2015 – 2020. There was a drop in patents granted between 2020 – 2021, likely due to COVID disruptions at the EPO. However, the percentage of granted patents that went on to be opposed did not change significantly. Further, EPO reported that it received a record 188,600 applications in 2021. We suspect we may yet see a rebound in patent grants and the percentage of opposed patents in 2022 based on the strong pipeline and previous year trends.
In the Table below, opposed patents are grouped based on their grant year irrespective of the opposition filing date, number of oppositions filed for the same patent, and their outcome (e.g., rejected, etc.).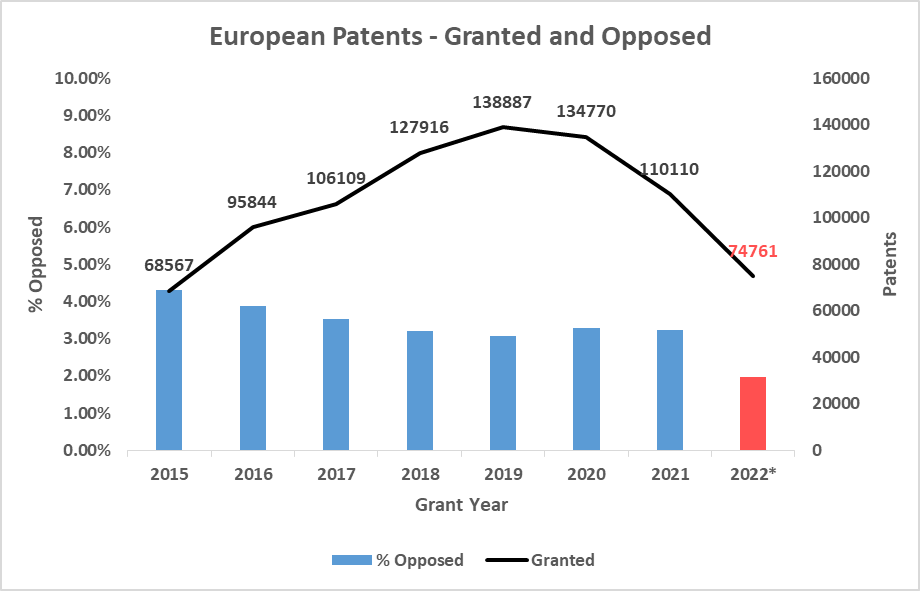 *Incomplete data, as on Nov 10, 2022
Opposition Outcome Can Favor the Opponent
The time pending for a final decision following filing an EPO opposition proceeding is 15 months or even longer. Data released by the EPO for examiner decisions completed in 2020 reveals that 31.1% of patents have their oppositions rejected, 34.1% had the claims amended and 34.8% had their claims entirely revoked. This suggests that about 65% of patents with final decisions survive the EPO opposition challenge.
While revocations are the best outcome for the opponent, amendments that restrict the scope of the claims may also work in their favor. The final amendments to claims have to be assessed individually to see if the narrowing amendments benefit the opponent or not. One way of identifying if the surviving patents are of any value is to look into the maintenance status of patents with the final decision. Our data indicates only 58% of 3,878 patents with final decisions in 2021 are currently in force. The number of in-force patents is consistently lower (49-57%) for final decisions from previous years (2017-2020). Contrast that to recent final decisions in 2022 which show 78% of 2,452 patents are currently in force.
Thus an opponent can hope for reasonable success from opposition proceedings resulting in the patentee losing their patents by revocation or abandoning them ahead of their full term. From the perspective of patentees and their representative firms, awareness of the prior art landscape before filing patents can avoid any surprises during these proceedings.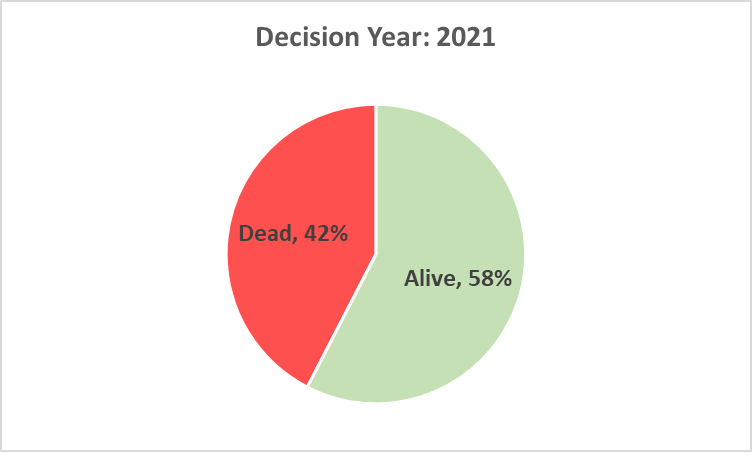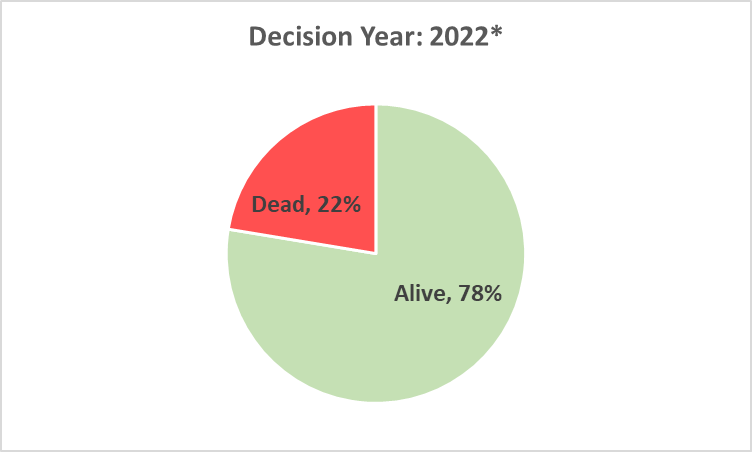 *Incomplete data, as on Nov 10, 2022
Opposition Stats: Top Patentees Facing Opposition, Opponents, and their Firms
The top 100 patent owners with EPO oppositions to patents granted between 2017-2022 are listed below. Many of these assignees are from the major patenting countries in Europe including Germany, Switzerland, France, the United Kingdom, the Netherlands, and Italy. The major non-European owners come from the USA, Japan, China, South Korea, Australia, and Israel.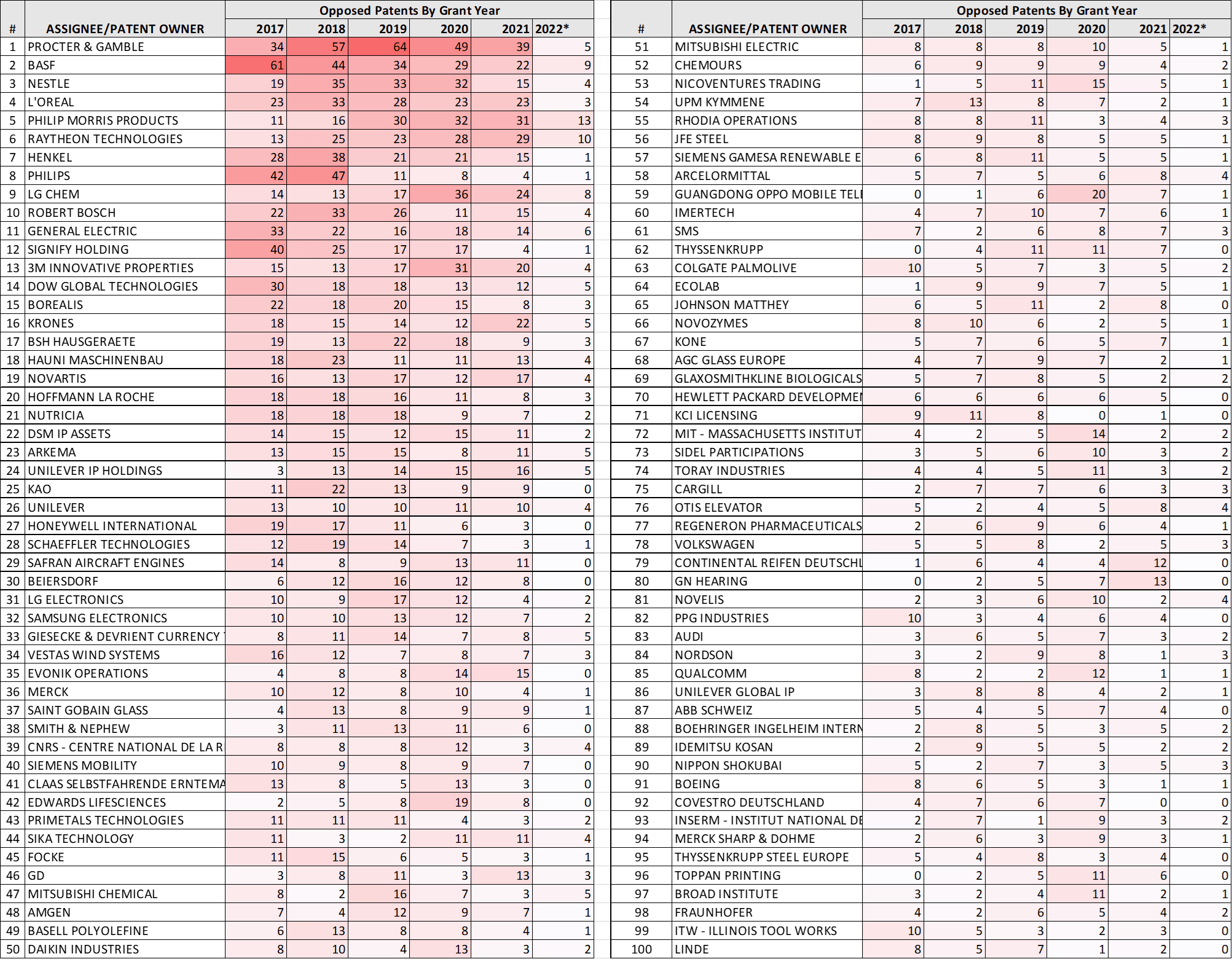 *Incomplete data, as of Nov 10, 2022
The top representative law firms for the patentees with opposed patents granted in 2021 and 2022 are represented below after normalization. The list features some of the leading patent filing firms in Europe. Companies such as BASF, P&G, Saint Gobain, etc. represented by in-house counsel were excluded from the list.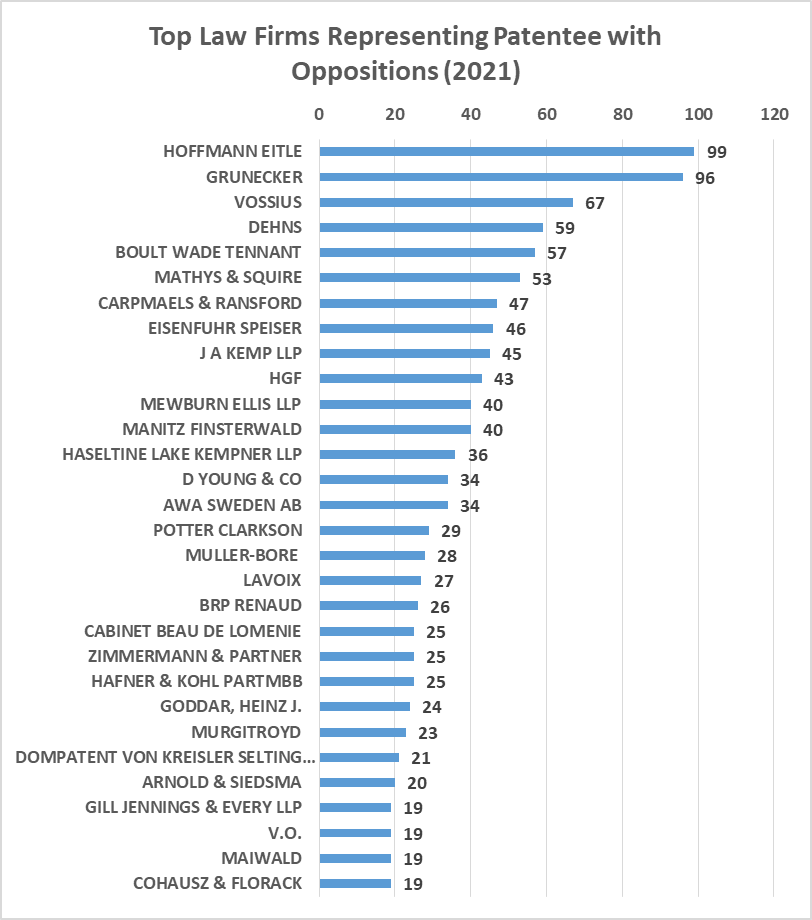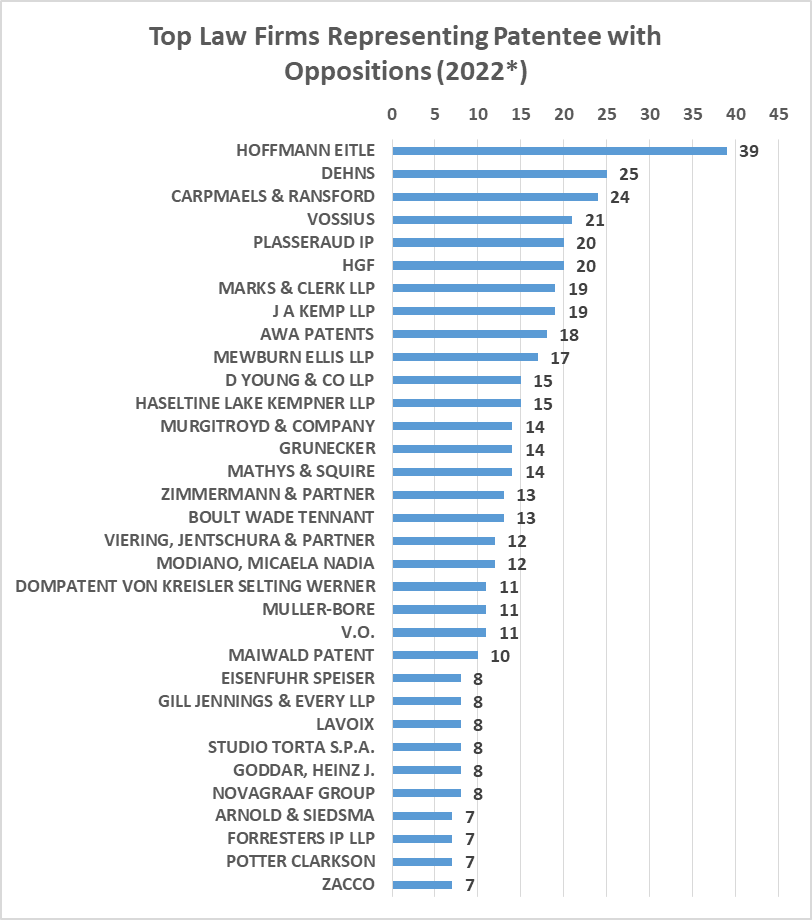 *Incomplete data, as on Nov 10, 2022
To get an indication of the top active opponents and their firms, we extracted 2,589 patents from the EP bulletin search that were granted in 2021 listing at least one opponent. The total number of EPO oppositions was 3,314, filed by more than 1,500 opponents representing an average of 1.3 opponents per opposed patent from the extracted list. Some of these opponents may belong to the same parent organizations while others are strawman opponents or patent law firms who routinely file such oppositions on behalf of a company.
Some of the top opponents over the last five years are listed below:
Procter & Gamble, Unilever, Nestle, BASF, Borealis, BSH, Dow, GE, Henkel, Knorr-Bremse, Koninklijke Philips, L'Oreal, Novartis, Nutricia (Danone), Philip Morris, Raytheon, Bosch, Schaeffler, and Signify. Others featuring in the top 30 opponents for patents granted in 2021 include Teva, Fresenius Kabi, Essity, STADA Arzneimittel, Evonik, ArcelorMittal, ZF Friedrichshafen, Geze GmBH, Oticon, Abbott, and Sandoz.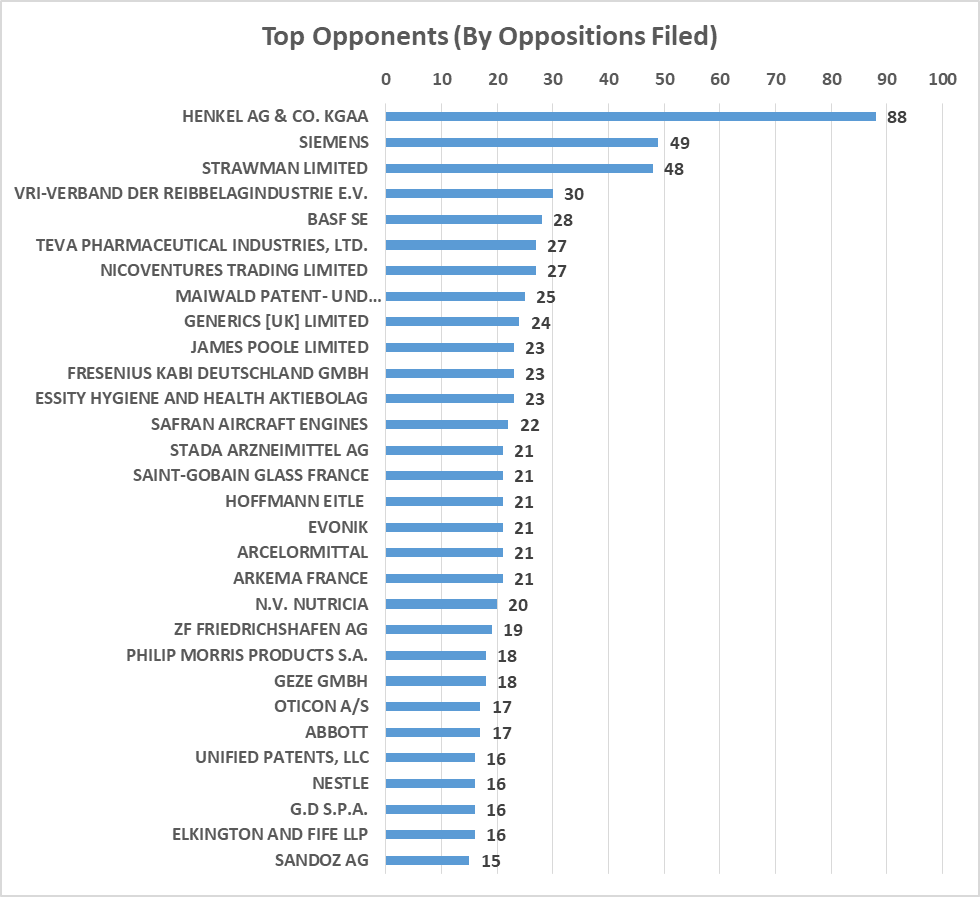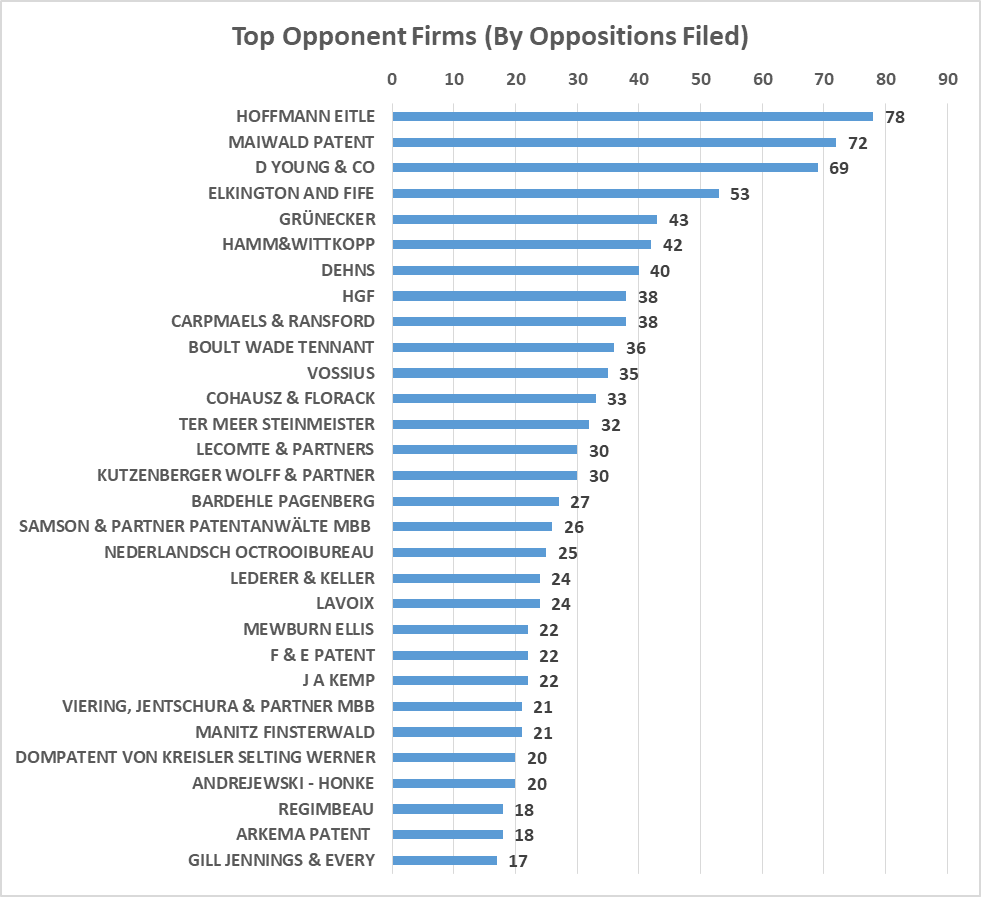 *As on Nov 10, 2022
The top 5 most opposed patents granted in 2021 are listed below. Not surprisingly, they are all in the pharmaceutical and biotechnology space which are among the most opposed technology areas as described below. The opponents of such patents are often competitors looking to gain a competitive edge and gain market entry for their drugs in Europe.
Patent No.
Title
Assignee/Owner
Oppositions
Status
EP2478907B1
Compositions for treating cancer
Janssen Oncology Inc
22
Revoked
EP2234617B1
Dosing regimen associated with long acting injectable paliperidone esters
Janssen Pharmaceutica NV
20
Active
EP2493466B1
Novel antitumoral use of cabazitaxel
Sanofi Mature IP
12
Active
EP3725778B1
Formulations of enzalutamide
Medivation Prostate Therapeutics LLC |

Astellas Pharma Inc.

11
Active
EP3177645B1
Subcutaneously administered bispecific antibodies for use in the treatment of cancer
Lindis Biotech GmbH
10
Active
EP3616720B1
Pharmaceutical composition for cancer treatment
Shionogi & Co., Ltd. | Osaka University
10
Active
EP3682905B1
Modified nucleosides, nucleotides, and nucleic acids, and uses thereof
ModernaTX, Inc.
10
Active
Opposition Rates Vary By Technology Area
According to EPO's 2020 report, life science and chemistry innovations are among the most opposed. Some other technology areas with an increasing number of applications such as electronics, computer, telecommunication, and transportation technologies are not contested nearly as much. It is apparent from the top patentee and opponent stats shown above that industries operating in certain technology areas are more active in using EPO oppositions than others.
For the purpose of this study, we quickly extracted the top technology domains based on broad class code-based categories for all the opposed patents granted between 2017-2022 for comparison. It is clear even from the broad categorization that EPO opposition proceedings in some traditional areas such as alloys (C12C), pesticides (A01N), control systems (G05B), and medicinal preparations (A61K) are decreasing in recent times while other areas such as detergent compositions (C11D), fuel systems (H01M), enzymatic/nucleic acid testing (C12Q), genetic engineering and microorganisms including viruses (C12N), additive manufacturing (B33Y), metallic powder (B22F), and vehicle propulsion/transmission (B60K) they are on the rise.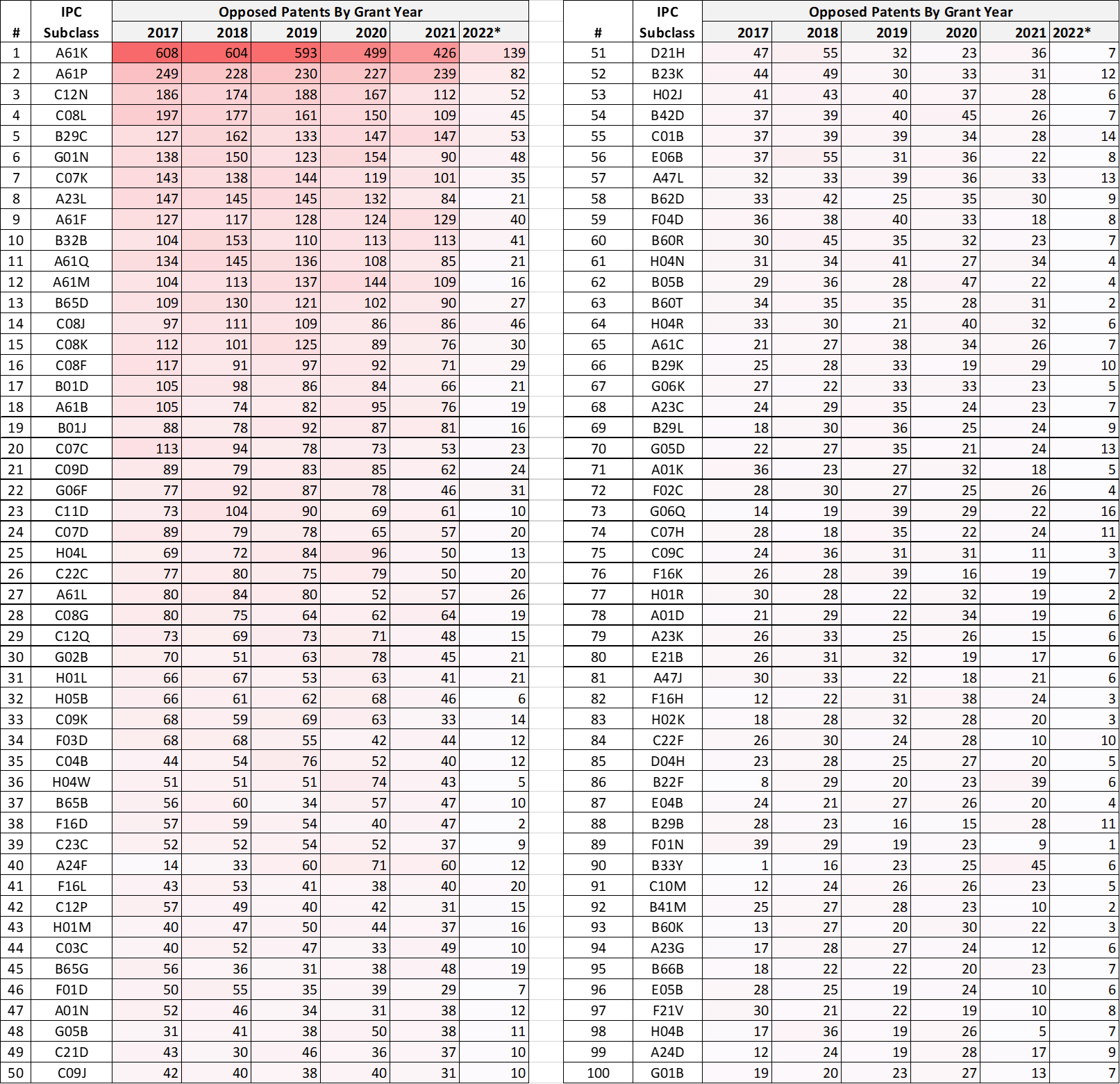 Overcoming Bottlenecks in Your Opposition Strategy
Oppositions offer a strong and cost-effective option to tackle a competitor's blocking patents. It offers a reasonable chance of success and a level of anonymity through strawman proceedings, if desired. It remains in the interest of companies and their representative law firms to go after weak/invalid patents at an early stage as a part of their defensive strategy. Yet EPO opposition filings have not been able to keep up with the patent grants, as shown in the charts above. This is true even within certain domains such as biotechnology and medical devices where opposition filings are high.
The lack of growth in EPO opposition filings to tackle invalid patents in spite of its many benefits appears seemingly contradictory. We believe that this may be partly due to ineffective ways in which firms are currently monitoring European grants and the lack of a streamlined process to tackle them. We suggest taking the following actions:
An early warning system to track first publications in Europe that fully captures a customer's main and peripheral areas of interest
Anticipate areas of risk and address them early on. Ensure you avoid technologies that can be used against you by a patent assertion entity. If that is not possible, consider the risks and take action via acquisition, cross-licensing, or validity challenges.
The use of broad technology domain/class codes is outdated and not useful in identifying emerging (micro) trends within industries that can add to your competitive intelligence. A taxonomy-based approach based on active research with periodic inputs from subject matter experts is the best practice for monitoring publications. Consider automotive companies which have been in the spotlight recently due to FRAND licensing disputes. With an active opposition strategy, they get another weapon in their arsenal to counter assertions from owners of future SEP technologies. Given the revolutionary technological advancements in the automotive industry (e.g. autonomous vehicles, AI, communications, electric drives, etc.) automotive companies will need their tracking to go well beyond traditional automotive technologies.
MaxVal can help you identify targets, monitor their patents, develop an analysis of their patent portfolios, and assess their value. Learn more about our FTO studies, landscaping, and alert services.
Get your patents drafted and granted faster than your competitors and with better quality
Our experience working with thousands of patent applications over a 5-year period indicates that pre-filing patentability searches speed up allowances. Patent filings vetted through prefiling searches have a positive correlation with their validity and patent value.
Get meaningful and targeted prior art search reports that help companies and their law firms in their decision-making process. Learn more about our patentability and other specialized searches and services.
Challenge competitor patents with confidence
Organizations and their counsel looking to counter the risk of assertion or negotiate with greater confidence require litigation-ready invalidity search reports and claim charts on short notice.
Learn more about our validity/invalidity searches.
External partnerships that foster collaborations and assist you to orchestrate a well-coordinated strategy across internal and external patent teams
The long-term success and resiliency of your organization will depend on a clear IP strategy. This is because, by strategically leveraging internal and external resources, companies can establish rewarding working relationships with key stakeholders to achieve common desired outcomes. The first step towards achieving this is setting global IP priorities in association with the business executives and counsel to facilitate budgets and goal-setting within patent departments. Teams should increasingly look towards fostering data-informed decision-making in portfolio management and monetization, and also leverage technology-enabled solutions in building and maintaining IP portfolios.
Success Stories in Europe
Our team of experts in biological sciences and chemistry rallied together to support a Fortune 500 customer who requested a series of landscape and FTO searches in the area of viral vector production and characterization. The study identified a focused list of patents/applications including two European patents that were near the end of their opposition period.

The company decided to act quickly to revoke or limit the scope of claims by filing for EPO opposition through third-party law firms. MaxVal was enlisted again to identify additional prior art. Our search reports helped the client successfully revoke one of the patents while the other is still pending (and may soon follow suit).
Our biotech team recently provided invalidity search services for a law firm representing a pharmaceutical company. The law firm sought our assistance in opposing a European patent with less than 1 month to go before the opposition period ended.

The patent was filed by one of the biggest pharmaceutical companies in the world and relates to targeted cancer therapy. Our references were used to counter the novelty of the invention by the law firm. Further, one of the supporting references was from a unique non-patent literature source and was identified when researching the topic in public repositories.
Oppositions to Heat up in 2023
EPO oppositions provide an opportunity to challenge the validity of patents that may slip through the patent office's scrutiny. Currently, there is no alternative for the opponent other than to go to individual national courts when missing the opposition deadline. However, soon the opponent will get another way to centrally attack the validity of the patent in all signatory states when the Unified Patent Court (UPC) comes into force in 2023, provided the patentee has not opted out of the UPC system.
EPO Opposition data reveals that companies working in highly-contested areas are at higher risk of being opposed. Competitors are looking to gain any advantage possible in these contested areas. Further, contested areas are evolving continually as new technology trends emerge in different industries and macro factors like recession affect patent assertions. It remains in the interest of the companies and their representative firms to track UPC opt-outs and recent EPO grants by competitors. From a patentee standpoint, the opposition period and UPC revocation represent a vulnerability that is best avoided by an awareness of your portfolio strengths and weaknesses.
End-to-end IP partners can be extremely helpful in optimizing your team's performance by supporting these initiatives and helping you focus on higher-value work. MaxVal can assist you in getting there. Contact us to know more.
Other relevant articles that might interest you: