When a Notice of Allowance (NOA) is received by the Applicant, it means that a patent application will no longer be reviewed by the examiner and it is entitled to the patent under the law. In other words, post-allowance review is where the application is about to be issued after the prosecution phase.
However, the Notice of Allowance (NOA) may have errors or data missing, failing to correct them at this critical stage may impact the quality and the enforceability of the patent. Depending on the severity of the issue, an RCE may need to be filed to make necessary corrections or even defer or withdraw patent from being issued by filing a petition. Once the patent is issued the chances of correcting these errors get drastically reduced.
Once the Notice of Allowance (NOA) has been issued by the patent office, an applicant will have three months to pay the issue fee during which the application should be reviewed thoroughly to ensure correct.
Collating a series of checkpoints at the NOA stage with reference to various critical fields in the Image File Wrapper (IFW) before paying the issue fee, is very important.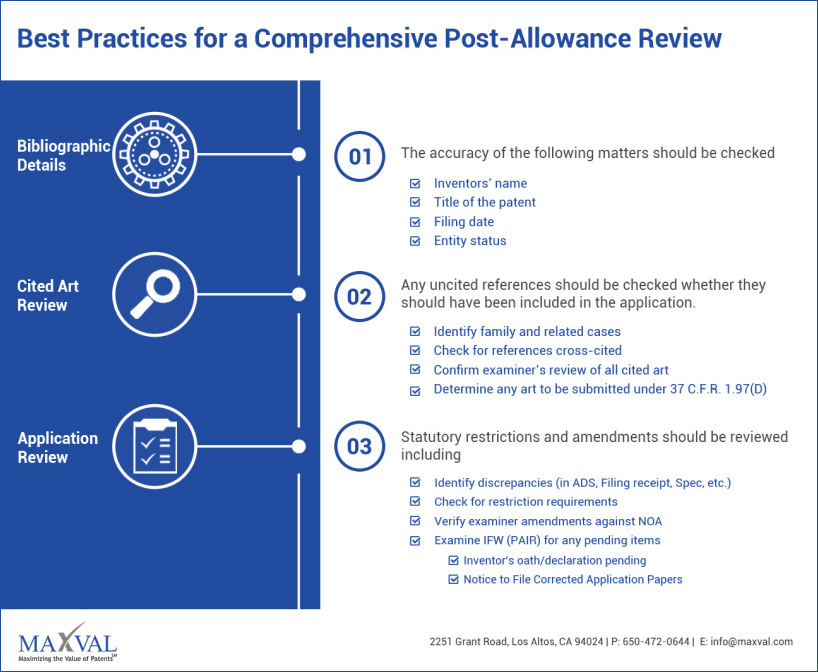 Here are a few critical sections that should be examined as a part of a post-allowance review:
Inventorship details
Cited art review
Application review
1. Inventorship details
The accuracy of the following matters should be checked
Inventor's name (Spelling and initials)
Title of the patent
Filing date
Small or large entity status of the applicant
2. Cited art review
Any uncited references should be checked whether they should have been included in the application. A reference check at the post-allowance stage should include:
Determine if all family and related cases have been identified and cross-cited
Identify all the related dockets and verify if all the references is cross-cited among the dockets in the family.
Determine if the examiner signed off/reviewed all cited art
All IDS and 1449 from PAIR is downloaded to check if the examiner has completely reviewed the cited art or if there are any strikethroughs.
Determine if any uncited art is required for submission under 37 C.F.R. 1.97(D)
Determine if the art is from a foreign OA for the corresponding docket and if it is within the purview of 37 C.F.R. 1.97(D).
3. Application review

Statutory restrictions and amendments should be reviewed including
Identify discrepancies
Discrepancies in priority information, ADS, specification, filing receipt, and PAIR should be verified.
Determine if there were any restriction requirements
With the help of IFW the requirement of restriction, response to restriction, detailed action, and restricted claims are checked.
Determine if any examiner amendments are included in the NOA
Examiner amendment to claims should be verified with the latest claim document.
Determine if there are any notice to file corrected papers pending
PAIR data should be reviewed to determine if 'Notice to File Corrected Application Papers' was received with or after the NOA (Notice of Allowance).
Determine if there are any notices requiring inventor's oath/declaration pending
incomplete or missing middle names, transposition of names, spelling mistakes in ADS and Filing Receipt against Oath/Declaration should be verified.
Along with the above mentioned checks, there are also other portions which needs to be examined to to keep the issued patent error-free.
MaxVal provides Patent Issue Fee Review services to review the applications that are in allowance and provide a comprehensive report.
Please drop us a line at sales@maxval.com for a post-grant review or for a free template of NOA review checklist.