All crises provide unique conditions for inventors to think and create innovations that result in a positive change. And the COVID-19 pandemic is no exception. Despite having slowed down businesses, it hasn't deterred organizations or academia from inventing and securing patent protection. In fact, our research suggests that patent filings soared in China and some other countries during the pandemic, with more than 9 million patent publications in the year 2021, a significant increase from over 8 million publications in 2020. Close to 5% of those patents/applications were assigned to the top 20 companies, including Samsung, IBM, Bosch, Qualcomm, Philips, and Apple. IBM, which has maintained its top position year after year due to a steady stream of patented innovations, was joined by other US-based companies such as Qualcomm and Apple.
When it comes to innovative entities, the role of universities and research institutes shouldn't be discounted. These academic institutions have always played a crucial role in creating inventions that have transformed human lives for the better – from the HBV Vaccine, which emerged from a collaboration between the University of Pennsylvania and the Fox Chase Cancer Center to the Cornell-Liberty Safety Car, emerging from a partnership between Cornell University's Aeronautical Laboratory and Liberty Mutual, the list is endless1.
It is, therefore, unsurprising to see that universities, research institutions, and hospitals accounted for almost 11.5% of the total patents/applications, up from 6.6% in 2020. Of these three entities, universities have continued to invest in patents and acquired a significant share of worldwide publications.
When we started looking into patent publications in 2021, we also wanted to understand how the pandemic transformed the world of innovation. This article aims to cover the changes brought about by the pandemic, patent filing, and publication trends, as well as the future of patent filing across industries and geographies.
Global Patent Publications and China's Dominance in the Patent World
The past few years have witnessed a significant rise in global patent filings, particularly in utility models. The year 2021 alone recorded approximately 35% of the total patent publications (as utility models). The considerable increase in these patents can be attributed to less stringent eligibility requirements like a lower level of inventive step, and simpler patent grant procedures. In contrast, general and design patent applications witnessed sluggish growth for a variety of reasons, one of which was stricter patentability criteria.
In terms of geography, in 2021, the Chinese patent office accounted for almost 98% of the total utility model applications while the remaining patent offices accounted for merely 2%. The country also dominated in the other two patent categories, with nearly 83% and 37% filings in design and general patents, respectively.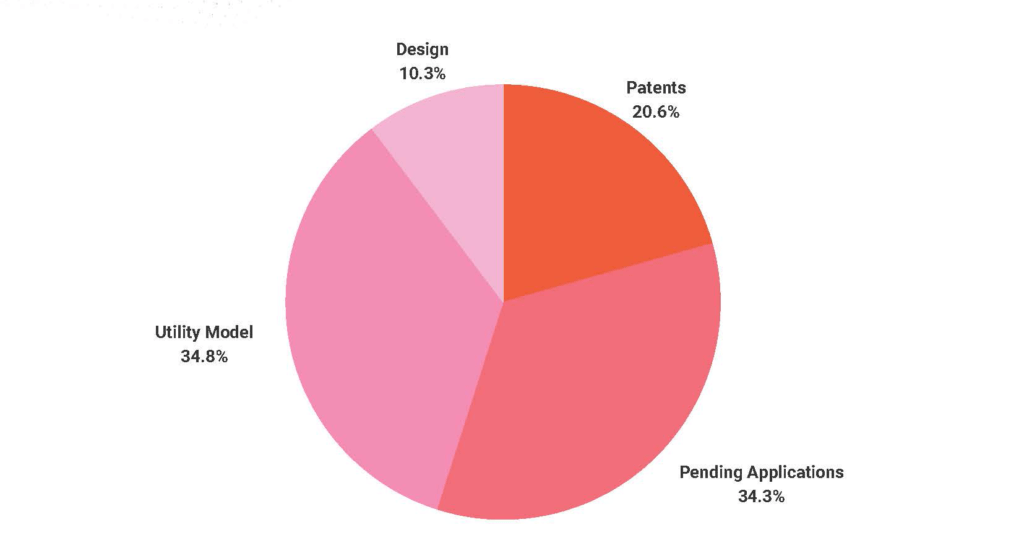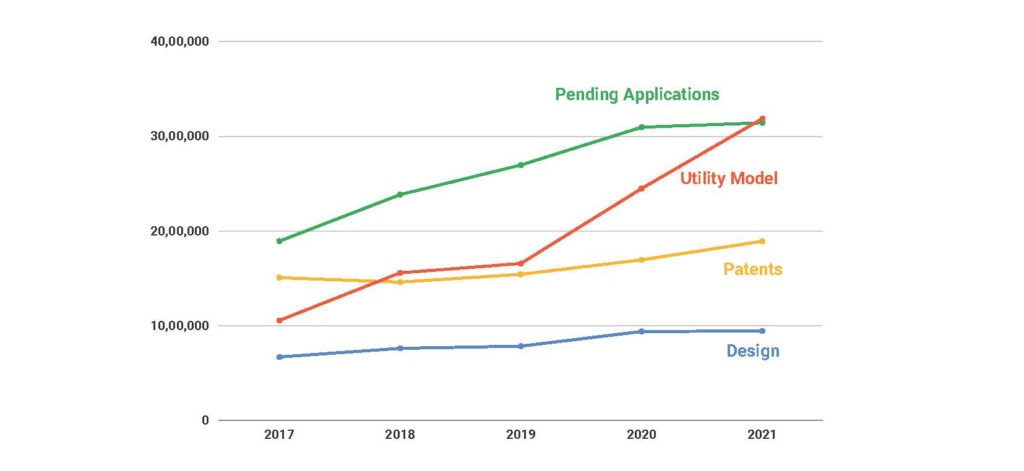 China was not always the leading global patent filer. The country's journey to becoming one is quite interesting. Prior to the 2000s, China's patent filing trend line was not as noticeable as other global patent filers. Over the last decade, however, the country's share of the world's total patent applications more than doubled (from 19.6% in 2010 to 45.7% in 2020)2.
Findings from our internal research using industry-standard databases corroborate the fact that China is on a patent filing streak. It has emerged as the largest patent filer in 2021, surpassing some of the most active patent filing nations like the United States, Japan, South Korea, and Germany. The country accounted for close to 46% of the total pending applications of 2021. The United States emerged as a distant second with 7% pending applications, followed by Japan and World Intellectual Property Office (WIPO).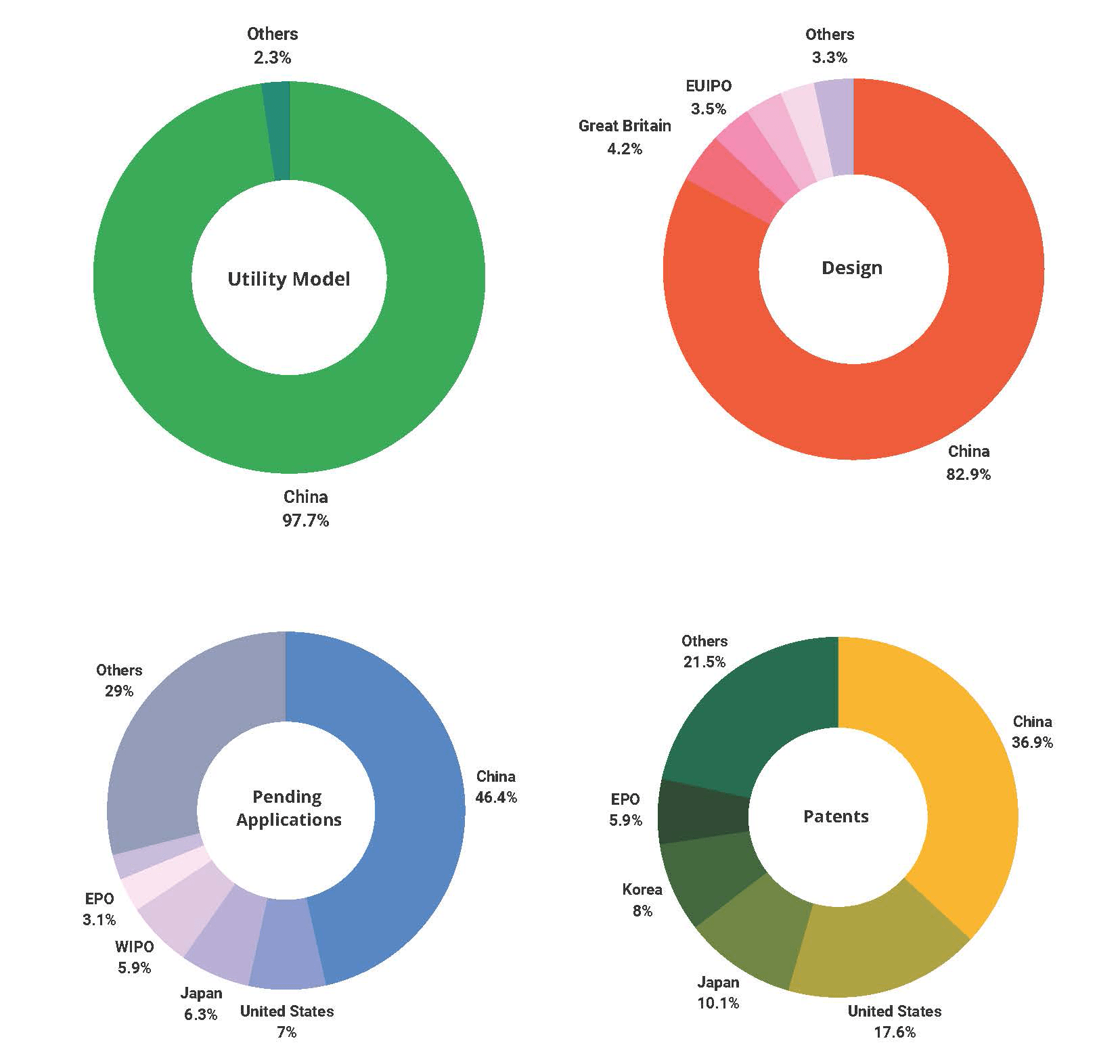 Overall Patent Filings in 2021
The sudden and rapid rise in China's domestic and international patent filings was earlier speculated to have resulted from the Chinese government's subsidies and incentives. The argument, however, appeared to weaken when we observed that Chinese entities continue to file volumes of applications despite the CNIPA's announcement on the cancellation of all patent subsidies by 2025, and the complete halt of subsidies for patent filings and other stages of the patent prosecution in mid-20213.
While the Chinese patent filings continued to grow, two questions concerning them remain unanswered – first, whether the massive filings were indicative of China's innovativeness, and second, whether all Chinese applications met the quality standards set by the patent office.
The first question was partially answered by the Global Innovation Index (GII) 2021 report, which ranked China at 12th while the United States at 3rd position on its innovativeness list4. While the second question was answered by an earlier study evaluating the quality and quantity of Chinese patents5, which indicated that the patent grant to application ratio in China remained the lowest among other innovative nations. Between 2000 and 2016, the average share of patents granted among total applications in China was only 23.44%, whereas it was 45.54% in South Korea, 44.93% in the United States, and 43.50% in Germany. Therefore, despite the significant increase in the number of patents granted, China still lagged behind other innovative countries in its "success" ratio.
Further, one of our recent studies6 comparing patent grant trends of the US and China showed that the US applications granted in less than 18 months have grown from 10% to 19% between 2013-2019, while Chinese applications granted in less than 18 months have remained flat at about 2% during the same period. Overall, it is clear that the international filings from Chinese entities will continue to increase in both quantity and quality in the near future.
Top 5 Patent Application Categories in 2021
| Arrangements for transferring data | Methods for recognizing printed/written characters/patterns | Medicinal preparations with organic active ingredients | Information retrieval; Database structures or File Structures | Manufacture/treatment of semiconductors/solid state devices |
| --- | --- | --- | --- | --- |
| 139,250 | 119,915 | 113,906 | 102,413 | 80,015 |
Among all the patent application categories [aka International Patent Classification (IPC) technology areas], "Arrangements for transferring data" received the highest number of patent applications followed by "Methods for recognizing printed/written characters/patterns" and "Medicinal preparations with organic active ingredients".
Leading Patent Filers in 2021
Generally, organizations with a heavy emphasis on research and development (R&D) protect their inventions through IP rights, especially patents. Sectors such as Pharmaceuticals, Healthcare and Technology are extremely active in securing patents owing to their high R&D activities.
Pharma companies seek patents as the drug/product development process is lengthy, complex, and expensive, and if left unprotected, the newly developed products can be easily copied by other companies, incurring the developer company huge losses. Technology companies, on the other hand, generally need to cooperate with each other as the development of complex products usually requires them to implement one or more patent-protected technologies owned by other companies7. Some of these leading technology or electronics companies have massive R&D spends. Samsung Electronics, for instance, invested an all-time high of 22 trillion won in R&D in 2021, up 6.5% from 21,220.9 billion won in 2020. The ratio of their R&D spending to sales, however, dropped to 8% in 2021 from 8.9% in the previous year8.
In 2021, close to 5% of the patent applications/patents were owned by the top 20 players, including Samsung, IBM, Bosch, Qualcomm, Philips, and Apple. Of those, Samsung accounted for almost 0.2% of the total global patents/applications.
As we analyzed the patent data over the last few years, another interesting fact came to light. Four of the top five assignees from 2021 were headquartered in Asia, and Samsung topped the list with more than 50k published applications/patents.
Top 5 Patent Filers/Assignees in 2021
| Samsung | Huawei Technologies Co., Ltd. | LG Electronics Co., Ltd. | Canon, Inc. | State Grid Corporation Of China |
| --- | --- | --- | --- | --- |
| 50,971 | 40,546 | 22,882 | 18,862 | 18,261 |
Top Patent Filing Geographies in 2021
When it comes to geographies, the US and China remain the primary markets for the top patent owners, who are increasing their share of filings in these markets. Further, none of the top patent holders focused on medicinal formulations (A61K31), despite it emerging as one of the top technology areas for patent publications in 2021. One justification for this could be that pharmaceutical companies may not have as many patents as companies like Apple, Google, or Canon.
The top patent owners also continued to file applications in the EU region; however, the filings are still low as compared to the two aforementioned markets. For instance, in 2021, Apple filed 5098, 2219, and 948 patents in the US, China, and European Patent Office (EPO), respectively. While in 2020, the company filed 4466, 1365, and 677 patents in the US, China, and EPO.
Furthermore, despite UK's official exit from the EU, the patent process in the country remained unaffected for three reasons: first, the European Patent Convention is unrelated to the EU; second, European patents continue to cover the EU; third, UK-based European patent attorneys continue to be able to represent applicants before the EPO9.
Academia's Contribution to the 2021 Patent Landscape
In 2021, nearly 11.5 % of patents/applications were assigned to universities, hospitals, and research institutes. The significant increase from 6.6% applications in 2020 can be attributed to the fact that academic researchers, who are integral to the R&D processes, continually file for patent protection in multiple domains. The increase in patent filings at universities and research institutes also suggests that researchers are increasingly viewing patents as a source of income, with economic benefits resulting from patent licensing or patent transfer.
As per the 2018 Association of University Technology Managers' (AUTM) survey of US university technology transfer operations10, 198 respondents filed over 17,000 patent applications and secured nearly 7600 patent grants that year. These patents based on university research have generated substantial income. Between 1991–2010, for example, the survey participants earned close to USD 9.56 billion in licensing revenues*.
*calculations based on AUTM data
Besides the survey results, there are many popular instances where scientific breakthroughs have turned the fortunes of universities. For instance, patents leading to the drug Remicade brought New York University more than USD1 billion in revenues, while Columbia University earned USD790 million from patents on foreign DNA insertion into cells11.
That said, monetizing patents is not always easy for Universities. The majority of the licensing deals yield negligible revenue and low royalty returns for most universities. Furthermore, the odds of discovering game-changing ideas/inventions are often slim.
Whether or not the patents generate revenue, most universities in the United States and Europe are constantly conducting research and patenting their unique ideas. Below, we have covered some of the academic and research institutions that are leading the patent filing race.
Top Academic Patent Filers in the US
| Electronics and Telecommunications Research Institute (ETRI) | Massachusetts Institute of Technology (MIT) | Fraunhofer-Gesellschaft Zur Foerderung Der Angewandten Forschung E.V. | Industrial Technology Research Institute | The Board of Trustees of The Leland Stanford Junior University |
| --- | --- | --- | --- | --- |
| 926 | 862 | 573 | 556 | 522 |
Electronics and Telecommunications Research Institute, Korea was the leading patent filer in the US among universities and research institutes, followed by the Massachusetts Institute of Technology (MIT), and Fraunhofer-Gesellschaft Zur Foerderung Der Angewandten Forschung E.V. (Germany).
Top Academic Patent Filers in Europe
| Scientific Research National Center | Fraunhofer-Gesellschaft for the Promotion of Applied Research E.V. | Massachusetts Institute of Technology | Dutch Organization for Applied Scientific Research TNO | Inserm (Institut National De La Santé Et De La Recherche Médicale) |
| --- | --- | --- | --- | --- |
| 725 | 644 | 212 | 212 | 190 |
In Europe, Scientific Research National Center topped the patent filers list with 725 patent applications, followed by Fraunhofer-Gesellschaft for the Promotion of Applied Research E.V. and the Massachusetts Institute of Technology with 644 and 212 applications, respectively.
Sector-wise Patent Trends
Based on PCT publications*, Consumer Electronics, Internet/Software/IT Services, Medical Devices, Chemicals, and Networking and Telecommunications were among the five most patent-intensive sectors in 2021.
*On the basis of the number of publications associated with relevant technologies mapped to each sector.
Of these, the consumer electronics sector has witnessed a 50% increase in inventions in the last five years, despite a 3% drop in 2021 compared to the previous year.
Further, in terms of geography, China and the US lead the consumer electronics sector with nearly 55% and 15% applications, respectively. And when it comes to the top five assignees, Korean conglomerate Samsung leads the sector with 6264 patent applications in the US, while Boe Tech Group Co., Ltd. tops in China with 4323 applications.
Overall, companies in the consumer electronics space appear more focused on bringing intelligence to the everyday environment through the introduction of AI and AR/VR and Advanced Displays such as near-to-eye displays, rendering 3D models, and Encoding/Decoding techniques. For instance, the commercialization of Samsung's patents has increased four-fold in the last three years, implying that the innovations are eventually offered in Samsung's products. The company has filed the majority of its patents in emerging technological areas such as AI, ML, 5G, IoT, camera, and vision technologies12.
Samsung is not only the world leader with 90,416 active patent families** but is also the largest non-US spender on research and development. The company's commitment to R&D can be gauged from its recent announcement of a $206 billion investment in the next three years to expand its footprint in AI, robotics, biopharmaceuticals, and semiconductors in the post-pandemic world13.
**In terms of cumulative patent holdings.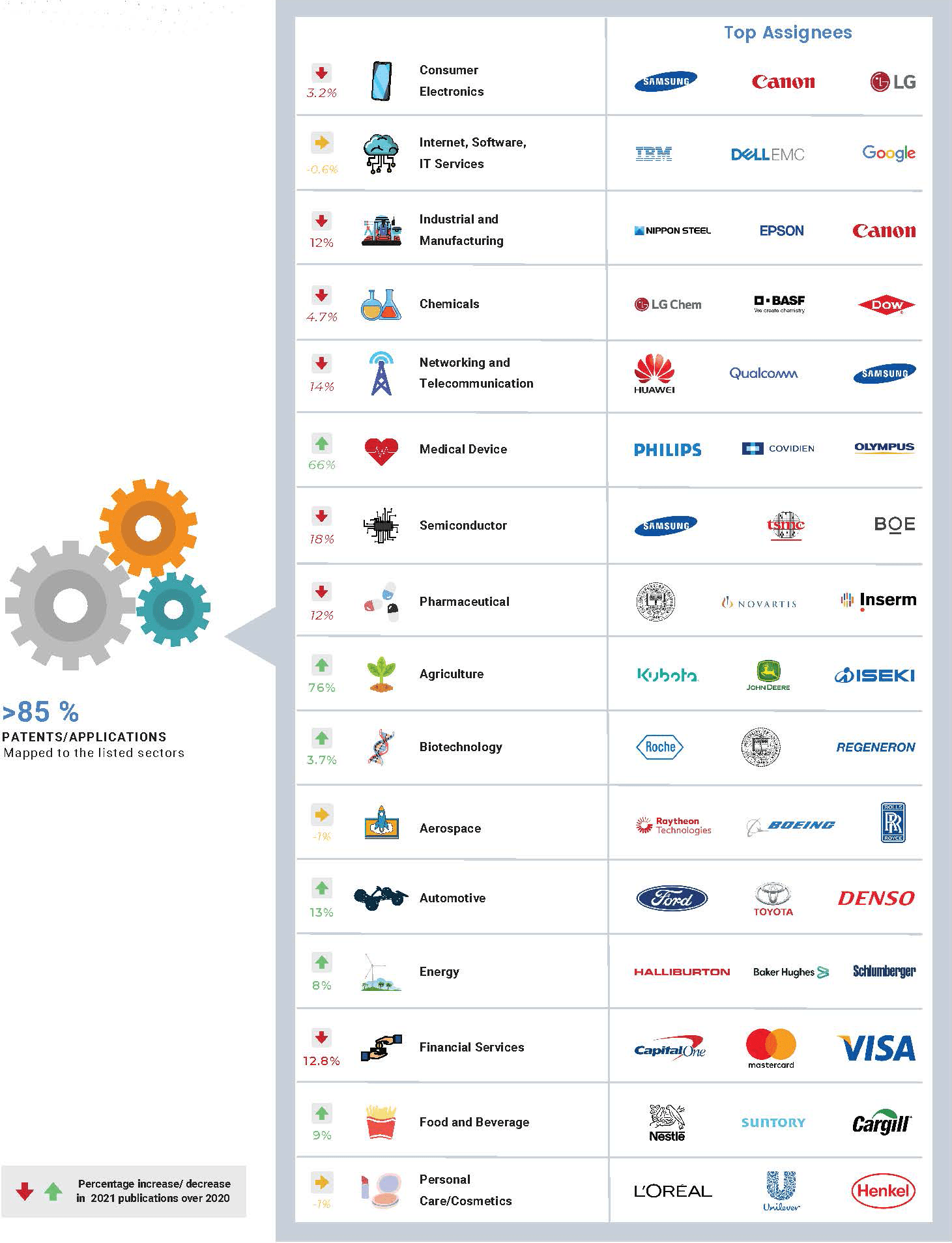 Comparison of Sector Trends (2021 vs. 2020)
Among the top four patent-intensive sectors, Medical Devices was the only area that saw a 66% increase in terms of patent publications in 2021 as compared to the previous year. The remaining three sectors – Networking and Telecommunications, Chemicals, and Consumer electronics witnessed a decrease of 14%, 4.7%, and 3.2%, respectively.
Way Forward
As the world is returning to normal after a massive COVID outbreak, sectors and businesses are expecting to make a strong comeback. During the year gone by, certain sectors like medical devices, biotechnology, automotive, and energy demonstrated significant growth, while others like networking & telecommunications and financial services witnessed a sharp decline in overall demand.
The positive sentiment was also reflected in the IP world, where international patent applications filed via WIPO's Patent Cooperation Treaty (PCT) increased by 0.9% in 2021 to reach 277,500 applications – the highest level ever. Asia displayed its dominance as the largest origin of international applications with 54.1% of all applications in 2021, a significant increase from 38.5% in 201114. Besides the rise in filings, WIPO also witnessed IP mediation and arbitration cases involving multinationals (46%), SMEs (41%), and Collective Management Organizations (CMOs) (12%), with parties primarily from four major regions – Asia, Europe, Latin America, and North America.
Now that we've examined the patent statistics of 2021, the obvious question that arises is whether we can expect the industries and businesses to continue the growth streak in 2022 as well? Given the increased patent filings in 2021, it would not be wrong to expect sectors such as medical devices, automotive, engineering, and biotechnology to see further growth in patent filings, and consumer electronics and networking and telecommunications sectors to recover from their patent filing slump. One justification for this is that inventors and organizations recognize the value of intangible assets, including their critical role in IP risk mitigation and business growth.
To uncover more insights, read our detailed report on patent publication trends in 2021.
Footnotes: