Innovation in the Midst of a Crisis
In 1665-6, England witnessed the worst outbreaks of plague since the back death of 1348. The great plague killed an estimated 1,00,000 people, nearly a quarter of London's population, in less than 18-months. In the aftermath of the plague, London largely rebuilt to withstand such adversities.1
Issac Newton discovered calculus while being isolated during the great plague. Calculus today helps mathematicians and engineers to make sense of motion and dynamic change in the changing world around us, such as the orbits of planets, the motion of fluids, etc. This extraordinary feat continues to be a testament to the fact that innovation is typically born out of constraints.2
The COVID-19 pandemic isn't any different; while it slowed down many businesses, it didn't deter companies from innovating and filing patents. Patents might not be the most accurate metric to measure companies innovative prowess, but it is certainly one indicator. And, who knows what breakthrough innovations may come out of this pandemic.
More than 8 million patent applications were published worldwide in 2020, which shows an increase of 18% in the number of applications published compared to the previous year. Nearly 4% of those patents were assigned to the top 20 players, including Huawei, Samsung, LG, IBM, Microsoft, etc. IBM continues to top the patent list in the US for 28 years and running. In 2020, the organization produced more than 9,130 US patents.3
Universities have, over the years, played a vital role in turning research into products and services that make our lives easier. It is interesting to note Moderna, which is at the forefront of developing the COVID-19 vaccine, had its roots in academia. Both Derrick Rossi and Tim Springer, founders of Moderna, envisioned the possibility of modifying mRNA and subsequent development for medical use at Harvard.4
There are seemingly countless examples, from Gatorade, invented at the University of Florida, to Google, which began at Stanford. From web browsers and plasma screens, both created at the University of Illinois, to the drug that became the allergy medicine, Allegra, developed at Georgetown University.5 So, it isn't surprising to note that universities and research institutes accounted for nearly 6.6% of patents published in 2020.
As we started to examine the patent applications published in 2020, we also wanted to understand how the pandemic will transform the world of innovation. In this article, we will cover some of the changes arising from the pandemic, macro, and micro trends and the future of patent filing across geographies and sectors.
Global Patent Applications and the China Story
A utility model is a unique form of patent right granted by a state or jurisdiction to an inventor or the inventor's assignee for a fixed period of time. The utility model applications will need to be separately assessed from regular patent applications considering it offers short-term protection and less stringent eligibility requirements.
The last few years have seen a rise in the number of patents filed under the utility model. In 2020, nearly 30% of the patent applications were published as utility models. China's IP office received almost 97.1% of the world's total – the remaining 74 offices accounted for just 2.9%.

If you had to map China's patent applications filed before the 2000s along with other global players, odds are you wouldn't even note China's trend line. But that changed over the last two decades.
China emerged as the largest filer of patents in 2020, surpassing the United States and even overtaking innovation leaders like Japan, Germany, and South Korea. China accounts for nearly 48% of the total applications filled in 2020. The United States emerges at the 2nd spot with 12.1% patent applications.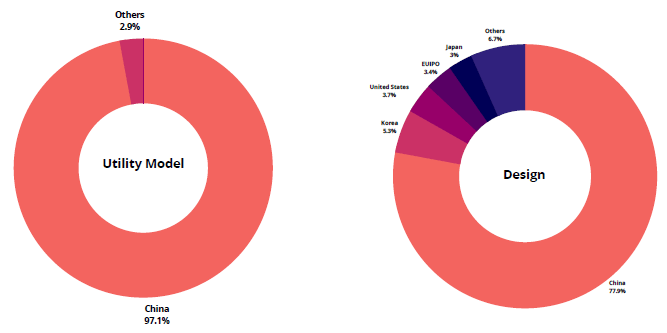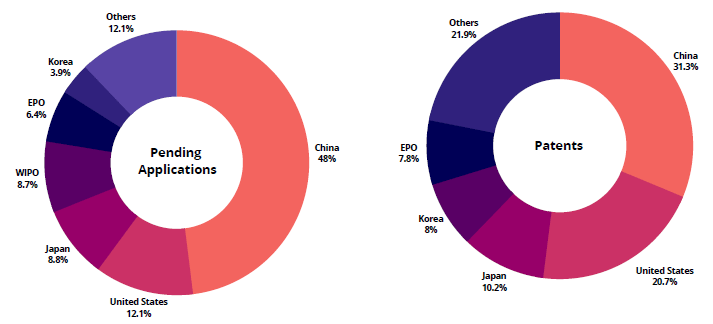 Some experts argue that the Chinese government's incentives and subsidies have resulted in an increase in the patent applications filed domestically and internationally. But China recently canceled all patent subsidies after USPTO's recent findings cited distortions caused by Chinese monetary incentives to US filings.6
It is also interesting to note that while China's patent applications have dramatically increased over the years, its patent grant to application ratio remains the lowest among other innovative countries.7 In one of our earlier studies, when we analyzed the number of patent applications that went on to become granted in less than 18 months at the USPTO and CNIPA. China's number remained flat at 2% compared to the US, which achieved a 19% grant ratio.8
Top Five Patent Application Categories in 2020
111,301

Medical preparations using organic active ingredients

110,723

Apparatus/circuits/systems, not covered by a single one of groups

103,233

Arrangements for transferring data

103,160

Information retrieval; Database structures or File Structures

101,577

Methods for recognizing printed/written characters/patterns
Medical preparations using organic active ingredients (i.e., pharmaceutical compounds) received the highest number of patent applications followed by apparatus/circuits/systems (i.e., for transmission of digital information) and input/output arrangements for transferring data (i.e., digital data processing).
Top Patent Filers for 2020 and Asia
Companies that generally focus on research and development have more value tied in intangible assets – patents and intellectual property – than they do in material assets. Certain sectors like pharmaceuticals usually play hard-ball. They would want to safeguard their investment by securing a patent. Considering a single patent could sometimes save the entire product.
On the other hand, technology brands have to cooperate with one another, considering a complex product could sometimes incorporate thousands of patents, many of which are held by different organizations. Some of these companies have massive research and development budgets. Samsung, the South Korean Conglomerate, spent $18.5 million in 2020 in research and development, which equates to 8.9% of its annual sales.9
In 2020, nearly 4% of the patents were owned by the top 20 applicants, including Samsung, IBM, Ford, Haier, Tencent, Apple, etc. Samsung accounts for nearly 0.3% of total patent applications filed worldwide. The company already owns 80,577 active patent families.
As we dive into the numbers, it's difficult to ignore the emergence of Asian headquartered organizations in the top filers list. Four out of the top five assignees were headquartered in Asia.
Top Five Patent Application Filers in 2020
27,135

HUAWEI TECH CO LTD

16,958

GUANGDONG OPPO MOBILE TELECOMM CORP

16,678

SAMSUNG ELECTRONICS CO LTD

15,475

LG CHEM LTD

15,162

QUALCOMM INC
For decades, commercial pharmaceutical industries have been locking up IP related to life-saving drugs by prolonging the period of patents and coming up with intangible or unconscionable secondary patents. But that changed post the pandemic; several biotech communities and pharmaceutical companies have displayed enthusiasm to allot and publish transparently the information on medications and clinical experiments that may help.10
Moderna, for instance, has mentioned that it won't enforce its vaccine patents against other companies during the pandemic. Considering they realize that enforcing the patents may decrease the number of vaccines available in the market.11
The US and China continue to remain the key markets for the top patent filers for 2020. It is also important to note that none of the leading players focused on medicinal formulations (A61K31), although it emerged as the top technology area for patent publications in 2020.
2020 will also be the last year before the UK separates from the European Union. But there will be a little change to the process of obtaining and maintaining patents because the UK's patent system is governed by national and international law, not EU law. However, starting 1 January 2021, the rules will not permit the provision of an address for service outside the UK, the Channel Islands, or Gibraltar in respect of a UK patent.12
Universities and Academia's Role in Patent Landscape
Nearly 6.6% of the patents/applications published in 2020 came from universities and research institutions. Academic scientists are an essential part of the R&D process and file patents to protect their inventions in many domains. For instance, much of the early-stage research in the pharmaceutical sector comes from university research. The growth of patent filings at universities and research institutes also indicates that researchers are increasingly looking at patents as a source of income whereby they earn economic benefits resulting from patent licensing or patent transfer.
Northwestern University earns $2.2 billion from patents and licensing revenues.13 Majority of the royalty income came from the discovery that led to the blockbuster anti-seizure drug Lyrica. Similarly, the University of Florida struck gold when the scientists from its medical school developed Gatorade to help their football team — the Gators to withstand the withering heat and humidity.
But it is not always easy to convert your patents into a revenue stream. Harvard earns much less than some of its peers when it comes to revenue from patents and licensing. Sometimes it takes years and even decades to convert a discovery into a revenue stream.
Top Patent Filers in the US (Universities & Research Institutes)
1,506

Regents of the University of California

996

Massachusetts Institute of Technology

913

Electronics and Telecommunications Research Institute

607

Centre national de la recherche Scientifique

606

Fraunhofer Institute
Regents of the University of California was among the leading patent filers in the United States among universities and research institutes, followed by the Massachusetts Institute of Technology and Electronics and Telecommunications Research Institute (Korea).
Top Patent Filers in Europe (Universities & Research Institutes)
744

Fraunhofer Institute

715

Centre national de la recherche Scientifique

542

Regents of the University of California

392

Institut National de la Sante et de la Recherche Medicale (Inserm)

230

Massachusetts Institute of Technology
In Europe, Fraunhofer Institute leads with 744 patent applications, followed by Centre national de la recherche Scientifique and Regents of the University of California.
It remains to be seen how many of this patent will turn into revenue streams for the respective universities and research institutes.
Emerging Trends by Sectors
Consumer Electronics, Industrial and Manufacturing, Chemicals, Internet/Software/IT Services, and Networks and Communications were among the five most patent-intensive sectors in 2020. For instance, IBM was granted more than 9,000 patents – more than 170 per week. It only shows the emphasis that some of these companies have placed on safeguarding their technology.
But over the years, consumer electronics has shifted its focus away from physical systems, hardware to services that run on these over time. In the last year, two of the most popular technology classes patented include electrical Digital Data Processing and Transmission of Digital Information. They are generic names that underpin software and how information and data are stored and processed.
The last few years have also seen an increase in focus for G06K (recognition of data; presentation of data; record carriers; handling record carriers). Last year saw a 36.8% increase in G06K9, which deals with methods for recognizing printed/written characters/patterns compared to 2019. We believe the category will continue to see more patent applications as organizations use machine learning for image recognition.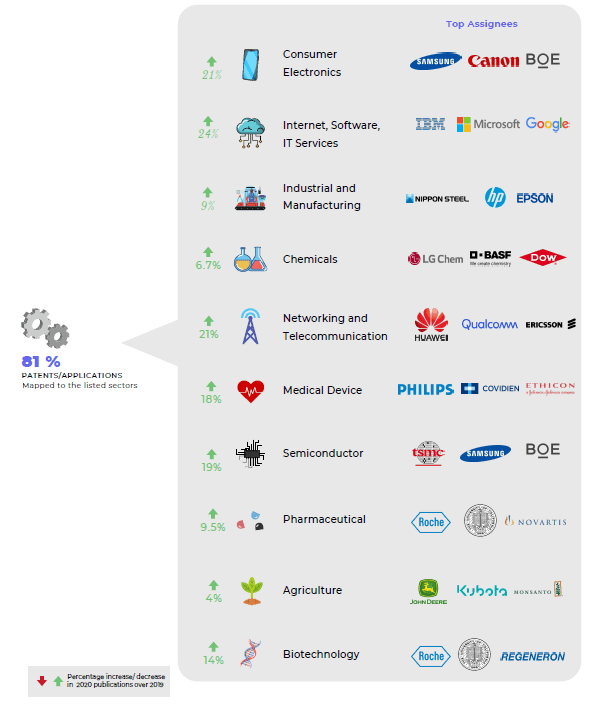 Internet, software, and services saw the highest increase at 24% in terms of patent applications in 2020 compared to the previous year, followed by consumer electronics (21%), network and communications (21%), and medical devices (18%).
Way Forward
COVID-19 dampened things down a bit, but the resurgence is already underway, and businesses are expected to emerge stronger as a result. Certain areas such as telecommunications, medical devices, biotech, and consumer electronics have flourished, while some other industries like aerospace have seen a sharp drop in demand.
Worldwide patent publications rose 6.4% overall in 2020, an indicator of the pre-pandemic sentiment. The pandemic has forced some companies to reduce their patent budgets. Companies looking to reduce their costs may consider filing fewer applications as one of the ways to minimize costs14. It is not yet clear if the pandemic had any effect on recent patent filings and which technology areas were affected. PCT filings witnessed a 4% growth, primarily driven by growth in China-based filings15. Our internal data indicates that patent litigation in US district courts have simultaneously increased by over 10% in 202016.
So what can we expect in 2021? Innovators understand the value of intangibles and the need for strong patent positions to protect ideas and mitigate risk in challenging environments. We expect technology areas such as telecommunication, semiconductors, and additive manufacturing to witness further growth in patent filings. The adoption of artificial intelligence and digitization across sectors may drive more future patent filings. Law firms, corporate patent, and R&D departments will benefit from robust and scalable IP solutions that allow for secure and effective collaboration in remote working conditions and analytic insights for staying ahead of their competitors.
Discover more insights in our detailed report on patent publication trends in 2020.
2 How to innovate in midst of the COVID-19 pandemic
3 IBM's innovation: Topping the US patent list for 28 years running
5 Think universities are making lots of money from inventions? Think again
6 China to Cancel All Patent Subsidies
7 What Does China's Rise in Patents Mean? A Look at Quality vs. Quantity
8 Should US Companies Worry About the Rate at Which China Is Advancing in Technology Innovation?
10 Pharmaceutical Patents in the Era of COVID-19: The Aftermath on Developing Countries
11 Moderna won't enforce COVID-19 vaccine patents during pandemic
12 Brexit and patents: 10 key things to know
13 Northwestern Patents & Start-ups
14 https://www.maxval.com/blog/covid-19-a-catalyst-for-patent-portfolio-pruning/
15 https://www.wipo.int/pressroom/en/articles/2021/article_0002.html