This week's newest patent applications are from Schreiner, Novartis, Abbott, Roche, Merck, Boston Scientific, Medtronic, Mastercard, Apple, IBM, Microsoft, and Intel.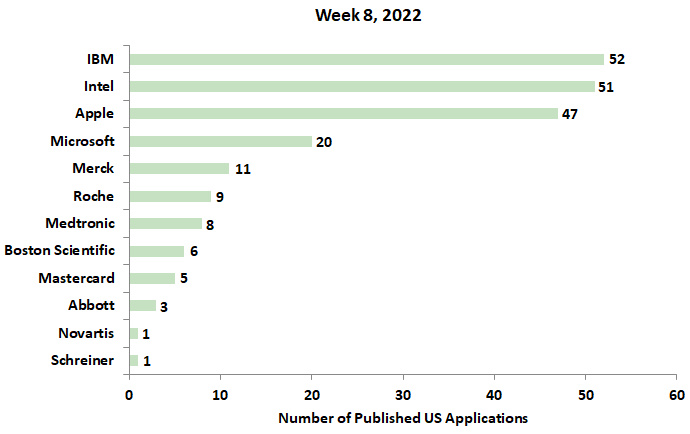 Schreiner Eyes a Patent for a Wearable Mask with an Ultra-Thin LED Panel/Screen
U.S. patent application, US20220057829, discloses a wearable breathing face mask configured to display a user's spoken words on a light-emitting diode (LED) display panel. The mask includes a pollution filter, an adjustable elastic to fit the user's face, and a small microphone, attached to the interior of the mask. The figures below illustrate the novel wearable mask.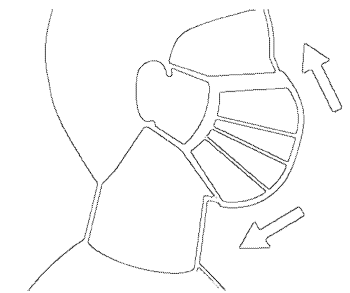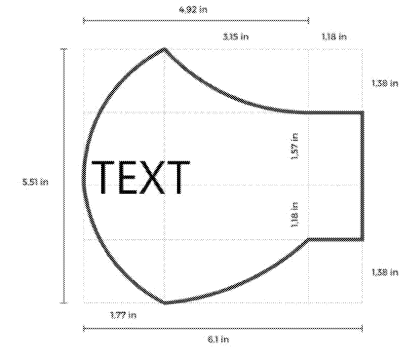 Novartis Seeks a Patent for IL-1beta Binding Antibodies
U.S. patent application, US20220056123, relates to an intravenous administration of IL-1 beta binding antibody particularly, canakinumab or gevokizumab for the treatment of cancer that is related to inflammation such as colorectal cancer or triple-negative breast cancer.
Abbott Wants to Patent Devices for Managing Glucose Levels
U.S. patent application, US20220057868, discloses a glucose monitoring system for managing diabetes. The device includes a user interface (UI) with haptic feedback capabilities to improve the functionality and provide enhanced privacy to the patient when desired. The figure below illustrates a haptic feedback-enabled switch for application in the user interface input mechanisms.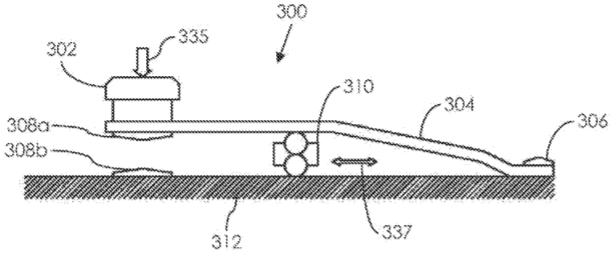 Roche Eyes a Patent for an Automatic Analyzer
U.S. patent application, US20220057421, discloses an automatic analyzer for analyzing samples that contain a housing enclosing analyzing instrument(s), a retracting/extending drawer loaded with reagent vessels arranged in a row, a detector associated with the row which helps to identify the reagent vessels at the detection position when arranged in the row. The figure below shows a perspective view of an automatic analyzer.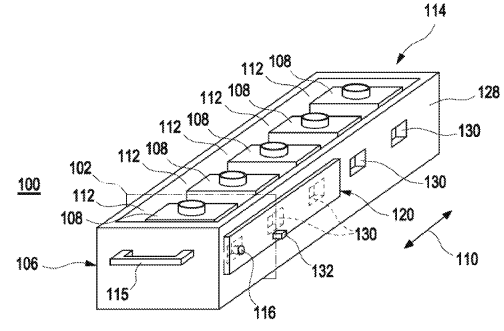 Merck Aims to Patent Materials for Electronic Devices
U.S. patent application, US20220059774, discloses preparations and uses of cyclic compounds having a specific arrangement of electron-conducting and hole-conducting groups in electronic devices, preferably organic electroluminescent devices, that involve the compound of the formula shown below, for use in medicine for phototherapy.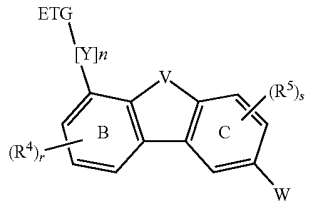 Boston Scientific Files a Patent for a Neurostimulation System
U.S. patent application, US20220054843, relates to tissue stimulation systems and methods for adjusting the stimulation provided to tissue to minimize the energy requirements of the systems. The device comprises stimulation output circuitry configured for delivering stimulation pulses, a set of stimulation parameters, monitoring circuitry configured for continuously measuring action potentials, and one processor configured for initiating an automatic mode. The figure below illustrates a plan view of a neurostimulation system in the context of Spinal Cord Stimulation (SCS) used in a patient.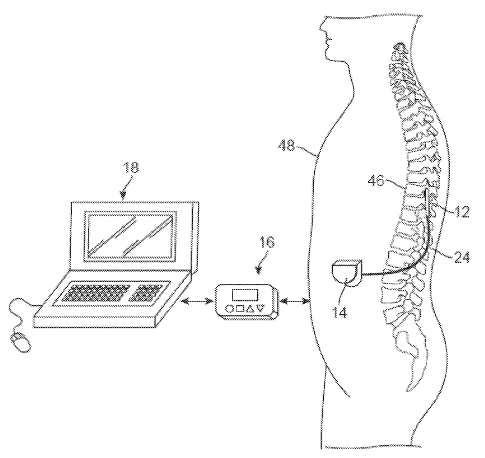 Medtronic Seeks to Patent a Smart Connection Interface
U.S. patent application, US20220054738, discloses a method for a smart connection interface between a reservoir or syringe, infusion set tubing, and an infusion pump. The device includes a cap and an infusion pump each provided with a sensor to detect the presence, position, or other characteristics of the cap when the cap is aligned with the infusion pump housing. The figure below illustrates an infusion pump system including an infusion pump device, reservoir, infusion set, and connection interface apparatus.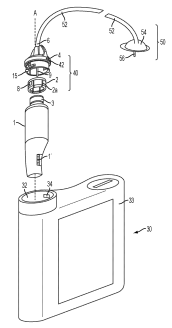 Mastercard Seeks to Patent a Method for Verifying Electronic Purchases Including Restricted Products
U.S. patent application, US20220058648, discloses a method for verifying electronic purchases including restricted products by checking multiple attributes related to restricted products and processing the corresponding payments. The method includes receiving user-specific information inputted by the user via a payment link sent to a user device upon verification of the plurality of attributes by applying a set of predefined rules on products related information and processing the payment request associated with a merchant terminal upon successful validation of the user-specific information.
Apple Wants to Patent a Method for Moving an Avatar Using Real-World Data
U.S. patent application, US20220058847, discloses a method for moving an avatar based on real-world data. The method includes obtaining a first body pose of a user at a first time and a second body pose of the user at a second time, determining a threshold based on the user skill, determining whether a transition from the first body pose to the second body pose satisfies the threshold and generating a sequence of movements for a synthesized reality (SR) representation of the user upon satisfying the threshold. The figure below shows the operating environment of moving an avatar.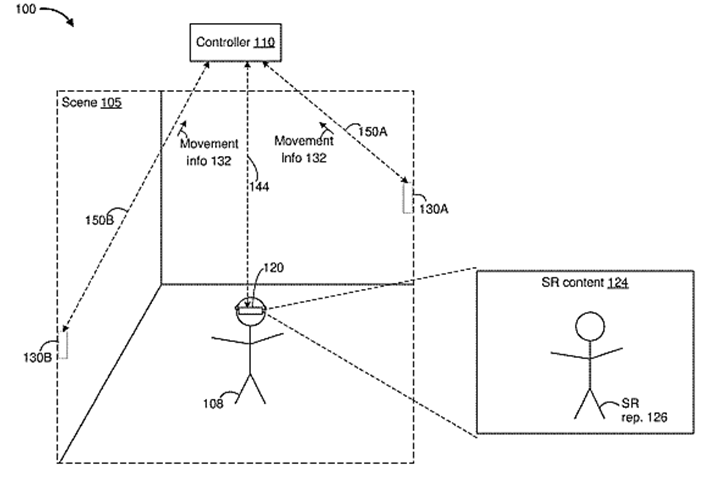 IBM Seeks to Patent a Medication Dispenser System with Exact Personal Dosing
U.S. patent application, US20220059199, discloses a medication dispenser system to provide exact personal dosing for a patient. The system includes a dosage calculator component for calculating a personal dose for each medication for the patient based on patient information and a medication dispenser component for preparing treatments each containing the personal dose of each of the medications in a single treatment. The figure below illustrates the medication dispenser component of the medication dispenser system.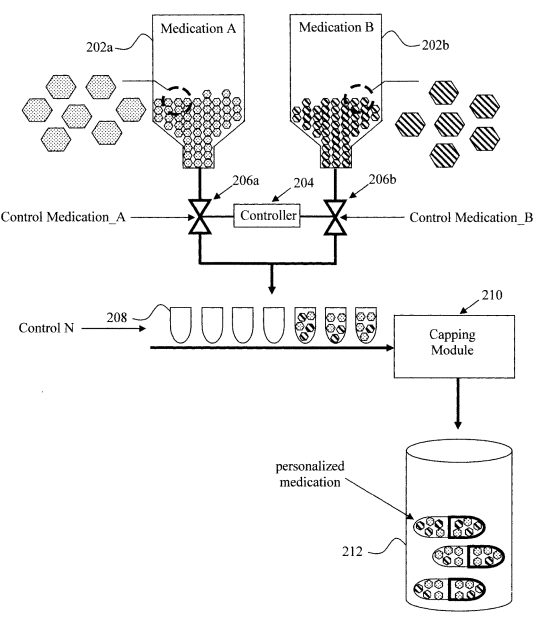 Microsoft Seeks a Patent for Configuring a Chatbot with Remote Language Processing
U.S. patent application, US20220060435, describes a method for configuring a chatbot with remote language processing. A chatbot user interface (UI) has a visual authoring canvas showing visual elements indicative of a logical flow of processing in a chatbot application. The UI receives an authoring input identifying a language processing system that is to be used during runtime and configures the chatbot application to use the identified language processing system. The figure below illustrates adding the visual elements to the visual authoring canvas.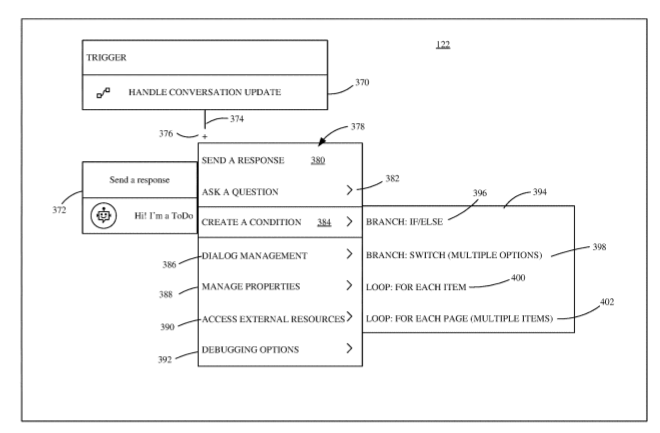 Intel Aims to Patent Techniques for Sleep Management in a Computer System
U.S. patent application, US20220057854, describes a sleep management technique in a computer system wherein all wake sources except a master wake source are put in a low power state to reduce the overall sleep state power consumption. The master wake source scans the presence of a user, determines if the user is in the vicinity or approaching the system, and reactivates the other wake sources and memory. The figure below illustrates the master wake source controlling other wake sources.