This week's newest patent applications from Qualcomm, Novartis, Abbott, Merck, Boston Scientific, Medtronic, Roche, Visa, IBM, Microsoft, Intel, and Apple. In this, we shall dive deeper into the IBM new patent on the multifactor authentication system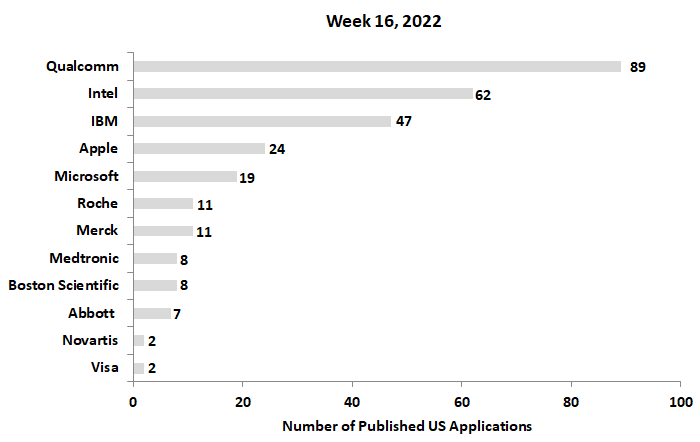 Qualcomm Pursues a Patent on Recurring Communication Schemes For Federated Learning
U.S. patent application, US20220124779, relates to a method wherein a user equipment (UE) receives, from a base station, a federated learning configuration indicating a recurring communication scheme such as a periodic communication scheme for communicating with the base station to enable federated learning associated with a machine learning component. The UE communicates with the base station based at least in part on the federated learning configuration. The figure below illustrates an example associated with federated learning in accordance with the invention.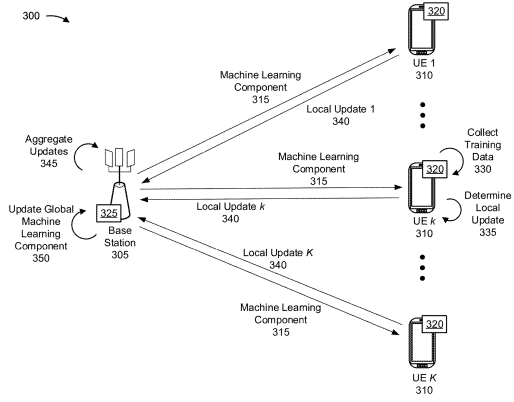 Unlock the secrets of Mastercard Patent to revolutionize electronic payments! Get up-to-date with the latest technologies and explore new ways of making digital transactions faster, simpler, and more secure.
Novartis Seeks a Patent for LTA4H Inhibitors

U.S. patent application, US20220117949, relates to oral administration of a pharmaceutical composition containing leukotriene A4 hydrolase (LTA4H) inhibitor, (S)-3-amino-4-(5-(4-((5-chloro-3-fluoropyridin-2-yl)oxy)phenyl)-2H-tetraz- ol-2-yl)butanoic acid for the treatment of Hidradenitis Suppurativa (HS) (also referred to as acne inversa or Verneuil's disease).
Abbott Wants to Patent Radiopaque Intraluminal Stents
U.S. patent application, US20220117762, discloses an implantable stent with higher radiopacity without the use of high-cost metals. The stent is formed of a radiopaque cobalt-chromium-nickel-tungsten (Co–Cr–Ni–W) alloy with specifically elevated tungsten content to ensure that the alloy maintains a single-phase, face-centered-cubic (FCC) microstructure for higher radiopacity. The figure below illustrates the radiopaque stent mounted on a delivery catheter and placed within a damaged lumen.

Merck Aims to Patent Automated Bio-Manufacturing Systems
U.S. patent application, US20220119757, discloses an automated manufacturing facility for the production of recombinant or therapeutic proteins that includes perfusion bioreactors, a chromatography system, and an ultrafiltration/diafiltration system to obtain a purified protein drug substance for therapeutic medical and diagnostic purposes. The automated facility is controlled by a process automation system (PAS).
Boston Scientific Files a Patent for a Left Atrial Appendage Closure Implant
U.S. patent application, US20220117608, relates to a closure implant device for controlling the thrombus formation within the left atrial appendage of patients suffering from atrial fibrillation. The device includes a self-expanding support frame having a circumference and a central longitudinal axis, a membrane disposed over at least a portion of the support frame, and a plurality of anchors arranged into a first row and a second row to form a staggered pattern about the circumference of the support frame. The figure below illustrates a portion of the closure implant.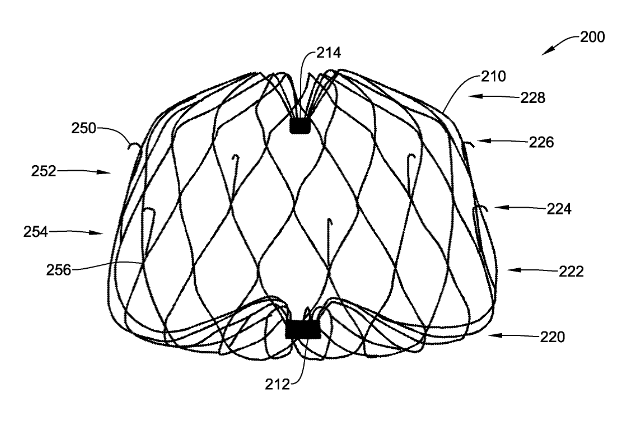 Medtronic Eyes a Patent for an Extendable and Retractable Lead
U.S. patent application, US20220118262, discloses an extendable or retractable electrical lead for an implantable neurostimulation device. The retractable lead includes multiple electrodes that communicate with electrical contacts to deliver the neurostimulation therapy to a target treatment site and a slidable protective sheath. The figures below illustrate the electrical lead in an extended state that can be used with the nerve stimulation system.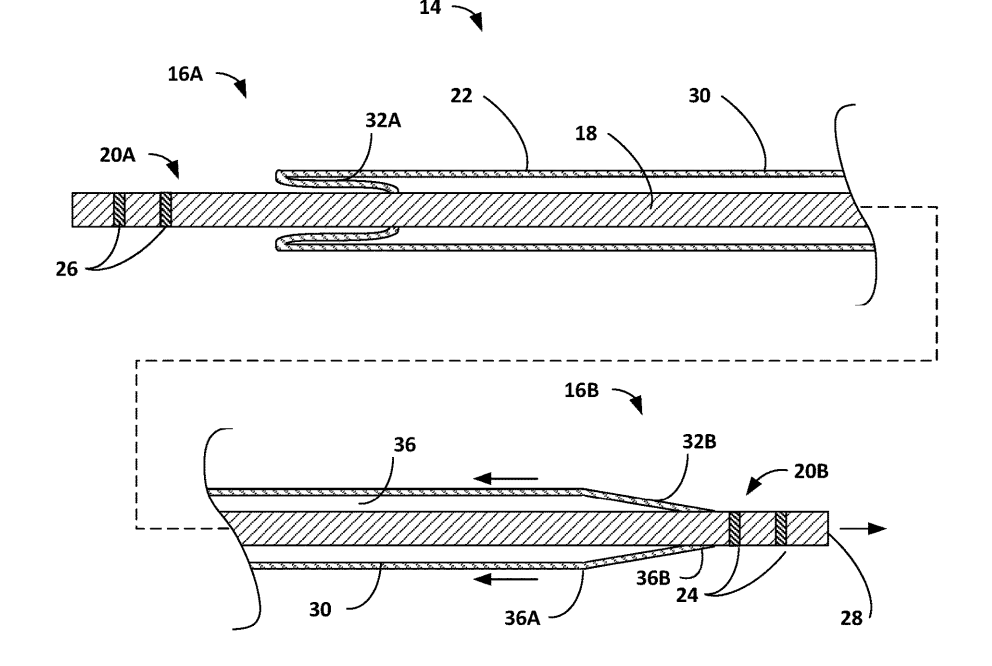 Roche Seeks to Patent a Method for the Reduction of Host Cell Proteins
U.S. patent application, US20220119499, discloses a method for reducing the content of a host cell protein in a sample. The method involves the contacting of a protein A chromatography material with the sample comprising a human IgG4 or IgG1 isotype antibody and then washing with an aqueous solution comprising Histidine and Tris to reduce the content of the host cell protein.
Visa Eyes a Patent for Multi-Device Transaction Verification
U.S. patent application, US20220122081, discloses a method for verifying a transaction based upon the presence of a user's device at a merchant location. The user's device provides an indication to a transaction processing system that the device is currently at the merchant location when a user enters a merchant store. When the user conducts a transaction later with a transaction device different from the user's device, the fact that the user's device had been detected at the merchant store a short time ago is taken into account as a positive indicator that the transaction is not fraudulent, thus reducing the risk of approving a fraudulent transaction from a stolen transaction device based on location verification of devices.
IBM Files a Patent for a Multi factor Authentication System
U.S. patent application, US20220124080, describes a system for utilizing multi-factor authentication to authenticate an Internet of Things (IoT) device by obtaining identity credentials of neighboring IoT device(s). The IoT device provides the authentication system a first-factor credential, such as a username and password, and in return, the system provides a second-factor credential based on confirming the accuracy. Upon the second factor credential, the authentication system approves authentication. The figure below depicts the authentication system.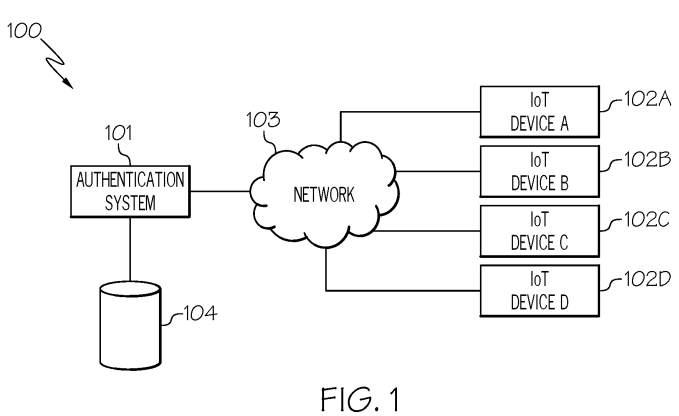 Microsoft Seeks a Patent for a Method of Automated Callback Reminder
U.S. patent application, US20220124196, describes a method for a call reminder functionality that allows the user to select an option in a user interface (UI) displayed on the device to create a link between the call and the user's schedule application. A callback task is added to the user's task list maintained by the schedule application and a reminder is displayed on the UI at a future time. The figure below depicts the user interface supporting the call reminder application.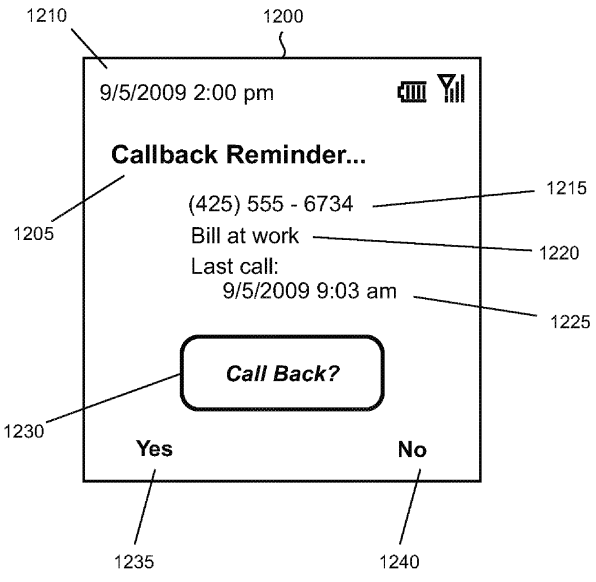 Intel Pursues a Patent on a Method for Detecting Attacks in Vehicle-to-Everything Networks
U.S. patent application, US20220124503A1, describes a vehicle-to-everything (V2X) communication that enables information sharing between vehicles, pedestrians, roadside units, and/or any suitable apparatus in the proximity of V2X communication messages based on detecting attacks in V2X networks. The system transmits the first packet to a first vehicle to request transmission of the first response, instructs a second packet to be transmitted to a second vehicle to request transmission of a second response, and instructs a third vehicle associated with the V2X network to ignore future messages from the phantom vehicles based on the determination. The figures below illustrate the phantom of vehicles coordinating with the central facility.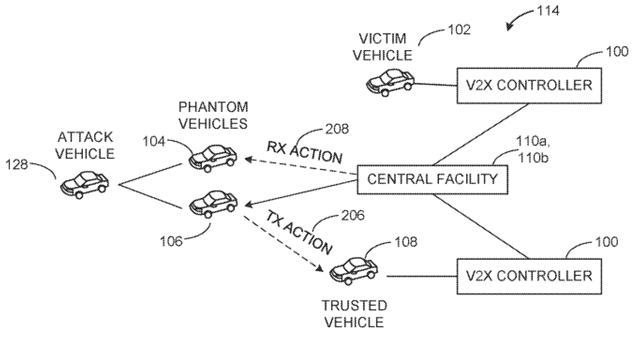 Apple Eyes a Patent for an Electronic Device Enhancing the Interactions with Virtual Controls
U.S. patent application, US20220121344, discloses an electronic device facilitating interactions with virtual objects in a three-dimensional environment. The electronic device enhances interactions with selectable user interface elements or slider user interface elements. The electronic device moves virtual objects in a three-dimensional environment and enables accessing actions associated with virtual objects. The figure below shows the electronic device tracking the gesture of the user and enabling virtual control.