On March 11, 2020, the World Health Organization declared the COVID-19 (SARS-CoV-2) outbreak a pandemic. As of March 30, 2020, COVID-19 has been confirmed in 177 countries/regions, has infected over 730,000 people and claimed more than 34,000 lives (Source: JHU). While most of the people infected with the virus will experience mild symptoms, experts believe that older adults and people with underlying conditions, such as cardiovascular disease, diabetes, chronic respiratory disease, and cancer – are at a higher risk.
Currently, there is no specific medicine to treat or prevent COVID-19; however, many industrial, academic and governmental institutions are in a full sprint to develop effective treatment options. Although a vaccine may still be some time away, off-label use of approved small molecules in critically ill patients is already underway. Repurposed biologics targeting other coronaviruses and experimental therapeutics, such as siRNA-based therapeutics may provide other options. Recent breakthroughs, such as the sequencing of the SARS-CoV-2 have enabled a sleuth of companies developing test kits and provide critical data to researchers developing a treatment.
Meanwhile, governments are also employing other countermeasures to reduce the spread of the infection. These measures include public health announcements regarding social distancing and hand washing, isolating sick patients, closing non-essential businesses and in some cases quarantining entire communities.
Since news of the outbreak, the US FDA has initiated several measures to manage the pandemic. It has also authorized expanded use of medical devices, and a list of diagnostic kits under its Emergency Use Authorization (EUA) program. Under Section 564 of the Federal Food, Drug, and Cosmetic Act (FD&C Act), the FDA Commissioner may allow unapproved medical products or unapproved uses of approved medical products during an emergency to diagnose, treat, or prevent serious or life-threatening diseases when there are no adequate, approved, and available alternatives.
One of the reasons COVID-19 has proven to be a challenge is that the virus can be transmitted to others by individuals who are asymptomatic. This is why there has been a great emphasis in the development and use of in vitro diagnostic (IVD) kits and point-of-care devices. Early stage detection is key to containing the spread of the infection. Table 1 below lists 20 IVDs authorized by the FDA under the EUA, as of March 27, 2020. The earliest approvals were for devices manufactured by the Center for Disease Control and Prevention (CDC) and the Wadsworth Center – both of which are government agencies. Following these approvals, Roche's cobas SARS-CoV-2 – a single-well dual target assay – was approved on the 12th of March, the first approval given to a private player.
| | | | |
| --- | --- | --- | --- |
| Issue Date | Kit | Applicant | Category |
| 04-Feb-20 | CDC 2019-Novel Coronavirus (2019-nCoV) Real-Time RT-PCR | CDC | EUA |
| 29-Feb-20 | SARS-CoV-2 Real-time RT-PCR Diagnostic Panel | Wadsworth Center, NYSDOH | |
| 12-Mar-20 | cobas SARS-CoV-2 test | Roche Molecular Systems | |
| 13-Mar-20 | TaqPath COVID-19 Combo Kit | Thermo Fisher | |
| 16-Mar-20 | COVID-19 RT-PCR Test | LabCorp | |
| 16-Mar-20 | Panther Fusion SARS-CoV-2 | Hologic, Inc | |
| 17-Mar-20 | Quest SARS-CoV-2 rRT-PCR Test | Quest Diagnostics | |
| 17-Mar-20 | Lyra SARS-CoV-2 Assay | Quidel Corporation | |
| 18-Mar-20 | Abbott RealTime SARS-CoV-2 assay | Abbott Molecular | |
| 19-Mar-20 | ePlex SARS-CoV-2 Test | GenMark Diagnostics,Inc | |
| 19-Mar-20 | Simplexa COVID-19 Direct assay | DiaSorin Molecular LLC | |
| 20-Mar-20 | Xpert Xpress SARS-CoV-2 test | Cepheid | |
| 20-Mar-20 | COVID-19 genesig Real-Time PCR assay | Primerdesign Ltd | |
| 23-Mar-20 | Accula SARS-Cov-2 Test | Mesa Biotech Inc | |
| 23-Mar-20 | BioFire COVID-19 Test | BioFire Defense, LLC | |
| 24-Mar-20 | PerkinElmer New Coronavirus Nucleic Acid Detection Kit | PerkinElmer, Inc | |
| 25-Mar-20 | AvellinoCoV2 test | Avellino Lab USA, Inc. | |
| 26-Mar-20 | Real-Time Fluorescent RT-PCR Kit for Detecting SARS-2019-nCoV | BGI Genomics Co. Ltd. | |
| 27-Mar-20 | ID NOW COVID-19 | Abbott Diagnostics Scarborough, Inc | |
| 27-Mar-20 | NxTAG CoV Extended Panel Assay | Luminex Molecular Diagnostics Inc | |
Table 1: List of FDA Authorized In Vitro Diagnostics under EUA
It is interesting to note that patent filings related to in-vitro diagnostics associated with Coronaviruses peaked following previous pandemics (Figure 1). The 2003-2004 peak in patent filings resulted after the 2003 SARS outbreak. The 2013-2016 peak in patent filings followed the 2012 MERS outbreak. We can expect a similar immediate spike in patent filings in 2020 as several commercial kits have already been introduced and more are likely on their way.
Most of the innovations related to diagnostics have originated in the US, but have found commercial potential in several jurisdictions across the globe. The patent filings point to a strong dominance by U.S. based entities on the global patent landscape. The Asia-pacific region including China, Japan, South Korea and Hong Kong also have significant first-filings that can be attributed to the earlier outbreaks in the region.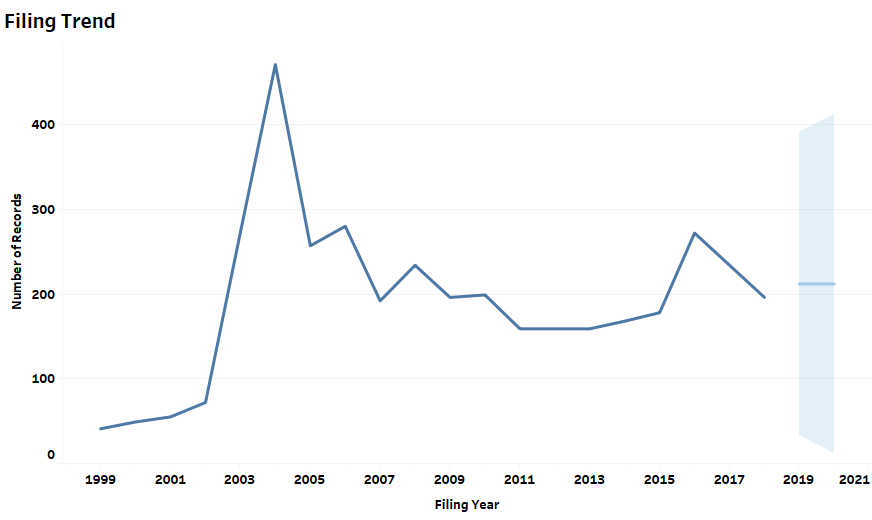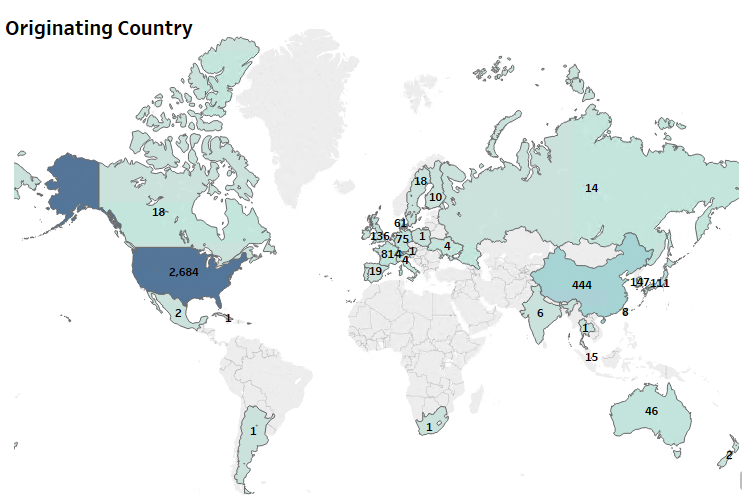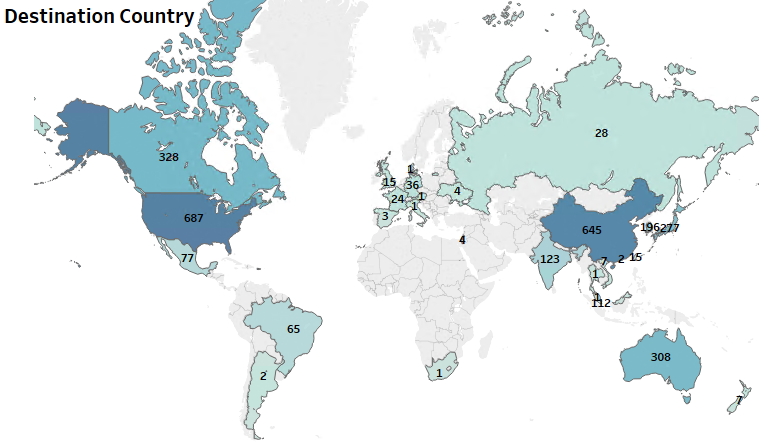 Figure 1: Patent Dashboard Depicting the Filing Trend Related to Diagnostics, the Top Innovating Countries, and the Market Jurisdictions for the Tests
MaxVal identified a total of 158 open and closed clinical trials (Figure 2) relating to Coronavirus, most appear to have been initiated as a response to the current SARS-CoV-2 pandemic. Therapeutic drugs seem to be the most common interventions studied in those trials. Nine of the 158 trials involve diagnostic tests. One of these is related to use of VivaDiag SARS-CoV-2 IgM/IgG Rapid Test. Another is related to use of lung ultrasound for detection. A third trial is on a new QIAstat-Dx Fully Automatic Multiple PCR Detection Platform. It is noteworthy that the number of clinical trials around the time of the earlier MERS and SARS outbreaks were negligible. Perhaps the lessons of the past have been instructive.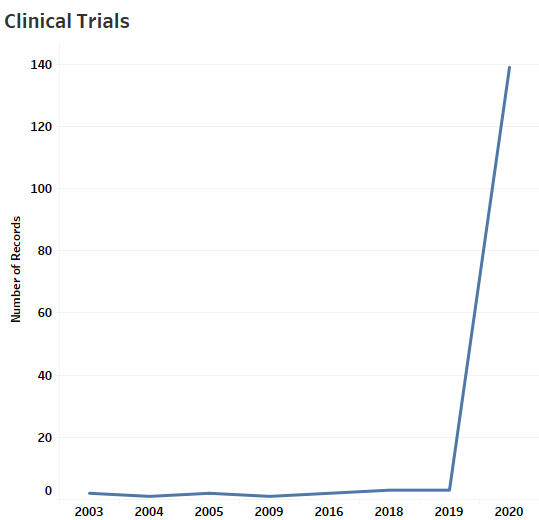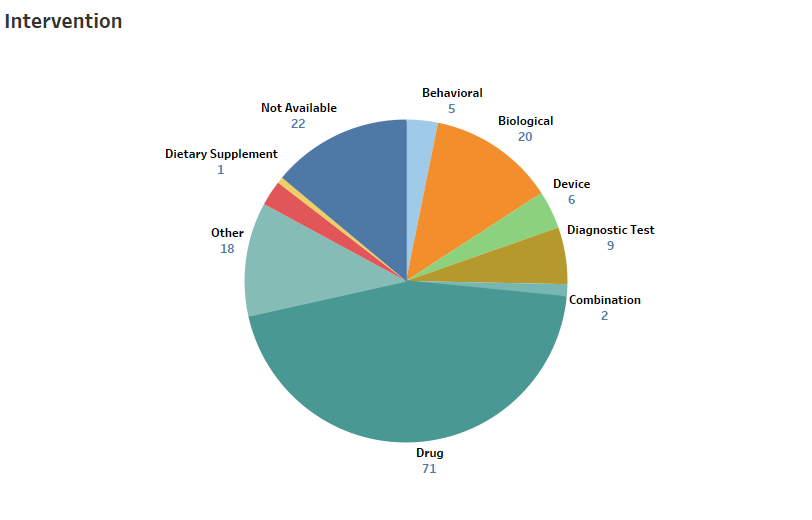 Figure 2: The Clinical Trial Dashboard Illustrating the Number of Trials and the Types of Intervention for All Related Trials, as of March 25, 2020
MaxVal's data analysis indicates that the number of patents, publications and clinical trials allied to battling COVID-19 will grow exponentially in the near future. In the interim, our current best strategies for minimizing the impact of COVID-19 remain early testing, physical distancing, frequent hand washing, and isolating oneself on manifestation of any symptoms.
Take a look at our previous coverage on the Coronavirus outbreak here.
To know more about MaxVal's Search services please click here.