This week's newest patent applications from Power Roots SPA, Novartis, Abbott, Medtronic, Roche, Boston Scientific, Merck, PayPal, Microsoft, Apple, IBM, and Intel.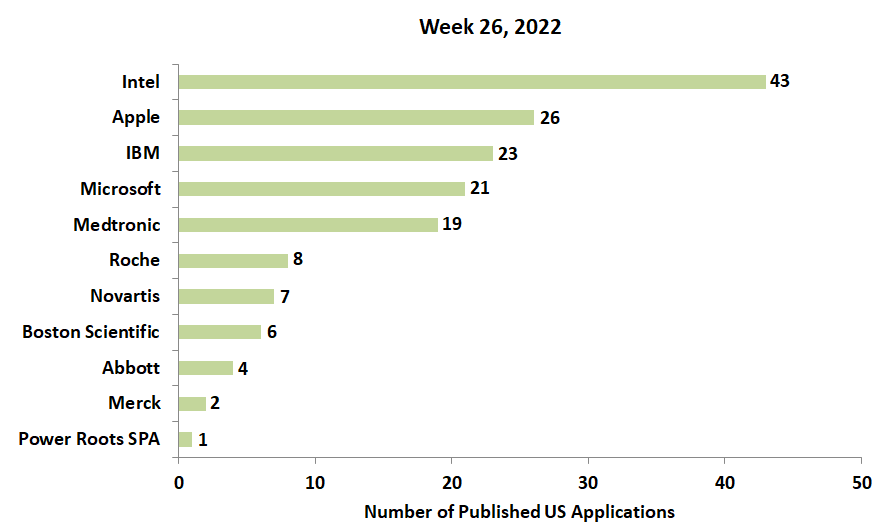 Power Roots SPA Pursues a Patent on an Energizing Agricultural Fertilizer Composed of Sucrose, Humic Acid and Protein
U.S. patent application, US20220213002, discloses an agricultural energizing biostimulating composition made from sucrose, protein/hydrolyzed protein, and humic acid. The composition is aimed at solving the energy deficit that is affecting the production of fruit and vegetables in the agriculture industry.
Novartis Seeks a Patent for IL-17A/F Polypeptides
U.S. patent application, US20220213184, relates to intravenous administration of a pharmaceutical composition containing recombinant interleukin IL-17A/F antagonist, agonists, or polypeptides for the treatment of degenerative cartilaginous disorders and other inflammatory diseases.
Abbott Wants to Patent a Self-Powered Analyte Sensor
U.S. patent application, US20220211305, discloses a self-powered analyte monitoring device. The device includes a self-powered analyte sensor and sensor electronics in which the analyte sensor is separate from the sensor electronics and is physically and/or electrically coupled with the sensor electronics before, during, or after transcutaneous insertion through the skin surface. The figure below illustrates the sensor electronics and self-powered analyte sensor.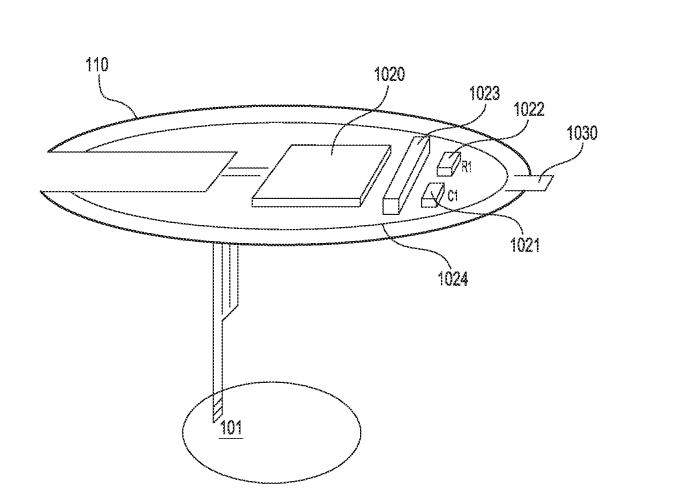 Medtronic Seeks a Patent for a Temperature Sensing System
U.S. patent application, US20220212018, discloses a system for measuring temperature in a transcutaneous energy transfer system (TETS). The system includes an implantable receiving coil in communication with an implantable controller, scavenging circuitry configured to scavenge power from a plurality of tuning capacitors, and a temperature measuring circuit communicating with a temperature sensor and the scavenging circuitry. The figure below illustrates an implantable blood pump with a TETS receiver source.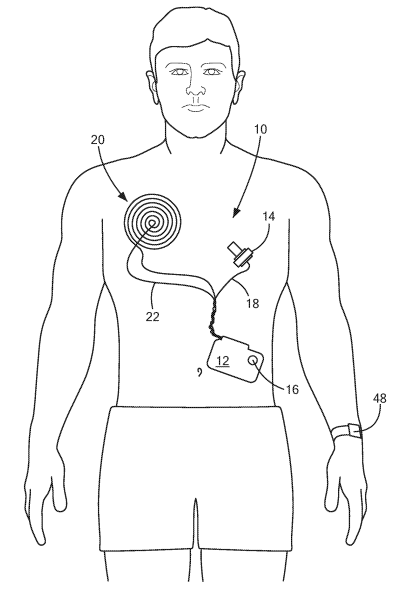 Roche Seeks a Patent for T Cell Activating Bispecific Antigen Binding Molecules
U.S. patent application, US20220213224, relates to novel T cell activating bispecific antigen binding molecules for the treatment of diseases. The molecule includes a first and a second antigen binding moiety, one of which is a Fab molecule capable of binding to an activating T cell antigen. A second Fab molecule is capable of binding to a target cell antigen while both the fab molecules have identical VLCL light chains.
Boston Scientific Files a Patent for an Adaptable Device for Providing Sealable Access to a Working Channel
U.S. patent application, US20220211254, relates to cap assemblies for coupling with or mounting on access ports of endoscopes. The cap assembly includes a housing, an adaptor engageable with the lower portion of the housing, one stabilizing shoulder, and several hooks fitted between an upper surface of the stabilizing shoulder. The figure below illustrates a perspective view of a cap assembly.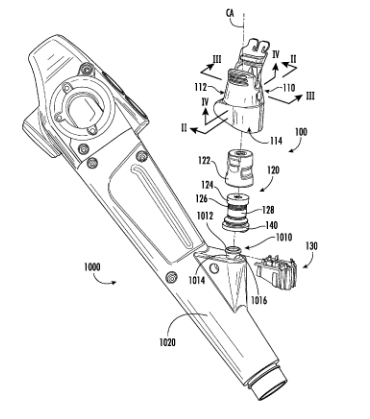 Merck Aims to Patent a Substrate Pattern Filling Composition
U.S. patent application, US20220213415, relates to a substrate pattern filling composition capable of suppressing pattern collapse. The substrate pattern filling composition comprises a first solute (A) having any one of an amino group, a hydroxy group or a carbonyl group, a second solute (B) any one of an amino group, a hydroxy group or a carbonyl group, and a solvent having an organic solvent comprising one compound selected from the group consisting of alcohols, alkanes, ethers, lactic acid esters, aromatic hydrocarbons, ketones, amides, and lactones.
PayPal Eyes a Patent for Wireless Dongle Facilitated Mobile Transactions
U.S. patent application, US20220215376, discloses a method for implementing the purchase of goods or services using automated wireless user check-ins via a merchant dongle. The method includes performing a handshake between the merchant dongle and a purchaser's mobile device on an unbonded channel in order to facilitate payment or credit for the purchase upon determining a user identifier associated with the purchaser's device based on the user check-in request to pay for a product or service at a merchant system.
Paypal has recently unveiled an innovative mobile payment system, granting users the ability to share payments in a secure environment. With this inventive technology, customers can enjoy quick and easy transactions with increased user convenience. Read more about Paypal's patents!
Microsoft Seeks a Patent for an Interactive Graphical System for Estimating Body Measurements
U.S. patent application, US20220215965, describes a system for estimating the physical measurements of a user. A service provider accesses data items from a database, where the data items are associated with one graphical element representing a human body with individual magnitudes corresponding to individual dimensions. The service provider estimates physical measurements associated with the user based partly on a first magnitude and/or a second magnitude. The figure below illustrates utilizing data items associated with graphical elements representing human bodies to estimate physical measurements.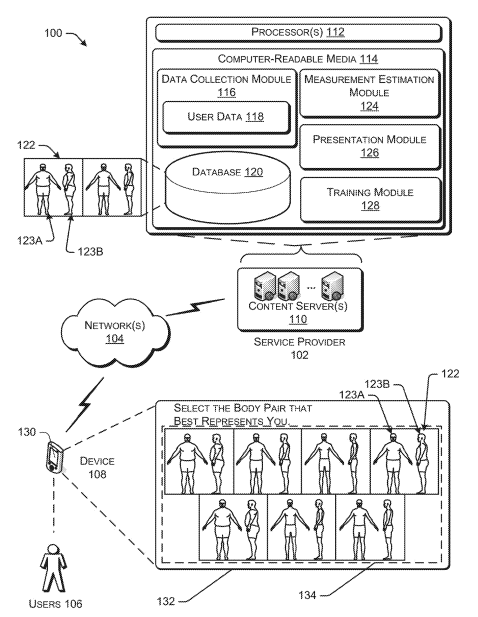 Apple Files a Patent for a Hinged Keyboard Accessory for a Tablet Computing Device
U.S. patent application, US20220214722, discloses an accessory device for a tablet computing device. The accessory device includes a base portion having one or more input devices (e.g., keyboards, trackpads, touchscreen displays, and the like) for providing inputs to the tablet computing device and a coupling mechanism for releasably coupling the base portion of the accessory device to a tablet computing device in multiple different installation modes. The figure below illustrates the tablet computing device coupled to the accessory device by a magnetic coupling mechanism.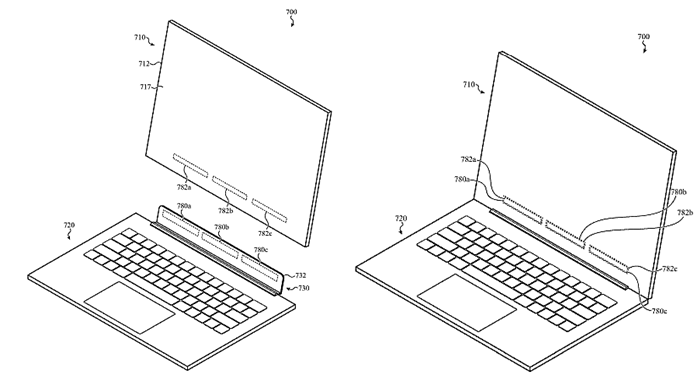 IBM Pursues a Patent on a Hybrid Mechanical Drill
U.S. patent application, US20220212282, discloses a hybrid drill for making vias in a laminated printed circuit board (PCB). The drill has both a mechanical drill and a laser drill to make the via. First, the mechanical drill drills to a point where a tip of a bit is a predetermined distance above a target interconnect layer. Then the laser drill ablates the resin remaining above the target interconnect layer when the drill is moved such that the laser drill is located over the via where the mechanical drill had drilled the via. The figure below illustrates the hybrid drill for creating blind vias in the PCB.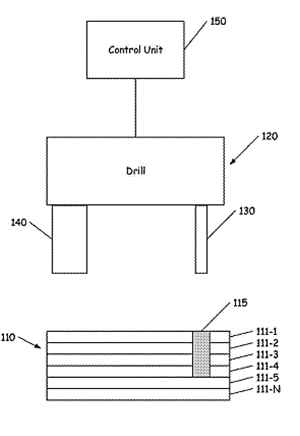 Intel Aims to Patent a Temperature Control Circuit for Integrated Circuits
U.S. patent application, US20220215147, displays an integrated circuit temperature sensor circuit that produces an output indicating the temperature. The circuit further includes a temperature management controller circuit that assesses the temperature indicated by the temperature sensor circuit's output against a predetermined temperature threshold. When the temperature indicated by the output of the sensor circuit exceeds the threshold, the controller circuit instructs temperature reduction circuitry to lower the temperature. The figure below illustrates the integrated circuit with the temperature control and mitigation system.