According to the latest announcement[1] from the Unified patent court (UPC) Agreement, there will be a two-month delay for the start of the Unitary Patent system. The Sunrise Period will now begin on March 1st, 2023 and the Unitary Patent system will go into effect on June 1st, 2023. This delay is to facilitate a Strong Authentication system which will be required of users in order to access the Case Management System (CMS).
Currently, applicants file European patent applications at the European Patent Office (EPO), and after the grant, European patents can then be validated in EPO member countries, with separate renewal fees paid in each validation country. This process will change in the first half of 2023 due to the biggest change to the European patent practice since the introduction of the European Patent Convention (EPC). The European Unitary Patent will provide coverage in all participating European Union member states without the need to validate in individual countries to pay renewals in individual validated countries. The European Unitary Patent will enter into force shortly after Germany deposits the instrument of ratification of the Unitary Patent and the Unified Patent Court (UPC) agreement (expected to happen around the end of February 2023). UPC opt-out is a must if organizations don't want the UPC to have jurisdiction over their active European patents (EPs) or pending applications. This guarantees the continued jurisdiction of national courts (as per the current situation).
This new patent system has been an intriguing subject since its inception. Now that it is set to take effect, some stakeholders are raising concerns about its overall impact on the future of their patents, prompting them to look for ways to better understand the UPC agreement and the UPC opt-out status. In this article, we explore the key items patent holders should know about Unitary Patent and Unified Patent Court system, UPC opt-out status, and more.
Five Things Patent Holders Should Know About Unitary Patent
The Unitary Patent system will be an alternative to the current EP Validation System and will help protect a European patent in all participating EU member countries with a single application and renewal fees. Furthermore, European patent disputes, which are currently being handled by the respective national courts of the participating member states, will be tried in the UPC. Here are top five things applicants should know about Unitary Patent:
Applicability
The Unitary Patent will only apply to the European Union member states that have ratified the UPC agreement. As of now, the new patent is applicable to the 17 countries[2] that have ratified the agreement. The Unitary Patent is neither applicable to all EPO member countries (39 Member countries plus 1 extension and 4 validation member states) nor to all 27 EU member states. Although, all EU member states are eligible to participate in the UPC agreement, 7 member states[3] have not ratified the UPC agreement, and 3 member states[4] have refused to participate in the agreement. Notably, the United Kingdom, Switzerland, Turkey, etc.[5] will not be part of the new patent system.
Additional Option
For European patent applicants in the nations that are signatories to the UPC agreement, the Unitary Patent will be an additional option. This means that applicants will still have an option to either pursue the traditional EP validation route or request for a Unitary Patent.
For the rest of the EPO member states that are not part of the UPC agreement, applicants need to go forward with the traditional EP validation route.
Unchanged Grant Procedure
There will be no changes in the EPO grant procedures (filing, search, and examination until grant), and the EPO will continue to be responsible for regulating all of the above procedures. The Unitary Patent proceedings will start after the European Patent is granted at the EPO. The Unitary Patent request will have to be filed within 1 month from the Grant Date after the Unified patent court (UPC) Agreement comes into effect.
Single Renewal Fees
There will be a single post-grant renewal fee payable to the EPO instead of separate post-grant renewals in the UPC agreement member countries.
Cost Effectiveness
Applicants should be able to save expenses as there will be no need to pay separate official validation fees, translation costs, agents/law firms/service providers' service charges, and each member country's renewal fees.
Unitary Patent renewals would be more expensive if an applicant chooses to validate in up to 3 member countries but would be cheaper if the applicant opts for validation in 4 or more countries. If an applicant wants protection in 4 or more member states, then the Unitary Patent option may prove to be more cost-effective.
Five Things Patent Holders Should Know About the Unified Patent Court
Common Court
The Unified Patent Court will be the default and common court to handle all patent litigations related to the Unitary Patent for all UPC Agreement member states. It will be replacing multiple national courts and have the exclusive court jurisdiction over participating member states' patent-related disputes. Its goal will be to provide a simple, consistent, and efficient one-stop court for all patent disputes.
Explore the EPO Opposition Trends and Outlook to understand what to expect in the upcoming landscape of patent litigation.
Central Enforcement and Central Revocation
The Unified Patent Court entails central enforcement and central revocation, meaning once a court has jurisdiction over a patent, it can hear any revocation proceedings filed by a third-party for any member state. The decision to revoke the patent will be binding throughout all UPC member states. Likewise, these patents can be enforced simultaneously in all of the member states. Therefore, it will be a double-edged sword as there will be a risk of central revocation as well as the benefit of centralized enforcement.
UPC Opt-Out Possibility
The Unified Patent Court will become the de facto jurisdiction for the litigation of European Unitary Patents and European patents (unless applicants opt-out). Applicants with pending European patent applications as well as granted European patents can avail the option of opting-out from the jurisdiction of the Unified Patent Court. The Unitary Patent system is expected to start from June 1st, 2023 and applicants need to make a decision regarding opting-out from UPC before this date. Applicants can prevent future patent-related issues by ensuring they have the necessary UPC opt-out status.
Sunrise Period
Applicants will be provided with a Sunrise period starting from March 1st, 2023 until May 31st, 2023 (subject to change) to opt-out from the jurisdiction of the Unified Patent Court. In the absence of any action to opt-out from UPC, the UPCA will gain jurisdiction over all existing EP patents and patent applications. The option to opt-out and then withdraw from opt-out to accept the Unified Patent Court's jurisdiction is available only once. After it is withdrawn, the patent will be subject to UPC jurisdiction for the rest of its life. As a result, any delay may cost the patentee patent protection in all EP member states.
Strategy for Changing UPC Opt-Out Status
Given the high stakes involved in the decision, it is critical to meticulously plan to opt out of a specific set of patents while subjecting others to the exclusive jurisdiction of the UPC. When deciding on a patent opt-out strategy, the following factors should be considered: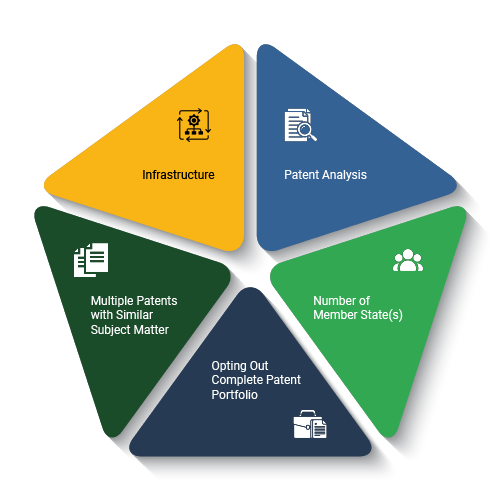 Patent Analysis – Patents can be evaluated based on their strength to predict revocations. Strong patents with high value and a low likelihood of revocation can be excluded from opting out, whereas patents with a higher likelihood of revocation can be opted out.
Number of Member State(s) – If protection in one or more member states with strong enforcement is adequate to exploit and monetize the patent, it may be preferable to avoid the risk of total revocation.
Opting Out Complete Patent Portfolio – The option to completely opt-out from UPC may appear to be the easier option because it will avoid all uncertainties associated with the Unified Patent Court. However, it will prevent strong patents from being centrally enforced.
Multiple Patents with Similar Subject Matter – If a set of patents are related to the same subject matter, the patentee may consider opting out of a few of them based on their market potential, strength, and duration of protection.
Infrastructure – A patentee can face multiple revocations at the same time. As a result, the infrastructure required to deal with bulk litigations should be considered.
UPC Opt-Out Status Support to Overcome Unitary Patent Challenges
A Unitary Patent system would end costly patent disputes and increase legal certainty, strengthening the existing European patent granting system. The new system will have major implications for organizations in the areas of validation, renewals, translations, and litigations. To make the most of this new system, organizations need all the support they can get. In our experience, collaborating with an IP solutions and services provider that offers UPC support or UPC opt-out service can be a good starting point.
MaxVal's Symphony IP management system (platform), trusted by some of the world's leading organizations and law firms, now includes UPC jurisdictions and related information, a new case type for patent records related to the Unitary Patent, country laws, integrated workflows, as well as dashboards for monitoring Unitary Patent requests.
In addition to these features, Symphony also allows customers to update their UPC opt-out status, registration, and withdrawal date within the platform. These fields are currently configured for manual entry but will be linked to an opt-out API currently under development. API connectivity will allow customers to perform automated bulk UPC opt-outs from Symphony using the UPC CMS APIs. The platform is also developing functionality to allow customers to add details of renewal fees applicable to Unitary Patents. We are already working with several of our customers to support them with their UPC opt-out service requirements using Symphony's UPC capabilities.
UPC: The Way Forward
In order to fully exploit a patent under the Unitary Patent regime, the cost factor and the extent of the protection sought by the patentee must be weighed. If a patent owner seeks protection only in four or fewer of the member states, it's best to opt out because the cost of renewal is nearly the same or less than the cost of maintaining a Unitary Patent, and opting out will save patents from revocation. If pan-European protection is desired, it is best not to opt-out of the Unitary Patent regime as it will enable central enforcement across all EP member states at a lower cost. However, the risk of central revocation will remain. Unless the patent's strength is extremely high, risking a central revocation in cases where protection is required only in a few EP member states is not recommended.
Note: All corporations with European patent portfolios must be aware of the Unified Patent Court's opt-out scheme. MaxVal can provide bulk UPC opt-out service for European portfolios if needed. Please contact us at sales@maxval.com for more information.
[1] Adjustment of the timeline – Start of the Sunrise Period on 1 March 2023
[2] Austria, Latvia, Belgium , Lithuania, Bulgaria, Luxembourg, Denmark, Malta, Estonia, Netherlands, Finland, Portugal, France, Slovenia, Germany, Sweden, Italy
[3] Cyprus, Czech Republic, Greece, Hungary, Ireland, Romania & Slovakia
[4] Spain, Poland & Croatia
[5] United Kingdom, Switzerland, Turkey, Norway, Iceland, Serbia, Albania, Macedonia, Liechtenstein, Monaco, San Marino