Sony pursues a patent on multi-player calibration of various stand-alone VR systems.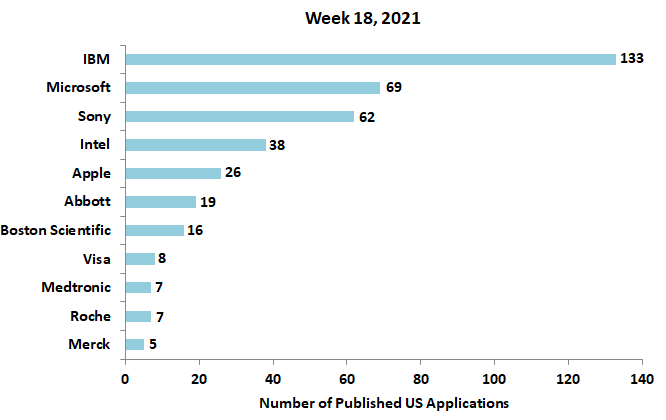 In this week's featured patent applications, we cover the latest from Sony, Abbott, Medtronic, Boston Scientific, Merck, Roche, Visa, Intel, IBM, Apple, and Microsoft.
Sony Files a Patent for Multi-Player Calibration of Various Stand-Alone VR Systems
U.S. patent application, US20210132694, describes a method for calibrating two stand-alone VR systems to share a common reference frame using a calibration step in which multiple VR users clap each other's hands. The figure below illustrates two players wearing VR headsets attempting to shake hands, which requires the headsets to share a common reference frame so that the opposing player is rendered in a location corresponding to the opposing player's real-world position.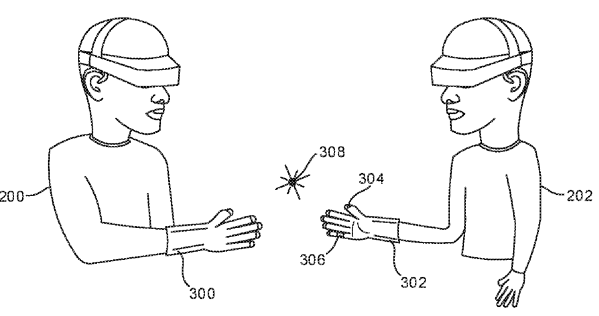 Abbott Wants to Patent a Method for Determining Volume and Hemoglobin Content of Individual Red Blood Cells
U.S. patent application, US20210131938, discloses a method for determining the volume and hemoglobin content of an individual red blood cell in a blood sample using a hematology analyzer. The analyzer is useful for investigating red blood cell disorders or anemias, and to make treatment decisions. The figure below shows an optical subassembly of the hematology analyzer.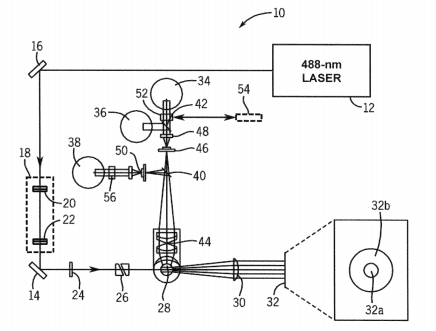 Medtronic Aims to Patent a Stented Prosthesis Delivery Device Having a Torque Shaft
U.S. patent application, US20210128301, discloses a stented prosthesis delivery device that includes a handle, a shaft assembly, and a torque shaft which winds and unwinds elongate tension members around the shaft to correspondingly compress, and expand the stented prosthesis using an actuator. The figure below illustrates a stented frame loaded over the delivery device.

Boston Scientific Seeks to Patent a Biopsy Needle for Accessing Peripheral Lung Nodules
U.S. patent application, US20210128124, discloses a pulmonary biopsy needle having a flexible elongated portion that facilitates navigation through the lungs, and a piercing tip for accessing the periphery of a patient's lungs. The figure below shows the biopsy tool accessing a peripheral lung nodule.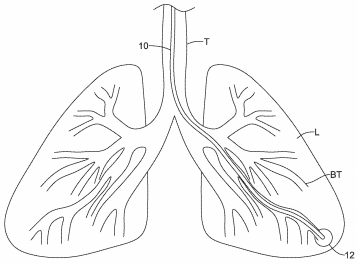 Merck Files a Patent for Benzothiophene Sting Agonists
U.S. patent application, US20210130466, relates to therapeutic combinations comprising antagonists of the Programmed Death 1 receptors (PD-1), and benzo[b]thiophene compounds that activate the stimulator of interferon genes (STING) pathway. The disclosed therapeutic combinations are used for the treatment of cancers.
Roche Seeks to Patent a Detection Method for Analytes
U.S. patent application, US20210131973, relates to a mobile device for the detection of analytes. The method involves the application of a sample in a test field containing a test chemical, capturing images before and after the sample is applied, with an illumination source turned on and off, and then detecting the analyte using the images captured and the determined light intensities. The figure below illustrates the mobile device for analyte detection.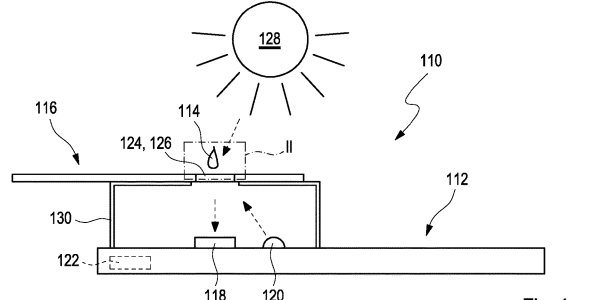 Visa Files a Patent for a Method for Playing a Game Based on Payment Transactions
U.S. patent application, US20210133791, discloses a method for playing a game based on payment transactions within an electronic payment transaction processing network that includes registering the payment cards used to perform payment transactions within the game, recording a contactless payment performed using the payment card, receiving an award within the game, converting it to the benefit of the user and displaying the received award.
Intel Aims to Patent a Two-in-One Tablet Computer with Inferred Undocking
U.S. patent application, US20210132658, discloses a hybrid tablet computer that includes a detachable keyboard with a magnetic hinge to magnetically snap/unsnap the detachable keyboard to the tablet, monitoring software to determine whether the detachable keyboard has been unsnapped from the tablet, and to perform software decoupling. The figure below shows the user unsnapping the tablet with one hand.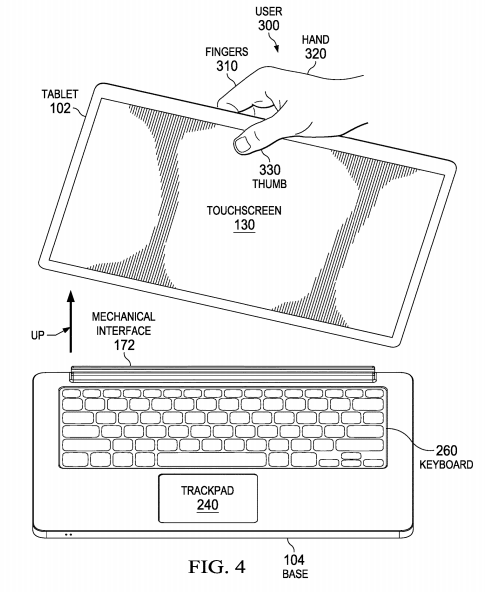 IBM Files a Patent Application Relating to Parking Spot Locator Based on Personalized Predictive Analytics
U.S. patent application, US20210133603, discloses a reinforcement learning model for personalizing a recommendation of a parking spot location to a user and includes the model receiving destination associated with the vehicle of the user, determining a parking spot availability in proximity to the destination based on user preferences and displaying the recommended parking spot location to the user. The model also receives a satisfaction rating associated with the recommended parking spot location.
Apple Seeks to Patent a Method for Determining and Presenting Customized Notifications in a Wearable User Device
U.S. patent application, US20210128982, discloses a method for determining whether a user's fitness goal is achieved, and presenting a user with a coaching notification at a user device if the fitness goal is not likely to be achieved. The method includes detecting historical fitness data associated with the user account, accessing current fitness data collected by the wearable device, comparing the current and the historical fitness data to identify a correlation between current progress and historical progress towards a fitness goal, and presenting the coaching notification to the user device.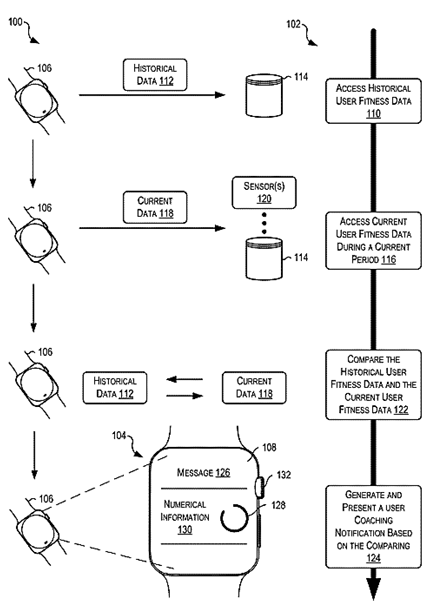 Microsoft Files a Patent on a System for Presenting a Gamified Challenge to Detect a Non-Human User
U.S. patent application, US20210133304, describes a system for presenting a gamified challenge to a user communicating with a website when the user is suspected of being a bot. The challenge includes a dynamic sequence of animated geometric objects displayed in order that the user has to interact with within an allotted time. Features extracted from the challenge are used to detect a non-human user. The figure below represents a user interface displaying various stages of the gamified challenge.