This week's newest patent applications from Telefonaktiebolaget LM Ericsson, Novartis, Abbott, Boston Scientific, Medtronic, Merck, Visa, Intel, IBM, Microsoft, and Apple.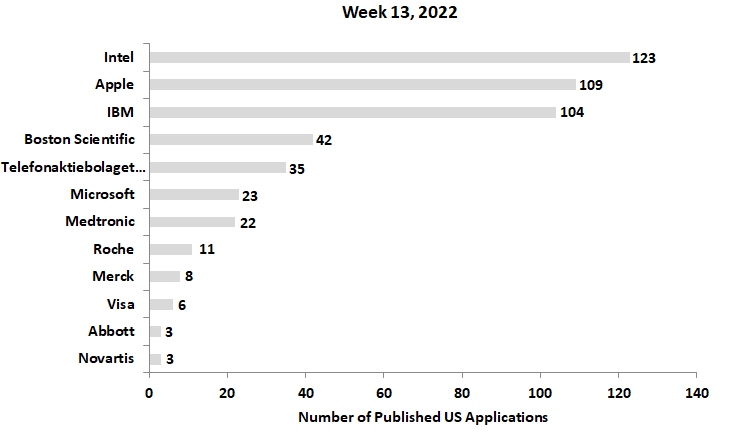 Telefonaktiebolaget LM Ericsson Pursues a Patent on a Method for Controlling V2X communication
U.S. patent application, US20220104200, discloses a method for controlling vehicle-to-anything (V2X) communication. The method includes receiving service information in a dedicated intelligent transport systems (ITS) frequency band, the service information advertising at least one V2X communication service in at least one licensed frequency band; and controlling, based on the received service information, utilization of one or more V2X communication services by a V2X communication device. The figure below illustrates an example of coordinating basic V2X services.

Novartis Seeks a Patent for Anti-CD40 Antibodies
U.S. patent application, US20220098315, discloses subcutaneous or intravenous administration of anti-CD40 antibodies, such as CFZ533 (iscalimab) for the treatment of hidradenitis suppurativa (HS).
Abbott Wants to Patent an RF Detection System for Analyte Sensor Measurements
U.S. patent application, US20220099611, discloses an in-vivo analyte monitoring system for detecting a glucose sensor measurement using RF frequency resonance of an on-body device. The on-body device is adapted to sense the glucose level of a wearer and translate the glucose level to a resonance frequency which is detected by a reader device to determine the corresponding sensor measurement. The figure below illustrates the monitoring system with an on-body device mounted on the skin of a human user.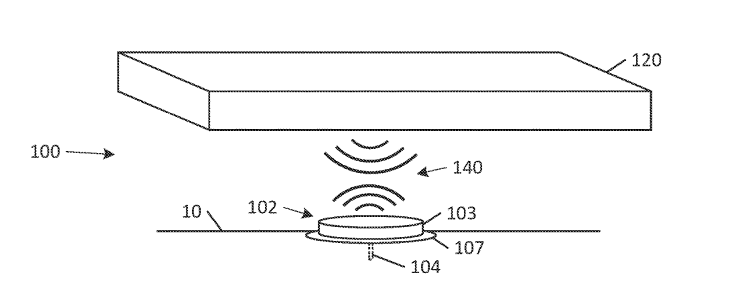 Boston Scientific Files a Patent for a Pretreatment Waveform for Irreversible Electroporation
U.S. patent application, US20220096151, relates to an electroporation ablation system for treating a targeted tissue in a patient. The device comprises an ablation catheter having a handle, catheter electrodes situated at the distal end of a shaft, and an electroporation generator that is coupled to the catheter electrodes to deliver electrical pulses in an irreversible electroporation pulse sequence. The figure below illustrates a distal end of a shaft included in a catheter and interactions between electrode pairs.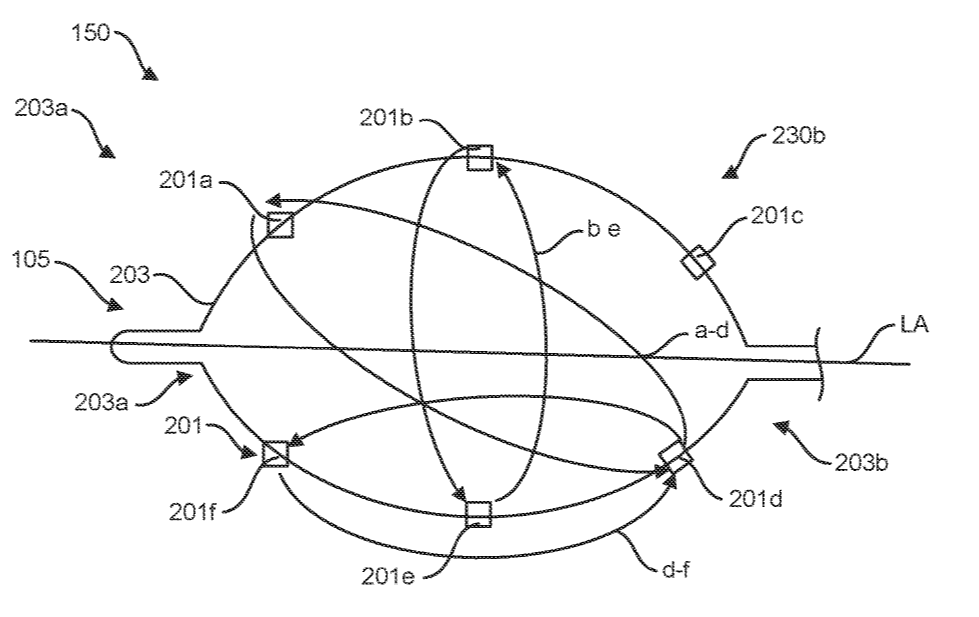 Medtronic Eyes a Patent for an Electrosurgical Device
U.S. patent application, US20220096143, discloses an electrosurgical bipolar probe with an internal cooling system for lesioning in bone and other tissue. The probe includes tubular electrodes such that the inner surface of each electrode is cooled while keeping the electrodes electrically isolated and also a temperature monitoring means when used in tissue that hinders the predictability of lesioning, such as electrically insulative tissue. The figure below illustrates a bipolar lesion created within a vertebral body at a bone-tumor interface by the probe.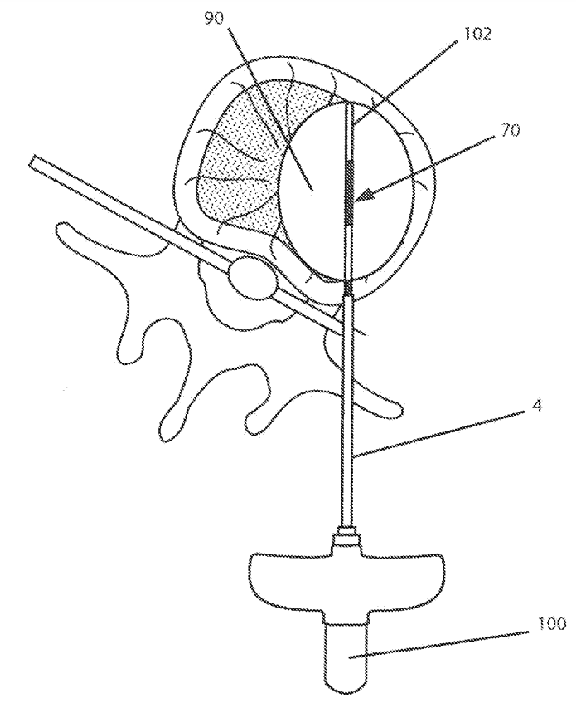 Roche Seeks to Patent PAPD5 and PAPD7 Inhibitors
U.S. patent application, US20220096527, discloses a compound that prevents, ameliorates, and inhibits hepatitis B virus (HBV) infections. The compounds include an inhibitor (small molecules/antibodies) bound with PAPD5 and PAPD7 to reduce the expression of the PAP-associated domain and inhibit the propagation of HBV infections.
Merck Aims to Patent a Container System for Freezing and Thawing a Liquid Product
U.S. patent application, US20220095610, discloses a system for processing liquid bulk drug substances and other pharmaceutical solutions. The system comprises a refrigeration unit with a refrigeration chamber, several containers disposed within the refrigeration chamber having a lengthwise dimension that is aligned with the flow direction, and two parallel, major sidewalls that are spaced from each other in a widthwise direction. The figure below illustrates diagrammatic representations of a set of containers.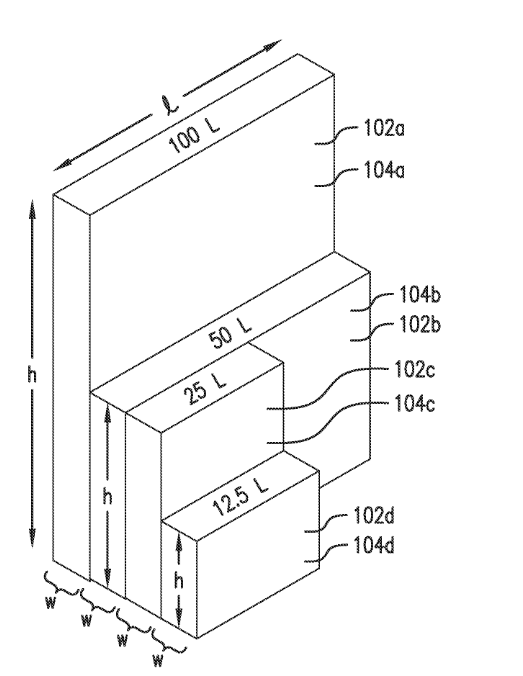 Visa Eyes a Patent for Authentication by Augmented Reality for Fraud Prevention
U.S. patent application, US20220101295, discloses a method for authenticating transactions of a merchant point-of-sale (POS) device via an augmented reality (AR) map to prevent fraudulent activity on the POS devices. The method includes receiving a request for authentication of an operation by the POS device, communicating at least a portion of the AR map data to the POS device for execution of an AR re-localization process, and authenticating the operation in response to the success of the re-localization process by the POS device.
Intel Seeks a Patent for Forksheet Transistor Architectures
U.S. patent application, US20220102346, describes forksheet transistors with various architectures and interconnect schemes to combat the demands of spacing between features. The interconnects are formed with a timed etching process using an etch stop layer that is embedded in the backbone and the semiconductor device comprises a first transistor strata which further comprises a first backbone, and second transistor strata over the first transistor strata to allow gate all around (GAA) control of the semiconductor channels. The figure below illustrates forksheet transistors across the semiconductor channels.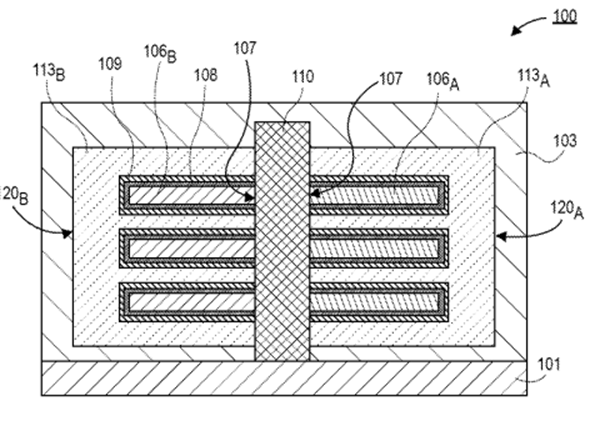 Intel is revolutionizing the way we pay by introducing a geo-fencing technology that enables secure payment transactions.
IBM Pursues a Patent on a Wearable Computing Device Audio Interface
U.S. patent application, US20220100462, discloses a wearable contact lens having an audio interface. The wearable contact lens is positioned adjacent to an eye of a user during a listening mode. An auditory signal received by the wearable contact lens is transferred to a paired computing device of the user through a personal network connection. The figure below depicts an example system performing voice-based computing using the wearable contact lens.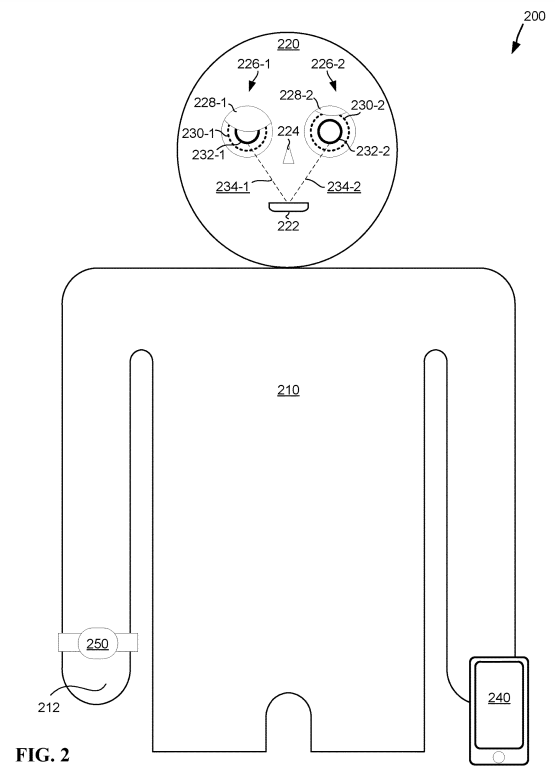 Microsoft Seeks a Patent for a Method of Video Calling
U.S. patent application, US20220103784, describes a method for receiving a plurality of segmented participant video streams depicting a different human participant participating in a video call, where the participants are ranked accordingly. The plurality of segmented participant video streams are composited into a virtual conference view that displays each of the ranked human participants at a virtual position based on their cumulative participant priority. The virtual conference view is sent to the plurality of client computing devices. The figure below illustrates the ranking of human participants based on cumulative participant priority.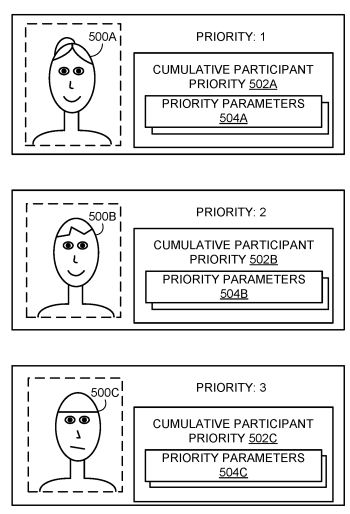 Apple Eyes a Patent for Remotely Controlling a Hearing Device
U.S. patent application, US20220103924, discloses a method for remotely changing the settings of a hearing device. The method includes displaying a user interface in a device that includes a plurality of affordances for selecting audio processing settings, for a plurality of wireless audio output devices paired with the device, and in response to receiving a first set of affordances, applying a first set of audio processing settings to the plurality of wireless audio output devices. The figure below shows the user interface used for remotely controlling the hearing device.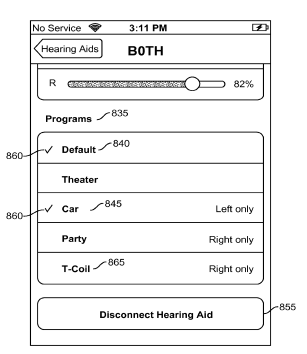 Apple revolutionizes communication with their new patent, enabling users to transition between audio to video calls effortlessly. Uncover the details behind this innovative feature!