Apple seeks to patent a method for establishing a video conference during an audio call. This week's newest patent applications are from Xiamen, Boston Scientific, Medtronic, Merck, Roche, Visa, IBM, Apple, Microsoft, and Intel.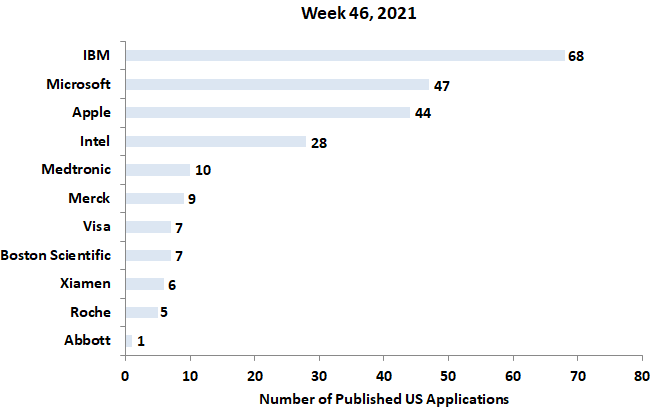 Xiamen Pursues a Patent on a Plant Growth Lamp
U.S. patent application, US20210356107, discloses a plant growth lamp which can independently output different wavelengths and spectrums to satisfy the needs of crops in different stages of growth. The lamp comprises a main lamp body; light sources including a red light source, a blue light source, and a white light source; a switching circuit with a multi-position switch; and a driving board connected to the light sources to drive the light sources to emit light. The multi-position switch controls the on-off of the switch circuits to drive different light sources to output different spectrums. The figure below illustrates the arrangement of different light sources.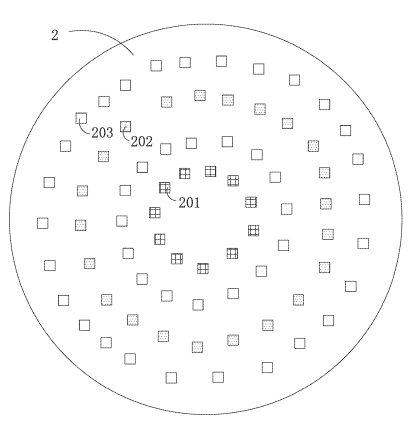 Boston Scientific Files a Patent for an Endoluminal Device
U.S. patent application, US20210353444, discloses an endoluminal device for implantation in a body lumen, such as a pancreatic duct. The device includes a stent with a reduced diameter for advancement from the duodenum and is expandable into the pancreatic duct to prevent narrowing of the duct and/or to restore its patency. The figure below shows the endoluminal device positioned within a patient.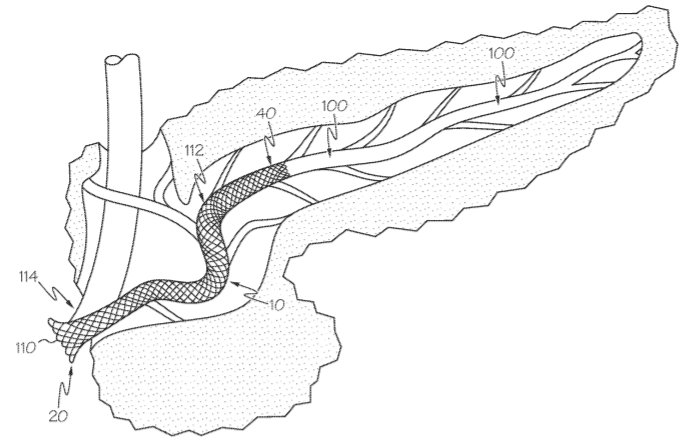 Medtronic Aims to Patent a Multiple Connection Drive Shaft and a Paravalvular Leak Resistant Prosthetic Heart Valve System
U.S. patent application, US20210353307, discloses a drive shaft system for a motor assembly to drive multiple tools. The system includes the drive shaft and collet that are assembled to engage/disengage, selectively, a plurality of tools based on user selection during a procedure. The figure below depicts an exploded view of the motorized assembly with the drive shaft that can receive selected tool tips from a tool kit.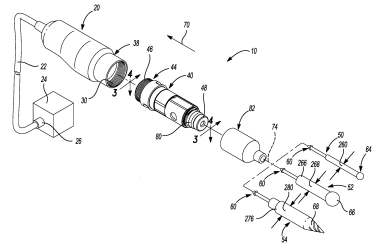 Another U.S. patent application, US20210353409, discloses a prosthetic heart valve system that includes a stent frame, an associated valve and a sealing mechanism to enhance a seal between the valve and the native annulus. The sealing mechanism partially extends over the stent frame's surface, that includes a semipermeable membrane and an osmotic gradient driving material. The figure below illustrates the paravalvular leak resistant prosthetic heart valve.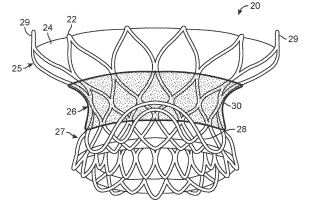 Merck Files a Patent for a Disposable Cutting Tool for Sterility Testing
U.S. patent application, US20210354324, relates to a device for cutting tubing with a frame having an entry window, an exit window for defining a pathway of the longitudinal axis of the tube through the device, and a cutting element. The cutting element is arranged on or opposite to a mobile portion of the frame to enable the cutting element to be pressed into the pathway of the longitudinal axis of the tubing. The disposable cutting tool is for cutting flexible tubing that is used in sterile media delivery.
Roche Seeks a Patent for a Bispecific Antigen Binding Molecule
U.S. patent application, US20210355234, relates to a method for treating disease like cancer by parenteral administration of vectors and host cells comprising polynucleotides encoding novel bispecific antigen binding molecules for T cell activation.
Visa Wants to Patent a Method for Improving Computer Identification
U.S patent application, US20210359993, discloses a method for improving computer identification. The method includes transmitting a browser fingerprinting test to one or more computing devices, receiving test data from the one or more computing devices with an elapsed processing time and a hash code, determining an average elapsed processing time and a uniqueness level of the browser fingerprinting test by comparing the hash codes for each computing device with one another.
IBM Aims to Patent a Method for Intelligent Social Interaction Recognition and Conveyance Using Computer Generated Prediction Modeling
U.S. patent application, US20210358324, discloses a method for intelligent social interaction recognition and conveyance using computer generated prediction modeling. The method includes cognitively analyzing the environmental data, generating a user profile and a subject profile, applying a classification algorithm to the user profile and the subject profile, and predicting a perceived positive or negative outcome. The figure below illustrates the operation of the classification algorithm.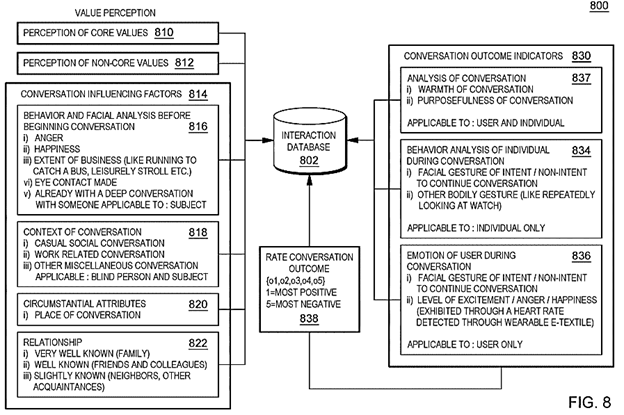 Apple Seeks to Patent a Method for Establishing a Video Conference During an Audio Call
U.S. patent application, US20210360192, discloses a method for initiating a video conference using a first mobile device. The method includes presenting a selectable user-interface (UI) item on the first mobile device during an audio call with a second device, receiving a selection from the UI, initiating the video conference, and terminating the audio call before allowing the exchange of data between the first device and the second device through the video conference. The figure below illustrates the method of establishing the video conference.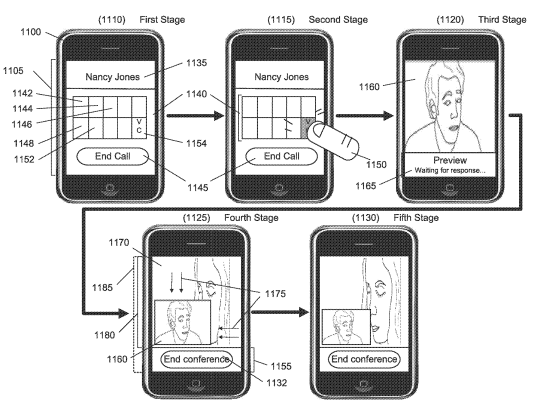 Microsoft Seeks a Patent for a Global Shutter Time-Of-Flight Camera
U.S. patent application, US20210360177, describes time-of-flight (ToF) camera systems. The camera includes a global shutter image sensor with a plurality of pixels where each pixel includes a drain gate. Further, the camera includes two or more taps and a floating diffusion capacitor for receiving charge and charge overflow, respectively, from the storage diode during an integration period. The below figure illustrates the ToF camera configurations.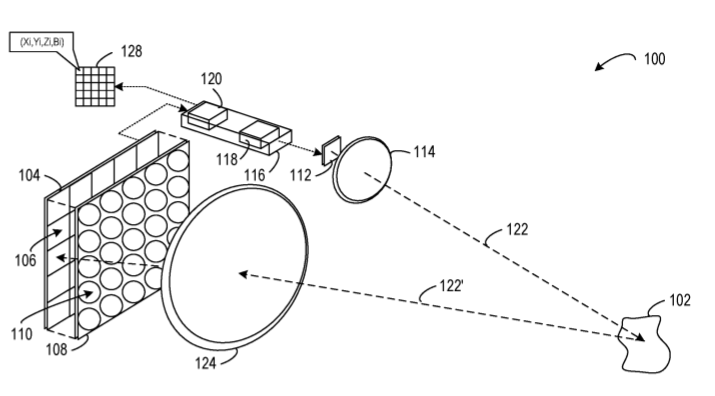 Intel Aims to Patent a Method for Dynamic Brightness and Resolution Control in Virtual Environments
U.S. patent application, US20210357618, discloses a technology to dynamically control the brightness and resolution of a display. The display renders a three-dimensional (3D) virtual environment in response to ocular characteristic measurements of at least one eye of a user. The figure below illustrates the performance enhanced display system.