This week's newest patent applications from Google, Abbott, Novartis, Roche, Medtronic, Boston Scientific, Merck, PayPal, IBM, Apple, Microsoft, and Intel. Uncover the Intel patent on the haptic gloves for virtual reality systems. By exploring their patented innovations, explore how this cutting-edge tech may revolutionize VR experiences in ways previously unimaginable!
Google Pursues a Patent on Automatic Generation of All-In-Focus Images with a Mobile Camera
U.S. patent application, US20220180492, relates to techniques directed to producing an all-in-focus image with a camera of a mobile device, in particular, cameras with shallow depth-of-field. The device includes a sensor for determining the distance to an object in a camera's field-of-view (FoV). Based on a depth map of the FoV, a plurality of segments are inferred, each segment defining a unique focus area within the camera's FoV. An autofocus lens of the camera sweeps to a respective focal distance associated with each of the plurality of segments. The camera captures sample images at each focal distance swept by the autofocus lens. The device produces an all-in-focus image by combining or merging portions of the captured sample images. The figure below illustrates a sample of an all-in-focus image.
Abbott Wants to Patent a Continuous Analyte Monitoring System
U.S. patent application, US20220175282, discloses a low profile continuous analyte measurement system having small-sized, double-sided analyte sensors implanted within the skin of a patient for minimizing the thrombus formation and maximizing fluid flow to the sensor to reduce the probability of early signal attenuation (ESA) or low sensor readings. The figure below illustrates the top and bottom perspective views of the continuous analyte monitoring system.
Novartis Seeks a Patent for the Treatment of Pulmonary Sarcoidosis
U.S. patent application, US20220177570, relates to subcutaneous administration of a pharmaceutical composition containing interleukin-1 beta binding monoclonal antibody, canakinumab, for the treatment of pulmonary sarcoidosis.
Roche Seeks to Patent Oligonucleotides for Modulating Tau Expression
U.S. patent application, US20220177884, discloses an oligonucleotide targeting a Tau encoding nucleic acid which is capable of modulating the expression of Tau. The oligonucleotides hybridize to MAPT mRNA. The oligonucleotides, oligonucleotide conjugates or pharmaceutical compositions may be used in the treatment of Tauopathies, Alzheimer's disease, frontotemporal dementia (FTD), seizure disorders, and movement disorders.
Medtronic Eyes a Patent for Transcatheter Heart Valve Prostheses
U.S. patent application, US20220175521, discloses transcatheter aortic valve prostheses for improving the cardiac function of a patient suffering from coronary artery disease. The prostheses include valve leaflets, a skirt, a frame having access cells that improve access to a patient's coronary arteries, and a conduction protection cell which is oriented to align with a portion of the conduction system of the heart in situ to reduce conduction disturbances of the anatomy. The figure below illustrates an inflow end portion of the access cell of the frame of the transcatheter aortic valve prosthesis.
Boston Scientific Files a Patent for a Medical Device Positioning System
U.S. patent application, US20220175220, relates to an endoscope system for accessing a patient's body portion and used for diagnosis and treatment of medical conditions. The system comprises a shaft, a lumen that extends to a distal opening of the shaft, a torque transfer mechanism that includes a torque transfer element, a cavity extending distal to the opening, a rotatable coupling, a flexible outer tube, and a positioning mechanism. The figure below illustrates a cross-sectional view of a distal portion of an endoscope.
Merck Aims to Patent Polymerizable Liquid Crystal Materials
U.S. patent application, US20220177782, relates to improved polymerizable LC materials suitable for preparing polymers by in situ UV photopolymerization. The polymerizable LC material comprises one or reactive mesogenic compounds, one or more chiral compounds, and a block copolymer, which comprises at least one polyfluorooxetane block bonded to a polyether block.
PayPal Eyes a Patent for Performing Gesture-Based Unified Multi-Marketplace Transactions
U.S. patent application, US20220180335, discloses a method for providing a user with the ability to perform multiple unified marketplace transactions through the use of gestures that enable the transfer of information, funds, items for purchase, discounts, etc., using a unifying entity such as financial institution, payment provider, etc., that carries transaction between applications allowing for a single checkout. The method includes allowing the user to perform different gestures such as swipe, tap, squeeze, etc., for processing different transactions which include transferring the money to a secondary account or marketplace merchant, etc.
IBM Seeks to Patent a Method for Identifying Unregistered Devices Through Wireless Behavior
U.S. patent application, US20220182965, discloses a method for identifying unregistered devices through wireless behavior. The method includes detecting an unregistered device associated with an identified location, identifying registered devices in proximity to the identified location and the detected unregistered device, and identifying users of the unregistered device utilizing a trained device identification model and wireless behavior of the unregistered device. The figure below illustrates identifying unregistered devices using their wireless behavior.
Apple Aims to Patent an Electronic Device Having Peripheral Display Regions
U.S. patent application, US20220179265, discloses an electronic device having peripheral display regions. The device includes an array of pixels having an outermost edge, a border region adjacent to the edge, and a display cover layer having a first portion that overlaps the array of pixels and a second portion that overlaps the border region. The display cover layer includes a laser-marked light-scattering structure that is embedded within the second portion of the display cover layer. The light scattering structure is illuminated by a light-emitting device. The figure below illustrates the light-scattering structures running along the periphery of the device.
Microsoft Seeks a Patent for Generating Notes for a Meeting based on Participant Actions
U.S. patent application, US20220180869, describes a method for generating smart notes for a meeting based on participant actions and generates text data based on the received audio data from each participant device. The method receives meeting data from participant devices and receives an indication that a predefined action has occurred on the first participating device. Further, the method determines whether the receiving meeting data of the meeting has ended and generates a summary of the meeting. The figure below illustrates the display of a participant device displayed during editing and/or confirming a portion.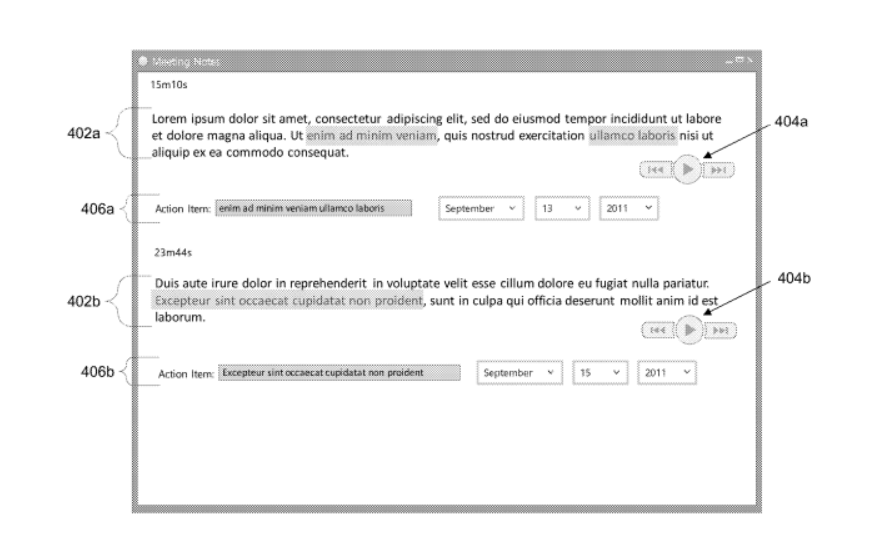 Intel Seeks to Patent Haptic Gloves for Virtual Reality Systems
Dive into the exciting patent on the Haptic Gloves for Virtual Reality Systems virtual reality world with Intel's patent haptic gloves! Learn now about how these gloves offer a truly immersive experience that will take your gaming and VR experiences to new heights. U.S. patent application, US20220179491, discloses haptic gloves for virtual reality systems. The glove to be worn on a hand of a user includes an ultrasonic array disposed on an inner surface of the glove and a control unit to activate the ultrasonic array device to generate haptic feedback on the hand of the user. The figure below illustrates how haptic gloves utilize the virtual reality system.
Intel is revolutionizing a new automated package delivery device! This groundbreaking technology allows packages to be delivered quickly and intelligently, ensuring you get your goods faster than ever before. Check it out now and see why Intel's automated package delivery system has people talking!