This week's newest patent applications from Raytheon, Novartis Abbott, Boston Scientific, Medtronic, Roche, Merck, Mastercard, Microsoft, IBM, Intel, and Apple.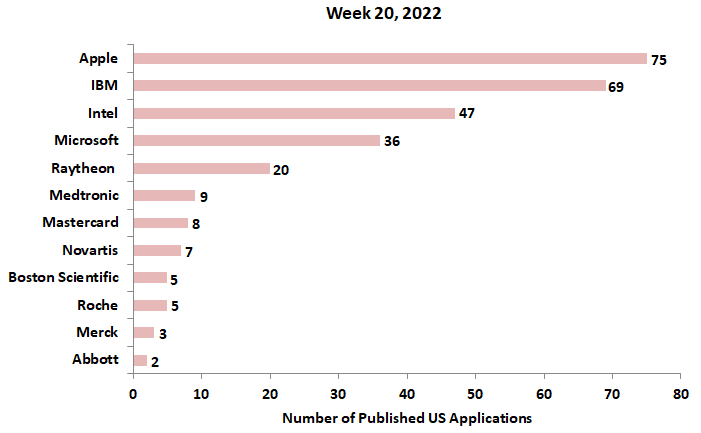 Raytheon Pursues a Patent on an Oil Debris Monitor
U.S. patent application, US20220155257, discloses an oil debris monitoring system to provide advanced warning of mechanical system failures in a high noise system. The system adapts detection and annunciation algorithms to the background noise; collects I and Q channel data from a sensor; processes the data to calculate a noise-based detection threshold and identify a ferrous and nonferrous signal; processes ferrous and nonferrous signals to determine signal peaks above the root mean square (RMS) adjusted detection threshold; adjusts a detection threshold if more signal peaks are observed above allowable particles in a given time window; and transmits the detection threshold previously determined to particle detection, rate limit adjustment, detectability algorithms, and estimated mass loss accumulation. The figure below illustrates the oil debris detection system.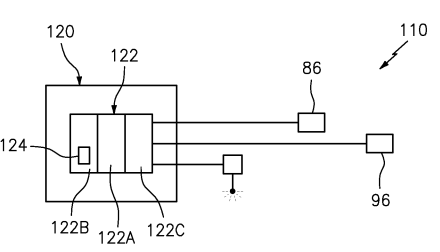 Novartis Seeks to Patent a Method for Administering Recombinant Viral Vectors
U.S. patent application, US20220154211, relates to the method of administering pharmaceutical compositions containing recombinant viral vectors expressing a heterologous CYP4V2 gene in a retinal cell for the treatment of Bietti crystalline dystrophy (BCD).
Abbott Wants to Patent an Access Closure Device
U.S. patent application, US20220152372, discloses an access closure device for percutaneous closure of arterial and venous puncture sites. The device includes a balloon delivery system having a suture and an inflatable balloon, a sealant delivery system having an ejection tube, and a snare wire to snare the suture of the delivery system. The figure below illustrates the use of an access closure device for blocking an opening in body lumens.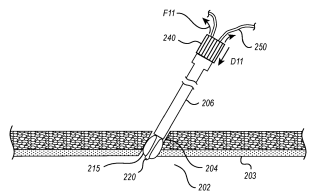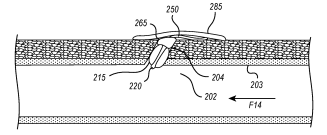 Boston Scientific Files a Patent for Implant Fixation Devices
U.S. patent application, US20220151757, relates to devices that facilitate the delivery and/or attachment process of implants within a patient. The system includes an elongate member, a first arm and a second arm extending from the elongate member, and a needle engaged to a tissue anchor to advance the anchor into the bodily tissue of the patient. The figure below illustrates a perspective view of the medical device.

Medtronic Eyes a Patent for an Implantable Ultrasonic Device
U.S. patent application, US20220152402, discloses an implantable ultrasonic device for treating urinary incontinence. The device includes an implantable stimulation device to rectify a received pulse train of ultrasound into a single electrical pulse to stimulate the tibial nerve of the patient. The figure below illustrates the stimulation device sized to be implanted within subcutaneous fascia proximate to the tibial nerve.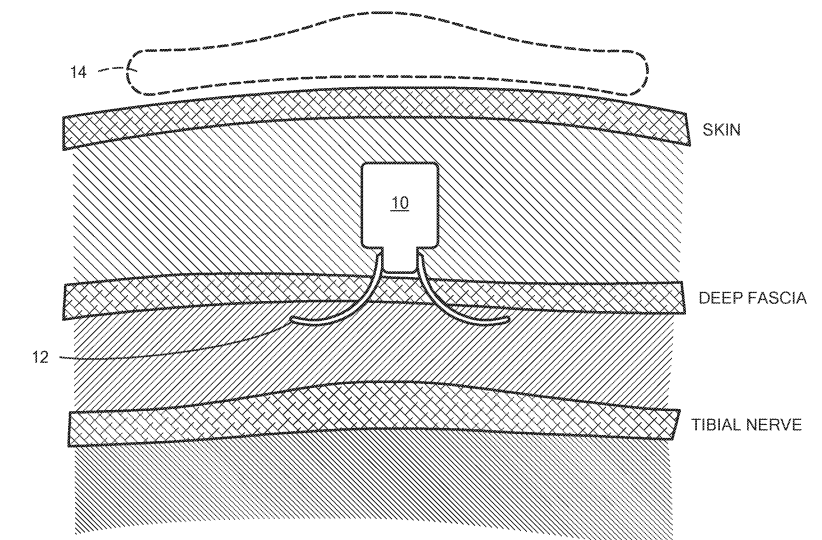 Roche Aims to Patent the Generation of Recombinant Mammalian Cell Lines
U.S. patent application, US20220154207, discloses a method for generating a recombinant mammalian cell with a functional knockout for improved expression characteristics. The method includes cultivating a mammalian cell comprising a deoxyribonucleic acid encoding a heterologous polypeptide, and recovering the heterologous polypeptide from the cell where the expression of the endogenous gene MYC has been knocked-out in the mammalian cell.
Merck Seeks to Patent a Liquid-Crystal Medium
U.S. patent application, US20220154073, relates to liquid-crystal (LC) media comprising polymerizable compounds used for optical, electro-optical, and electronic purposes. The media comprises reactive mesogens for use in PSA (polymer sustained alignment) or SA (self-aligning) mode and also in manufacturing the LC display. The LC media enables very high specific resistance values, high VHR values, high reliability, low threshold voltages, short response times, high birefringence, and shows good UV absorption also at longer UV wavelengths.
Mastercard Eyes a Patent for Peer to Peer Value Transfer
U.S. patent application, US20220156744, discloses a method for transferring value from a first wallet application on a first mobile device to a second wallet application on a second mobile device over a short or medium range communications protocol in which the transfer does not require either or both of the devices to be online or connected to a remote network device. The transfer of value includes incrementing the balance of the second wallet application while reducing the balance of the first wallet application by the value.
Microsoft Aims to Patent a Method for Enabling Multi-Finger Gestures in a Wearable Device
U.S. patent application, US20220155874, describes a method for providing a wearable device enabling multi-finger gestures. The wearable device is embedded with two sensors that detect two different sets of multiple movements of the two different fingers of a user. The controller detects a multi-finger gesture by determining a relative movement between the two fingers based on the two sets of movements to control a terminal device in association with the wearable devices. The figure below shows the method of movement detection of the wearable device.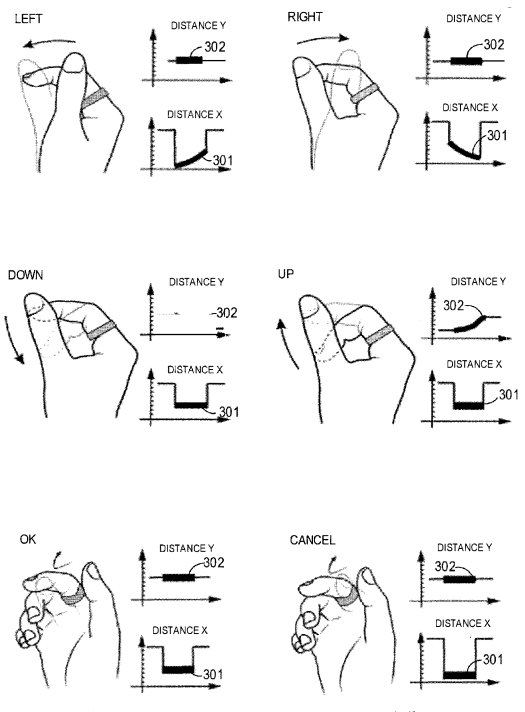 IBM Seeks to Patent a Method for Real-Time Discussion Relevance Feedback in an Electronic Meeting
U.S. patent application, US20220157301, discloses a method for discussion relevance feedback associated with an electronic meeting. The method includes determining a meeting topic associated with the electronic meeting, identifying a current discussion topic based on the received audio data, recording vocal interactions of the meeting attendees, and generating discussion relevance feedback based on the semantic distance between the identified current discussion topic and the determined meeting topic. The figure below depicts exemplary persistent real-time relevance feedback.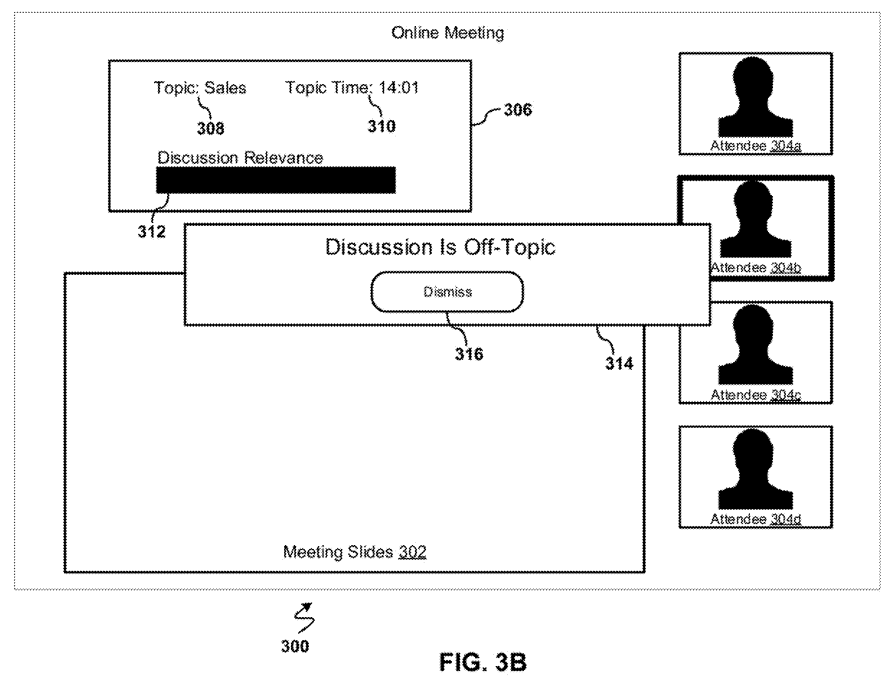 Intel Seeks a Patent for Graph Reordering and Tiling Techniques
U.S. patent application, US20220156322, describes a method for dynamically enabling tiling in 3D workloads based on determining the size of a graphics primitive, rendering pixels associated with the graphics primitive on a per tile basis if the size exceeds a threshold, and establishing the visual appearance of pixels representing the application on a display screen.
Apple Aims to Patent a Method for Exercise-Based Watch Faces
U.S. patent application, US20220157184, discloses a method for exercise-based watch faces and complications that provide indications of time and affordances representing applications (e.g., a workout application or a weather application). In response to detecting a user input corresponding to a selection of the affordance (e.g., representing a workout application), a workout routine begins. The figure below illustrates a watch face character user interface object to depict an activity related to exercise.