This week's newest patent applications from Midbar, Novartis, Abbott, Medtronic, Roche, Boston Scientific, Merck, Mastercard, IBM, Apple, Microsoft, and Intel. Uncover how Mastercard revolutionized the way we pay with its groundbreaking electronic transaction patent. Dive deep into this article to explore its implications and discover a fascinating story of modern-day payments!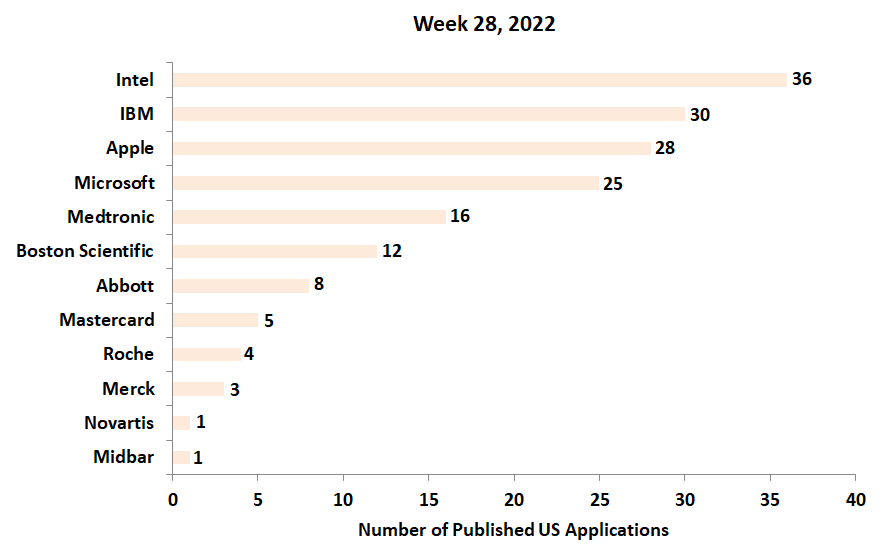 Midbar Pursues a Patent on a Plant Growing System Using Water Extracted from Air
U.S. patent application, US20220225586, discloses a plant growing system using water extracted from moisture in the air. The system comprises a Peltier element connected to a power supply, a heat dissipating member, and a cooling member to collect condensate by condensing moisture in the air. The system further includes a mixing part having a storage tank and a nutrient supply tank, the storage tank stores the condensate, and the nutrient supply tank is connected to the storage tank so that a predetermined amount of nutrients is supplied through a nutrient control valve and an atomizer connected to the mixing part via a pipe. The figure below shows the plant growing system.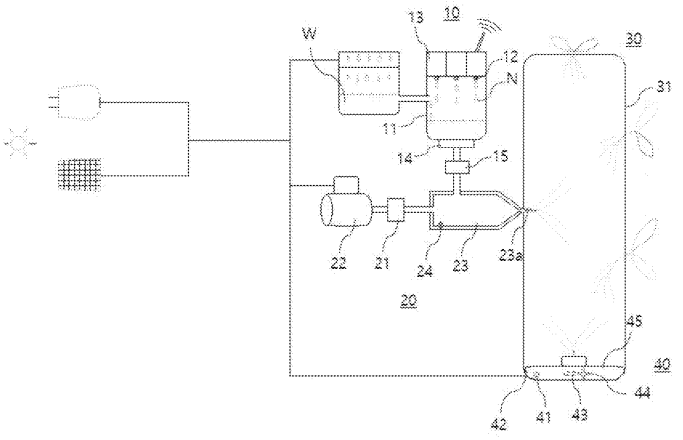 Novartis Seeks a Patent for Treating Conditions Associated with NLRP Activity
U.S. patent application, US20220227707, relates to parenteral or intratumoral administration of a pharmaceutical composition containing an NLRP3 antagonist and an anti-TNF alpha agent for the treatment of inflammatory or autoimmune diseases such as Crohn's disease and ulcerative colitis (UC) disease.
Abbott Wants to Patent a Balloon Expanded Polymer Stent
U.S. patent application, US20220226133, relates to polymeric scaffolds expanded by a delivery balloon. The scaffold has a pre-crimp diameter and a wall thickness in a ratio between 30 and 60 configured for being crimped to a balloon. The figure below illustrates a perspective view of a scaffold structure.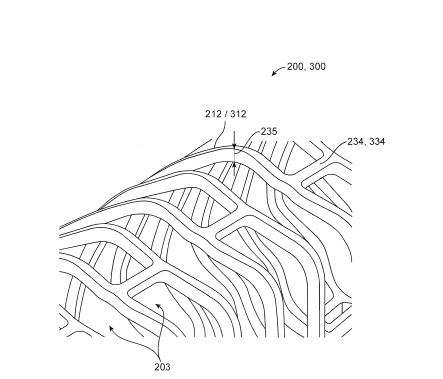 Medtronic Files a Patent for Dry Electrodes in a Wearable Garment
U.S. patent application, US20220225937, discloses a wearable garment with an arrangement of electrodes configured to measure bioelectrical signals to monitor cardiac rhythm. The wearable garment includes an arrangement of the electrodes to be configured to limit noise and facilitate accurate signals and maintain a comfortable level of compression until processing circuitry detects a cardiac arrhythmia signal. The figure below illustrates a wearable garment configured to sense bioelectrical signals from a patient.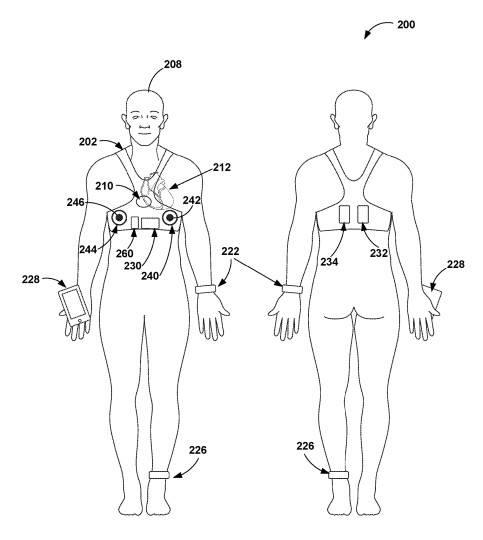 Roche Eyes a Patent for Bispecific Antigen Binding Molecules
U.S. patent application, US20220227878, relates to novel bispecific antigen binding molecules comprising an antigen binding domain capable of specific binding to Fibroblast Activation Protein (FAP) and another antigen binding domain capable of specific binding to CD40.
Boston Scientific Files a Patent for a Cryogenic Ablation Control System
U.S. patent application, US20220226034, relates to a cryogenic ablation control system for treating cardiac arrhythmias. The device includes an extracorporeal ultrasound sensor that detects blood flow in veins and generates an output signal indicative of blood flow velocity and a controller that receives the output signal and determines whether the vein has been occluded by a cryoablation balloon catheter. The figure below illustrates the cryogenic balloon catheter system inflated to occlude the pulmonary vein.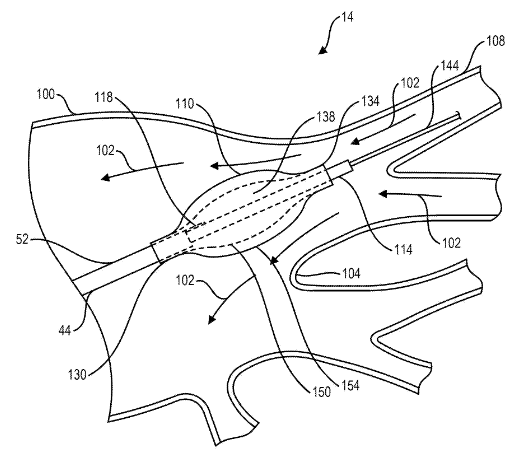 Merck Aims to Patent an Electronic Device for Lighting Applications
U.S. patent application, US20220231226, relates to an electronic device having several layers comprising organic compounds that emit light on the application of electrical voltage. The device comprises an anode, a cathode, an emitting layer disposed between the anode and cathode, a hole injection layer disposed between the anode and emitting layer, and a hole-transporting layer disposed between the hole injection layer and emitting layer and directly adjoining the emitting layer on the anode side.
Mastercard Eyes a Patent for Facilitating Electronic Transactions
U.S. patent application, US20220230197, discloses a method for facilitating transactions by offering a payment mode interchange service to users for making online purchases. The method includes enabling a user to register their corresponding payment modes with a payment network server for availing the payment mode interchange service and specifying corresponding offer amounts in exchange for allowing purchases of other users to be performed by using their payment modes, thus enabling the users to avail benefits that are applicable on select transaction cards or e-wallets even when the user does not possess the select transaction card or e-wallet.
Mastercard is taking proactive steps to ensure responsible spending by preventing intoxicated users from making transactions. This pioneering effort creates a safer and more secure environment for all cardholders, promoting the financial well-being of everyone using Mastercard's services.
IBM Wants to Patent a Method for Summarizing Multi-Modal Conversations in a Multi-User Messaging Application
U.S. patent application, US20220230639, discloses a method for summarizing multi-modal conversations in a multi-user messaging application. The method divides collected conversation data into media and text components, identifies key elements from the conversation, generates a headline banner and a summary from a group of key elements, and displays the headline banner and the summary. The figure below illustrates a messaging application summarization environment.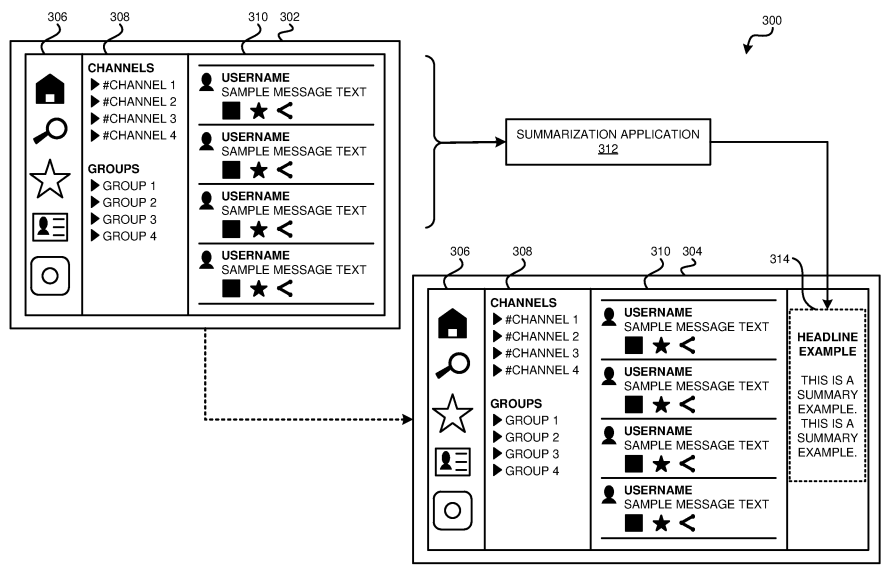 Apple Seeks to Patent a Method for Animating a Virtual Keyboard
U.S. patent application, US20220229550, discloses a method for animating a virtual keyboard in a computing device. The method includes displaying a menu for a touch-sensitive keyboard. The menu comprises a plurality of keyboard settings that include at least one setting that adjusts an animation displayed at the touch-sensitive keyboard in response to an input at the touch-sensitive keyboard. The figure below illustrates a virtual keyboard animation.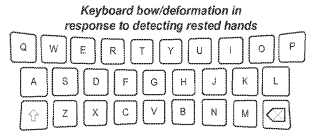 Microsoft Seeks a Patent for a Method of Generating Expressive Content in a User Interface
U.S. patent application, US20220230374, describes a method for generating expressive content. The expressive synthesized speech system provides improved voice authoring user interfaces, an expressive keyboard for enabling input of textual content, and for selecting expressive operators for applying predetermined prosody attributes or visual effects to the textual content. An active listening mode is provided to enable the user to respond with expressive sounds or visual effects while listening to others speak. The figure below illustrates the user interface displaying the expressive synthesized speech system.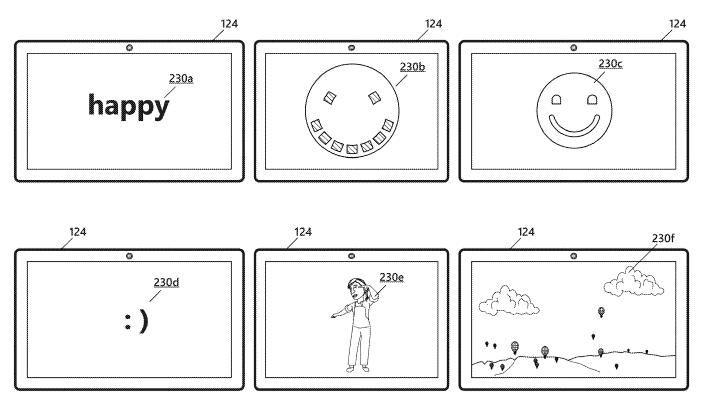 Intel Wants to Patent an Audio Quality Enhancing Device
U.S. patent application, US20220230643, describes a computing device for enhancing audio during low-quality connection conditions. The computing device monitors a connection quality with a remote computing device, if the connection quality drops below a threshold, risking gaps in the audio data, the computing device generates speech code data that can be used to fill in the gaps in the audio data. The remote computing device can use the speech code data to augment the audio data by using a voice model to create additional audio data based on the speech code data. The figure below illustrates a teleconferencing system with enhanced audio quality.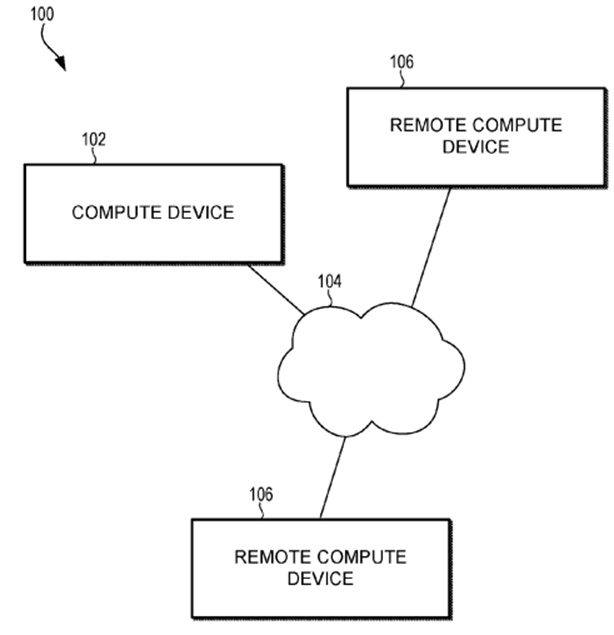 Fanuc, a pioneering robotics manufacturer, has unveiled new tech to keep industrial robots safe from unexpected collisions. With this patented breakthrough in collision avoidance technology and its commitment to innovation, Fanuc is paving the way for an even brighter future of automation.