The Drug Price Competition and Patent Term Restoration Act, also called the Hatch-Waxman act, seeks to balance the interests of brands and generics. The first generic applicant to get an abbreviated new drug application (ANDA) approved by the U.S. Food and Drug Administration (FDA) stands to gain a 180-day market exclusivity. The exclusivity advantage provides a strong economic benefit for generics to be first movers. The first generic drug enjoys the 180 day market exclusivity in the US with the brand capturing a significant market share before the entry of other generic companies. The vast majority of drugs prescribed in the U.S. are generic. It has been suggested that some generics make the majority of their profits by being first filers and benefit of the 180-day exclusivity period on approval.
Established generic players including Teva, Sandoz, Apotex, Actavis, Sun Pharma, Lupin, and Mylan, have been taking the ANDA route for a long time to obtain market exclusivity (Fig. 1.1). Mylan was the most successful amongst the Applicants considered in the last 5 years (Fig. 1.2). More than half of the drugs approved by ANDA route for the listed companies are under active marketing status and were predominantly formulated in the form of tablets or capsules (Fig. 1.3).
Generic companies can obtain FDA approval for their product even before the expiry of the Orange Book listed patent by filing an ANDA application with a paragraph IV certification stating that the listed patent is invalid, unenforceable and/or there is no infringement. A paragraph IV filing provides the financial incentive for market entry of generics. The NDA holder is notified of the paragraph IV certification by the ANDA applicant which can trigger litigation and a 30 month stay of the ANDA application.
Source: FDA
On July 19, 2019, FDA approved 9 generic versions of Pfizer's blockbuster drug LYRICA (pregabalin) used in the treatment of neuropathic pain, seizures and fibromyalgia. Pfizer had successfully delayed the entry of generic players up until now for pregabalin with estimated sales of $5 billion globally. The generic players approved to release pregabalin include Alembic Pharmaceuticals, Alkem Laboratories, Amneal Pharmaceuticals, Dr. Reddy's Laboratories, InvaGen Pharmaceuticals, MSN Laboratories Ltd., Rising Pharmaceuticals, Inc., Sciegen Pharmaceuticals Inc. and Teva Pharmaceuticals.
"Today's approval of the first generics for pregabalin, a widely-used medication, is another example of the FDA's longstanding commitment to advance patient access to lower cost, high-quality generic medicines. The FDA requires that generic drugs meet rigorous scientific and quality standards. Efficiently bringing safe and effective generics to market so patients have more options to treat their conditions is a top priority for the FDA."
Janet Woodcock, M.D., director of the FDA's Center for Drug Evaluation and Research
Here we examine 2018 paragraph IV filings, listed patents and litigation activity to get insights on NDA strategies and upcoming generic approvals.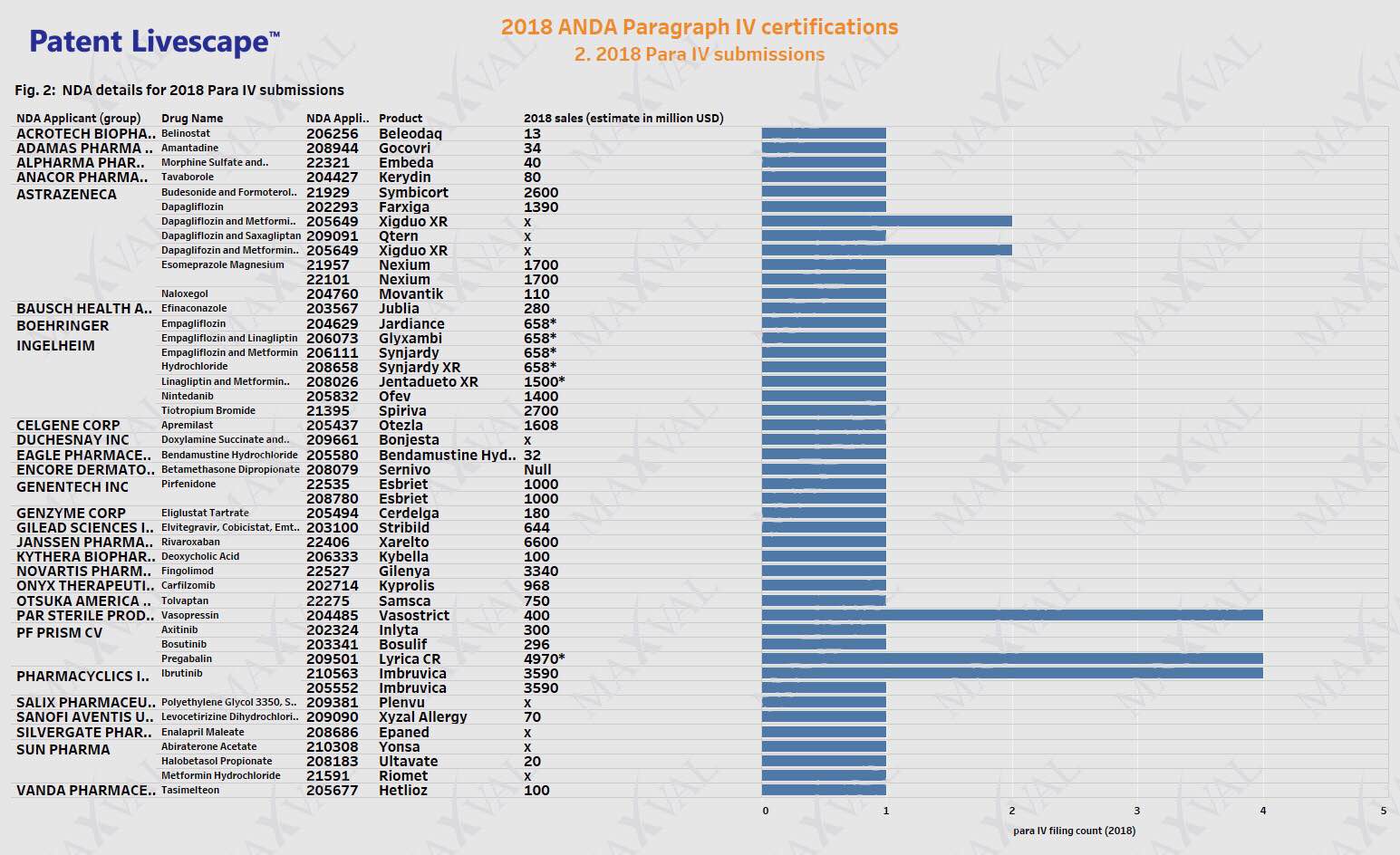 X, * – product-specific sales not available
Source: FDA
Paragraph IV submissions made for the year 2018 are tabulated listing drug name, product name, NDA holder, estimated sales value and number of filings (Fig. 2).
We analyzed the 197 unique Orange Book listed patents related to the Paragraph IV submissions and their associated litigation. Boehringer Ingelheim, Adamas Pharma, Intermune, Astrazeneca and Dow pharma were the top 5 assignees (Fig. 3.1). The top 5 originating jurisdictions for the infringed patents were the US, Germany, EP, India, and Japan in that order. (Fig. 3.2). Our analysis reveals >86% of the challenged Orange Book listed patents were related to method of use or formulation and only about 13% were related to Active Pharmaceutical Ingredient (API) patents (Fig. 3.3).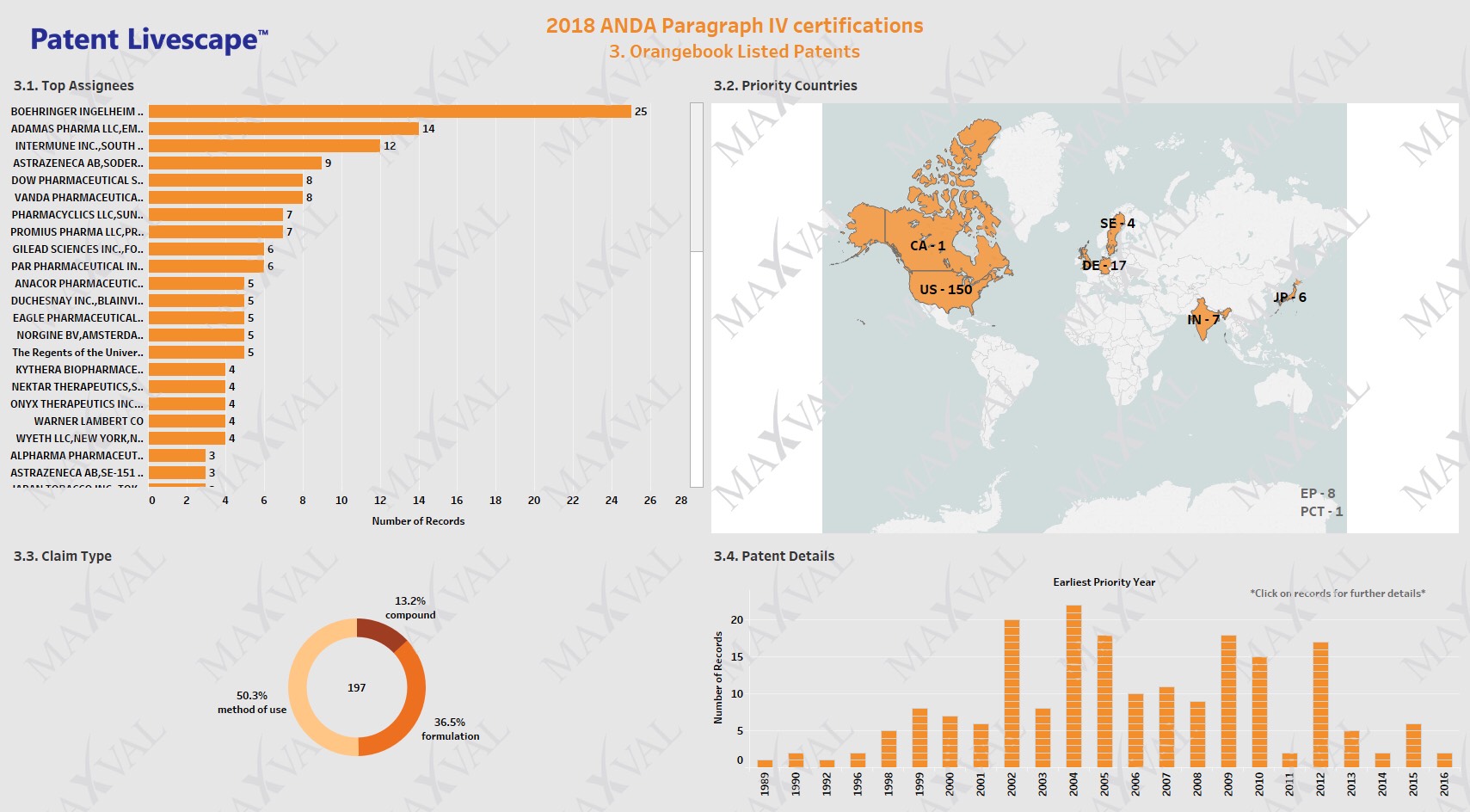 Source: FDA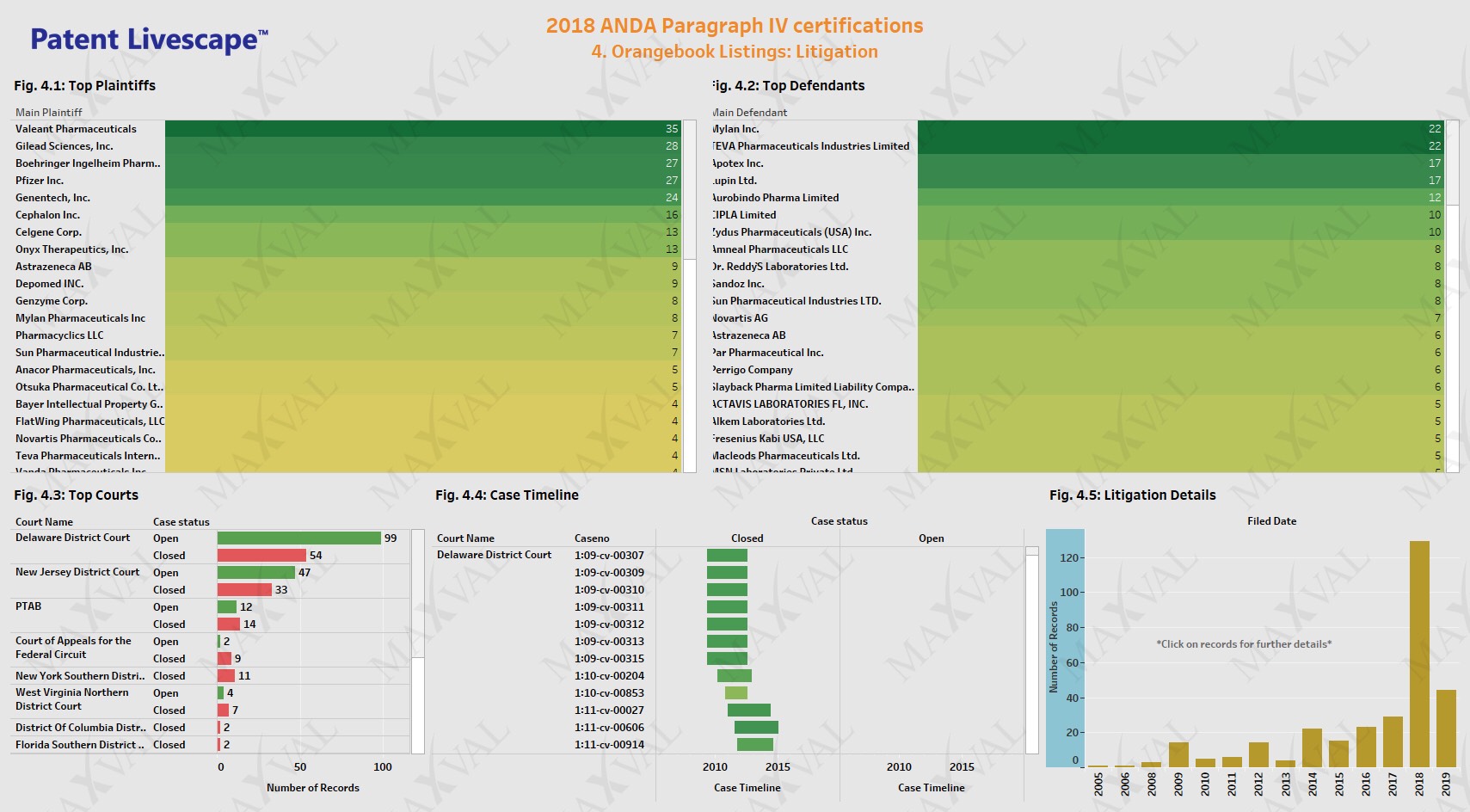 Source: Litigation Databank
Next, we looked into US litigation events for the Orange Book listed patents associated with the paragraph IV submissions. The 197 patents were recited in 310 unique cases. The top 5 main plaintiffs were Valeant Pharmaceuticals, Gilead, Boehringer Ingelheim, Pfizer and Genentech (Fig. 4.1). The top 5 main defendants were Mylan, Teva, Apotex, Lupin and Aurobindo Pharma (Fig. 4.2). Cases involving Pfizer's pregabalin (LYRICA) and axtinib (INLYTA), Boehringer Ingelheim's empagliflozin and linagliptin combination (JARDIANCE, GLYXAMBI, TRADJENTA, JENTADUETO), Genzyme's eliglustat (CERDELGA), Gilead's cobicistat (EVOTAZ, TYBOST), Astrazeneca's dapagliflozin (FARXIGA) and naloxegol oxalate (MOVANTIK), Otsuka's tolvaptan (SAMSCA), Bayer's rivaroxaban (XARELTO) recited API patents. Delaware and New Jersey district courts were the top choices for the plaintiffs and the cases were predominantly filed in the last two years (Fig. 4.3-4.5). This is not surprising since the judges in these regions have extensive experience in dealing with ANDA litigation.
The U.S. FDA has approved over 900 ANDAs in 2019 despite a dip in June 2019. The FDA recently updated the information on the Paragraph IV certifications and exclusivity for the list of drug products for which one or more substantially complete ANDAs have been submitted to FDA. The present Paragraph IV Certification list provides Number of potential first applicant ANDAs submitted, Status of 180-day exclusivity decisions, 180-day decision posting date, Date of first approval of "first applicant" ANDA, Date of first commercial marketing, Expiration date of last qualifying patent, however, it still doesn't disclose the ANDA applicant details for the pending paragraph IV. The updated Paragraph IV information is expected to provide greater transparency and intelligence to the generic companies with regards to the paragraph IV filings and approvals in the near future, and the public pertaining to the availability of the lower cost generic drugs.
Stay tuned to our future updates on generics and pharmaceutical industry.
Authors:

Ganesh Venkatraman – Ganesh is a Registered Patent Agent, and manages the Search and Analytics team at MaxVal. He has experience in technology landscapes, patent searches, competitive analysis, drafting and prosecution.