Earlier this year, the European Patent Office (EPO) released its 2022 Patent Index. The report revealed that 193,460 European patents were filed in 2022, representing a modest increase of 2.5% compared to the previous year.
Leading Sectors
According to their report, several sectors stood out in terms of number of patents filed. The top five sectors in 2022 were digital communication; medical technology; computer technology; electrical, machinery, apparatus, energy; and pharmaceuticals.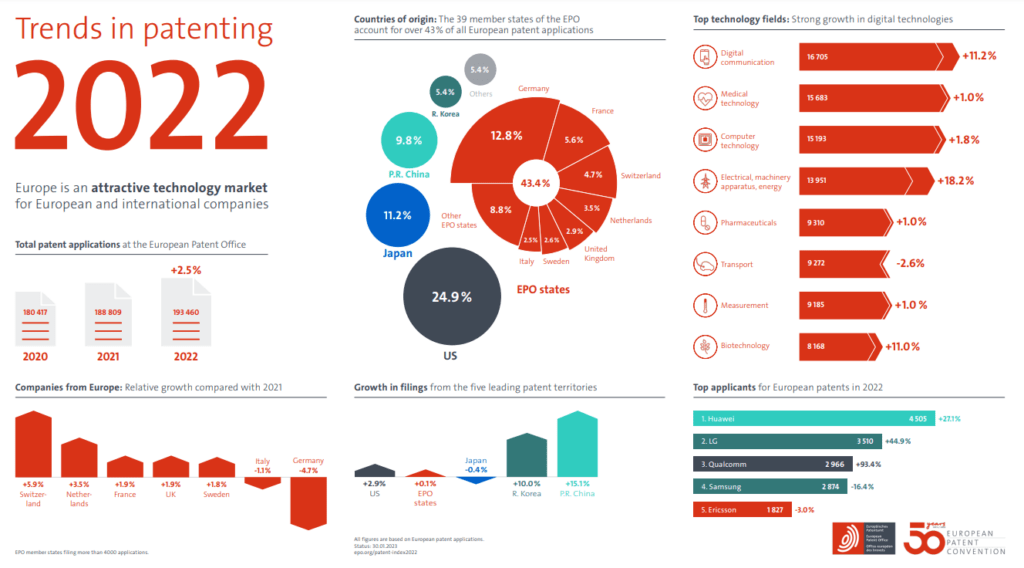 Source: EPO
Patent Landscape by Country
In terms of patent applications by country, 43% of all European patent applications originated from Europe, with Germany leading the pack at 12.8%, followed by France (5.6%), Switzerland (4.7%), and the Netherlands (3.5%).
Other countries with sizable numbers of filings included the United States (24.9%), Japan (11.2%), P.R. China (9.8%), and the Republic of Korea (5.4%)
Interestingly however, of the top 10 patent filers, which include Huwai, LG, Qualcomm, Samsung, Ericsson, Siemens, Raytheon Technologies, BASF, Royal Philips, and Sony, only four are headquartered within Europe.
Rise in Foreign Applicant Filing for Patent Protection in Europe
Despite the steady number of patent applications originating from Europe (83,955 in 2022 compared to 83,894 in 2021), their proportion of the overall patents filed declined by another percentage point to slightly under 44%.
Conclusion
The patent trends observed in Europe during 2022 demonstrated a modest increase in patent applications, underscoring a growing interest in protecting IP in the region. Unlike a few years ago, the current European patent landscape is more dynamic, as evidenced by the increasing number of non-European applicants.
If you are interested in conducting a Patent Landscape analysis, please contact us with your business requirements.