Public PAIR is the USPTO's legacy patent tool. It is being replaced by the Patent Center, their next-generation patent filing and retrieval system for patents. The Patent Center provides all of the previous Public PAIR functionality, including access to publicly available patent documents by application,  patent,  Patent Cooperation Treaty (PCT),  publication, and/or international design registration numbers. Users can also sort documents and transaction history based on column headings.
Challenges Before the Introduction of the Patent Center
While Public PAIR was a great source of patent information for inventors and applicants, it was slow and cumbersome. Today, the Patent Center provides a more intuitive user experience, incorporates Public PAIR's existing functionality, and provides various enhanced features allowing users to:
Access publicly available information by patent, publication, application, PCT, or international design registration number
Sort transaction history and documents (basis column headings)
Perform a quick document preview
Download multiple documents at one go in a ZIP file or within a single PDF file
Download documents and patent references in DOCX and XML formats, and bibliographic information in XML format
The Patent Center has undergone rigorous user testing and iterative improvements based on community feedback. The USPTO plans to continue using the feedback gathered from various sources such as stakeholder listening sessions, Patent Center training programs, and other events.
What Users Stand to Gain from the New Patent Tool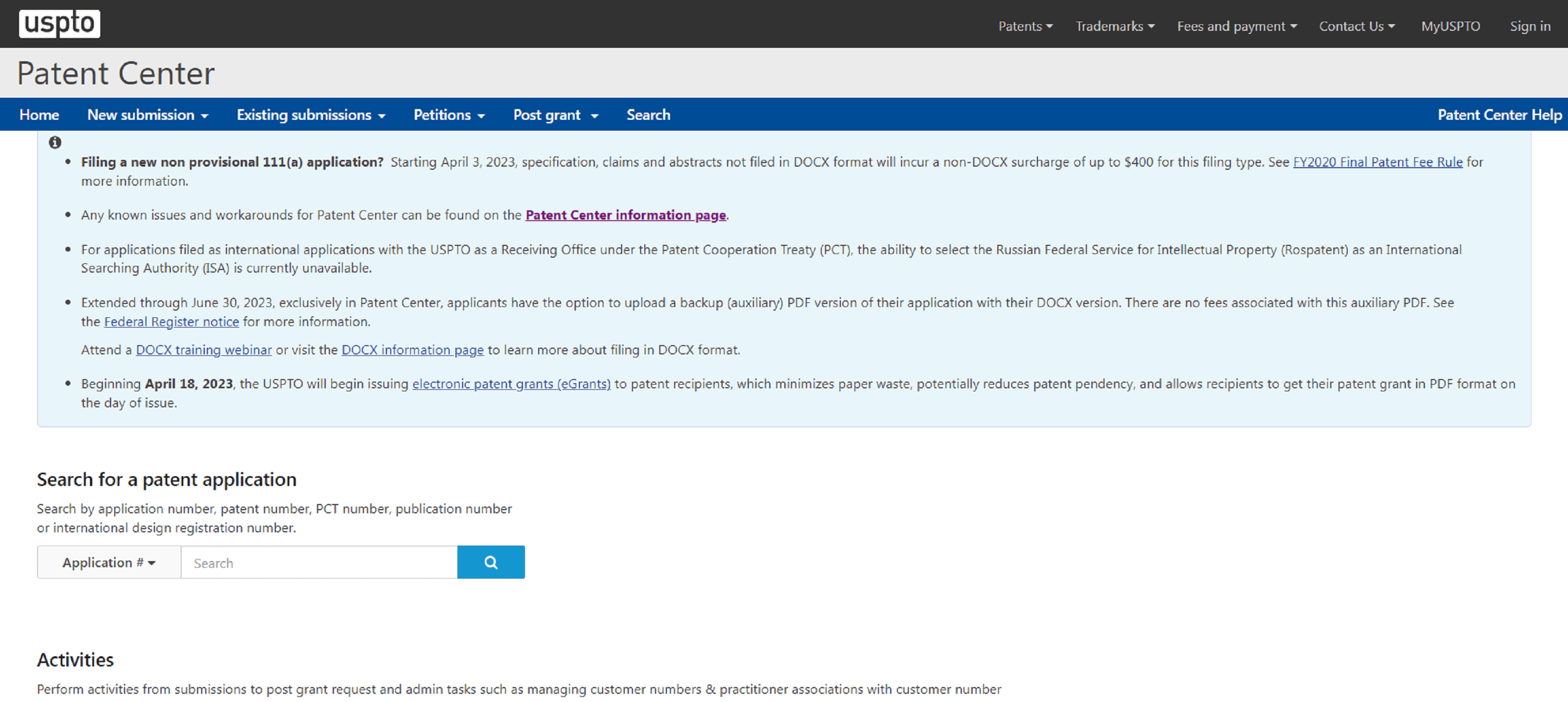 Source: USPTO Patent Center
USPTO's Patent Center is accessible to all individuals for managing and submitting their patent applications electronically. Listed below are some of the benefits of using the new platform:
Provides electronic patent filing and application management in a single-user interface for a better user experience
Utilizes existing USPTO accounts and sponsorships that users presently use in PAIR and EFS-Web
Helps submit the specification, claims, drawings, and abstract in a single DOCX document without the need to separate sections manually
Provides a drag-and-drop interface to help patent filers upload multiple files in one go
Shares separate submission and payment receipts to confirm the status of submitted documents and successful payments
Allows users to safely practice filing DOCX and PDF documents using the Training mode (an interactive simulation)
Future Roadmap of the New Platform
The USPTO is actively working to finalize the implementation of EFS-Web and PAIR functionality in the new patent platform. They are also currently working on additional functionality suggested by users, including:
Showing the attorney's document number (on the fee payment page)
Filing an Assignment through Patent Center
Providing Inventor name filter in the Workbench
Allowing removal of a registration number from multiple customer numbers
Downloading documents indicator for Correspondence
MaxVal's Integration with the USPTO
MaxVal's products, such as Symphony, our end-to-end IP Management software, and Max-IDS, our automated IDS creation and reference management solution, integrate with the USPTO for retrieving and uploading documents and data. Max-IDS, in particular, automatically generates Information Disclosure Statement (IDS) submissions, analyzes cross-citations, and provides automated USPTO synchronization and import, bibliographic data import and validation, as well as file history.
Conclusion
Over time, the USPTO has implemented various measures to enhance the experience of both organizations and IP service providers utilizing the platform. They have introduced numerous APIs aimed at improving user experience and increasing accessibility of patent data, which empowers users to tailor the information and extract valuable knowledge.
For more interesting articles, visit our Blog page, and for any IP or patent-related solutions and services, contact us.