Biological sequence data, in the form of nucleotide and/or amino acid protein sequences, are often described in a patent application. Sequence listing information is often the most important part of a biotechnology patent. They can serve to differentiate the invention from the prior art, block competitors from obtaining a patent, and enable future research and innovation. Mistakes in disclosed sequences can result in a complete loss of coverage for commercially important inventions. 
Some patent inventions feature sequence data in their claims while others may have sequence data in the description or figures. Some patent applications include only a few sequences while others may include thousands of sequences. Some of the included sequences are naturally occurring while others are artificially synthesized, or randomly generated. A sequence listing is compulsory irrespective of its location in the patent, number of sequences present, source/origin, and importance of the sequences to the invention. Patent offices require all sequences that meet their threshold criteria to be listed separately along with their identifier in the prescribed standardized format.
Sequences have to be submitted at the time of filing the patent application. It is possible to include the sequence listing file at a later stage with a late fee if such sequences are already part of the filed specification. However, we strongly recommend preparing the sequence listing at the time of filing for maintaining consistency in sequence numbering and allowing room for any revisions to the specification and listing.
Patent Applications with Sequence Listing Submissions are Increasing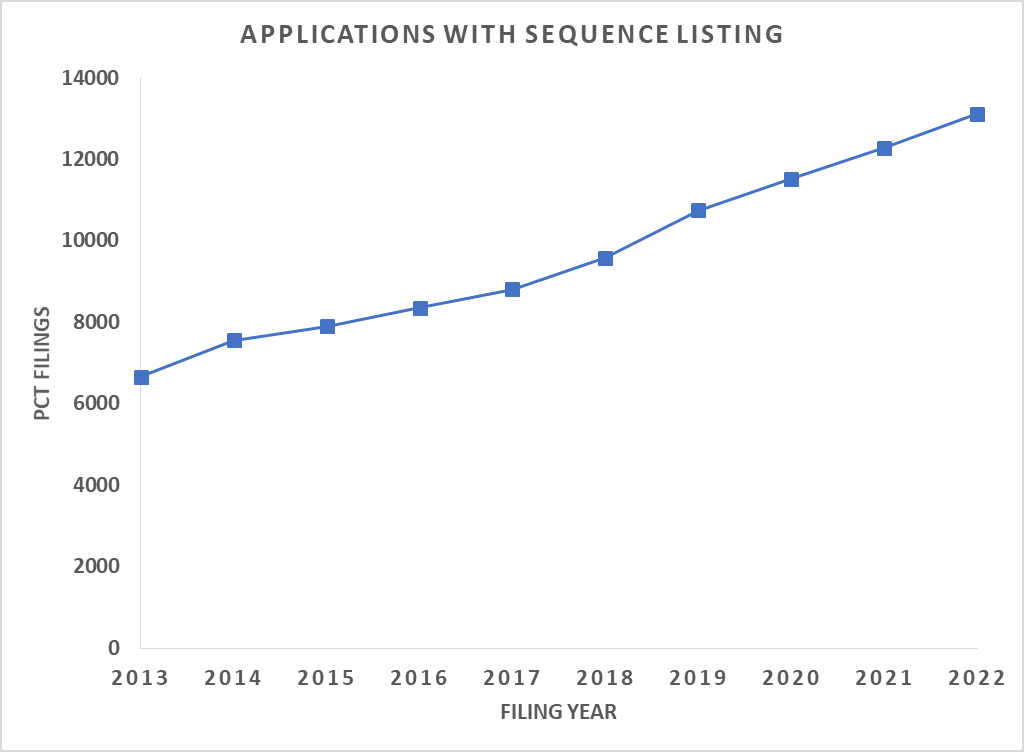 Data Source: Lens
PCT Applications with Sequences vs. Filing Year
The number of PCT filings incorporating sequences is steadily on the rise over the last decade indicating the global appeal for such inventions. Our projections indicate no. of PCT filings will continue to increase (refer to the chart above). A quick look at the applicants' filing sequences in major jurisdictions reveals that research universities such as the University of California, MIT, and Broad Institute are among the top contributors, while some biopharma companies such as Roche/Genentech, Novozymes, and Novartis are also present. Several emerging biotech companies are also seeking protection for their innovative sequences.
Patent offices around the world are expected to process and handle more inventions than ever incorporating biological sequences. We witnessed the implementation of a new international standard last year to facilitate the publication of sequences from around the world and inclusion in searchable databases.
WIPO Standard ST.26: A New Hope?
The latest WIPO Standard ST.26, which came into effect on July 1, 2022, uses the extensible markup language (XML) format for sequence listing. ST.26 offers a lot of benefits over ST.25 format in terms of its data compatibility, standardization, consistency, and the ability to include additional information. The WIPO Sequence software for XML file preparation also replaces the previous tools used for ST.25 listing: PatentIn (USPTO) and BiSSAP (EPO). It has been claimed that ST.26 standard is better positioned to accommodate future developments in biotechnology and expanding needs of patent offices around the world. It remains to be seen if the new standards result in effective use by examiners and third parties.
The shift to ST.26 comes with its own set of challenges for applicants and their representatives. While the previous standard requirement was largely seen as an administrative burden, the present ST.26 regime requires the active involvement of subject matter experts in preparing the listing to ensure accuracy and compliance. We list below some of the common challenges encountered by our customers in preparing sequence listings:
Challenges in ST.26 Sequence Listing Preparation
Lack of a clear understanding of what needs to be listed
Use of non-standardized terminology in representing sequences
Sequences are scattered all over the specification and lack sequence identifiers
Sequences are not defined clearly in the specification
Sequences are in a non-readable format (e.g., image files)
Sequences are prepared manually in a text file by copy-pasting from different sources
Sequences are converted directly from ST.25 without manual verification
Presence of complex sequence representations and modified sequences
Bulk sequences
Final Thoughts
The current process of incorporating patent sequence data using WIPO Sequence places an excessive burden on life science applicants and their outside counsel. More can be done to improve the experience of the applicants and their representatives.
A short-term solution can be in the form of fee waivers and/or procedural relaxation as proposed by EPI previously.
Universities and research institutions already have a good handle on bioinformatics packages and sequence databases. Patent offices can work with experts in the university to make sure applicant needs are met while ensuring ST.26 standard goals are maintained.
WIPO Sequence source code is currently not shared by WIPO. It can be made openly available to third parties, such as those working on patent drafting, sequence search, and IP management software. If made available, developers will get the opportunity to work directly with life science users to improve ease of use, adding custom features and workflow automation. It will take very little effort for developers with a good handle on sequence databases to build the ability to maintain a local and global library of sequences. The libraries can be integrated with drafting tools to link individual sequences to specific portions of the patent application. A listing of sequences can be generated automatically toward the end. Such a feature is routinely used in reference management tools for preparing research articles.
Preparing sequence listings can be a time-consuming, complicated, and expensive task. Until such time we see improvements and automation in the sequence listing, it is best to rely on expert sequence services to ensure quick turnaround, avoid errors, and give you the necessary time to do more meaningful work.
If you are seeking assistance for sequence listing, our Sequence Listing Preparation services can help you generate error-free and PTO-compliant sequence listing, ensuring inventors and patent attorneys are not burdened by the listing requirements. We also prepare corrections to address specific objections relating to sequence listing. While you are exploring our sequence listing service, you might also want to check out our Sequence Search services that can help you address questions on patentability, FTO, invalidity, and whitespace based on the analysis of sequence data in specialized databases.