Parkinson's disease is a chronic neurodegenerative disease that affects more than 1 million people in North America and more than 4 million people worldwide. It is the second most common neurogenerative condition after Alzheimer's disease in the United States. The cause of Parkinson's in most patients remains unknown. It has been suggested that gene mutations cause only a small proportion (< 10%) of all cases of Parkinson's and in most cases, environmental factors play a part.
The pathology of the progressive neurodegenerative condition is underpinned by the death of the dopamine-containing cells of the substantia nigra portion of the midbrain and the presence of Lewy bodies, an abnormal aggregation of proteins within nerve cells. The degradation of brain cells and the accumulation of Lewy bodies also contribute to the degeneration of muscle cells and activity. Parkinson's disease symptoms include rest tremors, slowed movement (bradykinesia), rigid muscles, impaired posture and balance, loss of speech, and writing ability among other things. Currently pharmacological and device-based approaches are used for restoring the loss of dopamine or dopaminergic function and other symptomatic treatments tackle Parkinson's motor and non-motor symptoms.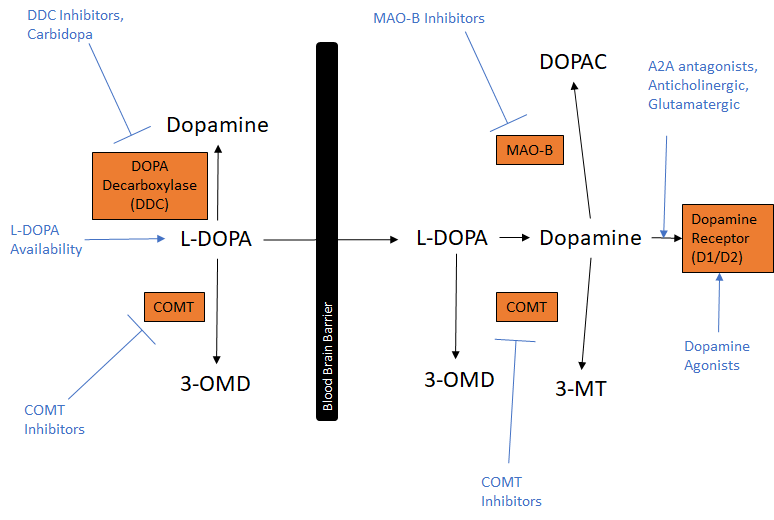 Therapeutic Approaches for Parkinson's Management
A search for drug patents related to Parkinson's disease revealed the number of worldwide patents/applications has not increased much in the last twenty years and is trending towards a drop in patent filings since 2017. The low rate of investment despite the severity of the disease underscores the difficulty in developing new drug molecules for Parkinson's disease. The top assignees by the cumulative number of patent filings were Hoffmann-la Roche, AstraZeneca, Pfizer, Janssen Pharmaceuticals, Sanofi, GSK, Takeda, Vertex, Neurosearch, and Novartis.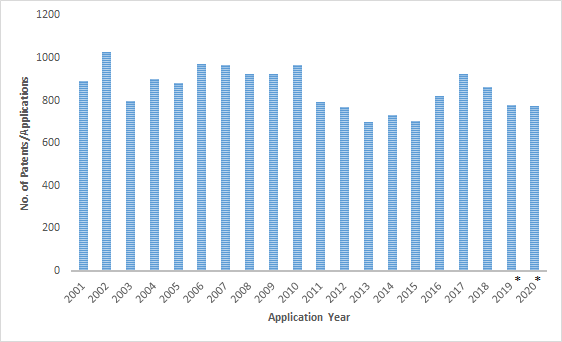 *Estimated
Patent Filings: 2001-2020
Patent applications filed in the United States dropped sharply between the 2010-2013 period. This is indicative of the primary patent expiry and entry of generic players rather than the current state of R&D activity in the United States.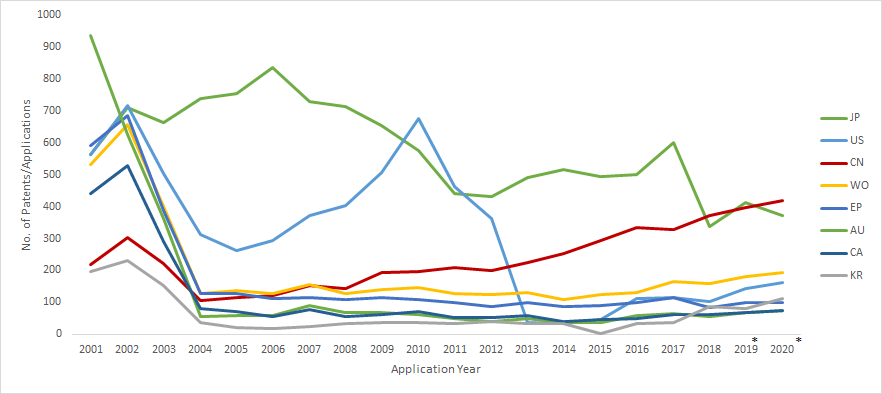 *Estimated
Patent Filings by Jurisdiction: 2001-2020
The number of patent filings that originate from the U.S. continues to be the highest suggesting that the US companies continue to file patents worldwide for their existing and upcoming therapies such as in Japan, Australia and Canada.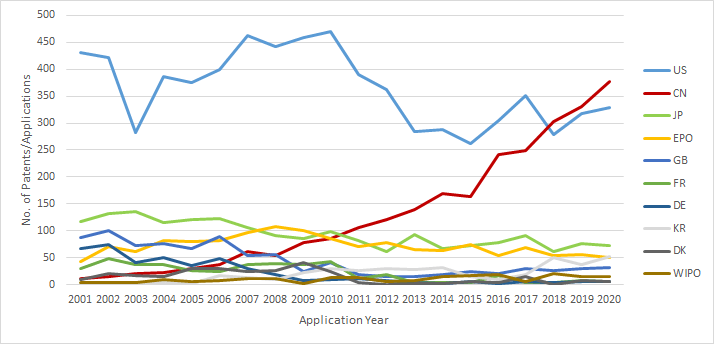 *Estimated
Patent Filings by Originating Country: 2001-2020
The market size for Parkinson's drugs is currently valued at $4.5 billion. We conducted a comprehensive study on Parkinson's drug patents and clustered them by drug molecules in various stages of the development pipeline. Our study reveals a mix of patent-protected and off-patent drugs. For instance, the mainstay therapies for tackling dopaminergic function in the brain include levodopa (L-DOPA) and a levodopa/carbidopa combination that are available as generics. Drugs with other mechanisms of action are also available as generics. The patent landscapes for two such drugs: amantadine and safinamide are summarized below.
Amantadine is an off-patent drug that is sometimes offered as an early stage medication for symptomatic relief in Parkinson's disease. It is used to reduce both dyskinesia and "OFF" time (periods when medication is not working well and symptoms return) in Parkinson's disease patients. It is thought to work by increasing the availability of dopamine in the brain. Other postulated mechanisms include the stimulation of norepinephrine response and NMDA receptor antagonistic effects. Currently marketed drugs include the extended-release capsules Gocovri (Adamas Pharmaceuticals) and Osmolex ER (Vertical Pharmaceuticals).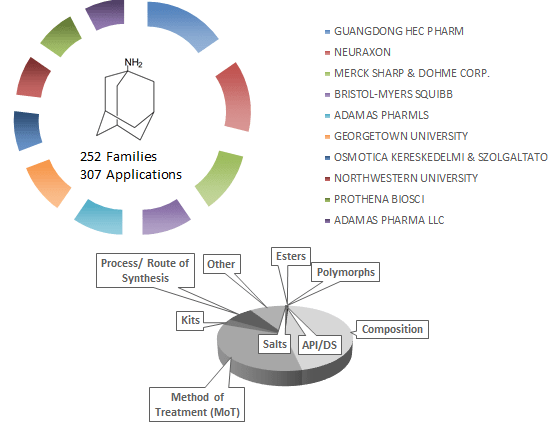 Drug Patent Landscape: Amantadine
Safinamide is another add-on treatment to levodopa with or without other medicines for Parkinson's disease. Safinamide is a new chemical entity protected by several patents. It is marketed as Xadago (Newron Pharmaceuticals and Zambon) to decrease "OFF" time. It is thought to work via multiple mechanisms, primarily via reversible inhibition of Monoamine oxidase B (MAO-B). Inhibition of MAO-B activity, by blocking the breakdown of dopamine, has been shown to increase dopamine levels and a subsequent increase in dopaminergic activity in the brain.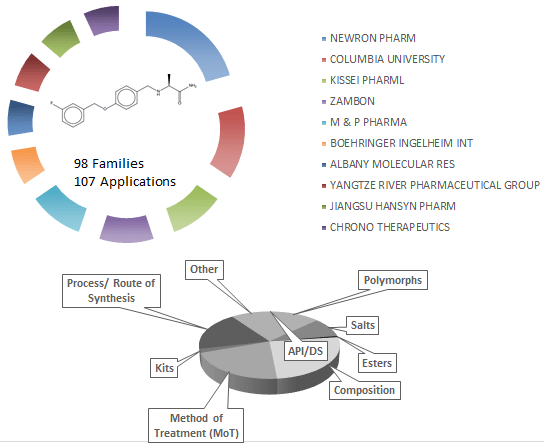 Drug Patent Landscape: Safinamide
The available options for treating and managing Parkinson's have increased in recent years. The widespread availability of generics allows for adequate disease management, but there is still a real need for innovative approaches that represent significant improvements in Parkinson's disease management. Identification of new biomarkers for improving diagnosis, advancing treatment by newer approaches such as immune therapies, gene therapies, medical devices, and personalized treatment plans are some of the key challenges that will need to be tackled by the Industry in the near future.
Click here to download the sample reports for Amantadine and Safinamide.

Pharmaceutical companies are R&D intense organizations that constantly need up-to-date information to identify market opportunities, stay ahead of competitors, due diligence and laser focus on drug development and repurposing efforts. Patent landscapes and alerts is a key input in the pharmaceutical industry for keeping up to date on key patent expiry dates, competitor patent filing activity, litigation, developments in therapeutic areas, gaps in portfolio and save on unnecessary costs. At MaxVal, our expert searchers/domain experts conduct unrestricted patent research using the latest tools and best practices developed over more than fifteen years. Our workflow is customized to meet your objectives.

Contact us for a comprehensive landscape on Parkinson's disease or another therapeutic area.