What Can You Learn From Our Patent Data and Analytics?
A ton! A patent landscape analysis conducted by our patent analysts and patent strategists will evaluate your existing patenting activity against the activity of your competitors to help you answer key questions about risks, opportunities and impacts. To help you present complex information to your stakeholders in the manner best fitting your needs, our data visualization options are powerfully revealing.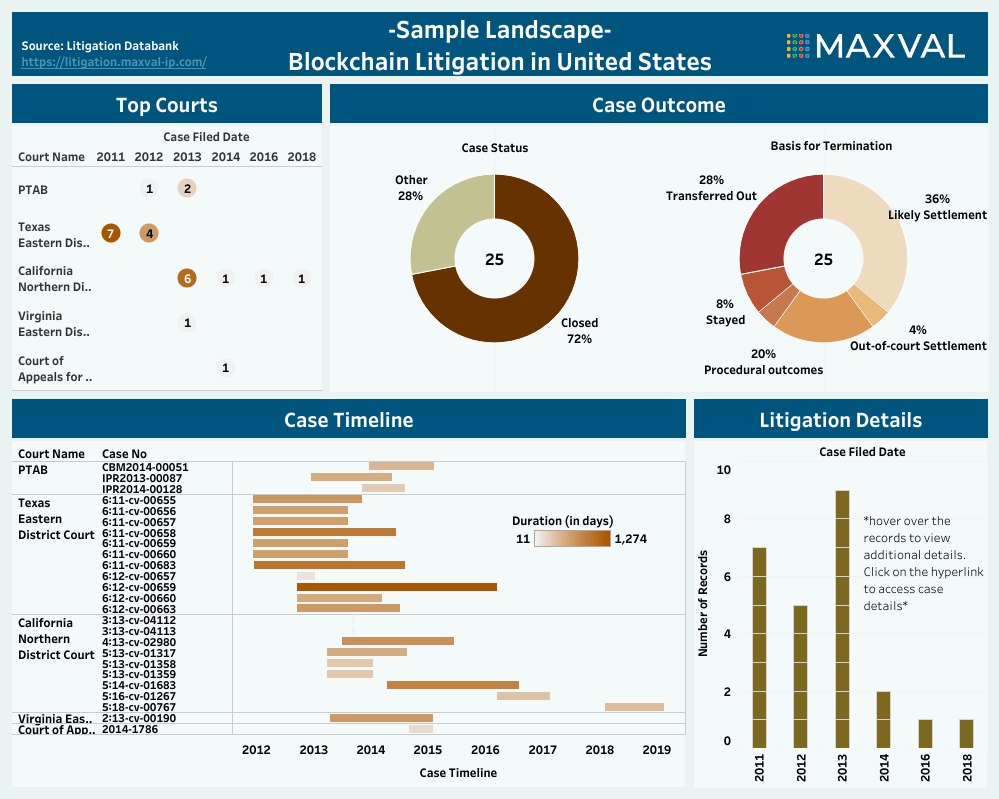 Complex patent family groups based on a customized taxonomy

Analysis with detailed reports that include patent visualizations

Interactions between technology, products/solutions, and supporting patents
Emerging competitor identification

Detailed information covering patent trends and associated data

Relationships of patent landscapes to technologies and products in development
Questions We Can Help You Answer
Opportunity Analysis
Are there specific gaps that can be exploited in the area? 

Whom should I partner with (collaborate/fund/acquire) to gain momentum?

What are the in-/out-/cross-licensing opportunities? 

What are the key markets? 

Who are the top inventors within the sub-domains? 

What is their current association? 

What interesting insights can I provide to my R&D/product design team?
Competitor and IP Benchmarking
How is your company's patent portfolio positioned relative to competitors in terms of age, volume, quality, geographic presence and recent activity?

What are their patenting strategies, grant rates and exemplary patents? 

What are their products and pipeline? 

What are the market drivers?  

What are your competitors' strengths and weaknesses? 

What are competitors investing in R&D?
Obstacles and Risk Analysis
What are the gaps in your own patent portfolio?

Is the technology area primed for disruption?

What is the risk of litigation, opposition and infringement in the area?

Is the area affected by recent mergers and acquisitions activity?
Technical Review of Patents (and Non-Patent Literature)
What technologies are the most successful companies pursuing? 

What are the emerging technology areas? 

What is the technology maturity level in the area? 

Who are the dominant players in the field? 

Who are the lesser-known or emerging players?

What are the top and emerging markets?
Actionable Insight and Other Benefits
Customized report you can share with your stakeholders

Delivers significant savings

Clearly identifies opportunities
Interactive dashboard that allows you to customize your data evaluation

Frees up time so you can make decisions proactively

Mitigates your risks
Why Choose MaxVal for Patent Landscapes?
More than 50 patent attorneys, analysts, researchers, engineers and dedicated domain experts in multiple locations

More than 500 years of collective IP experience
Leverage our onshore/offshore business model for cost savings while maintaining the quality you expect from a US company

Customizable reports and reporting formats
Patent LiveScape™: Dynamic Patent Landscape Analysis
When a fixed-in-time perspective isn't sufficient for your needs, we invite you to take a very close look at Patent LiveScape. Delivering a more interactive and dynamic perspective than the static snapshots of our core patent landscapes, this service allows you to slice-and-dice an analysis to extract actionable and predictive information, and do so over time.
Custom analytics dashboards

Integrate other business-critical data and detail for advanced insight

Interactive
Explore causal data relationships

Report freshness (periodic data updates)

Accessible from anywhere
What Our Patent Search Customers Say
"My experience with working with the Patent Mapping Team was exceptional. You were flexible, gracious and timely with all of my requests. MaxVal's Patent Mapping team is stellar in their customer service and quality of product."
"Wow, your patentability search was fast!  I am pleased and impressed!"