This week's newest patent applications from Attobahn, Boston Scientific, Medtronic, Abbott, Roche, Merck, Mastercard, Apple, Microsoft, Intel, and IBM.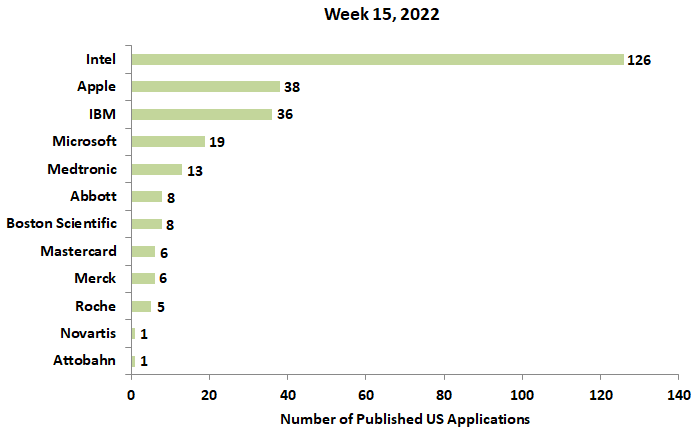 Attobahn Pursues a Patent on a Viral Molecular Network Utilizing Mobile Devices
U.S. patent application, US20220117035, relates to a viral orbital vehicle, called the V-ROVER which is one of the access devices of the viral molecular network that is a high speed, high capacity terabits per second (TBps) LONG-RANGE Millimeter Wave (mmW) wireless network. The V-ROVER is one of the devices of the viral molecular network's three-tier infrastructure molecular system connectivity architecture that transports voice, data, video, studio-quality and 4K/5K/8K ultra high definition Television (TV) and multimedia information. The V-ROVER is one of the access node communications devices that makes up the access network layer (ANL). The figure below illustrates the interconnectivity to the variety of systems and communications services that the network connects to and manages.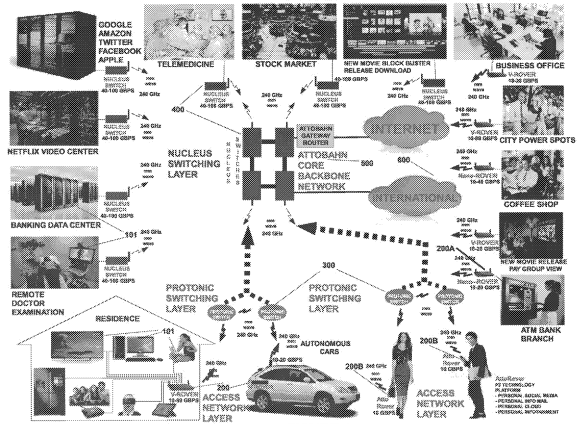 Boston Scientific Files a Patent for a Hemostasis Clip with a Collapsible Capsule
U.S. patent application, US20220110618, relates to an endoscopic clipping device for treating tissue along the gastrointestinal tract. The device includes a capsule, a cap mounted over the distal end of the capsule, a channel extending therethrough, and a pair of clip arms slidably received within the channel. The figure below illustrates a cross-sectional view of the hemostasis clip in the pre-deployed configuration.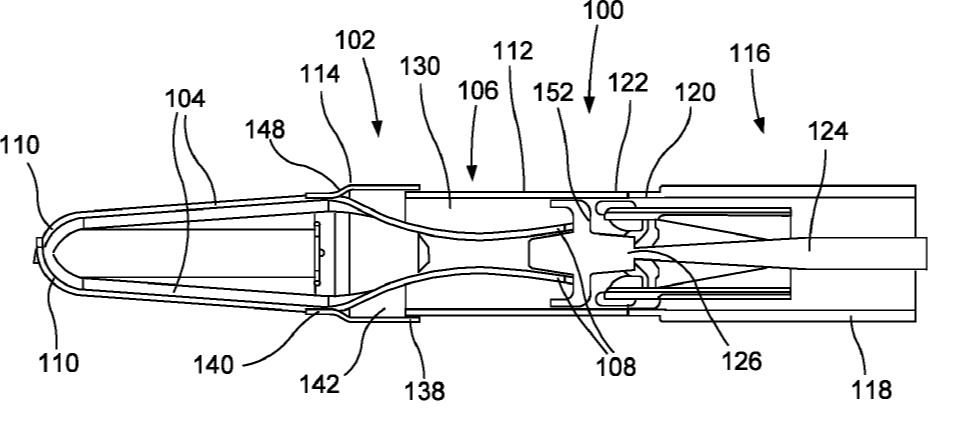 Medtronic Aims to Patent a Selected Image Acquisition Technique to Optimize Specific Patient Model Reconstruction
U.S. patent application, US20220110696, discloses a system for the generation of a patient's model based upon acquired image data. The system includes mobile systems for acquiring image data (two-dimension (2D) projections) from multiple orientations to construct a three-dimension (3D) volumetric model of the patient. The figures below illustrate the possible movements of the imaging system.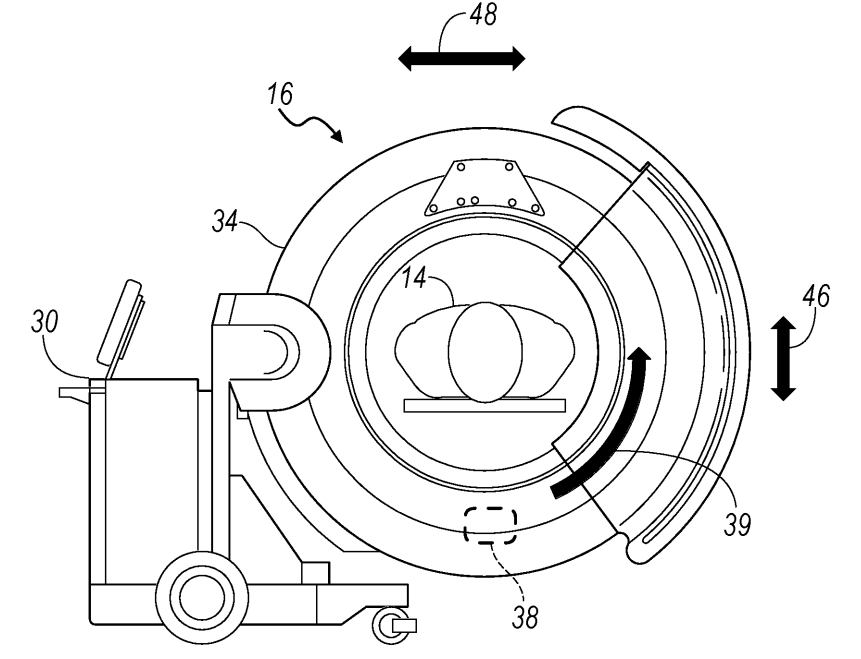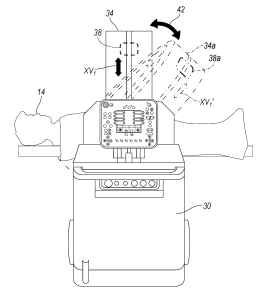 Abbott Pursues a Patent on a Device for Performing Optical Assays
U.S. patent application, US20220113246, discloses a system for performing optical and electrochemical assays on a biological sample. The system includes an analyzer, a disposable testing cartridge, and a universal channel circuitry with electronic switching capabilities to connect a sensor contact pad to multiple channels that are capable of taking on several measurement modes such as an amperometric measurement mode or a current drive mode. The figure below illustrates the testing cartridge.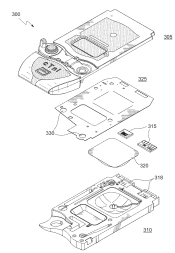 Roche Seeks to Patent a Method for Washing Aspiration Probes
U.S. patent application, US20220113331, discloses a method for washing an aspiration probe. The method involves dipping the aspiration probe into a first wash fluid, aspirating an amount of the first wash fluid into the inner space of the aspiration probe, propagating an ultrasonic vibration to the outer surface of the aspiration probe via the first wash fluid, and then rinsing the outer surface and the inner surface of the aspiration probe with a second wash fluid.
Merck Eyes a Patent for a Method of Treatment using Bispecific Antibodies
U.S. patent application, US20220111064, discloses a method for treating EGFR and c-MET-expressing tumors by parenteral administration of bi-specific heterodimeric immunoglobulin molecules capable of binding to both EGF and c-MET receptors.
Mastercard Eyes a Patent for a Personally Identifiable Information Secure P2P Payment Process
U.S. patent application, US20220114581, discloses a method for performing person-to-person (P2P) payment using a token primary account number (PAN) without sharing personally identifiable information (PII) data, thus allowing for a single product to be used for contactless, e-commerce, and P2P payments. The method includes issuing the token PAN when an account or a payment card is digitized using an enhanced processing platform and authorizing the funds to be transferred between the sender and receiver based on a P2P pull transfer advice request received from a sender account-holding institution (AHI) system.
Mastercard has developed a revolutionary patent for faster virtual card payments in B2B transactions, allowing businesses to make swift and secure transactions like never before.
Apple Pursues a Patent on a Privacy Screen
U.S. patent application, US20220113926, discloses a privacy screen to display digital content of external devices. In computer-simulated reality, a first device is coupled with a first display. An image sensor receives data that represents displayable content from a second device having a second display different from the first display. The first device determines the position of the second display relative to the first device and causes the first display to display the content based on the data received from the second device and the determined relative position of the second device. The below figure shows the content displayed on the privacy screen.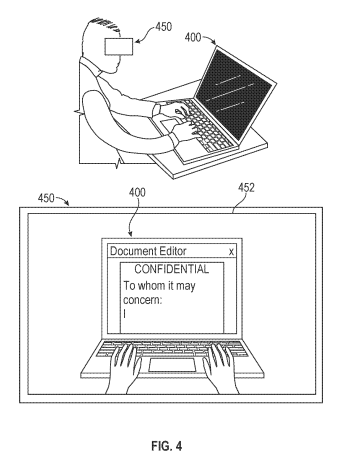 Microsoft Seeks a Patent for Estimating Illumination in an Environment Based on an Image of a Reference Object
U.S. patent application, US20220116549, describes an object encoding (represents an environment image) method that is used to convert an object image (depicts a reference object) into a combined encoding. The combined encoding includes the environment image within a high range of intensities values and image content within a low range of intensity values. The method trains the object-encoding based on combined encodings produced by a separately-trained environment-encoding method. The figure below illustrates the steps involved in capturing a pair of images using the image pair generation method.

Intel Files a Patent for a Module with Improved Thermal Cooling Performance
U.S. patent application, US20220117122, describes an apparatus including a semiconductor chip package and a heat sink that is thermally coupled to the semiconductor chip package to sense the temperature of the ambient before the ambient is warmed by the fins. The semiconductor chip package communicates the temperature of the semiconductor chip in order to increase performance level resulting in higher heat dissipation and/or greater ranges of heat dissipation. The figure below illustrates a method for controlling heat dissipation.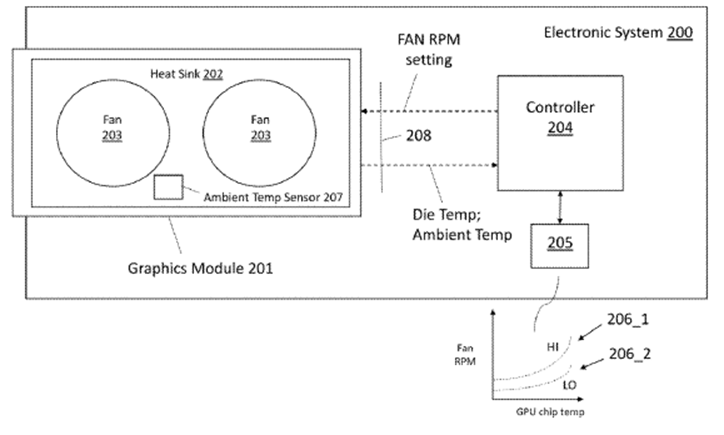 IBM Aims to Patent a Method for Generating Crowd Noise Based on Live Event Context
U.S. patent application, US20220114390, discloses a method of generating crowd noise based on live event context. The method includes encoding event data and event participant data into a multidimensional feature vector, adjusting the multidimensional feature vector according to an importance level, decoding the adjusted multidimensional feature vector into an excitement level score, and generating a frequency and an amplitude of simulated crowd noise using the excitement level score. The figure below illustrates an example of live event context-based crowd noise generation.