This week's newest patent applications from Qualcomm, Novartis, Abbott, Roche, Merck, Medtronic, Boston Scientific, PayPal, Intel, IBM, Microsoft, and Apple.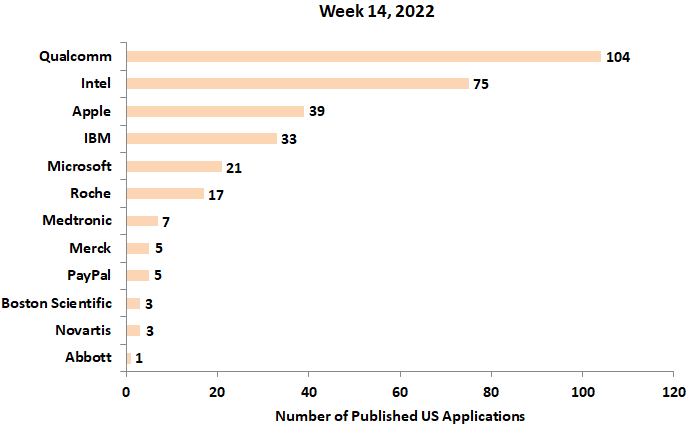 Qualcomm Pursues a Patent on a Method for Configuring Super Slots for Uplink and Downlink
U.S. patent application, US20220110114, relates to a method of wireless communication wherein a mobile station receives, from a base station, an indication of a time domain resource allocation, wherein the indication is associated with a starting symbol and a length and includes symbols across at least two slots. The mobile station communicates with the base station, using the time domain resource allocation and receives, from a base station, an indication of at least two slots to be merged, wherein the two slots are associated with a periodicity. The figure below shows an example associated with configuring a super slot.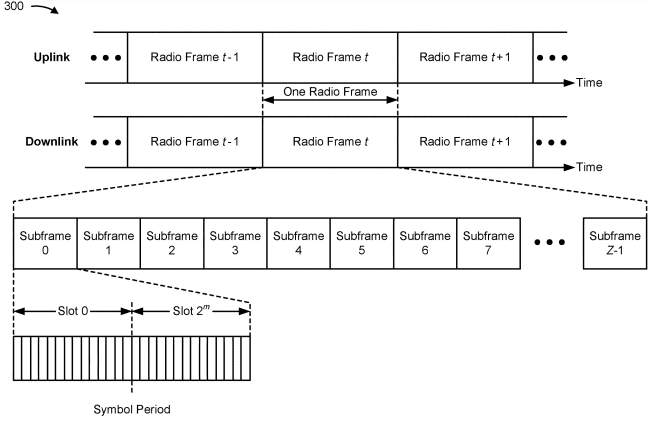 Novartis Wants to Patent a Multiple Sclerosis State Determination System
U.S. patent application, US20220108800, relates to a system for determining three different states of multiple sclerosis. The system includes a graphical user interface having fields for inputting patient data, age, expanded disability status scale (EDSS) score, and/or T25FW score by a user and a processor that generates a total score based on the state of sclerosis such as Relapsing-Remitting Multiple Sclerosis (RRMS) or Secondary Progressive Multiple Sclerosis (SPMS) or in-transition from RRMS to SPMS.
Abbott Seeks to Patent a Fixation Implant for Tissue Repair
U.S. patent application, US20220104819, discloses a fixation device for the treatment of mitral valve defects in human patients. The device includes a body, a pair of proximal elements, and a pair of distal elements for grasping the mitral valve's leaflets for tissue approximation and repair. The figures below illustrate the fixation device with a spring that retains leaflets inserted into the device.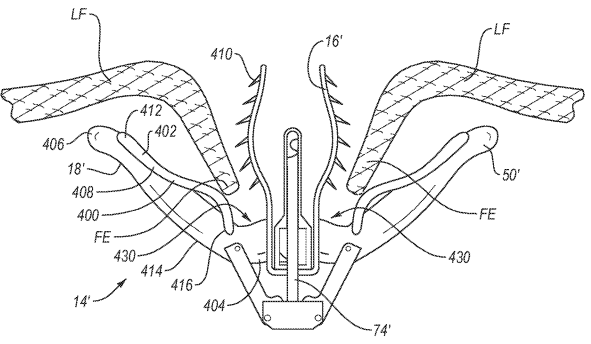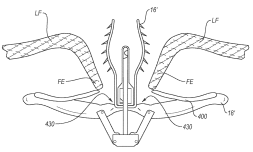 Roche Aims to Patent a System for Sustained Delivery of a Therapeutic Fluid
U.S. patent application, US20220105261, discloses a system for delivering a therapeutic fluid into the body of a user, including a skin adherable cradle, for retaining a therapeutic fluid dispenser. The system includes a dispensing patch unit, a skin adherable unit and a remote control unit having electronics for communication with the patch/infusion device. The figure below illustrates the use of a patch-type fluid delivery device.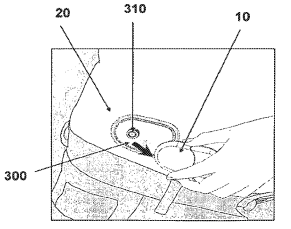 Merck Seeks to Patent Pneumococcal Conjugate Vaccine Formulations
U.S. patent application, US20220105169, discloses polysaccharide-protein conjugate vaccine formulations, where the conjugates include one or more pneumococcal polysaccharides conjugated to a carrier protein. The formulation includes a buffer, surfactant, sugar, alkali or alkaline salt, aluminum adjuvant, optionally a bulking agent, and a polymer.
Medtronic Aims to Patent a Device for Automatically Disabling Alerts for Diabetic Conditions
U.S. patent application, US20220104761, discloses a device for an automatic disablement of alerts for diabetic conditions. The device includes processors that automatically dismiss graphical alerts for a temporary period responsive to detecting a maintenance event that alters projected levels of glucose, so that the projected levels do not exceed a prescribed range. The figure below illustrates a system for delivering or guiding therapy dosage in a patient.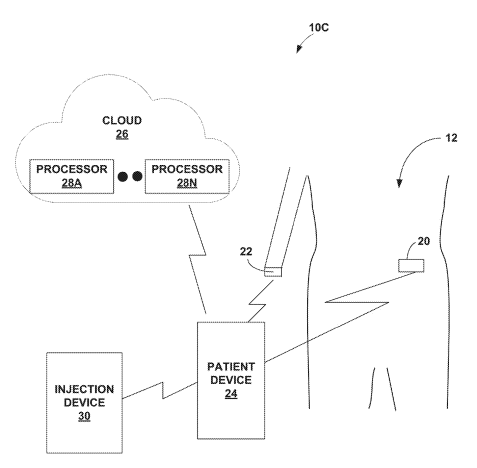 Boston Scientific Files a Patent for a Pancreatic Stent with Drainage Feature
U.S. patent application, US20220104934, relates to a pancreatic stent. The expandable structure has a convertible main body including an inner surface defining a stent lumen and an outer surface, a plurality of drainage features formed within the outer surface of the main body permitting placement of the medical stent within a patient's pancreas without blocking the side branches of the body structure. The figure below illustrates a pancreatic stent including drainage features.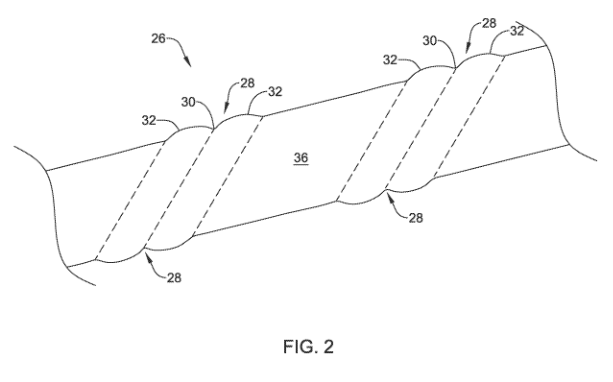 PayPal Eyes a Patent for Automatic Invoice Creation for Chat and Social Platforms
U.S. patent application, US20220108365, discloses a method for using invoice chatbots in a chat session initiated between users of a chat application. The method includes determining the image elements in the chat session that are associated with the transaction, generating and providing an invoice for the transaction in response to determining that a chat text is directed to the negotiation of the transaction associated with the image element. The method further includes indicating the image element as unavailable for additional transactions when the transaction is completed by any of the users.
Intel Seeks a Patent for a Circuitry for Filtering Cache Probe Transaction
U.S. patent application, US20220107897, describes circuitry to selectively disable cache snoop operations or activities related to cache coherency issued by a particular processor or its cache manager based on data in a memory address range, to be accessed by the particular processor, having been flushed from one or more other cache devices accessible to other processors. At or after completion of flushing or scrubbing data in the memory address range to memory, the particular processor or its cache manager do not issue snoop operations for accesses to the memory address range, wherein the circuitry causes cache devices to discontinue managing accesses to a memory region to indicate when processors discontinue access to the memory address region. The figures below illustrate the path selection using a decision tree.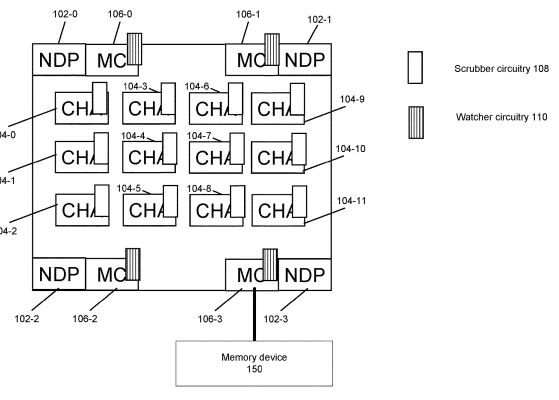 IBM Seeks to Patent an Ultrasound Emitting Contact Lens
U.S. patent application, US20220107514, discloses an ultrasonic contact lens emitting ultrasonic pressure waves from a plurality of piezoelectric transducers. The piezoelectric transducers convert mechanical energy applied upon the contact lens when the eyelid blinks into electrical energy. The ultrasonic pressure waves destroy airborne microorganisms near the contact lens. The figure below illustrates an eye equipped with the ultrasonic contact lens emitting ultrasonic pressure waves.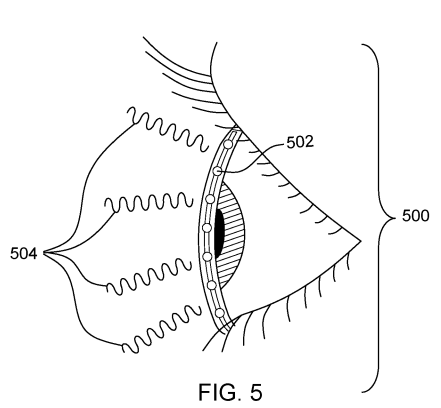 Microsoft Wants a Patent for Dynamic Expansion of Acronyms in Audio Content
U.S. patent application, US20220108691, describes a method for dynamically expanding acronyms in audio content. A user access of an audio resource is detected and evaluated to identify acronyms. The acronyms are evaluated with user-specific context and determined with confidence scores. Based on the score, the identified acronym is replaced when the audio content is consumed by the user. The figure below illustrates an overview for dynamically expanding acronyms in the audio content.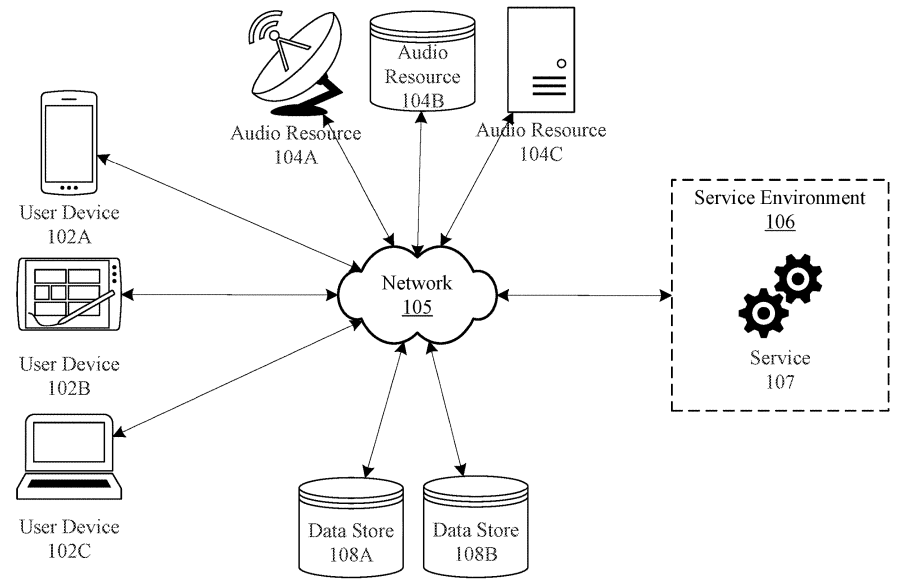 Apple Pursues a Patent on a Method for Wireless Pairing with Peripheral Devices
U.S. patent application, US20220107771, discloses a method for pairing an electronic device with wireless peripheral devices using a graphical user interface (UI). The method includes, the device detecting the availability of a wireless peripheral for pairing, in response, displaying a connection UI that includes information identifying the wireless peripheral overlaid on the home screen UI, detecting an input directed to the connection UI, and in response initiating the pairing of the wireless peripheral with the electronic device. The figure below shows the UI and the physical environment.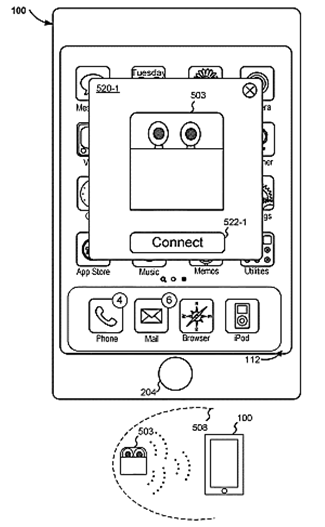 Apple has recently unveiled its new wireless audio system, allowing users to experience stereo sound without the limitation of cords. Learn more about this revolutionary technology today!