SABIC focuses on a polymer for reducing waste materials during selective sintering.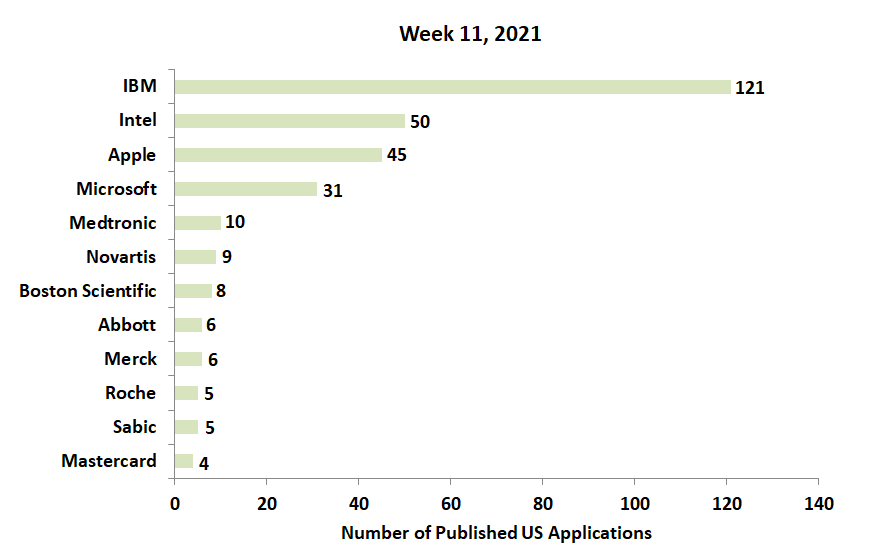 In this week's featured patent applications, we cover the latest from SABIC, Abbott, Medtronic, Merck, Boston Scientific, Novartis, Roche, Mastercard, Microsoft, Intel, IBM, and Apple.
SABIC Pursues a Patent for a Polymer Composition for Selective Sintering
U.S. patent application, US20210079158, discloses a polymer composition for the production of shaped objects via selective sintering. The composition includes a thermoplastic polyester selected from polyethylene terephthalate, polyethylene naphthalate, polyethylene furanoate, polytrimethylene terephthalate, polyethylene succinate, or polyhydroxybutyrate that may aid in the reduction of the waste materials generated during selective sintering.
Abbott Aims to Patent a Portable Clinical Analysis System for In Vitro Analysis
U.S. patent application, US20210080449, discloses a portable clinical system that includes an analyzer with a test device port. The system is configured to determine the spatial orientation and motion of the analyzer for alerting a user, when the analyzer is or has been in free fall and is therefore locked from performing an analytical test. The figures below illustrate the analyzer in a docking station and the roll, pitch, and yaw angles of the analyzer.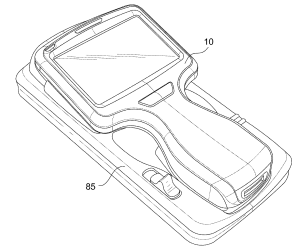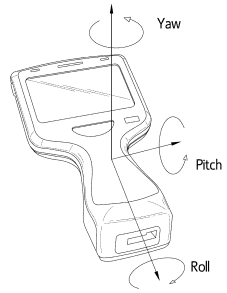 Medtronic Files a Patent for an Implantable Medical Device with Improved Medicament Dispersion
U.S. patent application, US20210077714, discloses an implantable catheter having a distal end, a body lumen that enables a flow of medicament to an infusion port, and a piezoelectric element that selectively oscillates during medicament administration to improve its dispersion within the cerebrospinal fluid. The figure below depicts the catheter and an implantable port.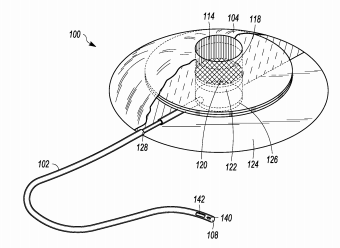 Merck Files a Patent for Photoresist Remover Compositions
U.S. patent application, US20210080833, relates to a composition consisting essentially of an alkyl benzenesulfonic acid to remove a patterned photoresist from a substrate. The structure of the compound is illustrated below.

Boston Scientific Seeks to Patent a Disposable Endoscopic Imaging System
U.S. patent application, US20210076905, discloses a single-use lightweight endoscopic video imaging system that can be disconnected and disposed of after the examination procedure. The imaging system includes an illumination mechanism, an image sensor, and a reusable control cabinet with actuators to control the orientation of the endoscope. The illustration below depicts the system.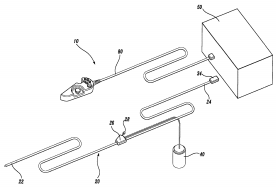 Novartis Files a Patent for Preventing Graft Rejection Using Anti-CD40 Antibodies
U.S. patent application, US20210079107, discusses a method for preventing graft rejections in solid-organ transplants through the intravenous administration of anti-CD40 antibodies in combination with another therapeutic agent like sirolimus.
Roche Pursues a Patent for Analyte Detection
U.S. patent application, US20210080420, discusses a test element used for the electrochemical detection of an analyte. The test element consists of a working electrode, a counter electrode and a capillary which is designed to receive a sample of the body fluid. The figure below depicts the test element.

Mastercard Files a Patent for Facilitating Microcredit During a Payment Transaction
U.S. patent application, US20210081946, discloses a method for facilitating microcredit for processing a payment transaction. The method includes detecting an insufficient balance in a user's issuer account and facilitating a microcredit offer of a loan amount on the user device during a payment transaction.
Microsoft Seeks a Patent for Haptic Simulation of Motion in Virtual Reality
U.S. patent application, US20210082187, discloses a virtual reality (VR) device for depicting a virtual environment. The device includes a near-eye display device configured to simulate the movement of the user and present virtual image frames depicting the virtual environment. The figure below represents the VR device providing a VR experience to a user.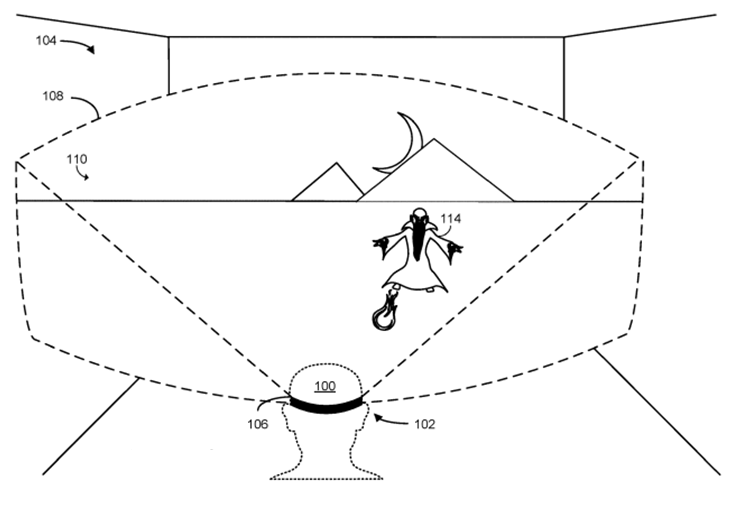 Intel Pursues a Patent for Augmenting Mobile Device Operation with Intelligent External Sensors
U.S. patent application, US20210078571, discloses a system for augmenting the operation of a moving mobile device using external sensors. The system includes external sensors present in proximity to a moving autonomous vehicle and is configured to detect the environment and assist the vehicle in identifying risks. The figure below illustrates the use of the external sensors in assisting the vehicle movement.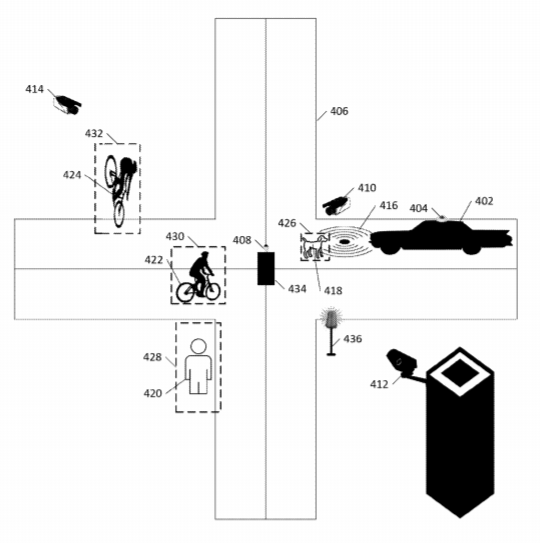 IBM Files a Patent Application Relating to Contextual Masking of Objects in Social Photographs
U.S. patent application, US20210084194, discloses a method for contextually masking visual elements in a digital photograph. The method includes constructing a rule-set based on privacy preferences of identified individuals within the photograph and masking the visual elements within the digital photograph from the view of a viewer in real-time based on the rule-set.
Apple Pursues a Patent on Synchronized, Interactive Augmented Reality Displays for Multifunction Devices
U.S. patent application, US20210082200, discloses a device for receiving a live video of a real-world, physical environment on a touch sensitive surface. The device is configured to receive live video of the real-world physical environment, generate annotations and combine the environment with the annotations in a display device. The figure below illustrates displaying the live video combined with the annotations.