Siemens pursues a patent on a system for providing railroad grade crossing status information to autonomous vehicles. This week's newest patent applications are from Siemens, Boston Scientific, Roche, Merck, Abbott, Medtronic, Visa, Apple, Intel, Microsoft, and IBM.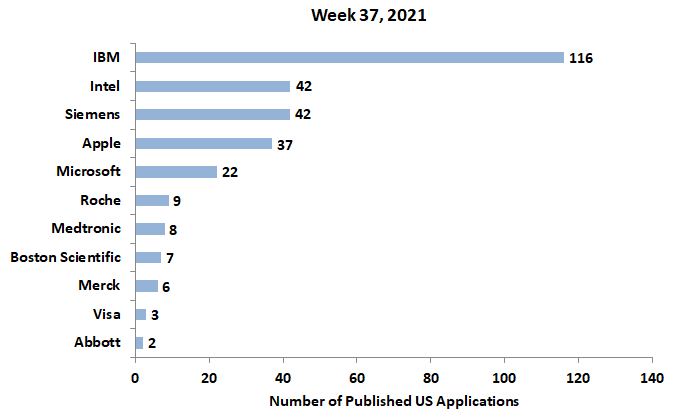 Siemens Pursues a Patent on a System for Providing Railroad Grade Crossing Status Information to Autonomous Vehicles
U.S. patent application, US20210284213, discloses a patent from Siemens for a railroad crossing communication system for autonomous vehicles. The system includes a wayside control device in communication with one or more railroad crossing warning device(s) located at a railroad crossing. The wayside control device communicates information to an autonomous vehicle that approaches the railroad crossing in response to an activation of one or more railroad crossing warning device(s). The figure below illustrates the railroad communication system provided at a railroad crossing.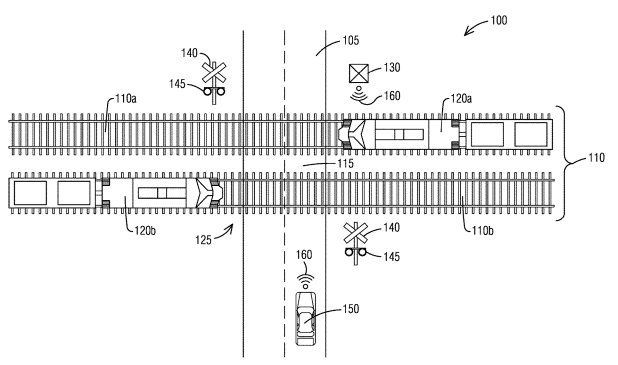 Boston Scientific Files a Patent for a Tissue Ligation Device
U.S. patent application, US20210282783, discloses a tissue ligation device for treating and/or removing hemorrhoids (swollen/inflamed veins) in the rectum. The device includes ligation bands, a hollow tube for receiving a plunger, and an engagement member to dispense the band that surrounds and closes off the hemorrhoid tissue. The figure below shows the tissue ligation device.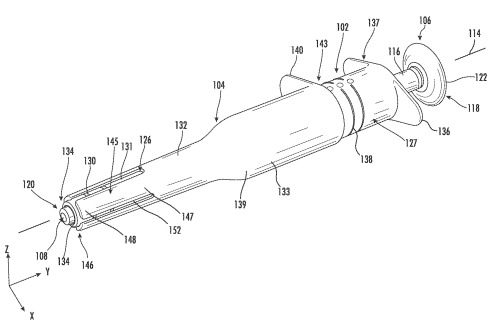 Roche Seeks to Patent a Method of Determining Analyte Concentration
U.S. patent application, US20210285888, relates to a method for determining analyte concentration in a body fluid with a mobile camera device. The method involves applying body fluid to an optical test strip and then waiting a predetermined time, capturing an image of the test field with a camera, and determining the analyte concentration based on the image captured by taking into account time-dependent information derived from the image captured using a first and a second color channel of a color space.
Merck Files a Patent for Crystalline Salts of Amino Acids and Vitamins
U.S. patent application, US20210283136, relates to a crystalline salt comprising 5-methyl-(6S)-tetrahydrofolic L-leucine ethyl ester in the molar ratio of 5-methyl-(6S)-tetrahydrofolic acid, and L-leucine ethyl ester is from 1:0.3 to 1:3.0 (in mol/mol) and/or hydrates and/or solvates, where calcium salt of 5-methyl-(6S)-tetrahydrofolic acid is used in particular as a drug, a food additive, a vitamin preparation, for the prevention of neural tube defects, for the treatment of depressive illnesses, and for influencing the homocysteine level.
Abbott Wants a Patent for a Bifurcated Tubular Graft
U.S. patent application, US20210282926, discloses a lubricated tubular graft that is implanted in the inferior vena cava (IVC) and the superior vena cava (SVC). The graft includes a bifurcated leg, a non-collapsing stent, and a bioprosthetic valve to regulate the blood inflow through the tricuspid valve and to eliminate tricuspid regurgitation. The figure below illustrates the cross-section view of the tubular endograft implanted in the SVC, IVC, and across the tricuspid valve.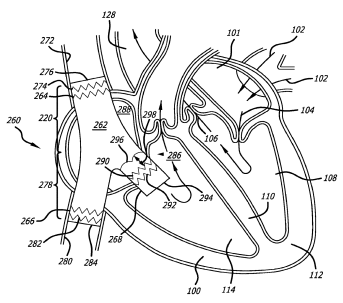 Medtronic Eyes a Patent for a Multipurpose Electrosurgical Device
U.S. patent application, US20210282843, discloses a single, multipurpose electrosurgical device that eliminates interruption in changing devices and reduces surgical time. The device includes a switching mechanism having a three-conductor electrical input for switching the surgical device to a bipolar mode or a monopolar mode. The figures below depict the handheld electrosurgical device with a monopolar electrode tip and a retractable bipolar electrode shaft.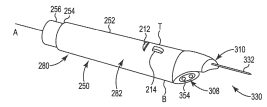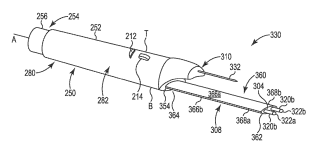 Visa Seeks to Patent a Physical Container Containing an Electronic Wallet Device
U.S. patent application, US20210287206, discloses a physical shopping container for accepting items/goods to be purchased during shopping. The shopping container includes a processor to determine the price of the goods and access to an electronic payment wallet installed in the container which allows the user to complete a purchase without standing in line for payment. The shopping container also displays payment-related indications which improve the payment experience for the users.
Apple Pursues a Patent on a Method for Sharing a Content Presentation with Integrated Messaging
U.S. patent application, US20210288932, discloses a method for sharing a content presentation with an integrated messaging service. The method includes receiving a shared content stream, presenting a graphical user interface (GUI) to interact with the shared content stream, composing messages to other users, and displaying the previously received messages associated with the shared content stream in a display area. The figures illustrate the GUI enabling composing messages and displaying the received messages when content is shared.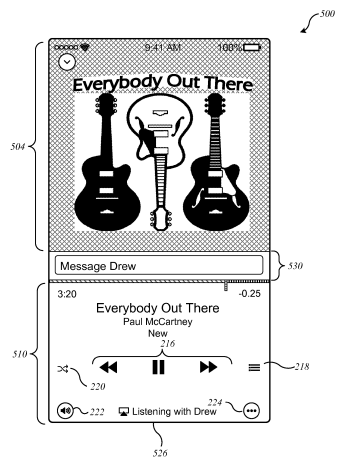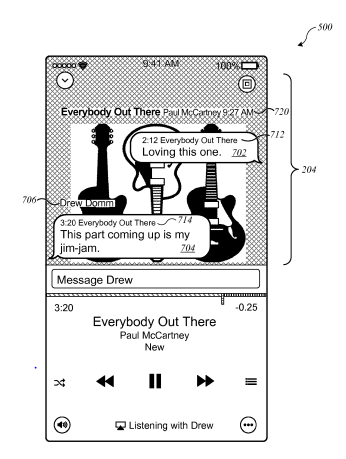 Intel Aims to Patent an Automated and Body Driven Headset Audio Control
U.S. patent application, US20210289283, discusses automated detection and control of audio output conditions for headsets. The headset includes a sensor to collect data relating to user gestures and environment and controls the audio action to be output from the headset based on the sensor data. For example, gestures such as a finger tap received on a headset may be associated with an audio action such as pause playback. The figure below illustrates audio control based on gesture detection.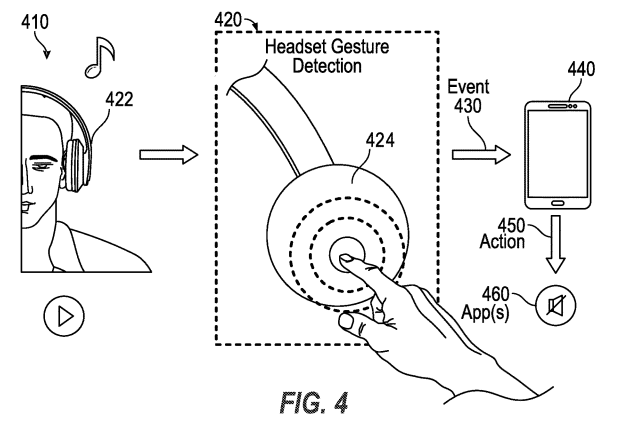 Microsoft Seeks to Patent a Sensory Adjustment Mechanism
U.S. patent application, US20210286500, describes a method for detecting adjustments to sensory parameters in one or more applications. The method includes counting the number of adjusted sensory parameters, comparing the number of adjustments to a threshold and prompting a user to select a set of preconfigured sensory parameter adjustments, and applying the selected set to one or more applications. The figure below illustrates applying preconfigured sensory parameter adjustment settings to an application.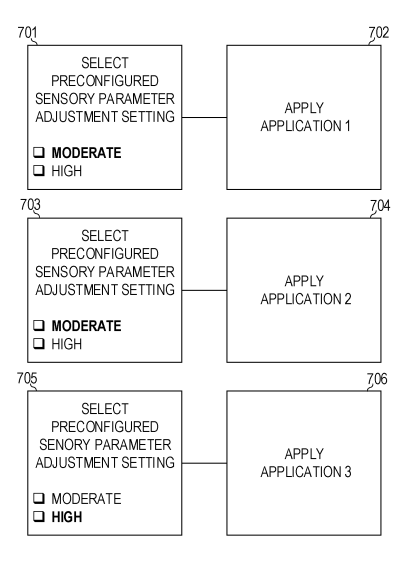 IBM Seeks to Patent a User-Worn Device with an Extendable Display
U.S. patent application, US20210286323, discloses a user-worn device containing a single housing section that features an extendable display within the housing. The extendable display automatically retracts when not in use. The extendable display can be locked in place once extended and can be automatically retracted when the lock is released. The figure below illustrates the user-worn device with the extendable display in a retracted and extended configuration.