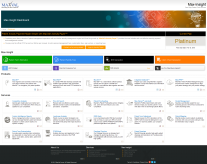 MaxVal introduces Max-Insight's dashboard, helping users access all its solutions and services from one page.
This Dashboard enables users to:
View the usage count of all the tools based on the current plan
View features of the current plan and upgrade as needed
Access brochures for all of MaxVal's products/services.
With this UI change, MaxVal has also introduced direct access to other solutions like Annuity Payer and Patent Assignment Tracking services.
Max-Insight Collection
Max-Insight is a suite of patent tools available from MaxVal Group. Max-Insight Dashboard enables you to access them under one roof, which is efficient and saves time in managing patent related activities. These tools are designed for analyzing patent portfolios or performing administrative tasks relating to patents easily and quickly. Some popular tools of Max-Insight are Patent Term Estimator, Patent Family Tree, IDS Generator, Claim Chart Generator, etc.
Max-Insight is available in individual subscriptions: Free, Bronze, Silver and Gold with varying usage levels, as well as unlimited enterprise access plans.
About MaxVal
Founded in 2004 by a practicing patent attorney, MaxVal has evolved as we create innovative tools and services to solve real-world patent problems encountered by our clients.  We serve both in-house and outside counsel, as well as patent operations at both corporations and law firms.  Currently MaxVal has over 175 people including patent attorneys and agents, software developers, database experts, and paralegal and docketing professionals.