Wearable technology like smart footwear can provide us with interesting ways of integrating technology into our daily activities. This technology can be worn on multiple parts of the body such as the head, wrist, or torso; and can be used for tracking and improving one's health, physical activity and wellness. Many can be coupled to a local device such as a smartphone for providing us with feedback. Such devices contain sensors and circuitry to transmit different types of data like estimates of movement, heart rate, sleep pattern, etc.
Introduction
Modern fitness trackers and smartwatches trace their history to the pedometer and the original fitness tracker ("10,000 steps meter") that go back several decades. Click here to access our earlier report on wrist-worn activity trackers. Recently, we have seen the development of more specialized devices such as smart glasses, textiles, rings, jewelry, etc. Rapid technological developments are transforming the competitive landscape around smart wearables. A detailed understanding of the immediate and adjacent technology innovations will aid the established pioneers and emerging startups in the wearable industry in identifying growth opportunities and potential threats.
Here, we focus on recent filings for smart footwear that are capable of helping users keep tabs on their athletic performance, health and wellness.
Patent Filings
Smart shoes come equipped with battery-operated systems that require charging before use. They can be connected to other devices (e.g. smartphones) typically via Bluetooth. Insoles can be equipped with a variety of sensors such as a gyroscope, accelerometer, pressure sensor, altimeter, GPS, etc. A quick overview of the patent filings related to smart footwear reveals rapid growth in patent families in the last decade that has slowed down in recent years. The most recent filings are largely focused on activity trackers, specialized devices for safety/monitoring and those that provide advanced analytics for entertainment/gaming.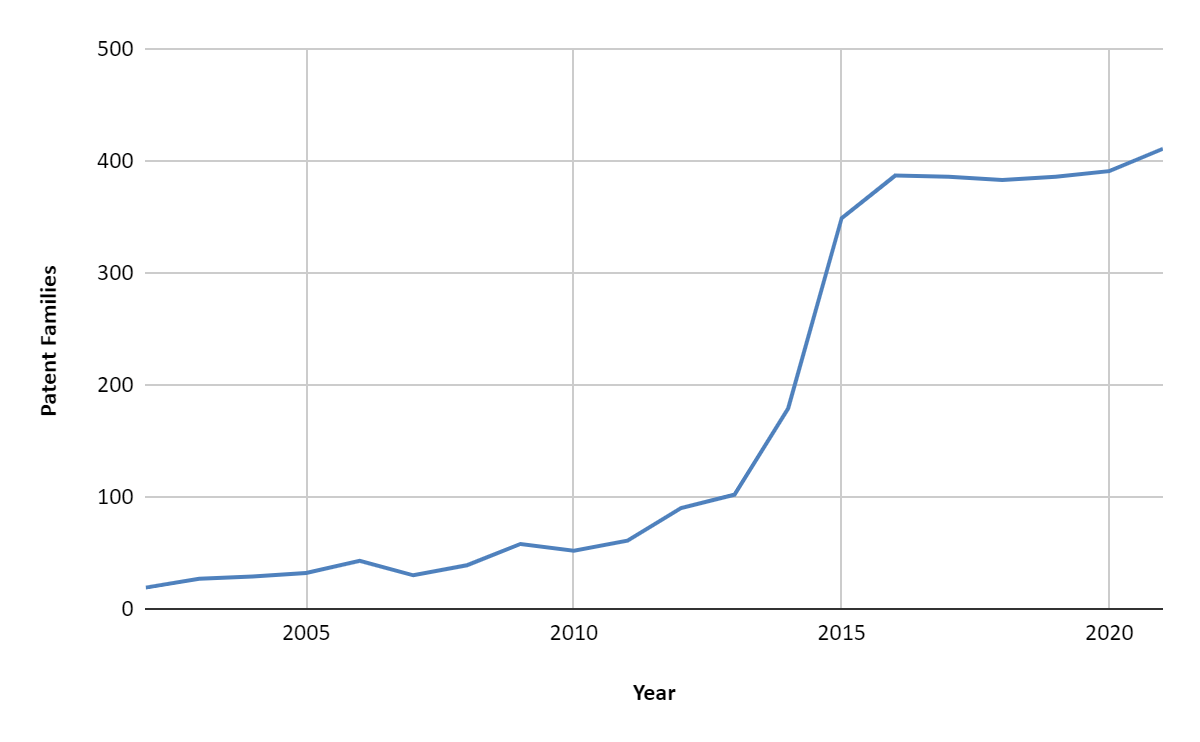 *projected for 2020- 2021
Nike
Nike is among the leaders in the fitness tracker segment. Nike adopts the latest innovations in its products and manufacturing processes. Back in 2012, Nike launched the Nike+ Training Shoe fitted with sensors capable of reading a range of foot-based data including how many times your feet hit the ground, how long each foot was off the ground and where the contact was made. Nike's new adapt system includes auto-lacing technology configured to be coupled to a device for accessing the app and the convenience of wireless charging of your shoes. Nike has continued to invest in patent filings describing mobile apps for tracking a user's health and activities.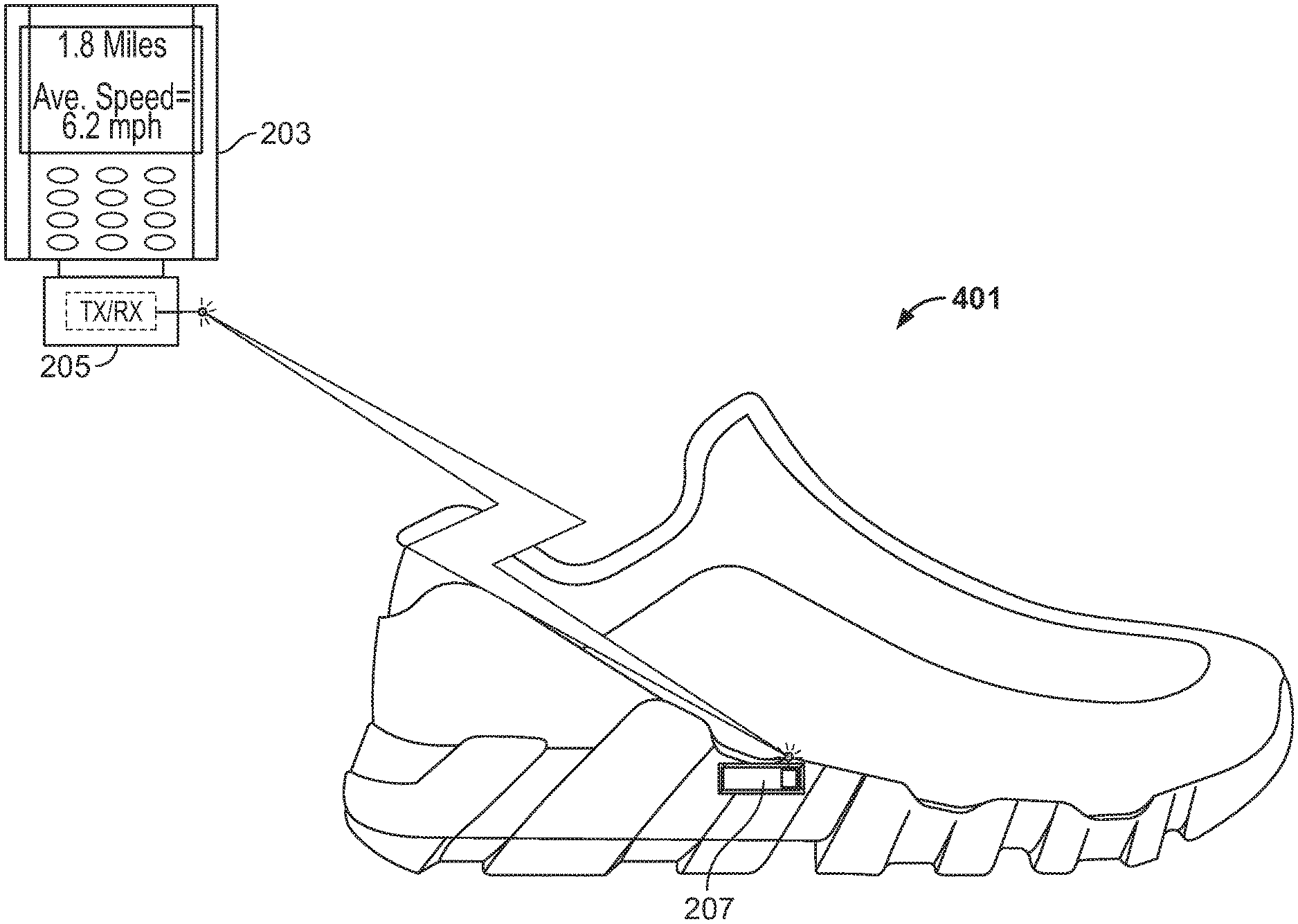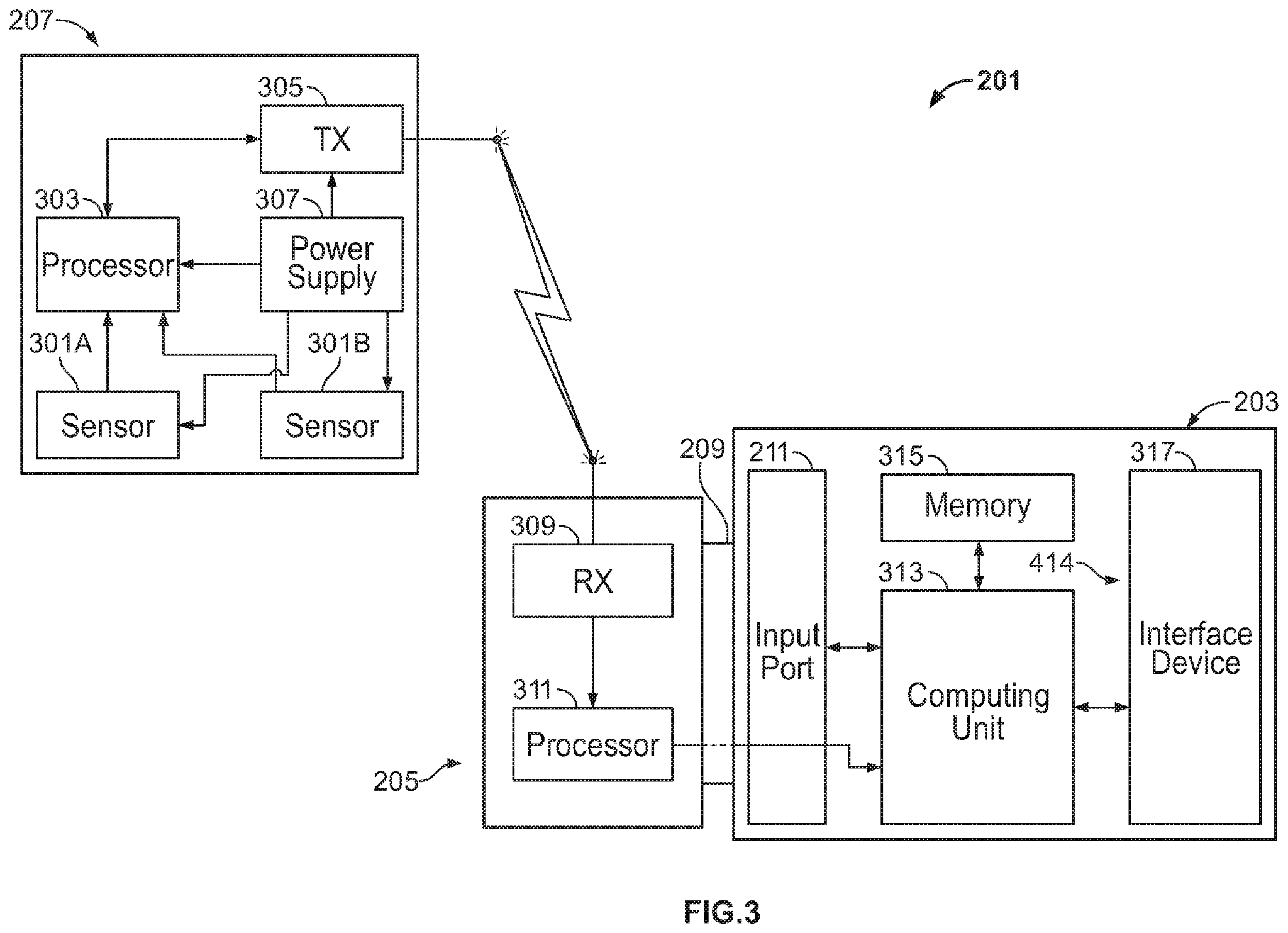 US20210001178A1 titled "Monitoring Fitness Using a Mobile Device" assigned to Nike claims priority to the U.S. Provisional Patent Application No. 61/786,892, filed Mar. 15, 2013. It describes a method for monitoring and tracking athletic performance. Workouts may also be tagged with various parameters including mood, weather, terrain, athletic equipment, friends and the like. Workout information, such as images of maps, may be shared to social messaging and networking outlets. The athletic parameter measurement device (207), located in the sole of a user's shoe (401), transmits signals to the electronic interface device (205) while the user walks or runs that correspond to the measured athletic parameter. The athletic parameter measurement device (207) includes one or more sensors (e.g. piezoelectric accelerometer) for measuring the acceleration of the shoe (401) in two orthogonal directions.
Adidas
Adidas is also among the leaders of smart shoe technology. It announced the world's first intelligent shoe back in 2004. Interestingly, a new project was announced last year as a collaboration between Adidas, Google and EA using a smart shoe insole that syncs with its own app. The project called gamer or GMR will use Adidas' soccer cleats to detect clear actions, like the difference between kicking and penalty kicking, or passing and dribbling. The insole sensors do not need to be turned on or be in the proximity of a device to collect data.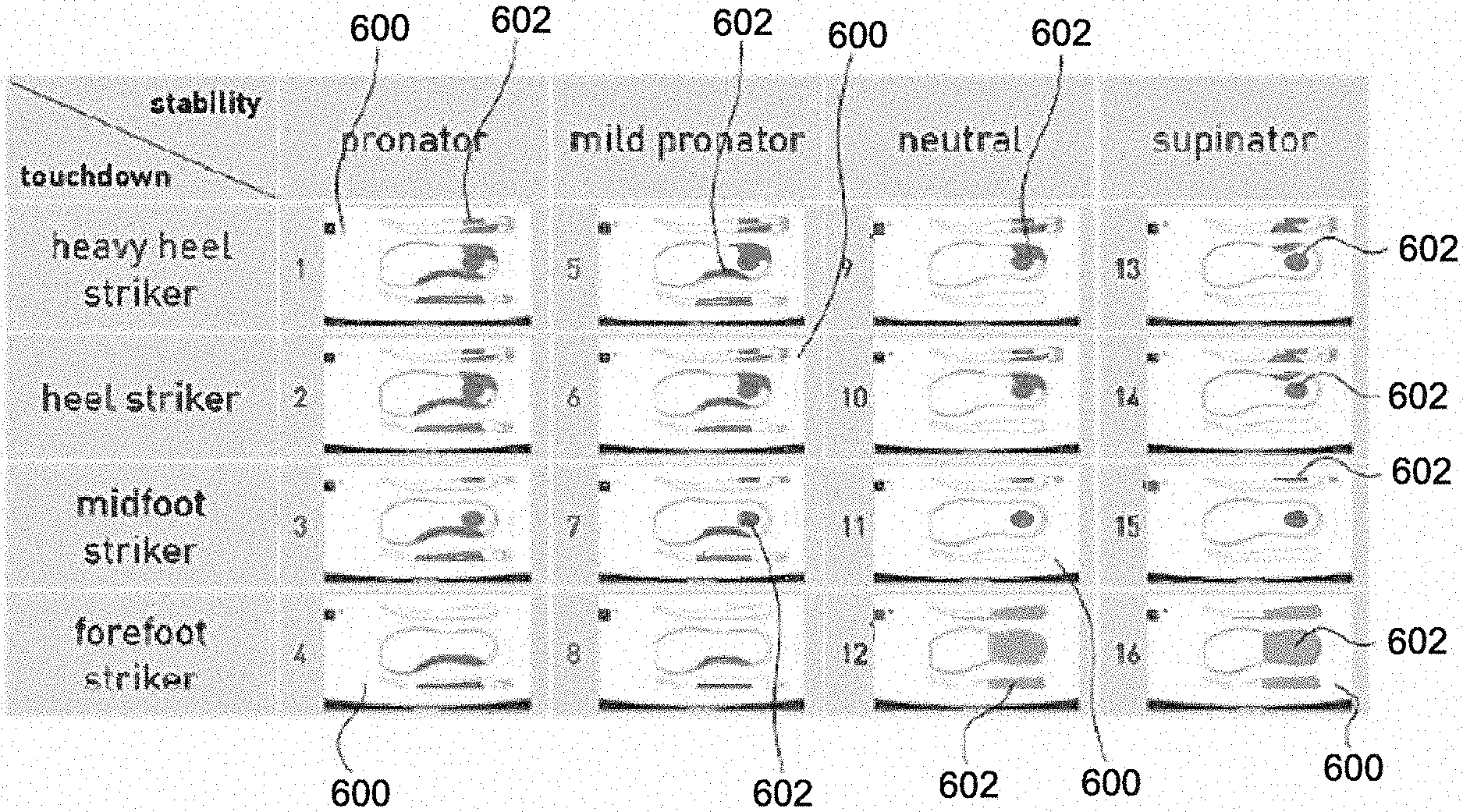 US20200146397A1 titled "Individual Traction Profiles for Footwear" assigned to Adidas was filed on November 9, 2018. It describes an outsole for a shoe formed based on a computational traction profile. The computational traction profile is built based on received sensor data. One or more of the position, height, cross-sectional shape, and the like of the respective projections and recesses may be varied along the surface of the outsole in response to the computational traction profile.
Under Armour
Under Armour (UA) is yet another major brand that offers connected footwear. For instance, the UA HOVR connected running shoes have a built-in chip that connects to the UA MapMyRun app offering analysis during and post-run and can provide personalized coaching.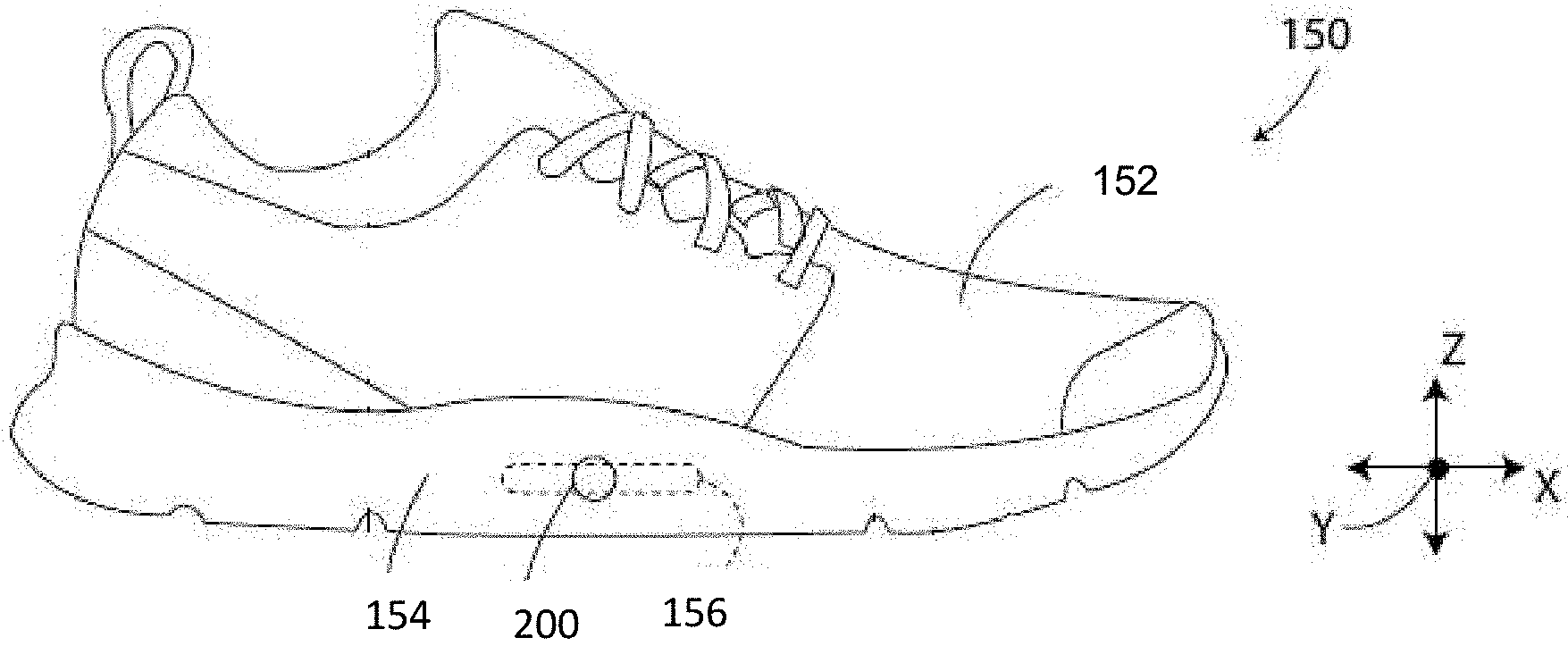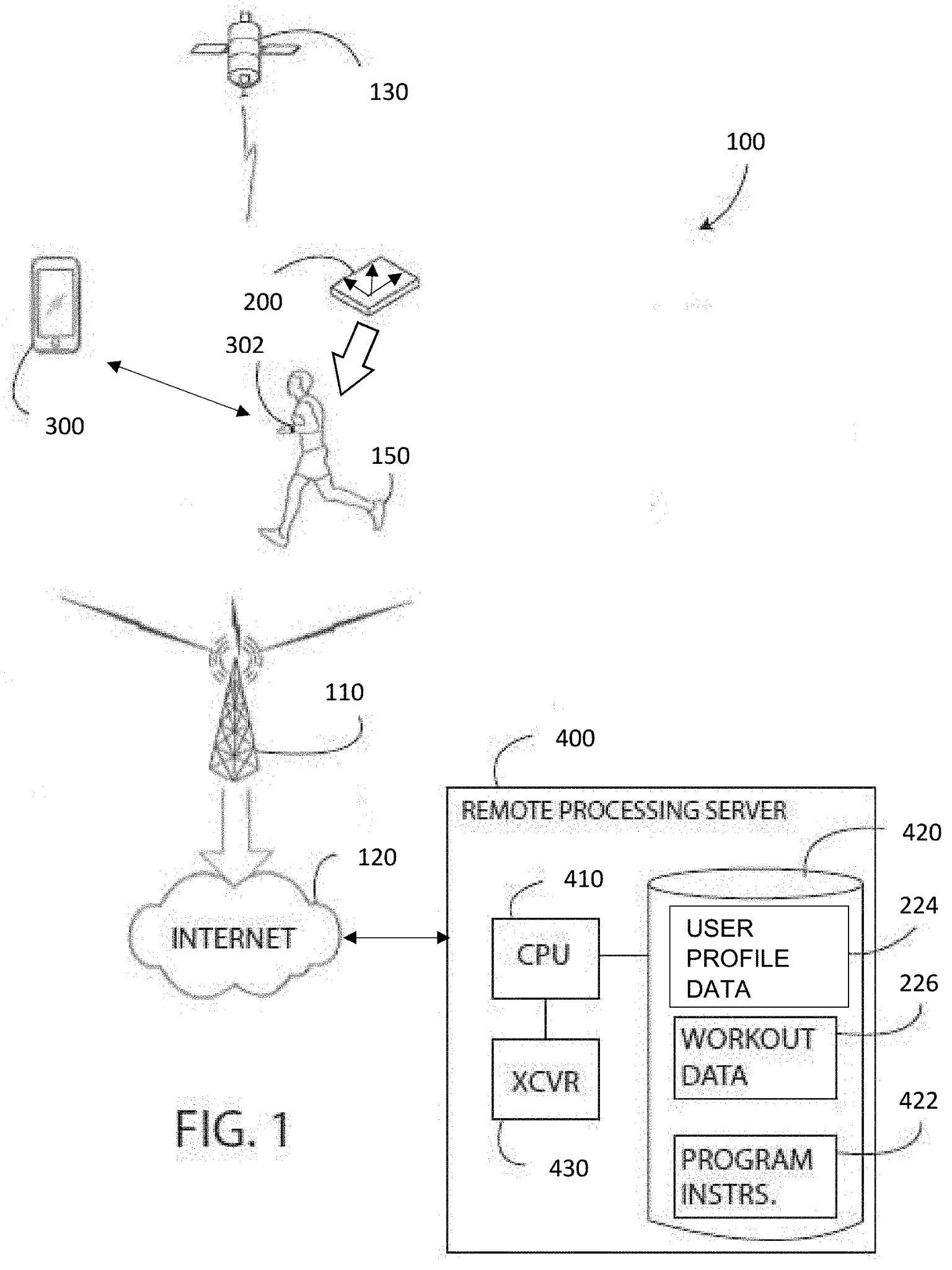 US20210093915A1 titled "System and Method for Detecting Fatigue and Providing Coaching in Response" assigned to Under Armour, filed on October 1, 2019, describes a method of operating a fitness tracking system. The fitness tracking system includes a sensor device for collecting workout data while an athlete or other user performs a workout, participates in a competition, or otherwise performs some exercise activity. The sensor device includes a movement sensor, such as a single-axis or a multi-axis microelectromechanical (MEMS) accelerometer, gyroscope, magnetometer, etc. configured to generate activity data. For example, the sensor may detect the bipedal movement of the user to detect fatigue and recommend a corrective action via a coupled device.
Nurvv
NURVV is a London-based startup focused on providing insights for runners through its inserts and NURVV Run app compatible with devices such as Apple Watch, Garmin and heart rate monitors. The running insoles are fitted in the shoes. A wired connector runs out of the shoe and clips into the hardware, located outside the shoe.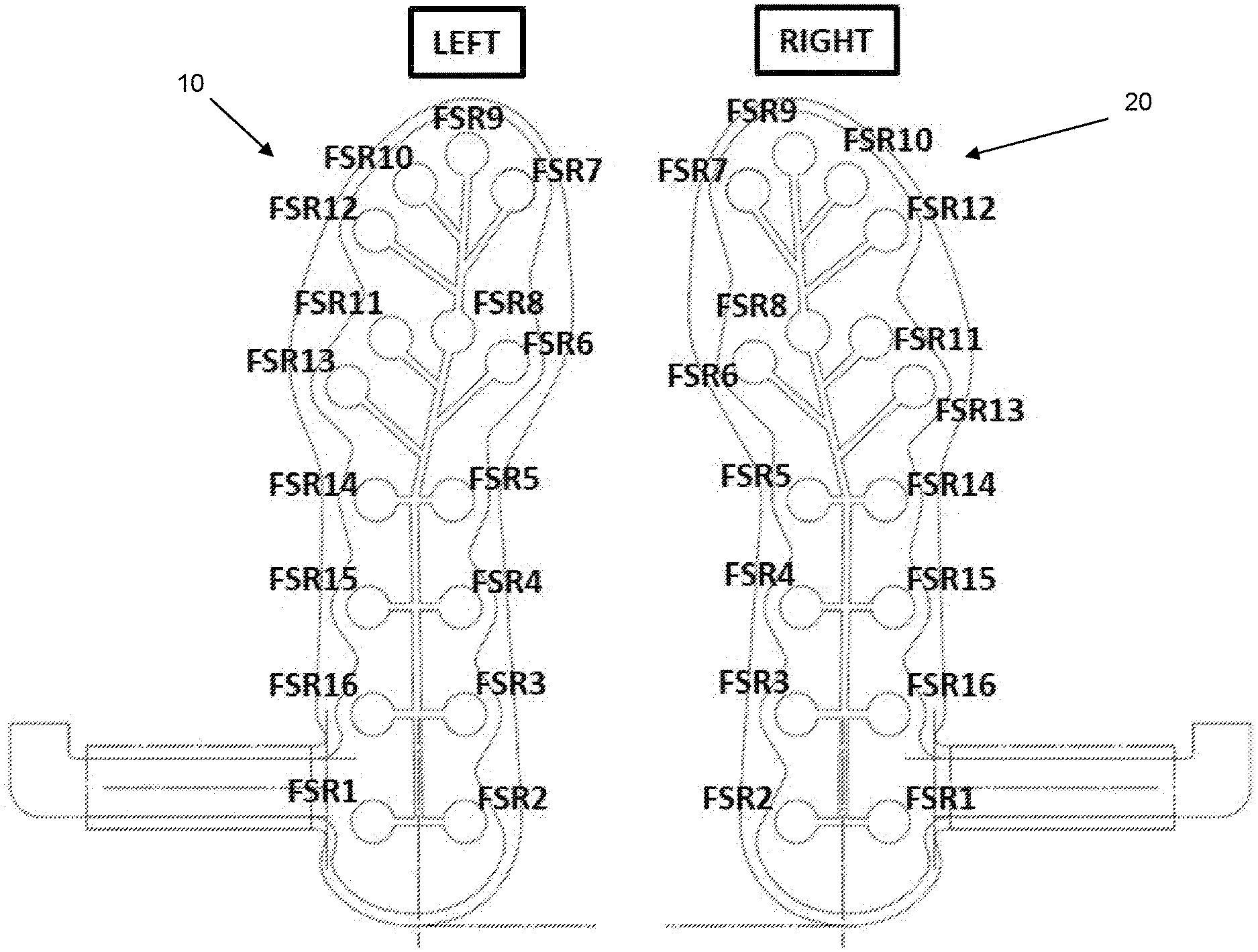 US20200214595A1 titled "Foot-Based Movement Measurement" assigned to NURVV describes a method for measuring metrics associated with foot-based movement. The sensor measures signals from different parts of the foot obtained during movement and a metric associated with the signals is computed. The insoles comprise embedded pressure sensors, in the form of Force Sensitive Resistors (FSR) to record the pressure distribution patterns occurring across the bottom surface (sole) of the foot, particularly during running ground contacts.
PlayerMaker
Playermaker is an Israeli-based startup focused on soccer/football performance tracking. A smart sensor is attached to the player's boot to provide foot action insights based on foot-to-ball interactions. This allows measurement of certain technical abilities like the player's use of their left and right foot, kick velocity, physical ability and gait parameters under various situations. Just, a few days ago, FIFA accepted PlayerMaker into their innovation program.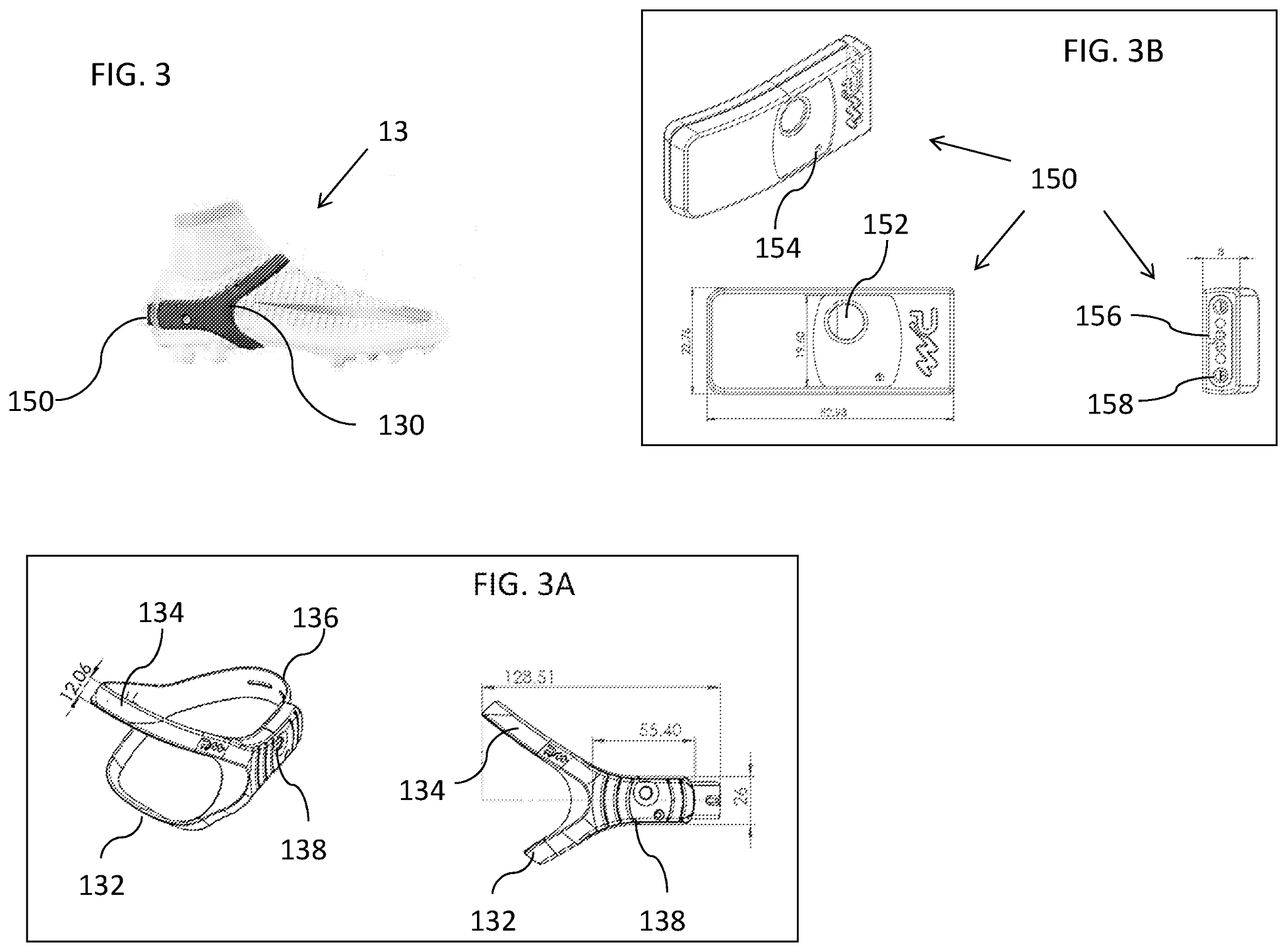 US20200229762A1 titled "Football Smart Footwear with Automatic Personal and Team Performance Statistics Extraction" assigned to Motionize Israel claims priority to March 7, 2017 and describes a footwear sensor unit removably attachable to footwear that includes an Inertial Measurement Unit (IMU) including a 3-axis accelerometer and a 3-axis gyroscope.
The Future
Upcoming smart shoes and insoles may feature many new improvements in the future. For instance, instant feedback during workout/training for athletes will be beneficial and enhance coaching. Another area is customized 3D printing of shoes designed based on performance data. The use of smart materials to dynamically adapt the sole and cushioning based on external conditions may become a reality in the near future. Finally, the use of shoe data with other health and fitness information obtained from digital records and other smart devices may provide recommendations for improving one's health and wellbeing.
Please get in touch with us to know more about the smart footwear landscape. Click here to know more about Search and Analytics services.