With less than a month before the commercial launch of its subscription services, Quibi has sought a declaratory judgment before the California Central District Court against Eko's claims of patent infringement and trade secret misappropriation. The centerpiece of its commercial launch and this case revolves around Quibi's "Turnstyle" feature which allows a user to play variable video content based on the vertical or horizontal orientation of a viewer's phone.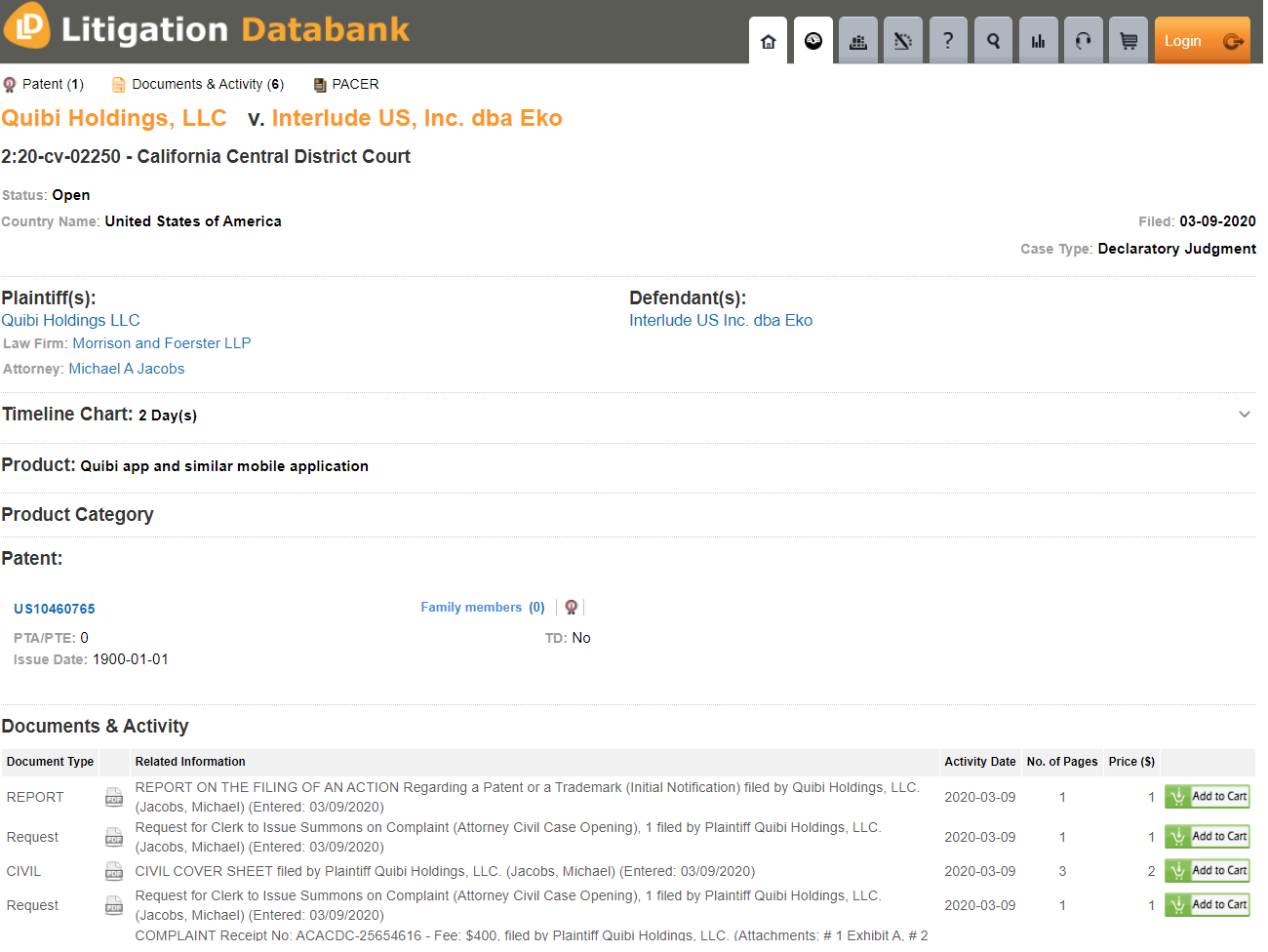 Quibi Holdings, LLC v. Interlude US, Inc, Source: MaxVal's Litigation Databank
Quibi (Quibi Holdings, LLC) is a media startup focusing on short-form mobile video streaming services available for pre-order from the Apple App Store and the Google Play Store. The Los Angeles company was founded in 2018 by American film producer and media mogul Jeffrey Katzenberg. It has received almost $1.8 billion from investors including Alibaba, Walt Disney, and Sony Pictures. Quibi has already announced several shows featuring celebrities and major advertisement deals.
Eko (Interlude USA Inc.) is a media technology company providing live-action videos that are shaped by viewers. The company was co-founded in 2011 by Israeli musician and entrepreneur Yoni Bloch along with Tal Zubasky and Barak Feldman. The company has been funded by Sequoia Capital and MGM Holdings, amongst others.
In its March 9, 2020 Complaint, Quibi claims that following the debut of its new "Turnstyle" technology at the Consumer Electronics Show ("CES") on January 8, 2020, Eko "embarked on a campaign of threats and harassment to coerce money or a licensing deal from Quibi". Quibi's asserted evidence includes (i) a demand letter sent to Quibi by Eko's attorneys on January 28, 2020, alleging patent and trade secret misappropriation relating to the Turnstyle feature; (ii) a Notice of Complaint to Apple's App store on or about March 2, 2020; and (iii) Eko providing misinformation to reporters at the Wall Street Journal and other outlets.
Eko claims that its CEO, Yoni Bloch, initially met with Quibi founder, Mr. Katzenberg, about investing in Eko where he gave him a demo of Eko's horizontal-to-vertical video technology. A second demo allegedly occurred with Quibi employees. Three former Snap employees, who worked with Eko under non-disclosure agreements before moving to Quibi, are also cited for stealing trade secrets.
Eko's patent in dispute is US Patent No. 10,460,765 ('765 patent) titled "Systems and Methods for Adaptive and Responsive Video", which was granted on October 29, 2019. The patent claims a method wherein video playback in a user device is configured from one presentation mode to another based on a change in device properties.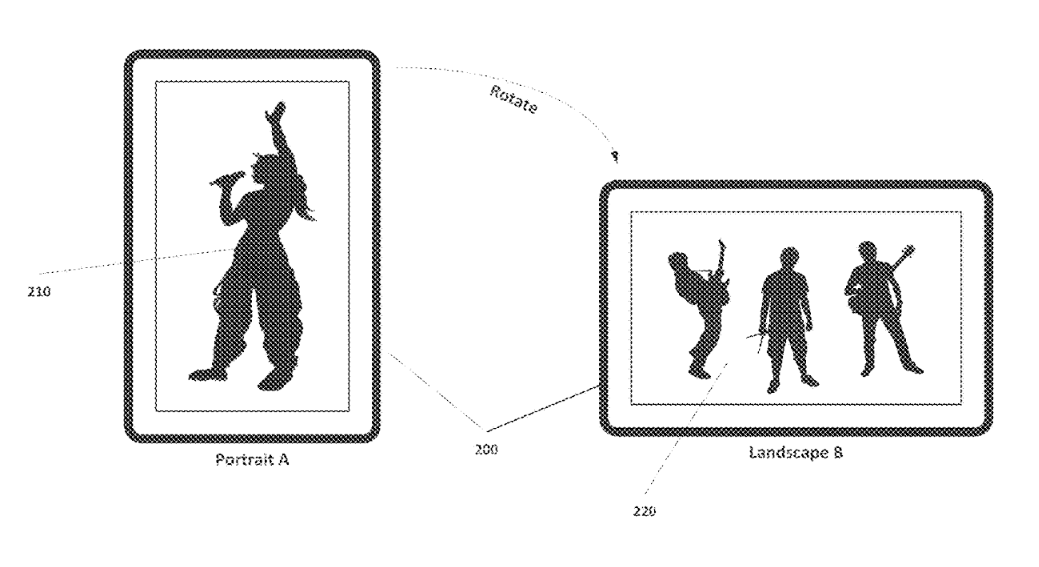 US Patent No. 10,460,765: The figure depicts a smartphone rotatable between a portrait mode A and landscape mode B resulting in a change in video and/or audio content to improve the user's media viewing experience.
Quibi claims its Turnstyle feature is supported by US Patent No. 10,554,926 ('926 patent) titled "Media Content Presentation", which was granted on February 4, 2020, and claims priority to a provisional application filed on March 11, 2019. The '926 patent lists five inventors, three of which were previously associated with Snap, Inc. The patent describes a method of presenting media content via a display using a plurality of video assets based on the aspect ratio of the display. According to Quibi, the device of their '926 patent receives a single stream of the landscape and portrait mode assets; whereas Eko's '765 patent requires a mapping of video presentations to media player window height/width ranges. Quibi further argues that users running the Quibi app can observe the transition from full-screen portrait to landscape-mode video in response to the rotating the device, and not in response to any "resizing" of a media player window, as described in the '765 patent.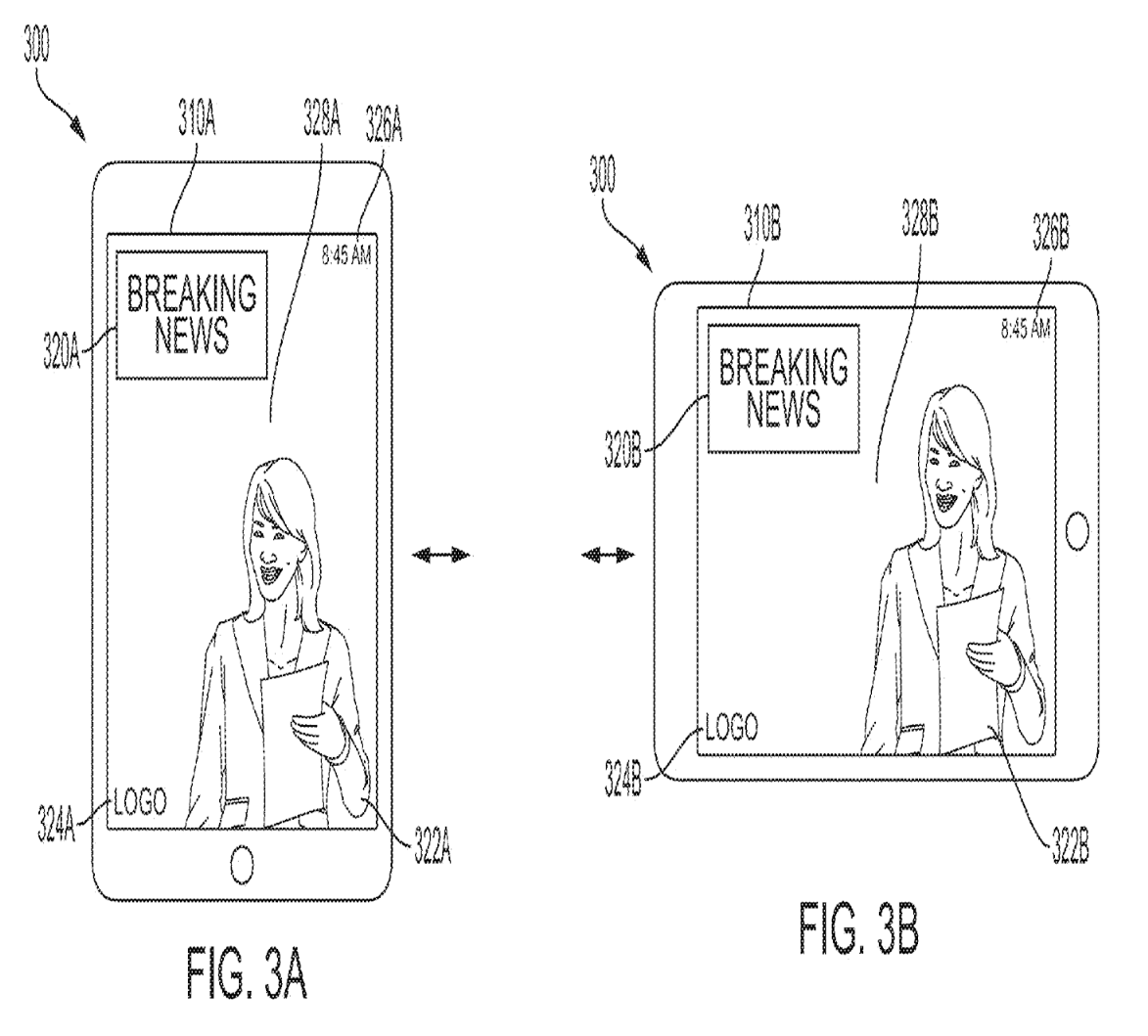 US Patent No. 10,554,926: FIG.3A and 3B show portrait and landscape modes of video content presented on a display from video/audio assets
The only published application assigned to Quibi Holdings at the time of the writing this article is the '926 patent depicted above. A quick look into Eko's patents reveals 42 worldwide records, 23 US patents and no prior history of litigation. The portfolio broadly relates to selective content distribution and editing. Interestingly, the '765 patent has a pending family member US Patent Application No. 16/559,082 filed on September 3, 2019.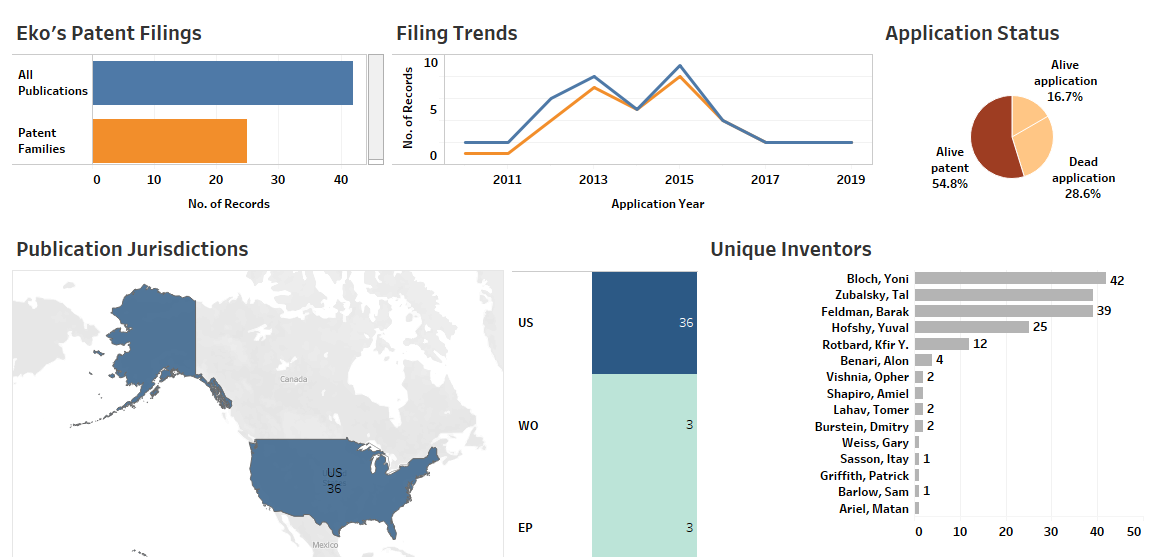 Eko's company dashboard: Interlude USA's patent filings and patent families (top left), filing trend (top centre), legal status of patents and applications (top right), publication countries/jurisdictions (bottom left) and Inventors (bottom right).
Quibi stated that it filed the lawsuit against Eko "to enjoin them from improperly tarnishing Quibi's brand". As of the time of this writing, Eko has not filed a suit of its own. Snap has not commented on the trade secret accusations on its ex-employees. It remains to be seen if these accusations related to Quibi's key Turnstyle feature will pose a challenge for the company moving forward.
Contact us for a custom entity analysis report covering patents and litigation events. To know more about MaxVal's validity/invalidity services please click here.