In this post, we take you through some of the recent patents from Apple, Google, Qualcomm, Amazon, Intel, Facebook, Merck, Medtronic, Novartis, Pfizer, and Roche.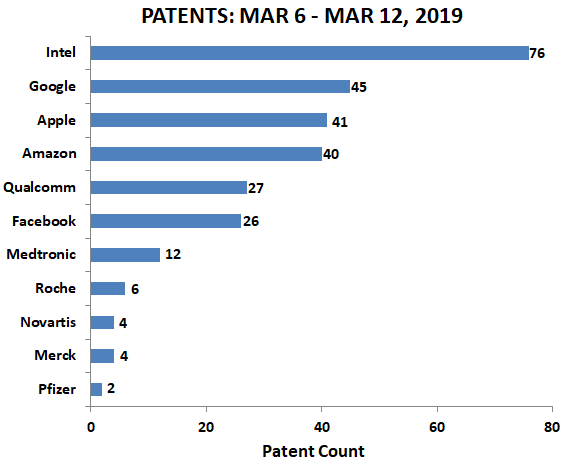 Apple wins patents for in-ear hearing device, handwriting keyboard, intelligent digital assistant and disk space manager
US Patent 10,228,846 titled "Handwriting Keyboard for Screens" relates to handwriting techniques on small touch sensitive surfaces. The technique describes a "rotatable input mechanism" for receiving user input based on which the user is provided with one or more suggestions for selection and display. Figures illustrate a user interface for handwriting on screens.

US Patent 10,231,044 titled "Portable Listening Device System" discloses ergonomic headset that addresses acoustic performance issues, provides intuitive user interface and integrates multiple components into the same surface area to form a compact structure. Figures show illustrations of the headset.
Qualcomm awarded patents in the area of wireless communications and video coding
Last week Qualcomm won a patent for sensor-based camera initialization. US patent 10,230,888 discloses an electronic device that includes an initializer for adjusting the camera settings prior to initialization of the camera wherein the settings are adjusted based on an indication of a motion sensor. A flow diagram illustrates the sensor-based camera initialization method.
The patent 10,230,783 titled "Telehealth Wireless Communication Hub Device and Service Platform System" relates to a communication hub for coupling medical devices to remote medical service and support providers by way of an intermediate server. The patented invention aims to harness and integrate the capability of medical systems using communication interfaces and protocols. The figure illustrates the overall system.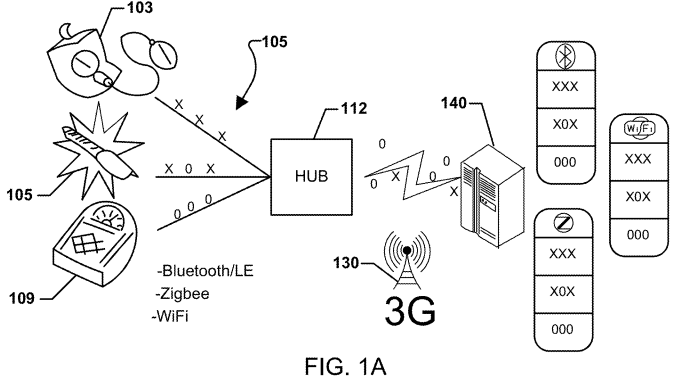 Facebook granted patents in AR/VR, advertising techniques, and social networking
US patent 10,230,904, discloses a 3D camera system that captures images and/or video across 360 degrees of a local area. The system uses peripheral cameras and axis cameras to capture image information which is sent to a processing server to generate 3D-360 degree content of the local area. The peripheral cameras are arranged in a ring configuration that allows objects in the local area past a threshold distance to be within the fields of view of at least two peripheral cameras. Facebook seeks to provide a seamless virtual reality experience with high quality captured images using this configuration of the cameras.
Intel patents systems for in-vehicle computation, computer vision, and head mounted display
Intel's patent 10,227,809 titled "Technologies for Vehicle Door Collision Avoidance" discloses a system to avoid the likelihood of a collision between a door of a vehicle and external structures. Essentially, the technology employs a door collision avoidance system to slow or restrict the opening of the door based on a proximity threshold. The system may also control the operation of the door based on a context of the vehicle. Figure below provides a snapshot of the functional modules used in the in-vehicle compute device.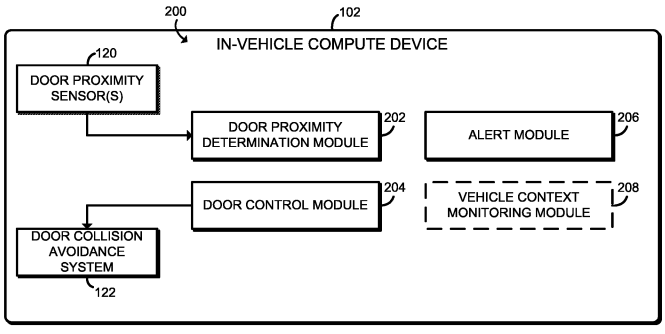 US patent 10,229,324 discloses a technique for video summarization using semantic information. An incoming video stream is segmented into a plurality of activity segments such that each frame is associated with an activity. A scoring mechanism calculates a score for each frame of activity and the activity segments are summarized based on the score for each frame.
US patent 10,230,719 entitled "Head Mounted Secure Display System" discloses a method for securely displaying video content using a pair of goggles with an integrated display. The goggles can automatically control the brightness of the display using ambient light sensors.
Amazon awarded patents in virtual data center monitoring, music rendering, and automatic device registration
US patent 10,228,901 discloses a gaming machine on which a user can run games locally (offline) while simultaneously rendering music on a cloud computing machine (online). This allows an entire composition to be stored remotely in track form, which can then be configured and mixed in real time in response to events occurring during the game. This exciting concept is illustrated below.
US Patent 10,231,030 titled "Customized Insertions into Digital Items" relates to a method of determining a location on the user's screen where an advertisement can be placed. The location may be determined based on the user's screen time and eye movements while the user is engaged with movies, music, eBooks, web pages, or computer games.
Google patents technologies in neural networks, communications and VR
Google's continued research in automated language translation is evident through its recent patent. 10,229,114 titled "Contextual Language Translation" discloses a method for improving translation accuracy by using previous translations to provide context for subsequent translations. This invention can be used while watching a movie which needs translation. An example of the contextual language translation is illustrated below.
US patent 10,229,196 entitled "Automatic Selection of Representative Media Clips" relates to a system that uses users interaction information on various media platforms to determine a portion of a song or a video that the user might be interested in. The figure below illustrates the patented idea.
Merck secures patents for semiconductor particles, electroluminescent materials, and antagonistic pharmaceutical compositions
Merck's US patent 10,227,331 relates to a novel metallo-β-lactamase inhibitor compound that aims to treat bacterial infection and overcome antibiotic resistance. The presence of a sulfur linker at the 6-position of the core ring as a sulfide, sulfoxide, or sulfone forms the basis of the novelty. This positioning results in improved enzyme potency and provides improved activity on difficult to penetrate Pseudomonas bacterial strains. The figure depicts the sulphur linker at the disclosed position.
Novartis receives patent for IOL insertion device
US Patent 10,226,328 discloses a device comprising a handpiece having a distal tip, a deployment chamber having an opening at a distal end of the handpiece, and a deployment system disposed within the handpiece. This novel intraocular lens (IOL) insertion device attempts to solve undesirable folding results and improper IOL positioning within the eye. Figure below shows an illustration of the IOL insertion apparatus that provides automated deployment of an IOL.
Pfizer awarded patents for capsular polysaccharide composition from S. agalactiae and immunogenic compositions
US patent 10,226,525 claims an immunogenic composition comprising polysaccharide-protein conjugates that comprises capsular polysaccharides from Streptococcus agalactiae for use in inducing immunity against group B Streptococcus (GBS). The method of making the polysaccharide-protein conjugation is also disclosed.
Roche receives patents on detergent-free DNA amplifying methods and the sequence of diagnostic antigens
One of Roche's recent US patents 10,228,370 presents a diagnostic antigen variant used for detecting Chagas disease. The variants are recombinant Trypanosoma cruzi JL7 antigens having a claimed sequence. The polypeptide sequences can also be used for the detection of antibodies against Trypanosoma cruzi.
Medtronic wins patents on Pace pulse detectors, delivery systems, and drug eluting stents
One of Medtronic's US patents 10,226,260 titled "Dynamic Locking Device" discloses a surgical instrument including a tool, a handpiece, and a locking member. Prior art methods involve two or more steps to couple a tool to a handpiece, and these can be cumbersome and time consuming during surgery. This issue is addressed by Medtronic in the easy-to-use tool illustrated in the figure below.
Another of Medtronic's assets, US 10,226,331 presents a heart valve assembly that includes an annular prosthesis and a valve prosthesis. This multi-component heart assembly addresses the issue of time involved in replacing defective heart valves during surgery due to the tedious sewing process involved. The assembly is illustrated in the figure below.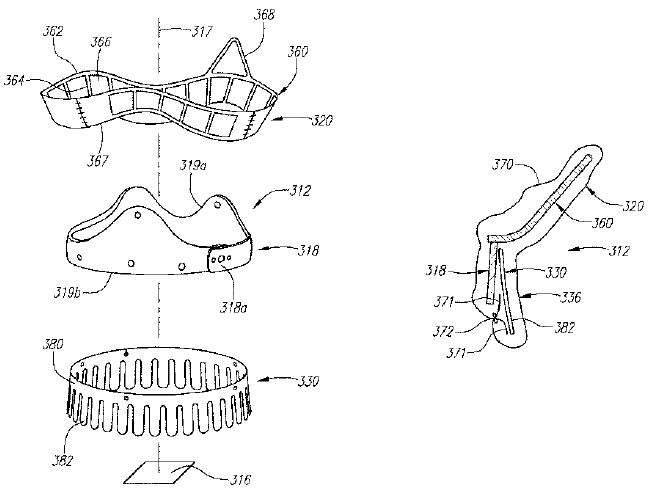 Did you like this piece of content? We would love to hear your thoughts! Leave a reply below to let us know which companies you would like to see us follow, and any other suggestions you might have. Be sure to subscribe to our blog to stay up to date with the latest information on patents, applications, and more.