Intel files patent application for remote steering of UAV.
Read about this and other recently published patent applications.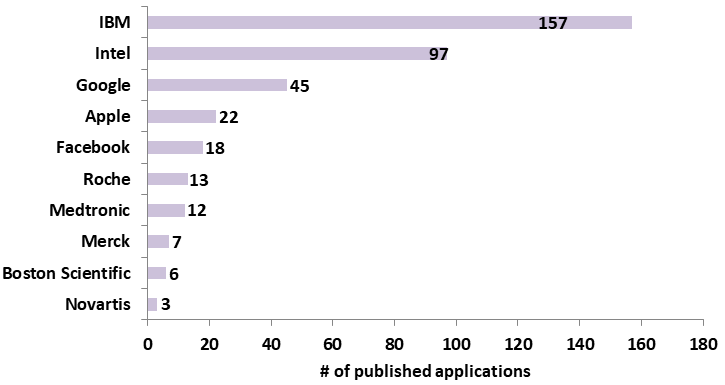 In this post, we take you through some of the recent patent applications from Facebook, Intel, Apple, Google, IBM, Medtronic, Boston Scientific, Roche, Novartis, and Merck.
Facebook seeks patent for auto-completion for gesture-input in assistant systems
US patent application 20190324527 discloses a method for receiving incomplete gestures performed by a user, determining intent corresponding to the incomplete gesture, and sending instructions for presenting suggested inputs corresponding to a predefined candidate gesture to the client system. Figure illustrates a suggested gesture-input in AR/VR setting.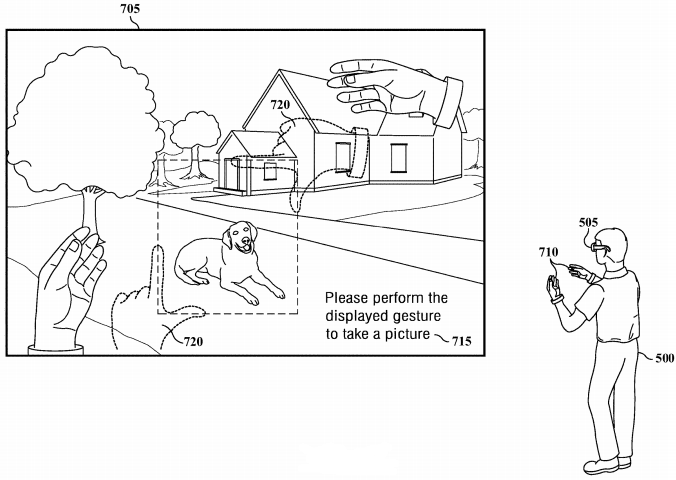 Intel files patent application for remote steering of UAV
US patent application 20190324448 discloses a UAV controlling device that receives a spherical image of a vicinity from a UAV, a display, motion sensors to sense a movement within a tracked space, processors to map the sensed movement and generate a control signal, and a transmitter to send the control signal to the UAV. Illustration depicts a UAV controlling device.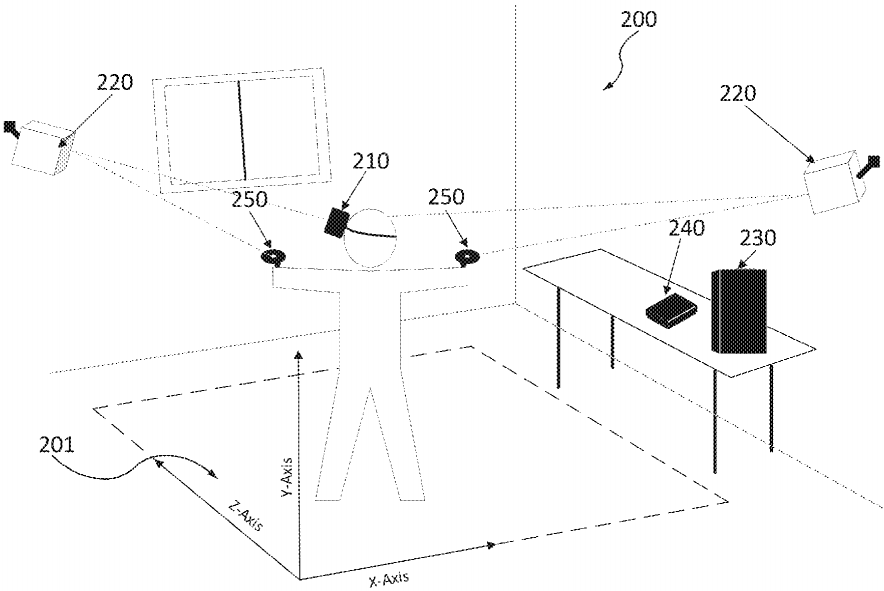 Apple files patent application for wrap-around display in mobile device
US patent application 20190324503 discloses a mobile device having a wrap-around display enclosed within a transparent enclosure for providing additional viewing area without increasing either the size or shape of the device as shown in the figure below.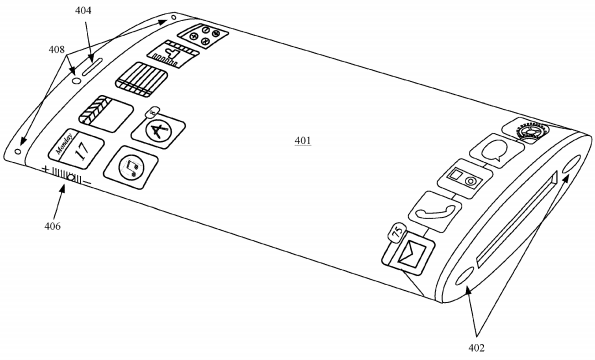 Google eyes patent for smart gamepad
US patent application 20190325116 a method for logging into a user gaming account may include connecting with a host game console and receiving a login code at a game controller from the host game console. The login code may be encrypted with a combination key and the encrypted login code may be sent to the host game console for providing user gaming account data to the host game console. A network configuration is illustrated below.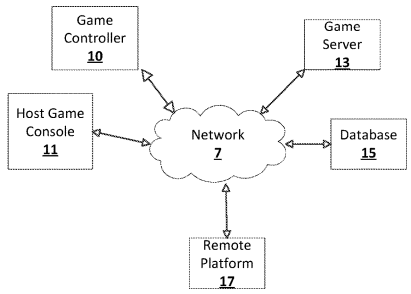 IBM wants patent related to blockchain gaming
US patent application 20190325700 discloses utilizing blockchain in a gaming environment by receiving contracts related to a game stored in a blockchain, initiating a game session of the game based on the contracts, and receiving information and actions related to a game player in the blockchain based on the initiated game session.
Medtronic files patents for peritoneal dialysate generation and position tracking assembly
US application 20190321536 describes a system for automatically generating dialysate from water so that patients will not get an infection due to bacteria or other pathogens present in fluid used for peritoneal dialysate. Figures below show the peritoneal dialysate generation cabinet.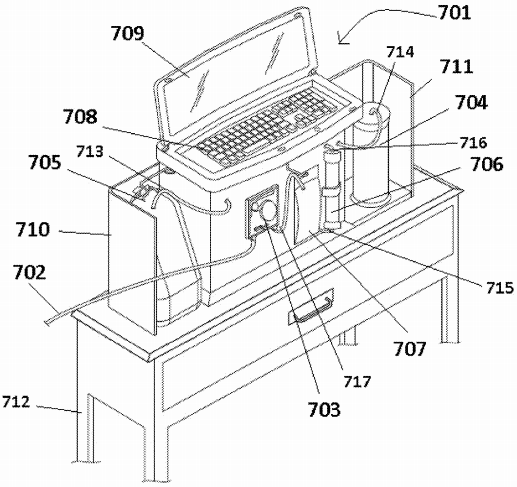 Another US application 20190321127 relates to a system for tracking the position of a subject by using an optical tracking system that has a line of sight from one or more cameras by connecting a tracking device on the scalp of the subject near the location of a surgical procedure. Figure below shows the tracking assembly.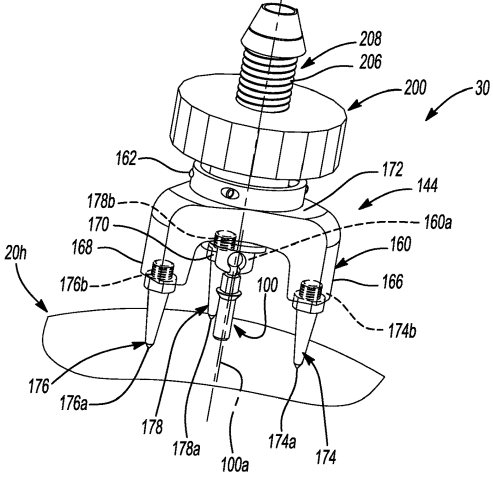 Boston Scientific aims to patent multi-fire stapling systems
US patent application 20190321035 presents self-reloading staplers which contain multi-fire staple housings and cartridges that are suitable for use in any form of medical stapling procedure. Figure below illustrates the multi-fire stapler head, showing the jaws in the open position and the staple driver in the pre-firing position.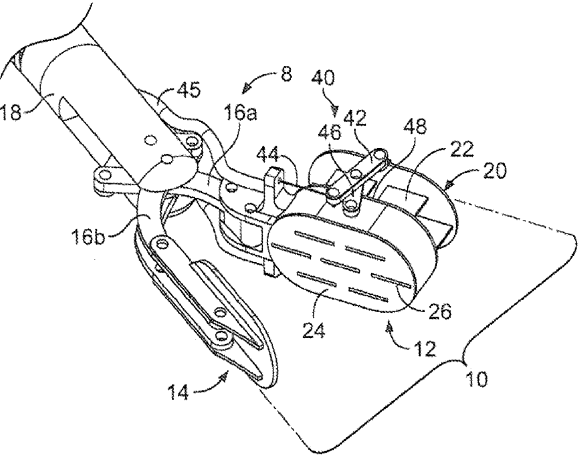 Roche seeks to patent a nanopore forming method
US patent application 20190323143 describes a method for making nanopores in thin layers or monolayers of transition metal dichalcogenides that enables accurate and controllable formation of pore within those thin layer(s) with sub-nanometer precision. The illustrations below show a) the disposition of the 2D transition metal dichalcogenide for the in situ formation of a nanopore, b) a flowchart illustration of the steps of nanopore formation.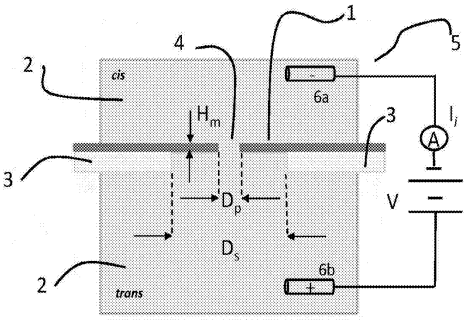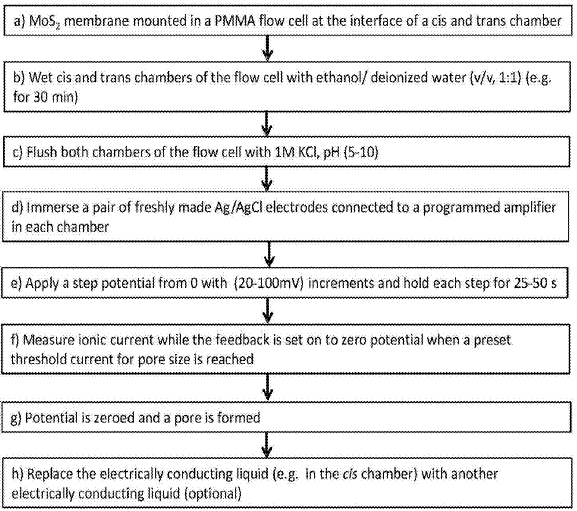 Novartis eyes patent on high speed pneumatic valve
US patent application 20190321224 presents a pneumatic valve designed to be utilized in a vitreoretinal surgical console which offers patient benefits enabled by faster repetition and high speed. Illustration below depicts the operation of a pneumatic valve.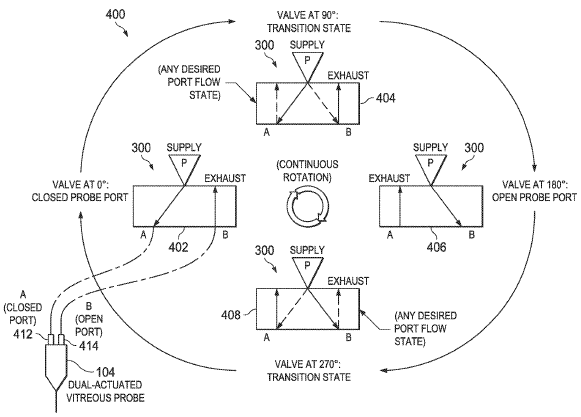 Merck wants to patent alpha-alumina flakes
US patent application 20190322871 reveals alumina flakes having a defined thickness and particle size distribution for use in varnishes, paints, automotive coatings printing inks, masterbatches, plastic and cosmetic formulations, and as substrates for effect pigments and organic dyes.