Apple pursues a patent for an earbud tip with in-ear position detection sensors. Read about this and other recently published patent applications.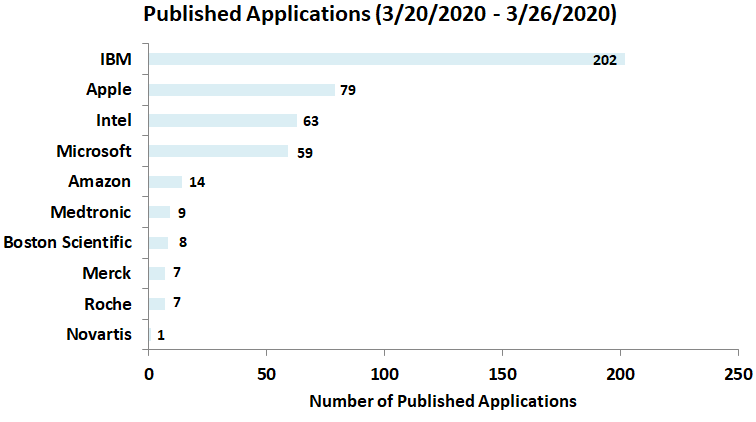 In this post, we introduce you to a few recent patent applications from Amazon, Intel, Apple, Microsoft, IBM, Boston Scientific, Medtronic, Roche, Merck, and Novartis.
Amazon Seeks a Patent for a Ring Wing Aerial Vehicle
US patent application 20200094961 discloses an aerial vehicle with propulsion mechanisms and a ring-shaped wing surrounding the propulsion mechanisms, which enable the aerial vehicle to operate in either a vertical takeoff and landing (VTOL) orientation, or a horizontal flight orientation. The figure illustrates an aerial vehicle with a substantially circular-shaped ring wing.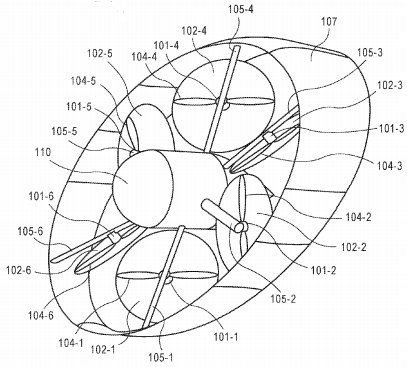 Intel Files a Patent Application for a Collaborative Multi-User Virtual Reality System
US patent application 20200097243 discloses a graphic apparatus for a collaborative multi-user virtual reality (VR) system. The graphics apparatus includes a collaboration engine that identifies a shared graphics component between two or more users in an environment, and shares the graphics components with the two or more users in the environment. The illustrations below depict examples of users in an AR/VR environment.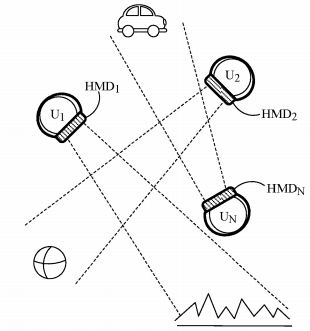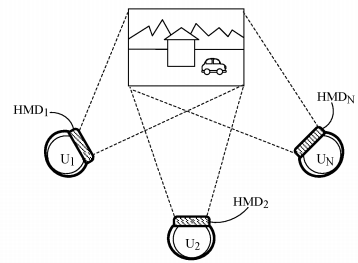 Apple Pursues a Patent for an Earbud Tip with In-Ear Position Detection Sensors
US patent application 20200100011 discusses an earbud tip configured to enable in-ear detection without triggering false detection. The earbud tip has ear presence sensors for detecting whether or not the earbud tips of the in-ear headphones are located near or in the ears of a user. The figure below illustrates a portion of an accessory including an earbud tip.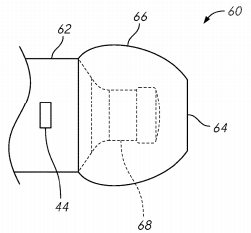 Microsoft Seeks a Patent for a Cryptocurrency System Using Body Activity Data
US patent application 20200097951 discloses a cryptocurrency system that communicates with a user device, that monitors the user's body activity. If the user's body activity satisfies conditions set by the cryptocurrency system then the user is awarded cryptocurrency. The figure below illustrates a flow diagram of the cryptocurrency system.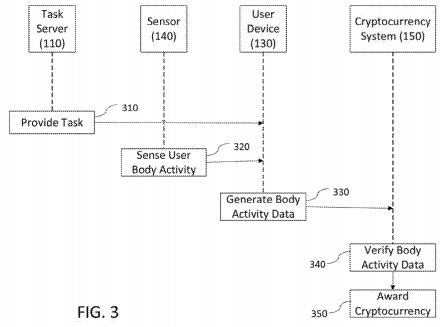 IBM Pursues a Patent for a Method of Performing and Intelligent Rewind Function When Playing Media Content
US patent application 20200099994 describes a rewind function method that includes identifying an occurrence of an event that is disruptive to a user during media content playback, and automatically reverting the media content to an earlier time in the timeline before the interruption had occurred. An example of the intelligent rewind function is illustrated below.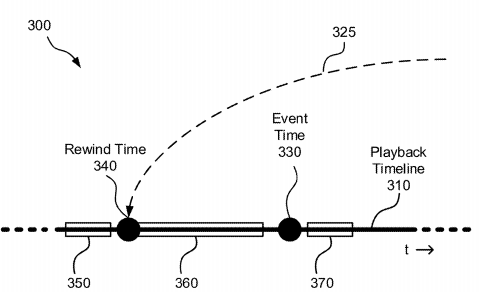 Boston Scientific Files Patent Applications for a Cryoballoon Deflation Assembly and a Ureteroscope System
US patent application 20200093531 relates to a deflation assembly for an intravascular catheter system for use during a cryoablation procedure. The deflation assembly includes an initiator that activates a vacuum pump to deflate a cryoballoon and an inhibitor to inactivate the initiator. The figure below depicts the deflation assembly.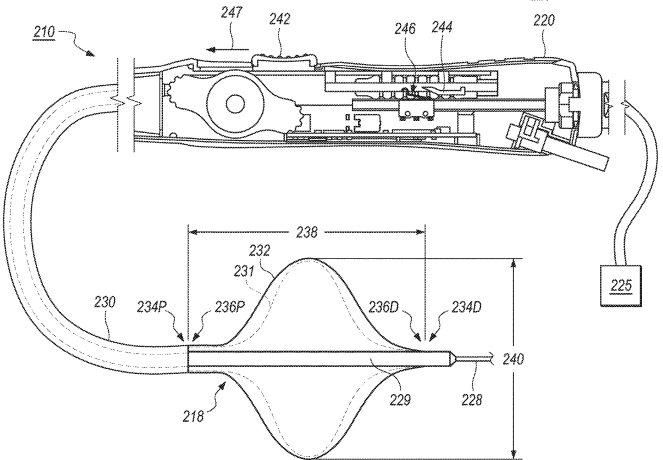 Another US application 20200093360 describes a ureteroscope system that breaks up debris within a target surgical site and vacuums the debris through a working channel via a vacuum pump fluidly connected to an elongated shaft. The figure below shows the ureteroscope system.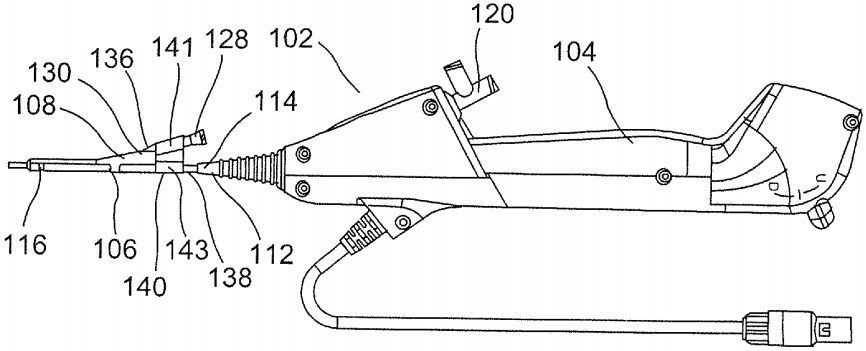 Medtronic Aims to Patent a Percutaneous Vasculature Access Device
US patent application 20200094025 reveals a vasculature access device comprising a needle, a dilator, an introducer sheath, a hub, and several manipulators in a single, integrated device. The vasculature access device is depicted below.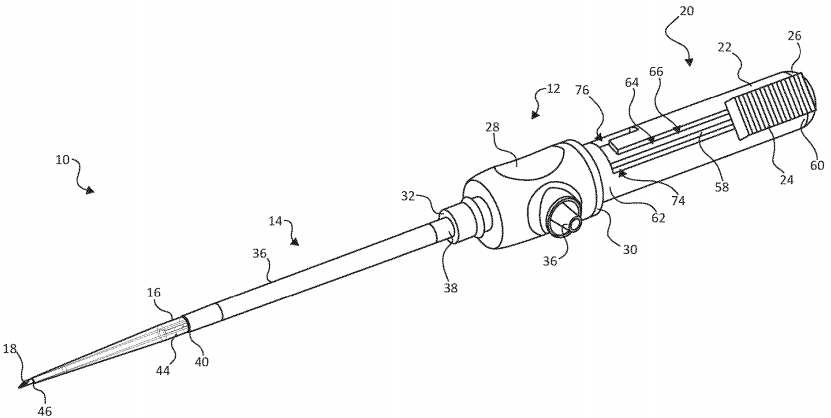 Roche Seeks to Patent Modified Fc-Receptor Binding Antibodies
US patent application 20200095310 presents the novel amino acid sequences of antibodies and Fc-region fusion polypeptides which are asymmetrically modified with respect to their human neonatal Fc receptors.
Merck Wants to Patent a Method of Treating Infections with Ceftolozane/Tazobactam
US patent application 20200093803 discloses a method of administering Ceftolozane and Tazobactam in a particular ratio to treat intra-abdominal infections or complicated urinary tract infections caused by hemodialysis related procedures.
Novartis Pursues a Patent on a Method of Treating Multiple Sclerosis
US patent application 20200093801 presents a method of treating multiple sclerosis, amyotrophic lateral sclerosis (ALS) or Alzheimer's disease by administering an effective amount of 4-(2-((1R,2R)-2-hydroxycyclohexylamino)benzothiazol-6-yloxy)-N-methylpico- linamide.