Usually in large companies, IP is managed by a senior IP counsel who runs a dedicated IP operations department. In your company, there may not be a dedicated in-house IP counsel. But, in every innovative business there is always someone whose job includes managing the company's IP. That person, the IP Manager, makes sure that the company's patent strategy is implemented, deadlines are met, forms are completed, and documents are submitted, etc. The IP Manager makes sure that the IP train runs on time, so to speak. They may not have IP in their title or have a law degree, but they are the go-to-person for all IP matters.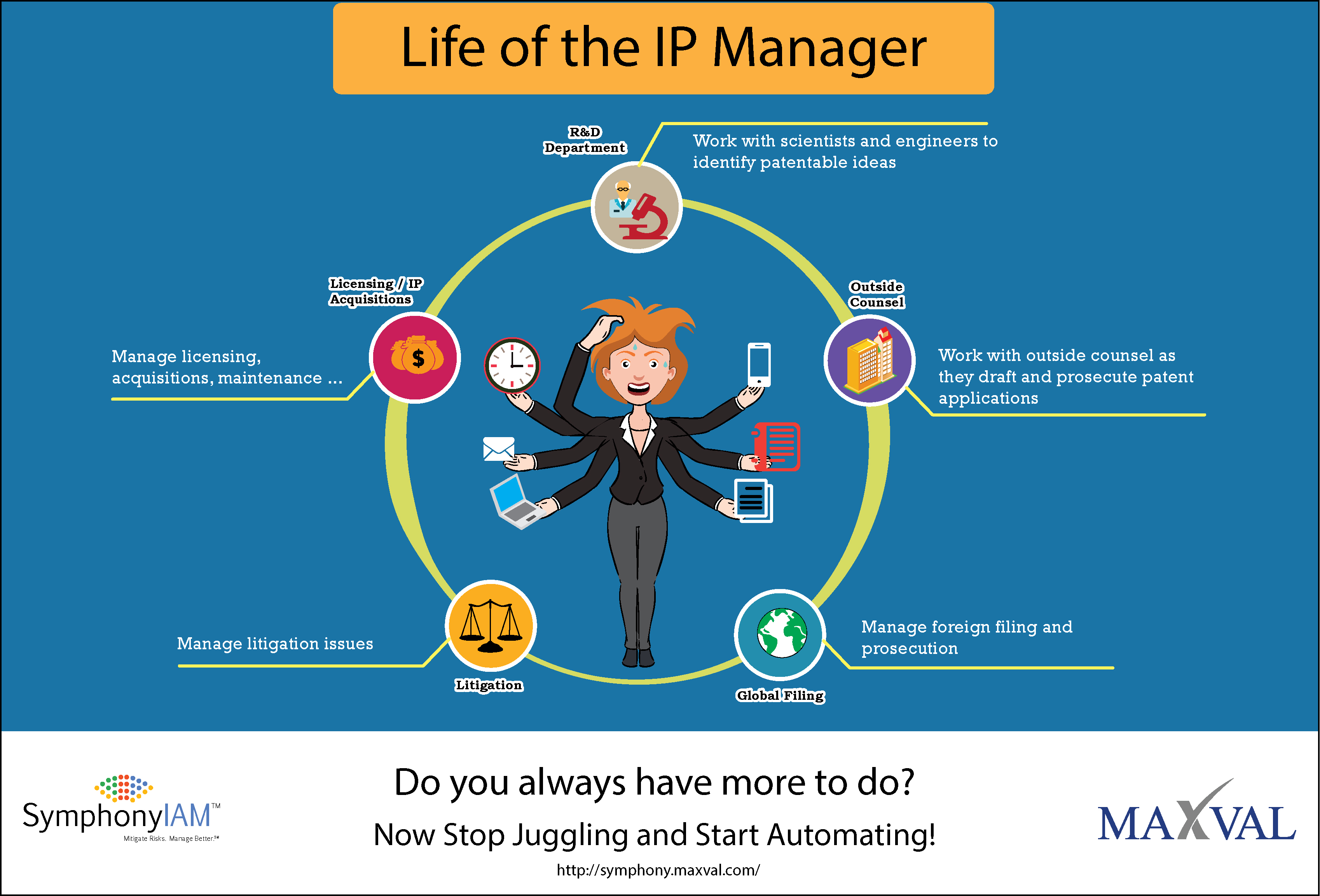 In a start-up, the IP responsibilities may start small, with just one or two patent applications to file. In the beginning, most of the work is done by outside counsel. But the job can quickly become challenging and time consuming as the company grows: more applications are filed and foreign filings become necessary.
For emerging technology companies, the IP Manager's responsibilities will eventually include:
Work with in-house scientists and engineers to identify patentable ideas.
Work with outside counsel as they draft patent applications.
Work with outside counsel as they prosecute the patent applications.
Decide when and where to file foreign applications. Europe? WIPO? China? Japan? Korea?
Make decisions about budgets, patent maintenance, licensing and IP acquisitions.
Decide when to take legal action if there's infringement on the company's IP.
Finally, as the resident IP expert, the IP Manager must help senior management decide on an IP strategy and keep them informed on how the strategy is being executed. Mistakes can expose the company to significant risk.
Are you that person? If so, congratulations! Whether you planned it or not, you provide a critical service to your company. To a large degree, your company's future prospects depend on you. As your company's patent portfolio grows, your responsibilities grow and the amount of time you must commit to managing your company's IP increases.
Automation has been a boon. Your company's sales and support organization depend on a Customer Relationship Management (CRM) system to keep track of customers and prospects. Your company's finance department uses automation to keep track of accounts receivable, payroll, and other expenses.
Similarly, you can benefit from using an Intellectual Asset Management (IAM) system to keep track of your company's IP. Such a system puts all IP related activities in one place so that you can access everything and manage everything through one interface. To see what we mean, please take a minute to look at the SymphonyIAM overview video:
See our blog post on how SymphonyIAM can make you a better IP Manager and visit our SymphonyIAM preview page for more information. MaxVal is dedicated to empowering IP professionals and IP Managers to mitigate risks and manage better.
MaxVal is now running an invitation-only trial of SymphonyIAM. If you would like to experience the prelaunch SymphonyIAM, please visit our SymphonyIAM preview page and sign up for a trial – https://symphony.maxval.com
We hope to hear from you soon.
Dr. Bommi Bommannan, CEO