Is my invention management solution rational?
As an IP Counsel, you already know from experience how crucial the invention disclosure is, as is having a scalable and future-ready Invention Management Solution (IMS) in place, because the destiny of a patent starts right from its conception.
You probably have a system in place, whether internally developed or a third-party application, to manage your invention disclosure cycle.
Gone are those days when the complete disclosure process was managed through emails, spreadsheets, Kanban boards and other methods. There are many good web-based applications out there that enable management of your entire disclosure process; even the complete IP lifecycle, right from your desk.
If you already have one, when was the last time you took stock of your current IMS to see if it is missing any essentials?
A complete invention management solution must at least meet all your early stage needs such as idea disclosure, reviews and approvals, inventor rewards, evaluating patentability and commercial viability.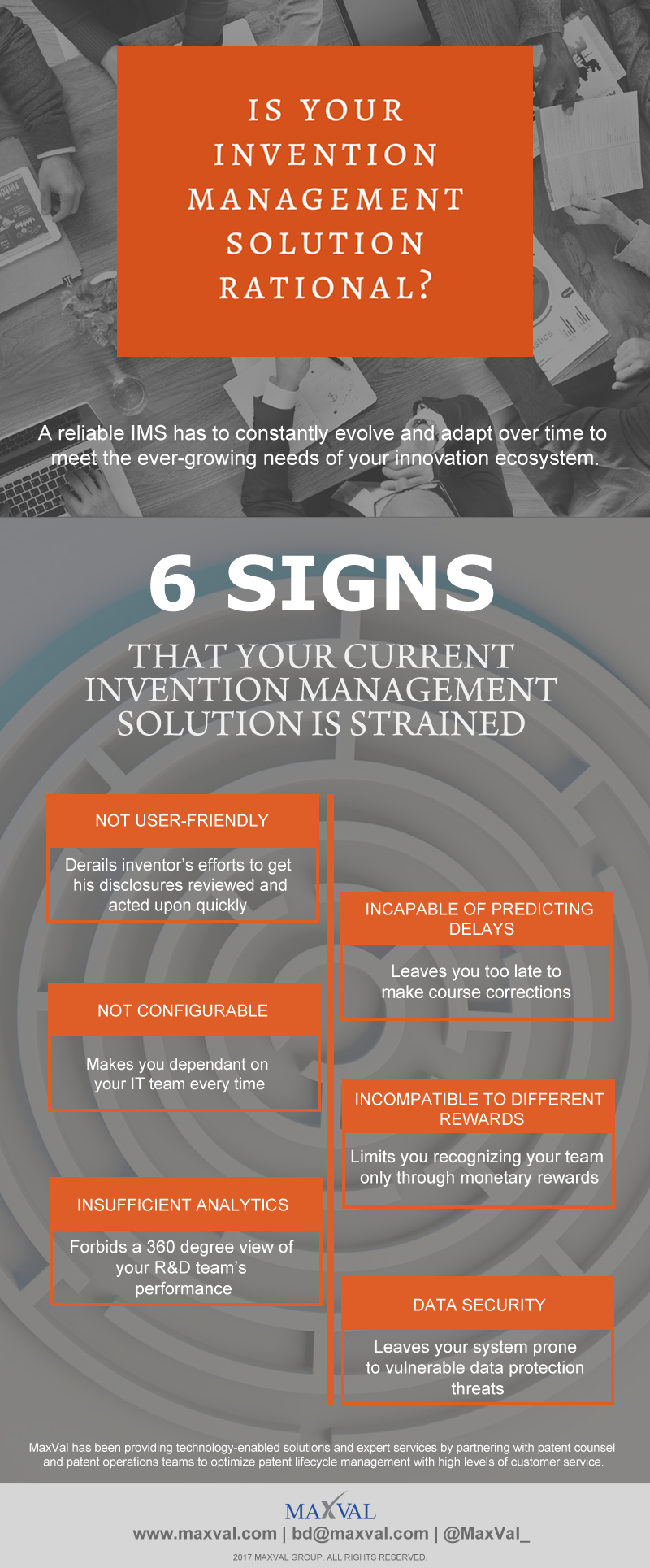 But, this is not all.
A reliable IMS has to constantly evolve and adapt over time to meet the ever-growing needs of your innovation ecosystem. Precisely, it should make the lives of your innovators easier.
Here are some signs that your IMS is possibly strained and not letting your team perform to its fullest potential.
Not user-friendly
Lack of user-friendliness is a common problem. Inventors may have to run back and forth to refine their ideas through repeated reviews, guidance and questioning. Like any business application, your invention management application should be user-friendly to serve your inventors with predefined workflows, well-designed templates and easy navigations.
A complex system might make your disclosure cycle longer and painful. It could derail an inventor's efforts to get her disclosures reviewed and acted upon quickly. Not only inventors, even most reviewers won't bother with an evaluation process that is either time consuming or difficult to navigate.
Incapable of predicting delays
Be it the inventor or anybody else involved in the review process, any delay in responding to queries is a serious concern, both for IP counsel and the company. That said, an IMS without an in-built mechanism, to schedule and notify deadlines may leave you too late to make course corrections. It ultimately leads to potential time and money loss.
Customizable, but not configurable
If your IMS is customizable, it may have to be configurable too. However, truly configurable products may be too expensive. Configurability means that certain key features could be enabled without specialized IT support.
A fully configurable solution may be required to meet your expectations in every stage of the invention management cycle right from setting up disclosure forms and review metrics and from approvals to filing applications to the PTO.
To cope with the increasing demand of IP teams, some companies also offer after-market customization support.
Incompatible with different types of rewards
Does your current system allow different types of rewards?
Incentives are one of the top motivators to boost your team's morale and productivity. Usually companies reward their innovators monetarily, across various stages like submitting the initial disclosure, filing of the patent application, grant of patent, and so on. However, non-monetary rewards may also be powerful motivators.
Given human complexity, your team may prefer personal and social rewards as well apart from the monetary rewards. Even monetary rewards come in different categories including stocks and cash bonus.
Insufficient analytics
"Invention management without analytics is a boat without a compass."
A study conducted across 43 German companies suggested that a very small group of key inventors was responsible for the major part of the company's technological performance, and thus for the company's competitiveness. Another interesting study by Thursby and Thursby conducted in the U.S. universities reports similar highly skewed distributions for disclosures. Of the 3,342 faculty in their study, 64.2% never disclosed an invention; 14.8% disclosed in only one year, and 7.6% disclosed in only two years.
In a nutshell, these reports suggest that the performance of an R&D team should be evaluated in a 360 degree approach beyond the regular metrics of a typical disclosure process.
Every company wants to see how their IP team performs, if they are aligned with your IP strategy and give the expected ROI. A well-thought-out IMS will have analytics that will eventually help you address current strategic needs and take data-informed decisions.
If you are still relying on some alternative methods alongside human calculations to get insights into your invention management process, that might lead to some serious human errors and wrong inferences.
Data Security
Having your IP related data accessible by multiple hands and managing it is no less than a security nightmare. The moment your system is open to the world, it is prone to many data protection threats from hackers to worms to Trojans.
While SSL is a time-tested method of protection over the internet at present, it also requires high level of expertise to configure it properly. An improper configuration may give limitless chances for potential data security threats. Recent application level attacks and hacks have proven the vulnerability of cloud applications to such malicious programs.
Check if you current IM solution is compatible with security upgrades and most importantly, if it is built on a secure enough platform.
What should you do right away? Invest some time on reviewing your IM solution to see if it has adequate features to serve your current and future invention management needs.
What are the most pressing problems that you face with you current invention management process? Please feel free to share it in your comments.