In this short blog post, we cover what is next in CAR-T cell therapy.
Immunotherapy is a mainstay in cancer treatment along with surgery, chemotherapy and radiation therapy. One promising approach is the use of adoptive cell transfer (ACT) utilizing T cells genetically engineered ex vivo to express either a T cell receptor (TCR) or chimeric antigen receptor (CAR), or Tumor-infiltrating lymphocytes (TILs) to target tumor antigens. Multiple tumor antigens are under investigation but the most advanced CAR-T therapies are those targeting the B-cell proteins CD19 for hematological malignancies.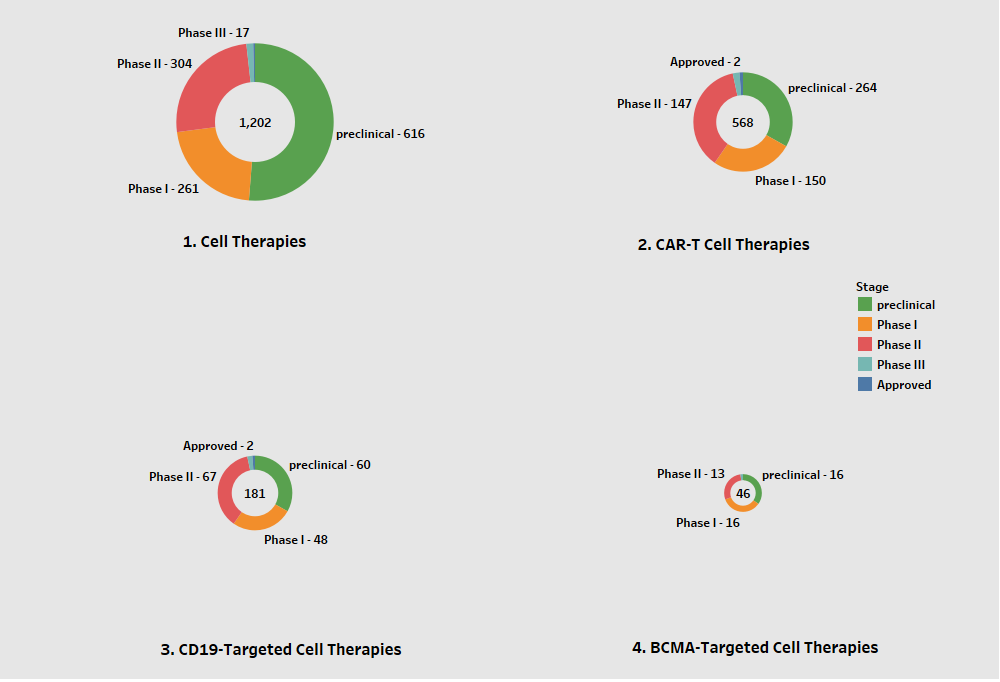 FIG.1 : Cell Therapy Pipeline
CAR-T cell therapy pipeline has grown rapidly to 568 active agents of which 130 target CD19 (FIG. 1; Data Source: Cancer Research Institute). CD19-targeted therapies include the two approved gene therapies, tisagenlecleucel and axicabtagene ciloleucel. The response rates for patients on anti-CD19 CAR-T therapy has been 50-90% in certain clinical trials. The response success has propelled companies to go after better design, better manufacturing methods, different targets and broader disease indications. Several other targets including BCMA, HER2, GD2, CD22, CD20, CD30, CD33, mesothelin and NY-ESO-1 are now being investigated.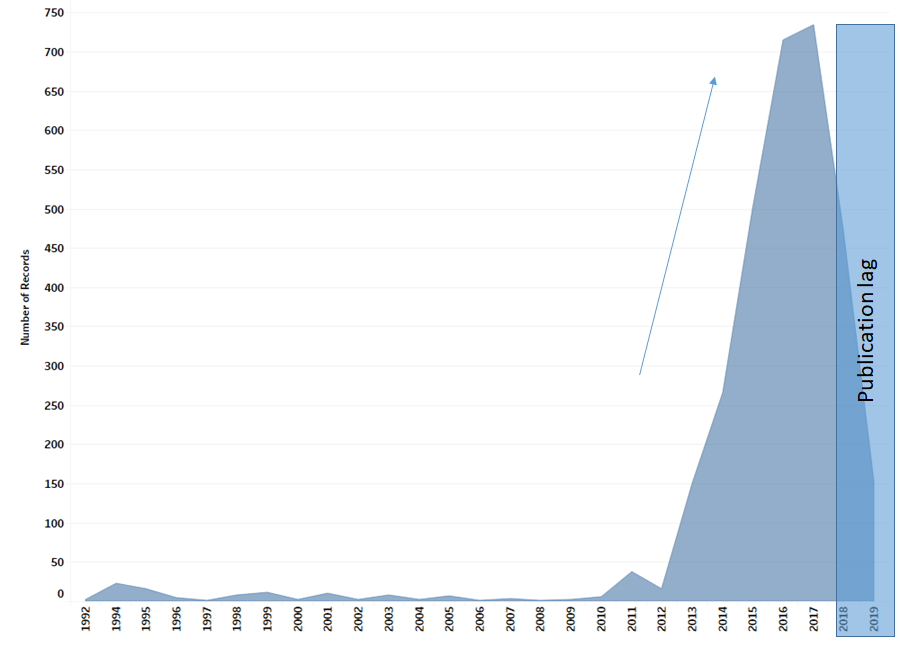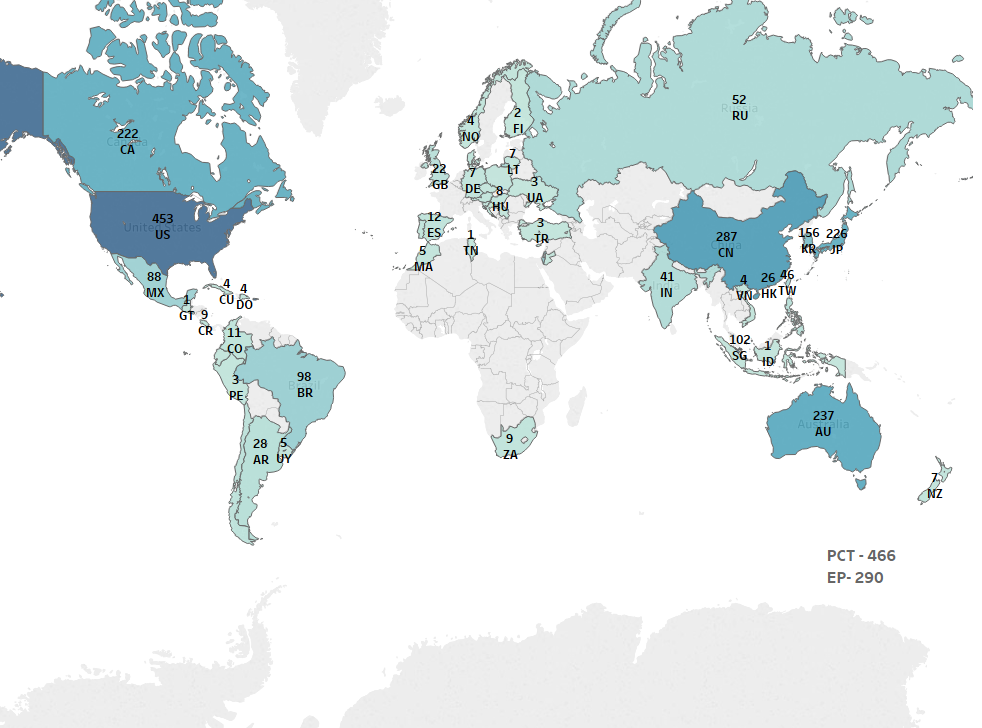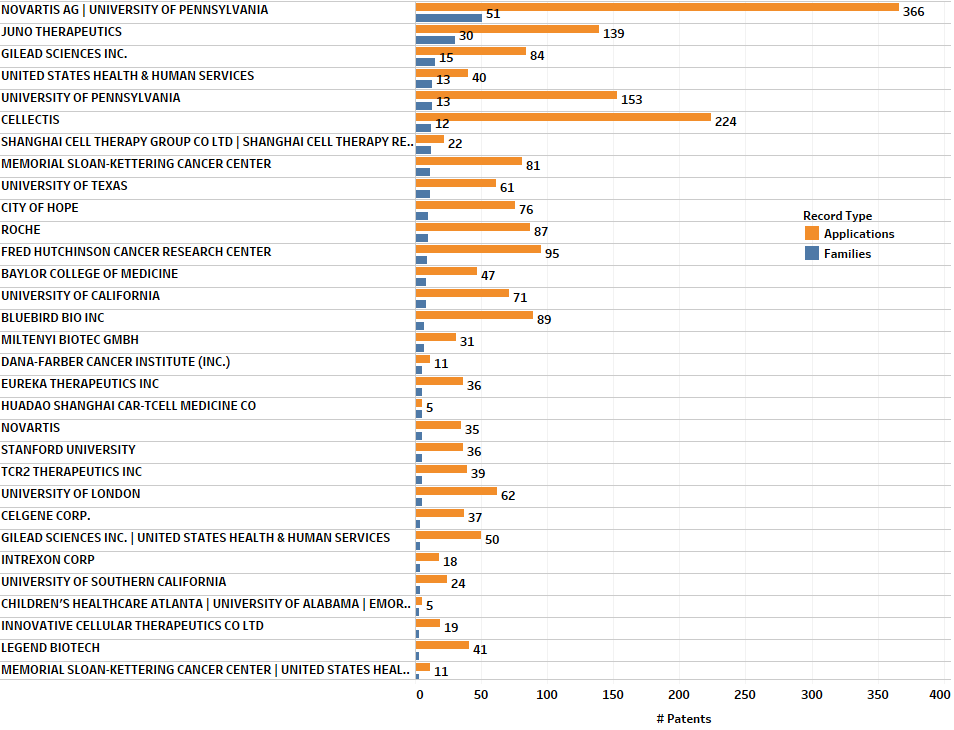 FIG. 2: Patent filing trend (top left), publication countries (top right) and top patent filers (bottom)
There was a steep increase in patent filings which peaked in 2016-2017. US, EP, China, Australia, Japan and Canada are the top markets. The top 3 patent filers are Novartis/University of Pennsylvania, Juno therapeutics and Gilead Sciences. Other notable patent filers include Roche, Celgene (recently acquired by Bristol-Myers-Squibb), Cellectis, NIH, Memorial Sloan-Kettering Cancer Center, Fred Hutchinson Cancer Research Center, City of Hope, University of Texas, University of California, University of London, Shanghai Cell therapy group, Bluebird Bio, Miltenyi Biotec, TCR2 therapeutics, Legend Biotech, and Eureka Therapeutics.
We examine a few drug candidates covered in the CD19 CAR-T patent landscape below.
Tisagenlecleucel
KYMRIAH, tisagenlecleucel (CTL019), is a US FDA approved treatment for relapsed or refractory B-cell acute lymphoblastic leukemia (ALL) in children. The FDA label was later expanded for use in relapsed or refractory diffuse large B-cell lymphoma in adults. The drug was approved for use in the EU in 2018 and Japan in 2019. Tisagenlecleucel was initially developed by Carl June's group at the University of Pennsylvania and licensed to Novartis in 2012 for further development and commercialization. Interestingly, there was an earlier license settlement related to the material transfer between UPenn and St. Jude which was settled finally by Novartis and Juno Therapeutics (representing St. Jude). The drug is a personalized cell therapy delivered to the patient by infusion. A course of treatment of the drug in pediatric patients costs 475,000 USD.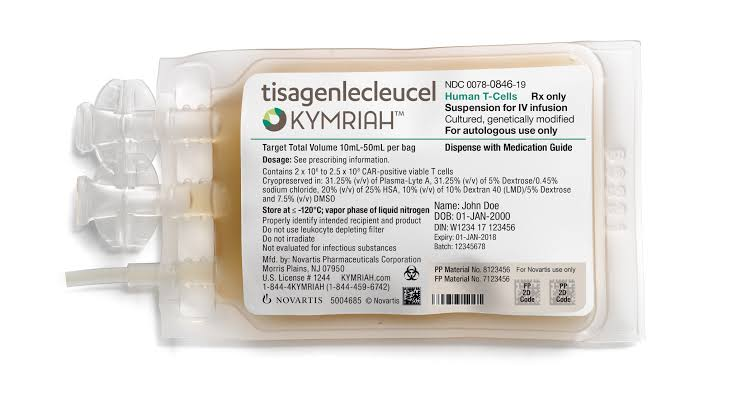 Axicabtagene Ciloleucel
YESCARTA (axi-cel) was initially developed at the Surgery Branch in NCI's Center for Cancer Research, licensed to Kite Pharma and later acquired by Gilead. It is a US FDA approved treatment for relapsed or refractory large B-cell lymphoma in adults. The drug is a personalized autologous T cell therapy delivered to the patient by infusion. A course of treatment of the drug costs 373,000 USD.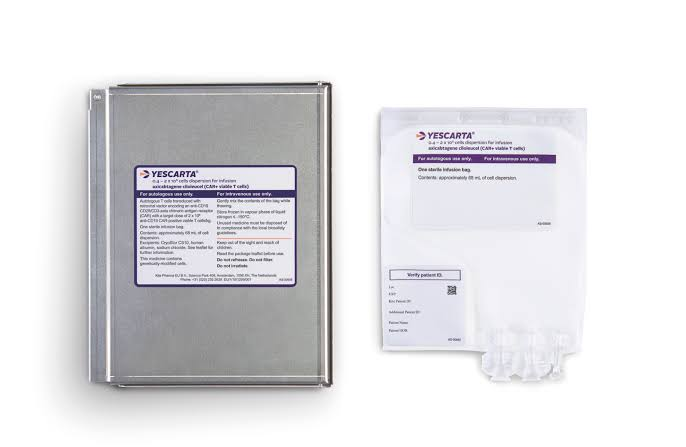 Lisocabtagene Maraleucel
Liso-cel (JCAR017) is an advanced candidate from Celgene that might see an approval in the near future. The lead candidate is derived from Juno Therapeutics's CD19 pipeline which in turn was derived from Juno's relationship with Memorial Sloan Kettering Cancer Center (MSKCC), Fred Hutchinson Cancer Research Center (FHCRC) and Seattle Children's Hospital. Liso-cell is projecting to be the best in class anti-CD19 therapy based on intermediate results from clinical trials. The cost associated with the therapy is expected to be ~ 250,000 USD.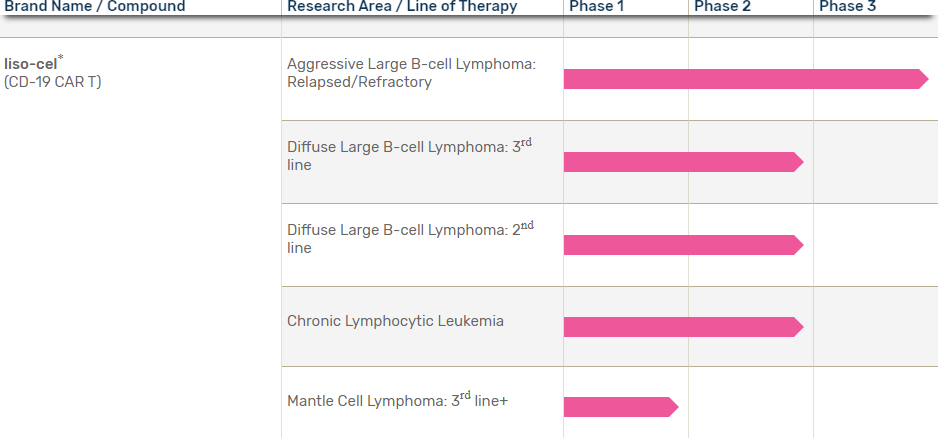 Several off-the-shelf CD19-targeted CAR T-cell products are in development. These use stem cells collected from healthy donors rather than autologous T cells ensuring that the therapy is readily available for use. Other advancements such as different gene editing techniques including CRISPR, use of nanotechnology, novel receptors, CAR-T cells with "off switches" are also being tested. Several companies are also working on advancement of local cell production technologies. Examples include Miltenyi Biotec's CliniMACS Prodigy, Lonza's Cocoon and Berkeley Lights's Beacon.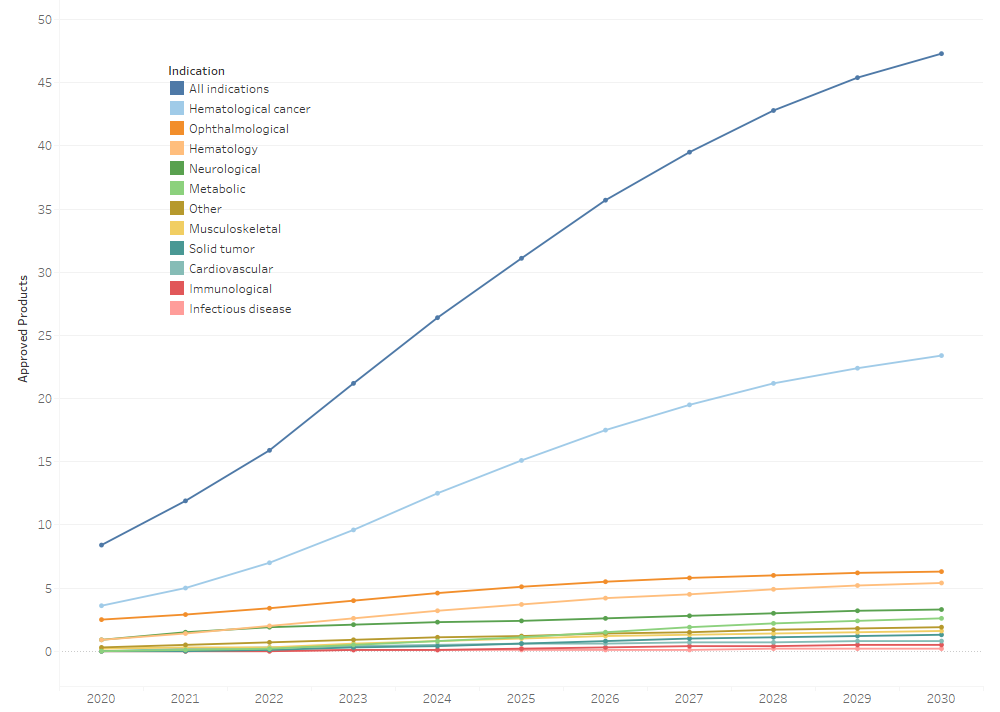 FIG. 3: Projection of Cell and Gene Therapy Approvals (2020-2030)
The cell and gene therapy approvals is expected to take off in the next few years with continued focus on hematological malignancies (FIG. 2; Data Source: Casey et al, Value in Health, Volume 22, Issue 6, 621 – 626; 2019). It is expected that by 2030 at least 47 cell and gene therapy products will be in the market.
Some of the market challenges faced by the companies with CAR-T cell therapies include the low addressable patient population in rare cancers, high pricing, adverse events and side-effects, the long wait time for leukapheresis, competitiveness against standard therapies, lack of evidence for efficacy in other cancers such as solid cancers, and for virus-free and allogeneic CAR-T therapies.
The premium pricing for these therapies is due to developmental costs for rare diseases and the added complexity of handling and custom manufacturing needed for autologous T cells. The high pricing also indicates the nascency of the technology. As cell therapy development and manufacturing technology matures we can expect the pricing to come down significantly.
Stay tuned for more insights from our landscape covering the autologous, off-the-shelf and novel treatment approaches and advancements in CAR-T cell therapies.