Patent committees must weigh in multiple factors before making portfolio decisions. In order to succeed in this difficult task, they need to gather and analyze patent information and trends to ensure that their patent investments align with the company's current and future goals, competitor activity, technology trends, and exposure to litigation risk. The first part of our series on portfolio analysis covered abandonment and filing trends and how this data can help with pruning one's patent portfolio. In this post, we provide additional strategies and practical tips for patent-enabled competitive intelligence and benchmarking.
Patent-Enabled Competitive Intelligence
Competitive intelligence is a broad-term that refers to the act of defining, gathering, analyzing, and distributing intelligence to support strategic business decisions. Patents are one of the best sources for competitive intelligence. An immense amount of information can be gleaned through patent analysis, such as predictive insights on a competitor's strategy and priorities. Patent data can also be used to understand and track emerging technologies, existing networks (suppliers/clients/R&D partners) and reveal hidden opportunities. Benchmarking refers, in general, to a specific process of measuring the performance of a company's products and services against those of relevant competitors. Patent benchmarking refers to use of the patented technologies to identify internal opportunities for significant improvements for the business units (and IP departments).
MaxVal's competitive intelligence services include patent landscaping, portfolio evaluation and periodic alerts on specific technologies/industries/IP owners/inventors. They can also serve as an effective starting point for licensing and cross-licensing efforts. Some of the questions that can be answered by our reports include:
Are we filing patents that align with our business goals?
Are we spending more/less money than our competitors?
What is the ROI on our existing patents?
Are we covered sufficiently by our patents?
What are the competitive threats to watch out for? How do we track them?
What is the litigation risk?
Here are some ways to get the best out of your competitive intelligence projects.
Get Stakeholders to Agree on Project Objectives
It is important for the stakeholders to reach a consensus on the objectives before beginning a project of this magnitude. Different stakeholders might have different perspectives on the project scope. For example, the business head may be concerned with losing market share to competitors or potential disruption from startups. The CFO may be more worried about litigation risk and ROI on patents. Subject matter experts may need a granular assessment of the technologies to help shape their production roadmap.
It is also important to agree on the additional inputs that are needed to provide the desired analytics. MaxVal is an end-to-end IP solutions provider. As a result we can seamlessly integrate additional inputs into our competitive intelligence reports, such as details of your invention disclosures, unpublished and pending patent applications, outside counsel details, renewal dates, etc on request. A report tailored to your needs can greatly help with decision-making.
Check Your Data Sources
Patent data has become widely accessible today and there are an abundance of solutions offering patent information and insights. Clean patent data might seem like relatively basic information, but there are many insights that can be extracted from patent information particularly when combining it with other analyses, such as financial data, licensing deals, assignments, corporate trees, litigation information.
We rely on a combination of in-house and external data sources that are methodically filtered and combined for the best outcome. For example, we often utilize our proprietary litigation databank to derive insights related to potential threats from competitors and non-practicing entities (NPEs).
Use the Right Tools
Even the best tools are insufficient, without experts analyzing the complex patent information and presenting that information in a way that allows stakeholders to make informed business decisions. Artificial intelligence and automated solutions, for all their promise, still tend to provide answers that are too broad and suffer from a lack of precision. They also lack the ability to filter out noise in the data without human intervention. In our experience, tuning on some data can tell you precisely what you need to know. Lastly, such tools do not consider strategic and contextual factors that go into important business decisions.
MaxVal's expertise can save patent departments the time and expense of tasking in-house personnel to sift through the data to verify its usefulness. Further, we can add additional metrics as needed to derive actionable insights. We customize the right tools for searching, denoising, analyzing and reporting based on the desired outcome.
Build a Custom Taxonomy as a Prerequisite for Actionable Intelligence
A custom taxonomy allows a company to view the scope and breadth of their patent portfolio and those of their competitors from various aspects such as products, technology areas, industry classification, internal business unit grouping, end-market solutions, risk factors, etc. Our team of technology experts, business analysts and patent attorneys/agents are well positioned to assist you in arriving at a broad or more granular taxonomy that includes categorization of your (and your competitors') patents to the taxonomy with high degree of accuracy.
Identify High-Value Patents
Some workflows involve a quick assessment of the value of the relevant patent portfolio. We use automated and manual techniques to score patents and portfolios based on a variety of metrics including technology strength, geographical strength, product/technology/market segmentation, claim scope, detectability, prosecution history, litigation threat, standards, licensing, etc. MaxVal can help you identify your most valuable patent assets.
Build Your Dashboards and Reports Based on the Desired End-Result
The end objective should always define the types of analyses required for each competitive intelligence project. Irrespective of the type of project, it is crucial to provide at least two perspectives: 1) a bird's eye view of the patent landscape of the company and competitors across various technology areas; and (2) a drill down into specific areas to investigate trends, identify gaps/opportunities and enable decision-making. Our custom dashboards can help you visualize these perspectives.
To illustrate the utility of technology dashboards, let us look at a specific technology area. The Artificial Intelligence (AI) chip landscape is not limited to traditional semiconductor companies (IC Vendors and IP Design). Rather, it has recently seen the entry of several non-traditional chipmakers, such as technology giants and global startups. The screenshot below depicts one such bird's eye view of a company's portfolio in the context of the AI chip landscape. The pie-chart displays the number of relevant patents/families owned by the target company in each technology area. The bar chart at the bottom left shows the number of pending applications (and optionally unpublished applications). This dashboard provides visibility into the company's pipeline and that of its diverse competitors for the specific technology area which can ultimately be used to make strategic decisions regarding patent filings, prosecution and/or abandonment. The year filters on the bottom right allow patent committees/professionals to investigate filing trends and the portfolio maturity for insight into the company's goals and technology life cycle. The patents may be further scored (e.g. high/medium/low) for identifying core patents and pruning candidates within each technology area.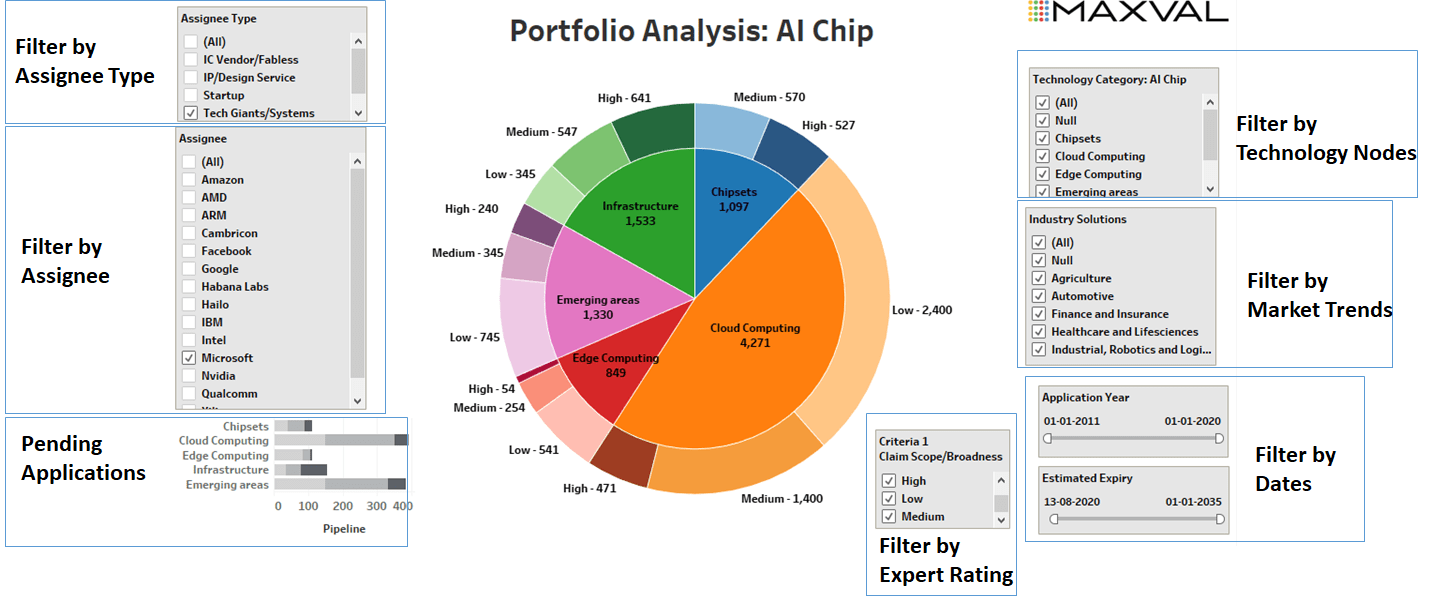 Screenshot of a sample dashboard: bird's eye view of patent portfolio
Our reports also incorporate business information, such as a company's R&D investment, market capitalization, or licensing revenue for providing context. Investigating the evolution of patent portfolios across multiple categories allows the patent committees to benchmark their portfolio, determine areas of strength and weakness with ease, then take action and monitor outcomes.
Commit to Data-Driven Decision Making
Competitive intelligence requires on-going efforts for the best outcome. Consult with your stakeholders on the final report and consider commissioning further studies, such as technology scouting reports for your R&D team, prosecution/litigation alerts for monitoring high-risk patents/owners and yearly updates to the taxonomy and benchmarking data.
Contact us to receive a copy of our whitepaper and know more about our competitive intelligence solutions.