MaxVal has just released the PTA Wizard – a powerful do-it-yourself tool for verifying the patent term adjustment calculations of the US patent and trademark office.
The USPTO extends the normal term of a patent with a patent term adjustment that is based on delays in prosecution. The calculation is complicated and is supported by data that resides in the USPTO PAIR system. The PTA Wizard allows users to view all the data and see how it has been used to compute the PTA. Users can make changes to the data to see the impact of missing data or mistakes that may have been made on the PTA.
How the PTA Wizard works
After logging in, users have to enter the patent number. The PTA Wizard then imports the relevant information from the USPTO PAIR system. Clicking "Import PTA Data" retrieves all the current PTA-related data from PAIR, which is saved in the database of the PTA Wizard. Your work is listed on the home screen allowing you to save your work and resume your analysis at any time.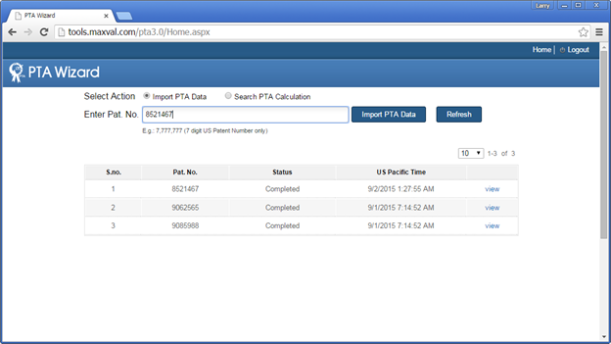 Once the data is loaded, the PTA Wizard shows the PTA calculation of the PTO, and a new PTA is calculated based on the updated contents of the PAIR file. Users can access the application data, the PTO calculation details, and the updated calculation using tabs. These tabs are laid out in a manner that is similar to the PAIR record layout.
To see the details behind the PTA value, users can check each type of delay. The "A Delay" activities are shown below. The delays are color coded and linked. Yellow activities are those entered by the USPTO, orange by the applicant, and red activities denote an RCE (Request for Continued Examination).
Users can add new activities or edit existing activities. Users can change the delay value directly, or change the activity date or start/stop value. The PTA Wizard will then automatically calculate a new delay value based on the new activity date or start/stop value.
When you are done analyzing and editing the delay data, you can click "Export to Excel". A summary of the PTA calculation is shown in the "Extension" tab. All the activity details are shown in the "IFW" tab.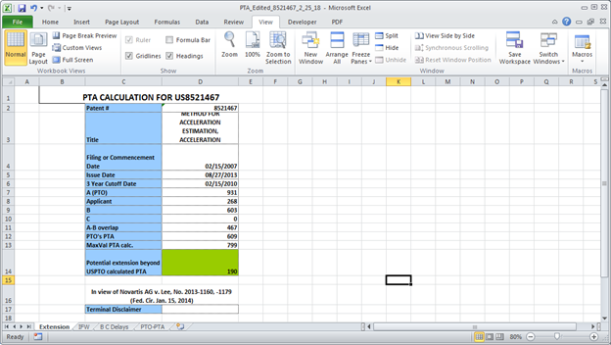 If you wish to petition for a change to the PTA, you can use this information in your petition.
PTA Service
MaxVal offers a Patent Term Adjustment Calculation Service where an expert staff member at MaxVal goes directly into PAIR to recompute and verify whether the PTA calculation of the PTO is correct. With the PTA Wizard, users themselves can easily verify the computations. By this, users gain insight into the underlying data and are able to reduce costs.
If correct patent term adjustments are important to your business, you should try the PTA Wizard.
See a video demonstration of the PTA Wizard
Contact [email protected] for more information.