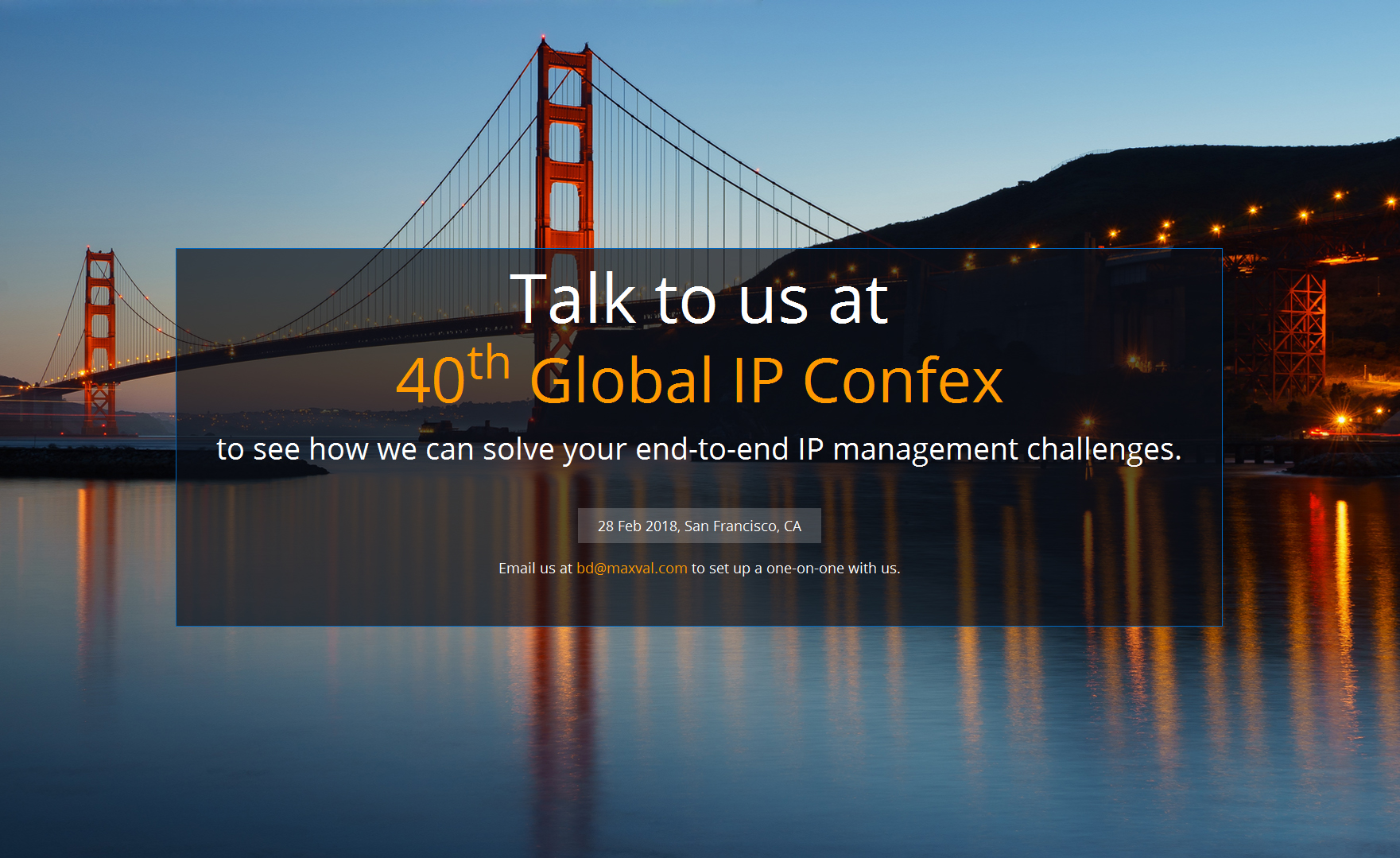 MaxVal is participating in the 40th Global IP Confex – 2018, an event where IP professionals meet services providers to discuss technologies and strategies to address their IP related challenges. The conference will be held at Executive Conference Center, Marriott Marquis Hotel (San Francisco, CA) on Feb 28, 2018.

Global IP ConfEx brings together the In-house Counsel, Law Firm Partners, Law Tech Professionals, Tech Vendors and Selected Service Providers around the world to share their views and solutions to resolve some of the operational challenges in Litigation, Technology, Software, E-discovery, Risk, Security and Compliance.

As an exhibitor, MaxVal will demonstrate its flagship product Symphony – an end-to-end intellectual asset management solution for companies which would enable IP Counsel to make strategic data-driven decisions.

"MaxVal is focused on providing tech-enabled solutions that assist IP Counsel to manage less and strategize more. I believe Global IP Confex is a perfect platform to meet the IP professionals across the globe, exchange views and share solutions that can elevate their Intellectual Property management." said D. Bommi Bommannan, Founder and CEO of MaxVal Group.

If you are attending this event and would like to know how you can achieve data driven outcome optimization, contact [email protected] to schedule a meeting with the MaxVal team.
About MaxVal Group, Inc.
MaxVal is a silicon valley-based tech-enabled managed solutions provider known for its cutting edge products and automated solutions. Since 2004, MaxVal has been providing technology-enabled solutions and expert services by partnering with patent counsel and patent operations teams to optimize patent lifecycle management with high levels of customer service.
Contact: Bala Krishnan, 650-472-0640, [email protected]