Huge sums of time and money are invested to support ongoing research and development efforts globally, particularly in the most innovative industries like pharma, healthcare and biotechnology. The global R&D spending [1] is at a record high of US$1.7 trillion of which 80% of total spending is only from the Top 10 countries.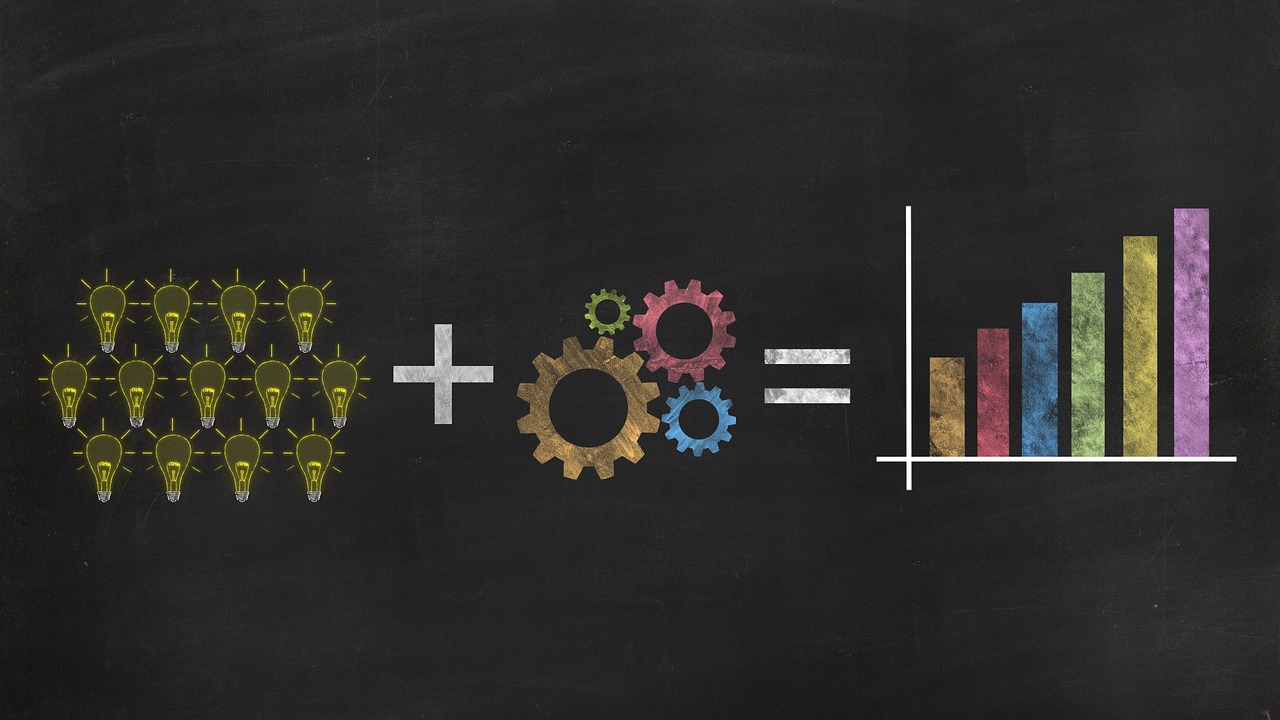 While these statistics may suggest increased intensity of companies in R&D spending, we should also understand that these efforts will only yield returns when they are awarded enforceable ownership through exclusive patent rights. Intellectual property rights, especially patents, help companies protect their business interests by allowing them to reap the fruits of their innovative efforts through exercising their right to practice in strategic markets. This is evidenced by the increase in the rate of global patent filings across all major industries.
But, can filing alone guarantee a patent grant? Certainly not!
There are several external factors including patentability of the claims over prior art, rigor of the examination process, and prosecution costs that influence the probability of allowance. Albeit, companies have limited control over their applications in the prosecution phase, they can leverage advantages afforded to them in the pre-submission phase using technology solutions and certain process improvements.
Poorly designed invention management system?
Some common reasons for patent claims getting rejected are:
The claims lack novelty
The claims are obvious over the existing art
The claims are inadequately supported by description or examples
This is largely a result of a loosely connected invention management process making things unnecessarily complex for IP managers. For example, a weak invention disclosure system poses the risk of redundant delays, and often causes inventors and reviewers to lose track of critical commentary in the communication chain, resulting in severe data redundancy issues. It even worsens the situation by hindering IP managers from taking timely actions during the prosecution phase.
Even today there are companies relying on spreadsheets to record inventor submissions and instant messages and emails to collaborate inside and outside their organizations. All of this contributes to errors, increased costs, and delays, apart from data integrity issues.
Also read: 6 Signs That Your Invention Management Solution Is Strained
How can an integrated invention management solution come to your rescue?
Managing innovation and IP operations concurrently is never an easy job. That is why even seasoned IP managers in large corporations face challenges when managing their invention disclosure process.
But, worry not; here is where an invention management solution comes handy.
A data-driven Intellectual Property Management platform like Symphony® comes with a built-in, configurable and scalable invention management module to help companies tackle these challenges while managing their innovation programs seamlessly.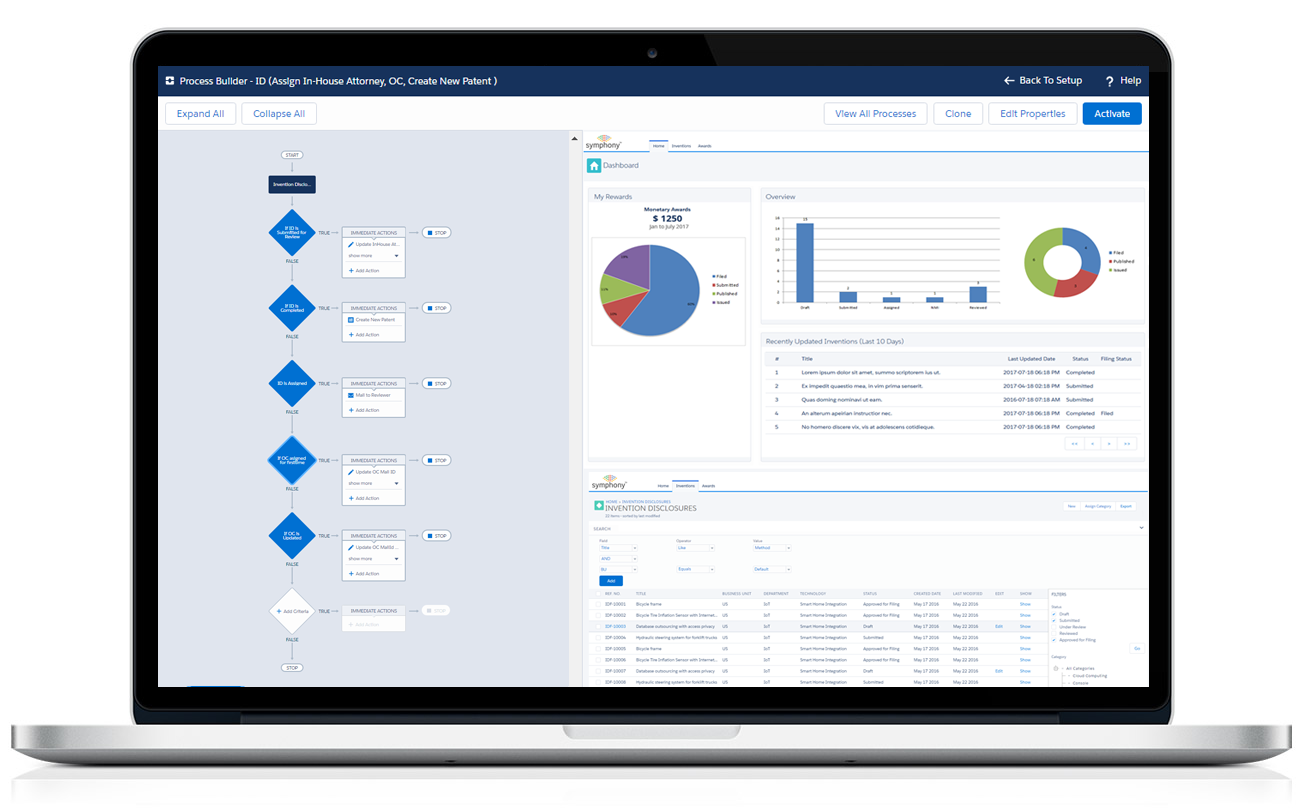 Symphony's invention management module is optimized with the following key features in order to speed up the disclosure process. Symphony further provides a 360 degree view that will increase the likelihood of an application becoming an issued patent.
It allows you to;
Streamline: Invention management becomes a structured workflow-driven process from idea generation to application filing. Responsibility is fixed at every stage with memos and reminders.
Collaborate: IP managers can schedule meetings or collaborate through each stage of approval of an invention disclosure across multiple teams, Review Committee members and Outside Counsel.
Track: Deadlines are organized, tracked and automated reminders issued to appropriate personnel; needless to say, the data is secure and accessible on the cloud anytime for anyone in the team.
Predict: Forecasting feature enables IP counsel to schedule and plan course corrections to avoid delays.
Reward: Evaluation of inventions becomes easier through scoring systems to prioritize disclosures, measure team performance and reward inventor performance appositely.
Secure: Intellectual property data is protected from several data security threats by the most secure platform in the world.
All of these features facilitate IP operations, inventors, review committee, in-house and outside counsel, and senior management functioning as an integrated team, thereby enhancing patent application quality.
Value added at Every Level
An invention management solution provides greater value for each stakeholder involved in the processes.
IP Managers – get visibility and control over the entire disclosure cycle, and effectively track, and file applications to strict deadlines.
R&D Management – is able to set-up key metrics to measure a team's performance and reward deserving inventors.
Legal Operations – can save more than 30% in administrative costs, by combining multiple systems into one, avoiding delays, and process inefficiencies.
As the entire process is seamlessly aligned and transparent, inventors can focus their attention on innovation, and IP Counsel on prosecution and other strategic matters.
Do you have an IP challenge or need? Contact us today for a Free Trial.
---
[1] UNESCO Institute for Statistics – How Much Does Your Country Invest in R&D?