In the September issue of "Hot Topics in Tech" newsletter series, we discuss Parkinson's disease and look at new and upcoming approaches in managing Parkinson's disease.
Parkinson's Disease – New Approaches to Treatment and Management
Parkinson's disease (PD) is a chronic neurodegenerative disease that affects more than 1 million people in North America and more than 4 million people worldwide. It is the second most common neurogenerative condition after Alzheimer's disease in the United States and affects 13 in 100,000 people and adds 60,000 new cases every year. The cause of Parkinson's in most patients, remains unknown. It has been suggested that gene mutations cause only a small proportion of all cases of Parkinson's and in most cases, non-genetic environmental factors play a part.
The pathology of the progressive neurodegenerative condition is underpinned by the death of the dopamine containing cells of the substantia nigra portion of midbrain and presence of Lewy bodies, an abnormal aggregation of proteins within nerve cells. The degradation of brain cells and the accumulation of lewy bodies that also contributes to the degeneration of muscle cells and activity in Parkinson's disease leads to other symptoms such as rest tremors, slowed movement (bradykinesia), rigid muscles, impaired posture and balance, loss of speech and writing ability among other things.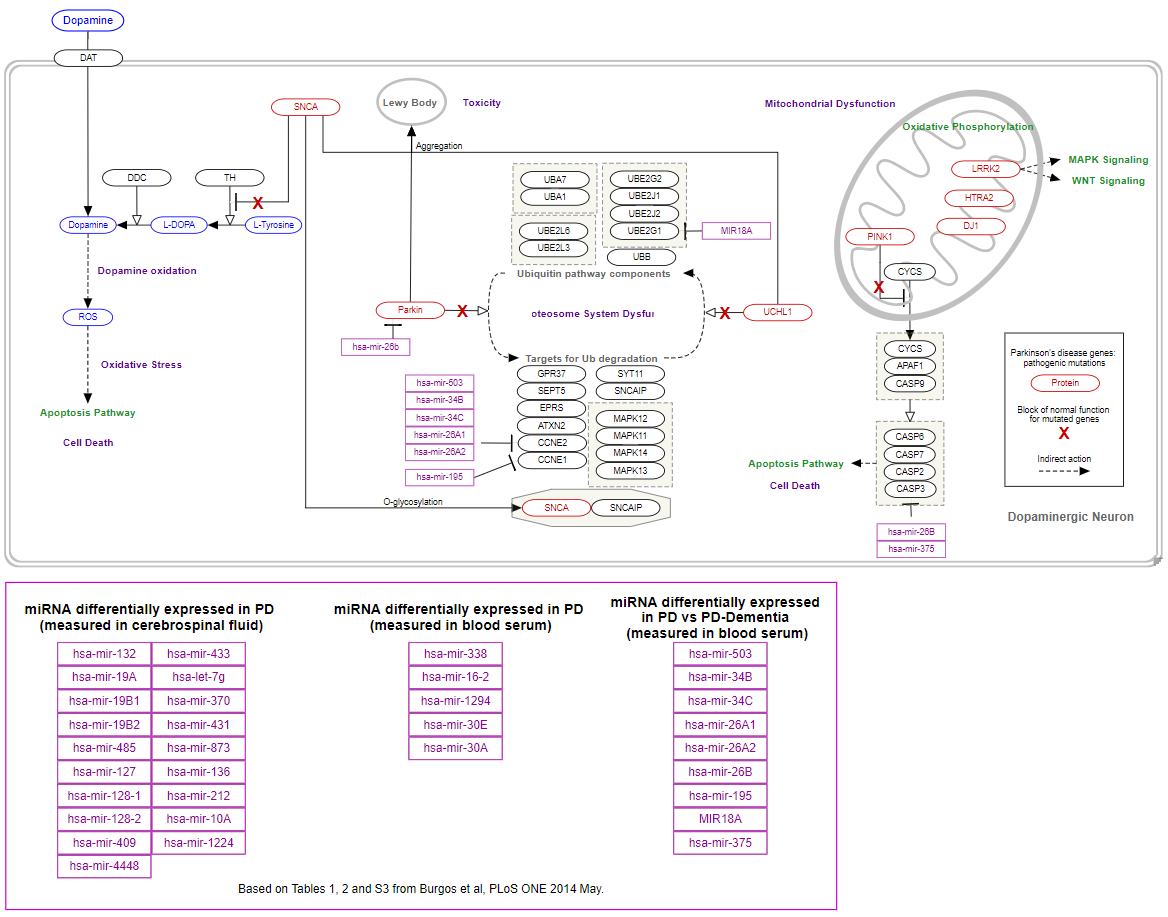 Source: https://www.wikipathways.org/index.php/Pathway:WP2371
Fig. 1 : Parkinson's Disease Pathway
The current approach to treating and managing the condition relies on i) early diagnosis, ii) treatment for restoring loss of dopamine or dopaminergic function and other symptomatic treatments tackling PD motor and non-motor symptoms, and iii) physical and occupational approaches for managing the condition of muscles and skeletons.
Diagnostic detection of Parkinson's involves detecting protein biomarkers from plasma, peptide biomarkers from cerebrospinal fluid, specific kits to detect microRNA from blood serum, non-invasive tests such as measuring salivary proteins, or using olfactory testing kits. Dopamine transporter (DAT) imaging using single‐photon emission computed tomography (SPECT) can aid diagnosis, as well. Genetic tests and approaches to diagnosis and management of Parkinson's have been the subject of several research articles and patents. For instance, the US patents 6,716,621 by Boehringer Ingelheim and 7,037,657 by Baylor College of Medicine reveal target genes used in the diagnosis of Parkinson's.
The mainstay therapies tackling dopaminergic function in brain include levodopa (L-DOPA) or levodopa/carbidopa combination. Dopamine agonists such as ropinirole hydrochloride, apomorphine and pramipexole; monoamine oxidase B (MAOB) inhibitors such as safinamide and rasagiline; and catechol-O-methyltransferase (COMT) inhibitor such as entacapone and tolcapone are amongst the other approved drugs. Several reformulations and adjunctive therapies have already launched or are currently in late stage development for targeting dopaminergic function. Non-dopaminergic therapies for tackling PD symptoms includes anticholinergics such as benztropine, N-methyl-D-aspartate receptor (NMDA) receptor antagonist: amantadine, serotonin 5-HT2A receptor antagonist: pimavanserin, and adenosine receptor type 2A (A2A) antagonist istradefylline. Novel approaches such as neuroprotective or disease-modifying therapies are also being tested. These include gene therapies targeting dopamine production such as OXB-102 (AXO-Lenti-PD), immunotherapies targeting α-synuclein such as PRX002 and lysosomal pathway targets such as GZ/SAR402671, invasive continuous pumps for drug delivery, surgery involving deep brain stimulation of specific areas, such as the subthalamic nucleus (STN) or globus pallidus internus (GPI), and implants.
Devices that aim to provide occupational and physical therapy of Parkinson's patients include sensors that monitor tremors, such as those claimed in U.S. 9,301,712, and U.S. 9,107,614 and movement initiation devices described in U.S. 20020107556.
A broad IP search was conducted to understand the overall patent landscape for Parkinson's disease for the period of 2004-2019. The filing trend (Fig. 2) indicates a spike in filing in 2018 indicating a growing interest in the field. Several pharmaceutical giants including Merck, Johnson and Johnson, Roche, Pfizer, Sanofi, Abbvie, Novartis, GSK, Takeda, Servier and Astrazeneca are amongst the top patent filers. The US leads the world in innovation related to Parkinson's treatment and management, with almost five times more filings coming out of the United States as compared to the nearest competitor China.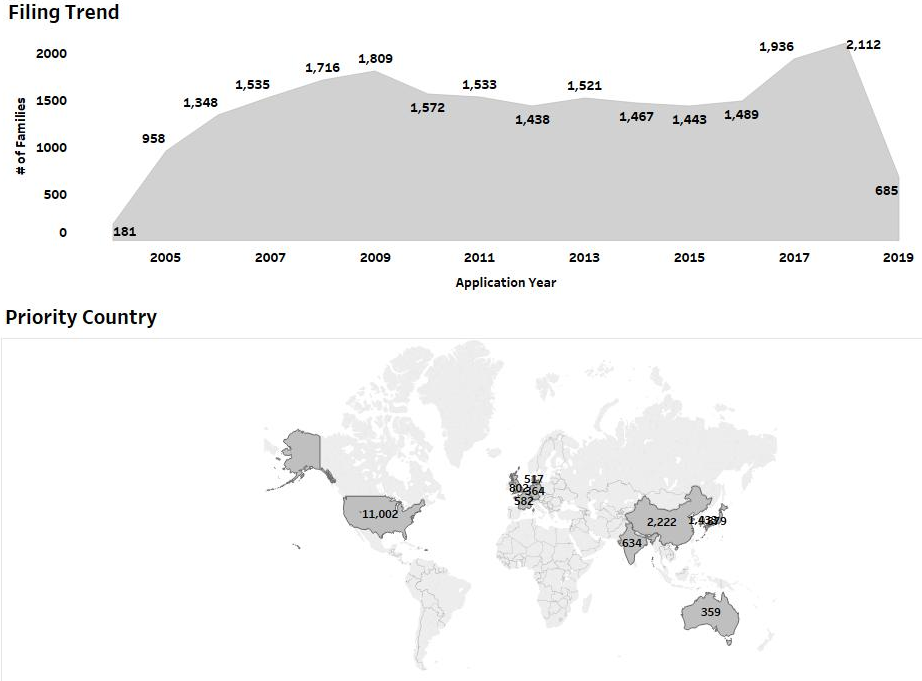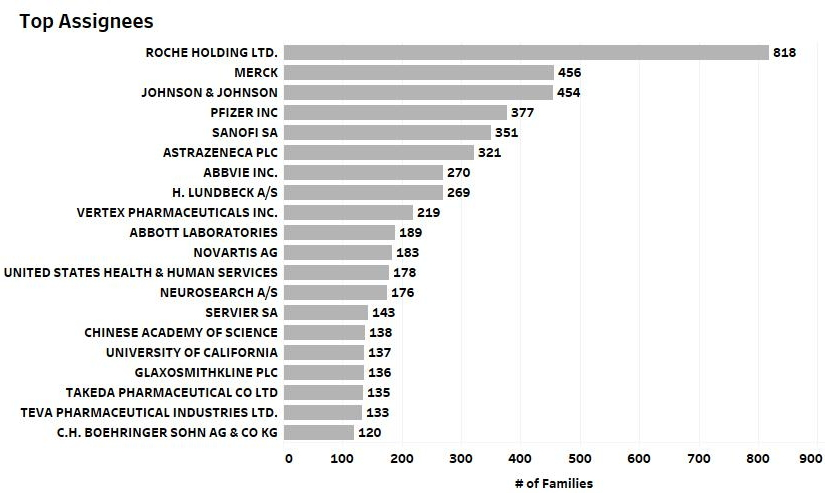 Fig. 2: Dashboard Showing Filing Trend, Top Assignee Distribution and Priority Country Distribution
The available options for treating and managing Parkinson's have increased dramatically in the last decades. According to a recent study, therapeutics market for Parkinson's disease is estimated at USD 2.61 billion in 2018, and is expected to grow at a CAGR of around 10.6% between 2019 and 2025. The widespread availability of generics allow for adequate disease management, but there still remains a real need for innovative approaches which represent significant improvements in Parkinson's disease management. Identification of new biomarkers for improving diagnosis, advancing treatment by targeted approaches, development of new devices, optimization of treatment algorithms are some of the key challenges that will need to be tackled by the Industry in the near future.
Stay tuned for our comprehensive patent landscape analysis of Parkinson's disease.