Apple obtains patent for a fabric-based item with environmental control elements. Read about this and other recently published patents.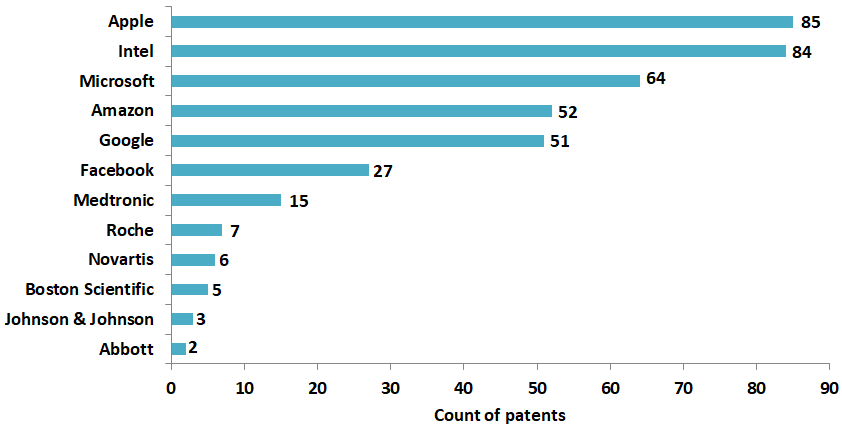 In this post, we take you through some of the recent patents from Apple, Google, Facebook, Amazon, Microsoft, Intel, Boston Scientific, Medtronic, Abbott, Novartis, Roche, and Johnson & Johnson.
Apple obtains patent for a fabric-based item with environmental control elements
US patent 10,299,520 describes a fabric-based item that includes biometric sensors and environmental control devices that adjust or maintain the environment around the individual based on the biometric information. Figures below illustrate the fabric-based article of clothing.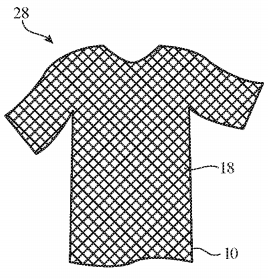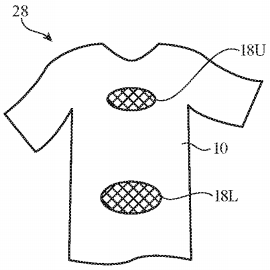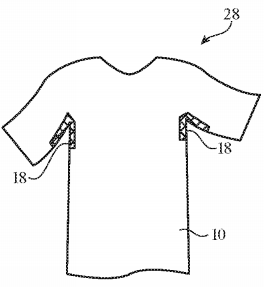 Google wins patents relating to advanced gaming and VR control using radar and heart rate detection with multi-use capacitive touch sensors
US patent 10,300,370 discloses a method for advanced gaming and virtual reality control using radar that enables tracking optically occluded user control actions of sub-millimeter scale. Figure below illustrates a hand action within a provided radar field, including an occluded portion of an index finger, and an example radar system and computing device.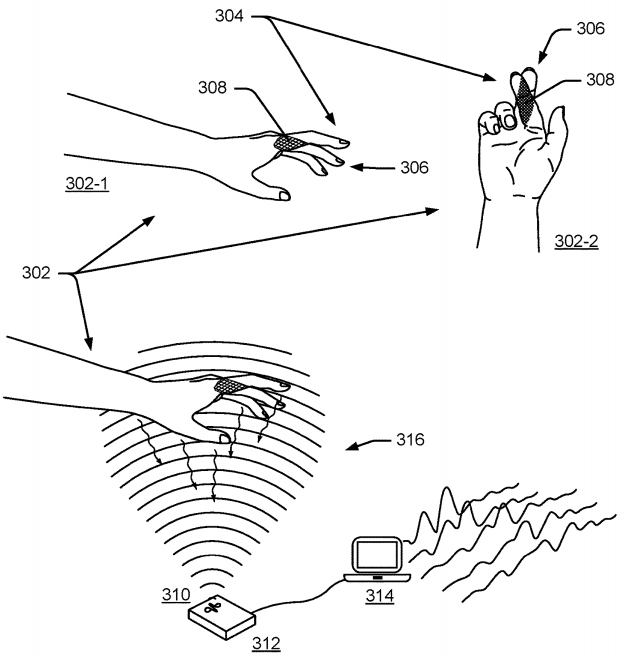 US patent 10,299,729 discloses heart rate detection with multi-use capacitive touch sensors in a display device based on detecting fluctuations in capacitance that arise in a person's hand due to heartbeats. Figures below illustrate user interfaces to capture and display a person's heart rate information.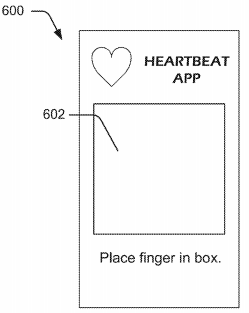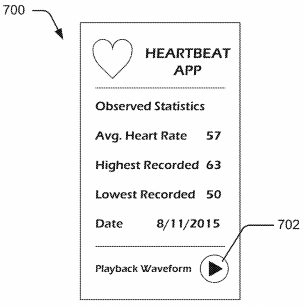 Facebook awarded patent for face detection techniques in video calls
US patent 10,303,928 discloses face detection techniques for cropping or positioning of faces to be collectively centered in the display or to replace one background with another for improving video call performance. Figures below illustrate call interface displaying a frame and a cropped frame.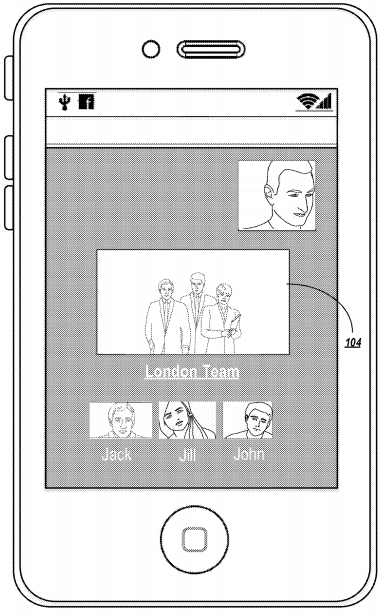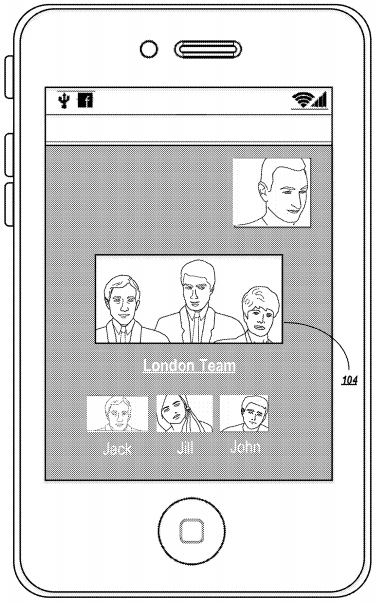 Amazon receives patent for UAV sensor calibration
US patent 10,302,452 describes automated verification and calibration of UAV sensors by determining a variation between measured information obtained using sensors and the actual information about surrounding objects. The UAV automatically adjusts if the variation is within a tolerance range, and otherwise aborts the flight. Figure below depicts UAV performing sensor calibration.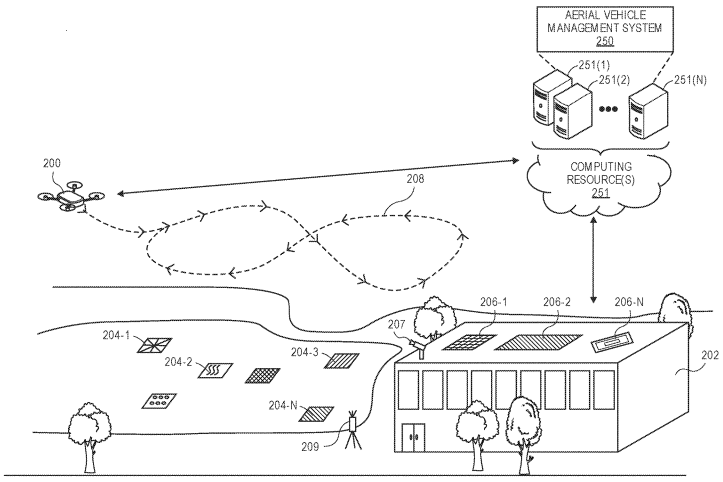 Microsoft bags patents relating to identifying health risk regions and sharing of Wi-Fi credentials
US patent 10,303,843 discusses a personal assistant identifying a health risk level at a location using a group health data indicating health condition of registered users in the location. The personal assistant generates an activity warning for the target location based on the group health data, as illustrated in the figure below.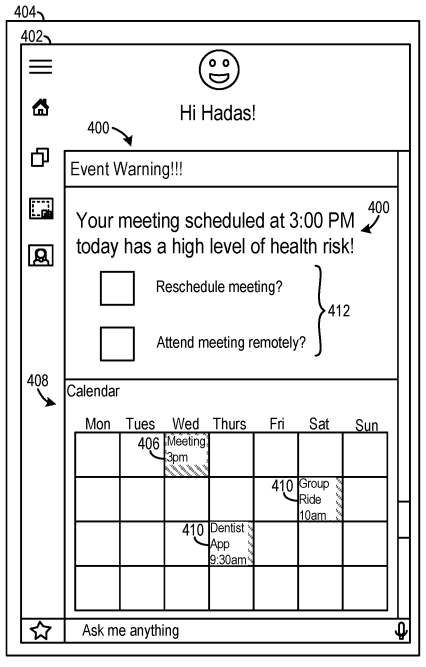 US patent 10,305,876 discusses sharing Wi-Fi credentials based upon relationship of the user retrieved from social network contacts of the user. An owner of a Wi-Fi network can share the credentials conveniently with a disparate user using the patented invention.
Intel receives patents for gesture-based signature authentication technique and a wireless charging device
US patent 10,305,897 discloses a gesture-based signature authentication technique that involves recording and storing a first gesture-based signature of a user and authenticating the user when the first gesture-based signature is substantially similar to a second gesture-based signature. Figure below shows examples of gestures based signatures.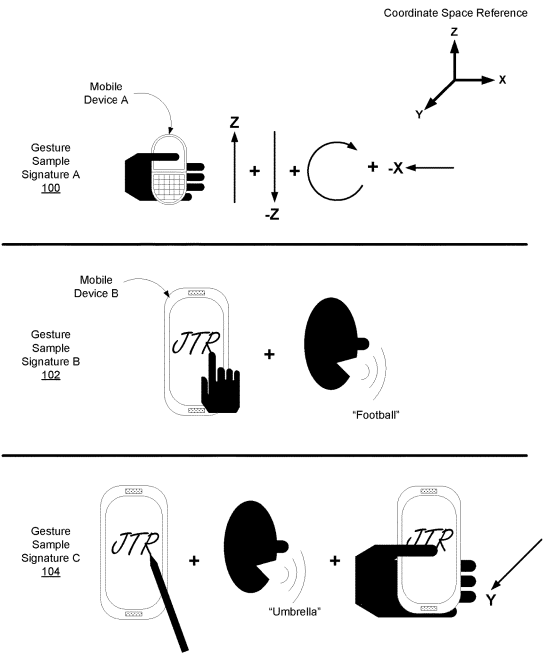 US patent 10,305,316 describes a wireless charging device that has a charging station configured to initiate a power charging sequence at a charging surface on detecting an operational coupling between a power transmitter in the charging station and a power receiver in an electronic device. Illustration depicts the wireless charging device.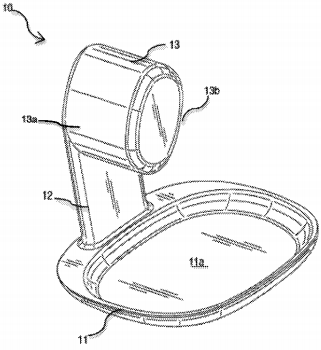 Boston Scientific obtains patents for a prosthetic heart valve and an endoscopic plicators
US patent 10,299,915 discloses a prosthetic heart valve having an expandable tubular body, synthetic polymer heart valve leaflets coupled to the tubular body, anchor elements to secure the leaflets to the tubular body, and a tubular seal secured to the leaflets to restrict blood flow around the leaflets. Figure below shows an enlarged view of the prosthetic heart valve.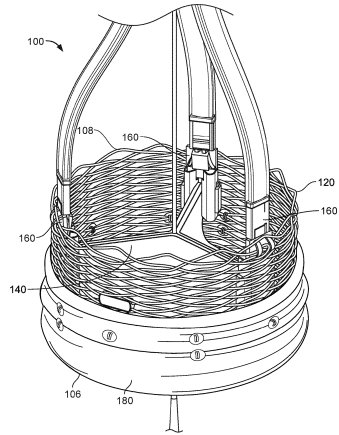 US patent 10,299,796 relates to an endoscopic plicator that can be passed transorally into a stomach to plicate stomach tissue. The plicator draws tissue into a vacuum chamber allowing sections of the tissue to be moved into contact with one another and establishes the contact using a stapler so that the patient can undergo weight loss without surgical intervention. Figure below illustrates the formation of food passage in the stomach using plicator.
Medtronic patents electrical stimulation therapy
US patent 10,300,282 relates to an electrical stimulation therapy program having a user interface which provides options to a user to adjust one or more characteristics of the patient sensation in the program. Figure below is a conceptual diagram illustrating the stimulation therapy.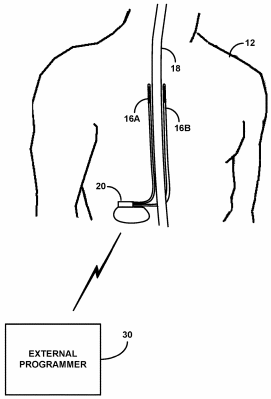 Abbott wins patent for implant delivery method and systems
US patent 10,299,924 describes a system for implant delivery comprising a catheter, first and second joint that aid in receiving the implant and delivering it within the target site. Figure below is a cross-sectional illustration of the heart with the catheter advanced into the right atrium.
Novartis obtains patent for an OCT-refractometer system
US patent 10,299,671 discloses a slit-lamp-or-microscope-Integrated-OCT-refractometer system that includes an eye-visualization system configured to provide a visual image of a region in an eye. Figure below is a diagram illustrating the OCT-refractometer system for eye visualization.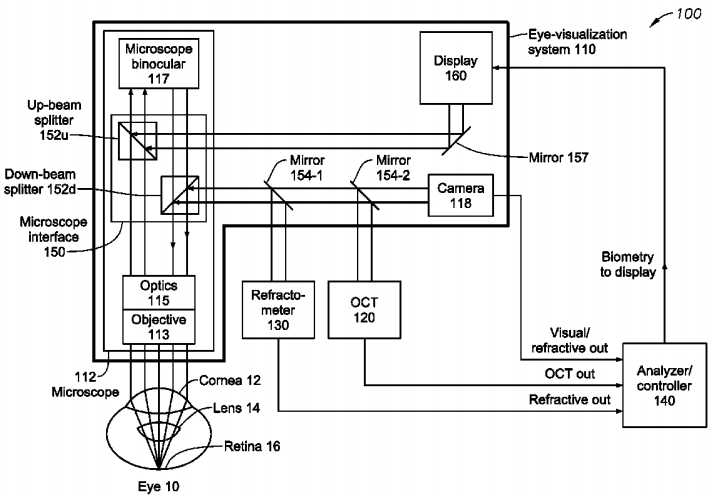 Roche receives patent for laboratory sample container carrier handling apparatus
US patent 10,302,667 presents a laboratory sample container carrier handling apparatus comprising a couple of revolving devices, a couple of transport devices, and a lifting device. Figure below illustrates the laboratory system.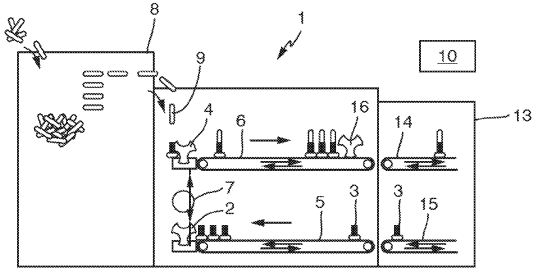 Johnson & Johnson awarded patent for an electronic ophthalmic lens
US patent 10,302,970 reveals an eyelid position sensor system for an ophthalmic lens comprising an electronic system for adjusting oscillator frequency on the lens. Figure below is a diagrammatic representation of two contact lenses having a communication channel for synchronizing operation between two contact lenses.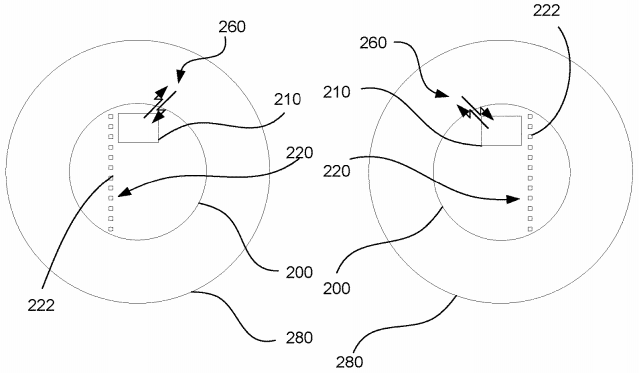 Did you like this piece of content? We would love to hear your thoughts! Leave a reply below to let us know which companies you would like to see us follow, and any other suggestions you might have. Be sure to subscribe to our blog to stay up to date with the latest information on patents, applications, and more.